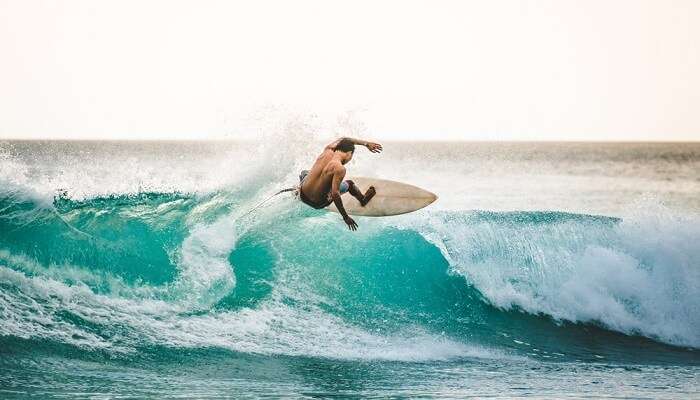 Surfing is one of the most exciting and thrilling sports of all time. Surfers who want to go to a terrific surf spot get to choose from a variety of options all around the world. There's a unique surf break out there for everybody from beginners to advanced, from the gorgeous sandy beaches of Hawaii to the tropical jungles of Costa Rica and the tiny beach towns along Portugal's coastline. Despite the fact that every surfer has a different opinion about the best spots to paddle out, there are a few beaches that are known for their great breakers, remarkable landscape, and significant role in surf culture. Explore these surfing places around the world while planning your next vacation to enjoy to the fullest.
15 Best Surfing Places Around The World
Here are some of the top places to surf around the world.
1. Uluwatu, Bali

Image Credit: Nazir Amin for Wikimedia Commons
Uluwatu is one of the top rated surfing destinations around the world. It is known for its famous 11th century Hindu Temple. Uluwatu is one of the best surfing places around the world as well as Bali's bustling surfing places, and it's especially suitable for advanced surfers. Uluwatu is a year-round destination with hollow, powerful waves at low tide and slower, mellower waves at high tide. Asia's best surf places, providing waves for all categories from absolute beginners to skilled and pro surfers.
Best season: May to September
Top 50 Things To Do In Bali That Will Let You Explore This Island Paradise Like A Local
2. Cloud 9 Surfing Area at Siargao Islands, Philippines

Image Credit: Billy Palatino for Wikimedia Commons
Sergio Islands is really the finest surfing spot in the country, routinely ranking among the top surfing places around the world. The sea is always there at Sergio, and the Cloud 9's large, hollow tubes provide for an exciting, albeit tough, surf. The nicest thing is that Sergio is only accessible by domestic planes and is quite secluded. As a result, the island's ambiance and surroundings have been preserved, giving it one of the most genuine island retreats available. As waves wrap around them like a flowing cloak, fearless surfers will enjoy a moment of heaven or visions.
Best time: Around the year
3. Rincón, Puerto Rico

Image Credit: Bulaclac Paruparu for Flickr
West Puerto Rico is known as the Caribbean's surfing centre, and it is home to a wide range of fantastic beaches, the most famous of which being Rincon. Since 1968, when the World Surfing Championships were hosted there, Rincon has been regarded as a renowned surfing destination. Rincon is one of the most consistent locations in the Caribbean located near Aguadilla. Whilst islanders are usually polite and there are a variety of surf boats in the water on any given day, be sure to follow the queue rules and examine the beach for dangers prior to entering the ocean. This is truly one of the best surfing places around the world.
Best time: December to April
14 Amazing Things To Do In Puerto Rico For A Fulfilling Vacation
4. Nazare, Portugal

Image Credit: jemafg for Pixabay
One of the most famous and largest waves in the world is based in Nazare, Portugal. The fishing community is in the Oeste area of Portugal, in the Leiria District, in the ancient Estremadura province . Despite being famous among all the other surfing places around the world for decades, the spot didn't earn widespread notice until 2011. Garrett McNamara rode a massive wave in Nazare in 2011, earning the title of "biggest wave ever ridden" in the Guinness Book of World Records. He smashed his own benchmark there in 2013, and Rodrigo Koxa won the title in 2017 by surfing an 80-foot wave there.
Best time: October- March
5. Hoddevik, Norway

Hoddevik is one of those locations where a thick suit is required. The water is extremely cold, but with unoccupied beaches and great breaks, you won't mind if you're dressed appropriately. Hoddevik is known primarily as a surf village, with a year-round population of 15 to 25 people. Surfing, on the other hand, is a billion dollars experience. If you go before October, you may be able to get away with wearing slightly lighter suits. There are two lodging alternatives in the hamlet that also loan out surfing gear. It is also ideally the best surfing in the world for beginners.
Best time: March to september
10 Incredible Things To Do In Norway For A Memorable Vacay
6. San Vicentede la Barquera, Spain

Image Credit: Nacho Castejón Martínez for Wikimedia Commons
This town is tucked away on the Cantabrian coast, surrounded by meadows, sand, cliffs, and woodlands. Meron is San Vicente de la Barquera's principal beach, and it has waves that are ideal for learning. The numerous peaks in the area are ideal for advanced surfers and makes it the best place for surfing in the world for beginners to learn to surf. It's a boutique experience that's enhanced by the wonderful seafood available after a day of surfing.
Best time:Year Round
7. Pipeline, Oahu, Hawaii

Image Credit: Alan Grinberg for Flickr
If you love surfing, you will love Pipeline. It is one of the most popular surfing destinations around the world and its waves are said to reach heights of more than 9 feet and thus are considered dangerous to surf, needing a good amount of ability to navigate. However, it may not be ideal for beginners. Getting busted in the pipeline at the wrong time might be disastrous. Every surfer's wish list should include this adventure.
Best time: Around December
Top 10 Things To Do In Hawaii For An Unforgettable Vacation At This Tropical Paradise!
8. San Juan Del Sur, Nicaragua

Image Credit: Adam Jones for Wikimedia Commons
This American tourist destination provides a number of surf beaches and activities such as adventurous activities like hiking, sailing, sport fishing, ziplining and wellness activities like yoga, and other activities like shopping and exploring different cuisines. Given its huge popularity among surfers, it still has fewer visitors than other popular locations in Mexico, Costa Rica, and El Salvador. Playa Maderas, Playa Remanso, Playa Yankee, Colorado, Playa Coco, and Playa Hermosa are all prominent surf sites in San Juan del Sur, which is a pleasant urban town renowned with expatriates from the United States.
Best time: March to september
9. Jeffreys Bay, South Africa

Image Credit: NJR ZA for Wikimedia Commons
Jeffreys Bay is known as the surf capital of South Africa and is blessed to be one of the world's top right point breaks. Jeffreys Bay is a half moon bay on the western tip of South Africa's Eastern Cape Province that conceals several of the country's greatest point breaks. The Endless Summer was the first film to popularize the place. It is one of the ideal surfing places around the world for beginners.
Best time: May- September
6 South Africa Travel Tips That Are A Must For Every Traveler
10. Hossegor, France

Image Credit: Iñigo Tomé for Wikimedia Commons
Hossegor, on the Landes coast in southwestern France, is another European surfing hotspot, with miles of magnificent beach waves and some spectacular pro-level tubes that rival Hawaii's best. Despite the fact that mansions dot the shoreline, there are lots of camping sites for surfers on a budget. Pros compete at the Quiksilver Pro France in Hossegor every September. Les Culs Nus, Hossegor Plage Centrale, La Gravière, Les Estagnots, Le Penon, and Les Bourdaines sont just a few of the places to visit.
Best time: September
11. Santa Cruz, California

This NorCal surfing hotspot has something for everyone and is a living piece of surf history. Cowell's softer waves are ideal for beginners, while specialists may put their skills into action at 'Steamer Lane's right-hand point break'. Pleasure Point and The Hook are a pair of right-handers for those in the middle. Santa Cruz is a large city with a pleasant retail and dining district, a midsummer beachfront, and a grubbier bottom. Day visits to San Francisco are also made easier due to the city's closeness which also makes it one of the top places for surfing.
Best time: March to September
12 Things To Do In California: Indulge In Activities That Treasure Forever
12. Canggu, Bali

Image Credit: Roozbeh Rokni for Flickr
One of the most sorted surfing places around the world would be Canggu. It is considered the greatest place to visit in Bali, as it is considerably less crowded than other destinations. The main town is only three lanes long, so it's charming and modest with cool eateries and cool bars instead of the massive clubs, corporate shops, and resorts found in other places. The beach extends for 8 kilometres, and the waves are suitable for all skill levels. If you're a beginner, this will be the perfect surf spot for you, however, all level surfers can surf here.
Best time: April to September
13. Santa Teresa, Costa Rica

Until the early 2000s, Santa Teresa was a well-kept secret. it has subsequently blossomed into a lovely small surf town with great restaurants. Because the roads aren't completely paved, it has a sandy beach vibe to it. It boasts some of Costa Rica's greatest surf resorts and yoga retreats. The beaches are appropriate for beginners and intermediates. What's more, you can explore Santa Teresa by snorkelling in the crystal clear waters, trekking the numerous rainforest trails, and visiting surrounding settlements such as Mal Pais and Manzanillo.
Best time: year round
16 Best Things To Do In Costa Rica That Will Get Your Pulse Racing At Once!
14. Raglan, New Zealand

Image Credit: Wikimedia Commons
Raglan is a hub for surfers, with world-class surf breaks and some of the most consistent waves in the country. Three world-class left-hand point breaks and two beach breaks can be found in this little town. This region of the country is rich in Maori culture and allows visitors to get hands – on experience with it. Raglan is renowned as a foodie's paradise, and it's a great spot to try locally sourced produce like seafood, pork, and local cheeses, as well as pleasant cafes and live music to unwind after a long day of surfing. Raglan is also home to all of the high-octane activities including skydiving, whitewater rafting, and rock climbing.
Best time: December- april
15. Sennen Cove, Cornwall

Sennen Cove is the warm, buzzing soul of the UK surf culture, radiating tranquilly and brilliance to those who visit there and ride its waves. The finest part about Sennen Cove is the lack of crowds; the cove has very little number of visitors, which helps it keep its tranquil atmosphere. The waves are quite consistent, with left and right breaks that are suitable for most skills. The ocean is crystal clear, the hills are lush, and the cliffs are sheer. Go surfing at Sennen Cove if you're looking for some peace and quiet.
Many tourists going for a surf vacation are astonished by the number of destinations that provide not only world-class waves, but also much to do away from the greenery, stunning historic monuments, delectable food, shopping, sightseeing, vibrant nightlife, and the list goes on! When it comes to adventure, surfing is a requirement, and these locations are incredibly stunning and ideal for getting that surf experience you've always desired. You can book your future trips with TravelTriangle and enjoy visiting the best surfing places around the world.
For our editorial codes of conduct and copyright disclaimer, please click here.
Frequently Asked Questions about Surfing Places around the World
Is it safe to go surfing since the pandemic started?
It is safe to travel, however, before travelling, read the country guidelines on COVID, get fully vaccinated, wear masks at all times, sanitize your hands and avoid going to crowded places.
Is it safe to surf alone?
It is definitely not advisable to surf alone. There may be risks involved such as high tides, personal exhaustion, rip currents, balance and therefore, you must surf with an experienced surfer.
What are the best places to surf in India?
There are many surf spots in India. Some of them are Kovalam, Varkala, Manapad, Murudeshwara, Kapu beach, kanyakumari and Mahe in kerala.
What is the best time to surf in India?
Best times to surf in India would be during the winter and summer months. Anytime during the monsoon seasons are not advisable due to safety precautions.
Where can I learn how to surf in India?
There are many schools dedicated to teaching surfing in India. Some of them are Kallialay Surf School, Shaka Surf Club, Mantra Surf Club, Kovalam Surf School, Bay of Life in Kovalam, Lonely Surfers in Visakhapatnam.