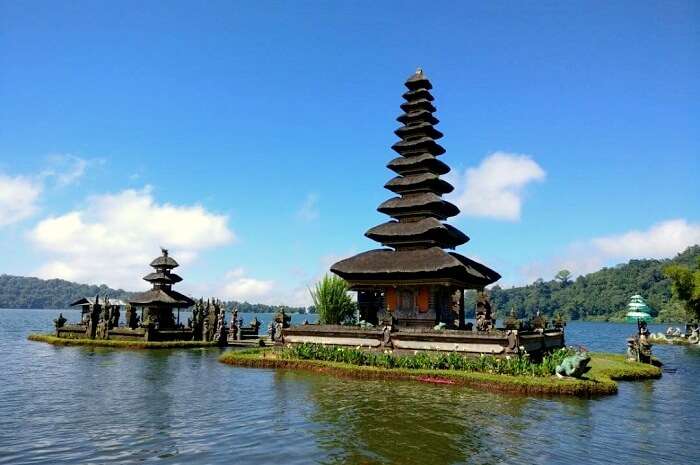 From rugged coastlines to spectacular mountains and volcanic hillsides. Bali is a natural bliss. No doubt the place is called the 'Island of Gods'. A perfect destination for those looking to cherish a great holiday. Surrounded by the Indian Ocean, Bali is a great tourist destination for all those looking for a place to rejuvenate and recreate. While exploring the beauty of this bewitching land of beaches you must not forget to appreciate the wonderfully crafted temples in Abiansemal Bali. Nearly all the temples are pleasant in their own way, some follow many relatable Hindu customs meanwhile some have their own archaic religious practices. But all these procure beautiful wall paintings and some even have eye-catchy patterns. When in Bali do not forget to stop by at these temples and appreciate the perfectly measured and wonderfully created walls and pillars.
5 Temples In Abiansemal Bali
Temples in Abiansemal are all beautifully crafted so while in Bali do not forget to check out these below-listed temples.
1. Pura Taman Saraswati Temple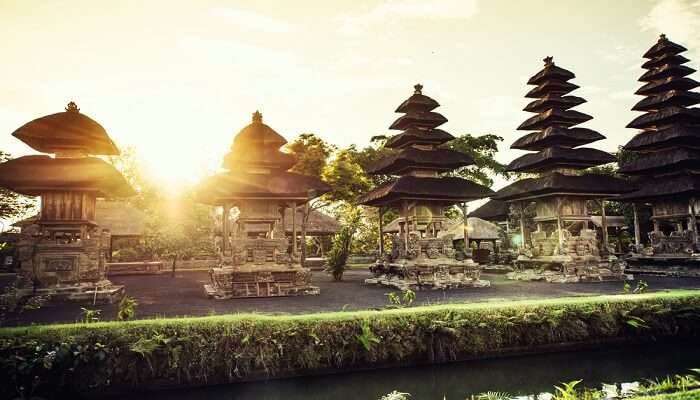 Among the top 10 places to visit in Ubud, Pura Taman Saraswati Temple is one which is a must visit if you are in Bali. Built in traditional Balinese architecture, this water temple is located in the centre of Ubud. You can also visit the temple post sunset to witness the famous Kecak Dance Performance that takes place inside the temple premise on every Tuesday and Thursday from 7.30 PM.
Location: Jalan Kajeng, Ubud, Kabupaten Gianyar, Bali 80571, Indonesia
Timings: 7 AM to 5 PM
17 Amazing Places To Visit In Ubud To Savour The Best Of Your 2022 Bali Vacay!
2. Taman Ayun Temple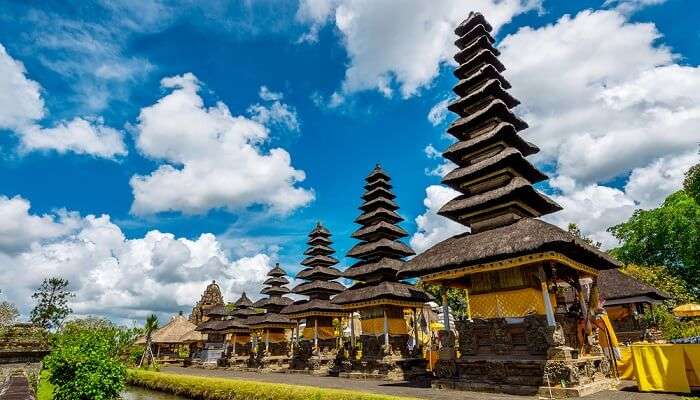 Wrapped with greenery and serenity, this is one of the most beautiful temples in Bali. The magnificent architecture, and expansive landscapes with fish and lotus ponds in between, make it a beauty worth witnessing. Among all the temples to visit in Bali, this will definitely make you fall in love with Bali. Visiting Bali temples- Well, you just cannot miss out on this one!
Must Witness: The traditional Balinese architectural features, best reflected via thatched multi-roofed shrines.
Entry Fee: IDR 15,000 per person
Timings: 9:00 AM to 4:00 PM
Location: Jalan Ayodya No.10, Mengwi, Kabupaten Badung, Bali
10 Bali Temples That Look, And Feel Like Magic Woven With The Stones
3. Puseh Batuan Temple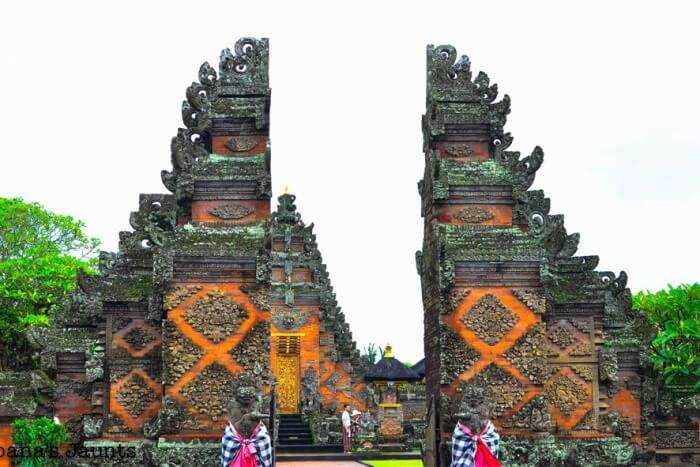 This temple is situated in the Batuan village and owned by the villagers. This is the Balinese Hindu temple and it includes 3 temples. These three places are the temples of Brahma, Vishnu, and Lord Shiva. To check the local religion this place is the must-visit. You will get to experience the old traditions there and will get a surreal experience.
Ubud Celuk Village: An Ultimate Guide To Enjoying A Peaceful And Romantic Getaway In 2022
4. Pura Maospahit Temple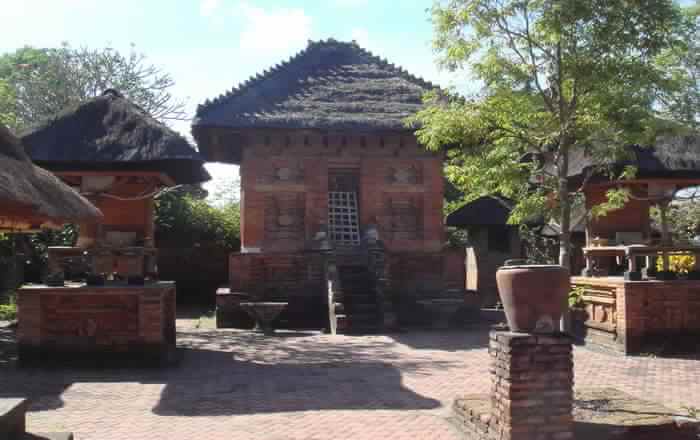 This is one the most ancient temples of Bali which took almost two centuries to build. Starting from 13th to getting fully completed in the 15th century. The temple is located at around 950 meters to the west of the famous Catur Muka Statue. The temple is called Maospahit in order to honor the god of Bali, Batara Maospahit. In its initial years, the temple has withstood a number of calamities including a massive earthquake. Even after many calamities temple has succeeded in preserving some important ancient artifacts and structures belonging to its past glory. The temple host some very beautiful and amazing brick reliefs of Garuda, Bima, Candi Kurung and other deities.
One thing you need to take care of while visiting in the temple in Denpasar is the temple attire which includes a simple sarong and sash. These are easily available in and around the temples.
Also to remember that there is a prohibition for women who are going through their menstrual periods.
The best time to visit Denpasar is when you have a lot of time in hand. Also, you will enjoy and appreciate the temples more if you read or talk to locals about their history and cultural significance.
3 Denpasar Temples To Visit In 2022: A Symbol Of Past Glory, Culture, And Rich Heritage!
5. Sakenan Temple, South Bali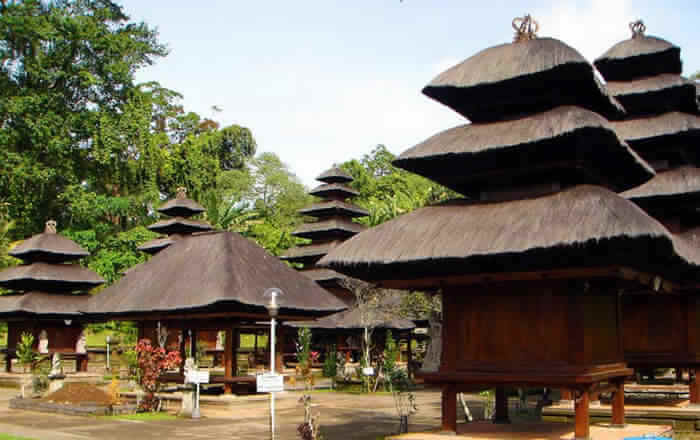 Every nook and cranny of Bali and its other cities are marked by the pious presence, you can smell incensed and the godly feel takes over as soon as you enter this country. In Denpasar, another holy attraction which can make your soul a little lighter is the most famous south Bali temple Sakenan Temple. To satisfy the historian in you visit the innumerable museums and art exhibits here which are all closely located, they tell beautiful stories of the rich culture of this place and give an insight of the effect colonization left on this city.
Explore These 4 Offbeat Places Near Denpasar To Get Closer To Divinity
Best Time To Visit Bali

The most preferred time to traverse Bali is between the months of April to early November. But Bali is generally considered as a year-round destination then the concern about the climate or weather conditions should not stand in between while planning the trip to this land of spectacular temples and off-beat attractions.
How To Reach Bali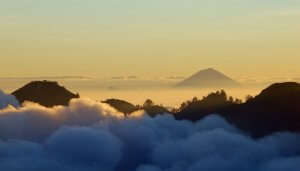 By flight: You can take a flight to this mesmerizing place as Bali witnesses many international flights landing in and out of the country. The place is also very well routed with most of Indonesia and therefore it possesses regular domestic flights to Bali that fly in and out from nearly all the major cities within the nation. Once you reach the airport, you can book yourself a taxi that will take you to your planned destination. Once inside the taxi, sit back and relish the charming sceneries and attractions that pass by on your way.
By ship: Bali also has a renowned port which gives access to most cruise liners coming from South East Asia. If you wish to enter Bali by ship through the sea route you need to catch a flight either Singapore, Java or Sumatra and from there you can take a ship and head to this land of beauty and temples.
Plan a holiday to this majestic land and visit the beautiful temples in Abiansemal Bali. The temples here will leave you spellbound, traverse them with your friends and family. Those interested in exploring various cultures and traditions must definitely check the above-listed temples and plan your itinerary to Bali in such a way that you get to worship all these magnificent temples. So don't delay any further and book your trip to Bali and get set to discover these amazing temples with your favorite people.