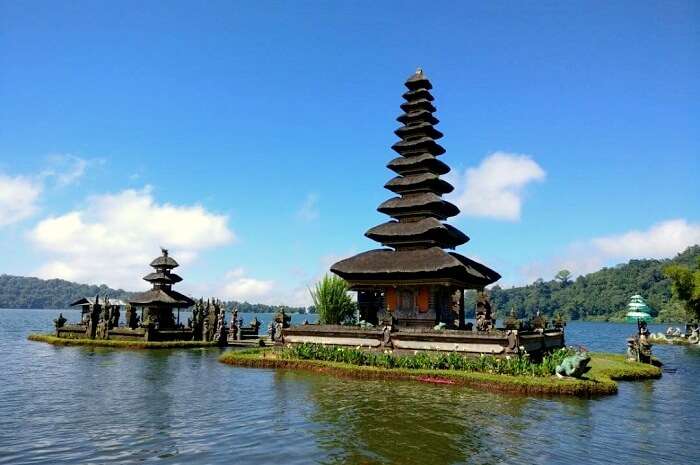 Bali is a beautiful paradise that will leave you spellbound once you enter the place. Recognized as the world-famous place to visit. Also titled as the 'island of Gods' the place is rich in beaches, coral reefs, adventurous activities and of course the local cuisines. Tulamben is a small piece of land found in Bali which often observes many people enjoying a happening time inside its premises. Even the temples in Tulamben Bali are famous all over the world because of their aesthetic carvings, beautiful paintings, and sharp walls. The aura inside these temples is highly optimistic and the places usually witness a huge number of travelers and the natives during the time of routined prayers. When in Tulamben do not forget to miss these temples with your beloved ones.
3 Remarkable Temples In Tulamben Bali
After touring the whole city stop by at these impressive temples and gather the fresh vibes and magnificent appearance of these beautifully designed temples.
1. Pura Bantang Mesiem Tulamben

Viewed one of the most prominent temples in Bali, Pura Batang is a great attraction in Bali for tourists. A tranquil place for those wanting to sit and relax. The sky above the temple paints beautiful scenery. Even the temple's backdrop is absolutely bewitching. If you want to do sightseeing in Bali, make sure you add this place to your itinerary. Stop by at this place with your loved ones and gather many memories while you experience the diverse cultures.
Location: Jl. Kubu, Tulamben, Kubu, Kabupaten Karangasem, Bali 80852, Indonesia
32 Exotic Places To Visit In Bali For Honeymoon In 2022
2. Besakih Temple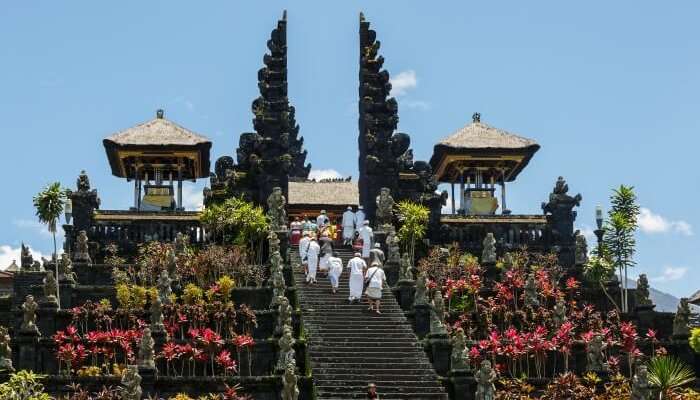 Of all the Hindu temples in Bali, Besakih is the biggest and the holiest temple complex on the island. From its entrance that feels like a ladder taking you directly to a paradise to its location on the slopes of Mount Agung, everything would surely leave you in awe! This is one of the famous temples in Bali.
Must Witness: The breathtaking view of the mountains and the streams around.
Entry Fee: IDR 35,000 per person (approx)
Timings: 8:00 AM to 5:00 PM
Location: Desa Besakih, Rendang, Besakih, Rendang, Kabupaten Karangasem, Bali
10 Bali Temples That Look, And Feel Like Magic Woven With The Stones
3. Tirta Suci Pura Tapak Lawang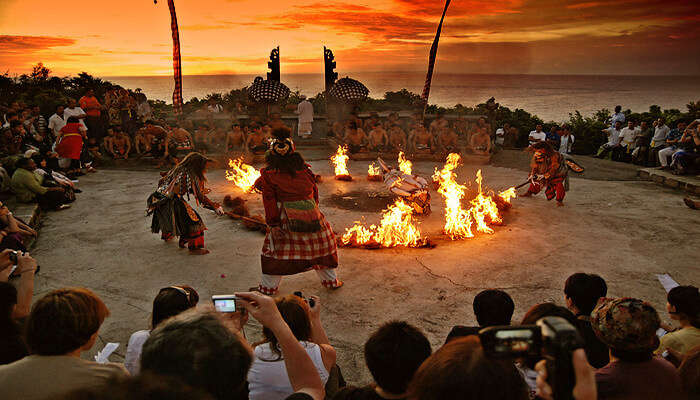 If you admire art and tradition then this place is well suited for you because once you enter its premises you will witness many doodled paintings that portray various deities and cultures. If you wish to apprise yourself about the temple then it is suggested that you must hire a guide that will share the history and provide you with some fascinating facts.
Location: Tulamben, Kubu, Tulamben, Karangasem, Kabupaten Karangasem, Bali 80852, Indonesia
Bali In Summer: A Pocket Guide For A 2022 Holiday Affair In Indonesia
Best Time To Visit Bali

Many visitors have suggested the best time to tour the 'Island of Gods' is during the months of April-November, but considering Bali is a year-round place to visit then the issue about climate and seasons won't be considered as a primary one and it would hardly affect your plan of celebrating a holiday at this paradise of beaches and temples.
How To Reach Tulamben Bali

By flight: If you wish to reach Bali then you can catch a plane to Bali. The place witnesses many international flights landing in and out. Bali is also very well routed with most of Indonesia and it offers access to the regular domestic flights that arrive at and from majorly all the cities within Indonesia. Once you reach the Bali airport, from there you can take a cab and head towards Tulamben on a 3-hour journey.
By ship: Bali has a well-established port for most cruise liners traveling from South East Asia. To reach Bali through the sea, you can catch a flight from either Java, Sumatra or Singapore and from there book a ship that can carry you forward to Bali port. Post reaching Bali port you can take a cab and head to Tulamben.
If you seek any interest in discovering various cultures, ancient religious practices and of course a great series of dusk and dawns then while exploring the 'Island of Gods' it is a must for you to traverse the famous temples in Tulamben Bali. Don't wait or delay any further now, the place is a year-round destination so pick the most convenient time of the year and plan your trip to Bali now. The earliest you book the cheapest it is.