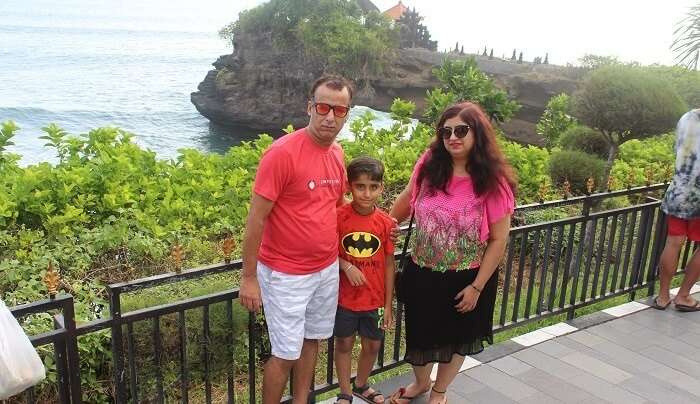 Known for rice terraces and beaches, waterfalls and cute cafes, there's no debating that Bali makes a perfect place for a vacation. Whether one's goal is to detox and deepen their yoga practice, relax on the beach with a Bintang or to experience a rich culture, one will find complete bliss in Bali.
I was planning a vacation with my wife and kid. Since it was the month of June, most of the destinations have monsoons. Frankly, we didn't have many places to go, so we thought we thought that Bali would be a perfect destination for us to enjoy a vacation. Also, we heard that there are several things to do in Bali with kids. So, while planning our trip, we got a satisfaction that our kid will not get bored. Since we already knew about TravelTriangle, it was no brainer us to finalize with the travel organizer.
Details Of Our Bali Trip
Trip Type: Family Trip
Cost: INR 25500
Duration: 5 Days
No. Of People: 2 Adults & 1 Kid
Inclusions: Hotels, Breakfast, Taxes, Airport Transfer, Sightseeing, Visa
Exclusions: Lunch, Dinner, Personal Expenses, Insurance
Our Bali Itinerary
Day 1: Hotel check in & local sightseeing
Day 2: Enjoying on a cruise
Day 3: Barong Kintamani sightseeing
Day 4: Tanah Lot Temple Tour
Day 5: Departure
Spend Christmas In Bali & Indulge In Some Festive Goodness
Weather In Bali
We visited Bali in the month of June and the temperature was around 27°C. The weather was moderately hot but pleasant. Honestly, the weather was not at all a hurdle for us and we visited all the places that were on the itinerary.
Top Things To Do In Bali With Kids 
We are glad that we choose to visit Bali as there was so much to do in that lovely weather. The 6 days of our trip let us visit the best spots that we will cherish forever.
1. Bounty Cruise Bali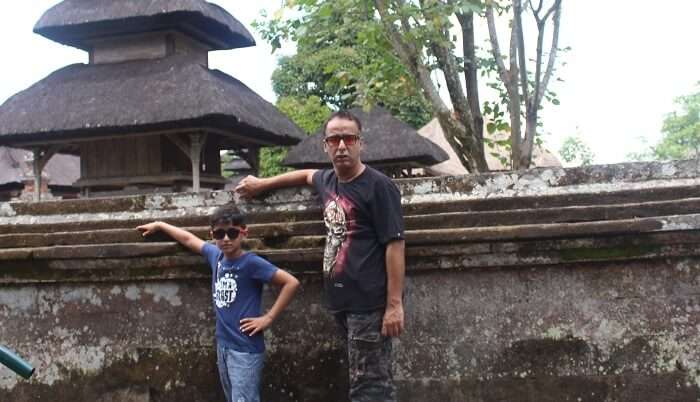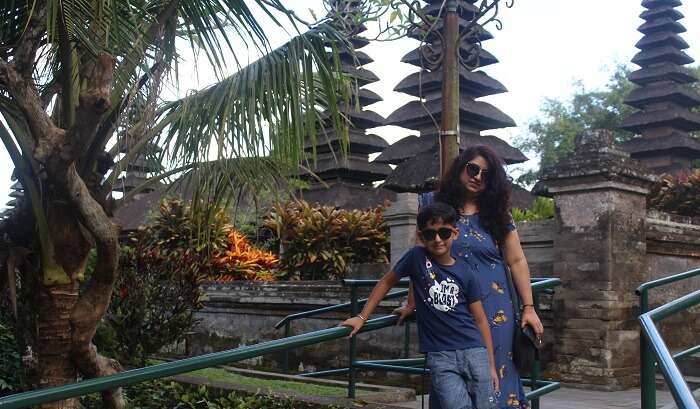 Out of so many things to do in Bali with kids, going on a cruise tops it all. So, we also chose to go on Bounty Cruise Bali. There were several attractive cruise activities for the entertainment of travelers. Also, the food from the International buffet lunch was immensely delicious. Like many, we also tried our hands at spectacular cruise activities like snorkeling, banana boat, canoeing, village tour, and 44 meters of water sliding. All in all, it was a fantastic time we spent on the cruise and our kid loved it too.
2. Tanha Lot Tour
Now was the time to explore Tanha lot and as we saw in pictures and videos, it's indeed a breathtaking place. We also paid a visit to the famous Tanha lot temple. Moreover, witnessing sunset in the Indian ocean was something that added great charm to our overall vacation.
One thing we loved about the place that I was highly influenced by the Hindu culture. There were also various cafes nearby where one could spend good amount of time
Top 3 Temples Near Kuta Beach Bali That You Must Visit To Seek Blessings!
3. Barong Kintamani sightseeing
Next we went for a Kintamani tour which was an impressive experience to visit Kintamani with a breathtaking view of an active volcano and lake. The tour offered us to visit various places of interest; Tampak Siring Temple / Tirta Empul Temple and Kintamani, Batur Volcano. This tour is also offered us the wide opportunity to see the beautiful handicraft in Bali which is made by locals. Moreover, a professional tour guide was always with us and described various places.
4. A Visit To Ubud Monkey Forest
On day 3, we visited Ubud Monkey Forest and we loved every bit of time spent there. The monkeys were generally peaceful unless they were provoked. Also, we found it to be a cleanly-kept sanctuary for monkeys where they were happy, healthy and really beautiful to look at. The groundskeeper fed the monkeys twice during our 1-hour visit and the monkeys looked so incredibly happy. This is one place that should definitely be visited while visiting Bali.
Shopping In Bali
Frankly, we did not buy much stuff. But, we visited 3 markets where there was hand made paintings, handmade soaps, and various handicrafts. Apart from this, if somebody is interested in buying gold, then there is a specific market for gold. There are various things to buy from Bali such as handmade dupa, Balinese silver jewellery, Kopi Luwak coffee and chocolates, and organic beauty products. All in all, travelers can have a fantastic time while shopping in Bali.
Restaurants In Bali
Our package included breakfast, so, we used to leave the hotel after enjoying a hearty morning meals. For lunches and dinners, we would go to various local restaurants. We've also had lunch at Pit Stop Burger on the first Day. We also tried various street food include French fries and chicken fried. Rest, we Pizza hut, KFC and McDonalds used to be out ultimate hot spots when we wanted to satiate our hunger. Also, if travelers are looking for Indian food in Bali, they will surely not get disappointed. There are several Indian restaurants in Bali where they can gorge a wide range of Indian delicacies.
Hotels In Bali
We stayed at Swiss-Belhotel Petitenget which was a wonderful hotel and offered us all the amenities that we needed. Moreover, the staff at the hotel was quite friendly and cordial. Other than this, we also stayed at the hotel namely Crown Villa. This was also a great accommodation option and frankly, we didn't have any problem throughout our stay.
New Year Parties In Bali 2022: See Where To Party And How
How To Reach Bali
We also visited Singapore on our own expenses. So, from Delhi, we took a flight to Singapore and then to Bali. Next from Bali we came back to Singapore and then to Delhi.
What To Pack For Bali For 5 Days Trip
Short dresses
Capri
float
floater
swimming costume
Lowers
Linen shirts
Sunscreen
Important Tips For Future Travelers
Make a minimum 10-day tour of Bali if you want to enjoy like anything
It is better to pre plan everything before the trip to avoid any hassles
Book vehicles beforehand to save time and avoid any confusion
Please refrain from doing any kinds of pollution and keep the park pollution-free
Know How An Expedition To Bali In May Was Not Only Romantic But Also Thrilling For This Couple!
Our Experience With TravelTriangle
We are extremely happy with the services provided by TravelTriangle. Everything was perfectly synchronized and we actually didn't have to worry about anything. I chalked out the whole itinerary, everything we have planned before only by talking with the agent from the travel agency. So everything went as planned, we are very happy with the way the trip went. Moreover, the best part was that our trip went amazing within the budget we decided.
Discover Some Fine Art At The Museums in Batuan Bali On Your Vacation
Adorned with picturesque views, Bali is a place that would make one fall in love with nature all the more. Pawan visited Bali with his family and got spellbound by the beauty of this lovely destination. Moreover, he also realized that there are so many things to do in Bali with kids. If you also wish to spend some time in the lap of nature, then plan a trip to Bali and get it tailored with the help of TravelTriangle team.
Common Queries You May Have About Bali
Which part of Bali is best for families?
Nusa Dua is one of the most popular areas to stay in Bali for families. If you are looking to just hang out on a beautiful beach for your Bali vacation, then Nusa Dua is definitely a good option. You won't experience a lot of local Bali culture here, as the area is really just dedicated to the top Bali luxury resorts.
What do teenagers do in Bali?
Swing amongst the trees at Bali Treetop Adventure Park. Teens can unleash their inner Tarzan or Mowgli at the Bali Treetop Adventure Park where you climb high into the trees to complete a series of obstacle circuits
What to take to Bali for toddlers?
Following are some essentials which one must take while going to Bali with kids: 1. Clip-on pram fan 2. Lightweight Stroller 3. Swim nappies 4. A high spectrum sunscreen 5. Ready to make Baby food 6. Baby wet wipes
Can I take baby food to Bali?
Yes, you can definitely take baby food to Bali. Hence, you do not have to worry about what food your baby will have on a Bali trip.
What are the various things one can do in Seminyak?
These are the things while travellers can indulge in to make the most of their vacation: 1. Go surfing at Seminyak Beach 2. Try hands at scuba diving. 3. Nyaman Gallery 4. Pay a visit at Petitenget Temple 4. Go horse riding 5. Spend a peaceful time at Duble Six Beach