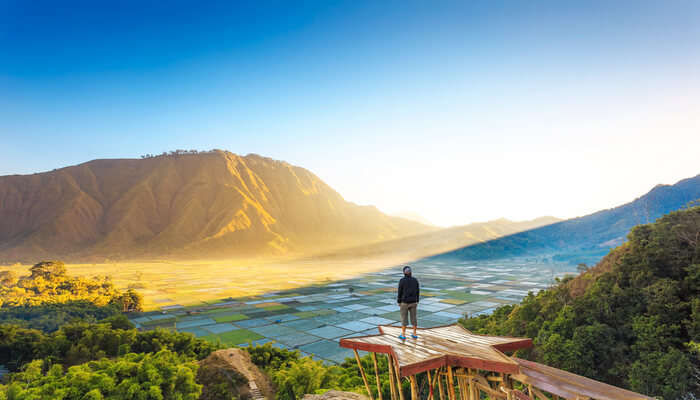 Lombok Island is a lesser-known paradise near Bali known for its serenity and striking allure. Bali's next door neighbour offers you unique experiences and picture-perfect attractions to visit. In fact, if you want to get an idea of how pristine Bali used to be before tourism boomed on the island, then Lombok will give you a fair picture. In case you have decided to take a detour to Lombok Island on your Bali vacation, then you are in for a lot of activities and surprises on the island because there are so many things to do in Lonmbok. Here is how you can spend your time on the island.
Top Things To Do In Lombok
If you are wondering what to do in Lombok Indonesia, here are a few things you must not miss out on. Make sure you strike off each and every item on the list below.
1. Trekking: Tiu Kelep Waterfall
If you are wondering about things to do in south lombok, then take a trek to Tiu Kelep waterfalls. One of the things you will find in plenty are picturesque waterfalls on the island and Tiu Kelep is absolutely worth visiting. The gushing waterfall is surrounded by lush green jungles is a perfect place to have a delightful date with nature. The trek to waterfall only takes you 45 minutes taking you psat rich flora – fauna and river streams. Once you arrive here, you will feel amazed.
Must Read: Islands Near Lombok That Will Make Your Indonesian Vacation A Dream Like Experience
2. Air Kalak Hot Springs
Air kalak Hot Springs are one of the most astounding Lombok attractions that you should not miss on your trip to the island. The hotsprings lie on the way to Mount Rinjani. So, maybe you can take a small detour to these springs on your way to the mountain or back to relieve you of all the fatigue. You will feel all the exertion oozing out of your body once you take a dip in the hot waters.
Suggested Read: 10 Instagrammable Lombok Restaurants For An Impeccable Culinary Adventure!
3. Snorkeling
For all the water sports lovers out there, Lombok is a great place to be because you can enjoy underwater activities. Snorkeling is one of the best things to do in Lombok to explore the creation of nature underwater. The best thing about the beaches in Lombok is that they are cleaner and less crowded. So, there you go. Head to Pink Beach for snorkeling in Lombok Island.
Suggested Read: 4 Most Beautiful Places You Can Explore Near The Islands In Tegallalang Bali
4. Spa Session
After all you are in Balu for a vacation and one of the most relaxing things to do in Lombok is taking a spa session. You will find a couple of places on the island where you can get a therapeutic massage. Let go off all the tension from your muscles and heal your body after an invigorating session. Make sure you sign up with a trusted and reviewed spa parlour. Check their ratings and reviews online or ask at the hotel where you are staying.
Suggested Read: Lombok Island: A New Rising Star In The Genus Of An Exotic Island Vacation
5. Bau Nyale Festival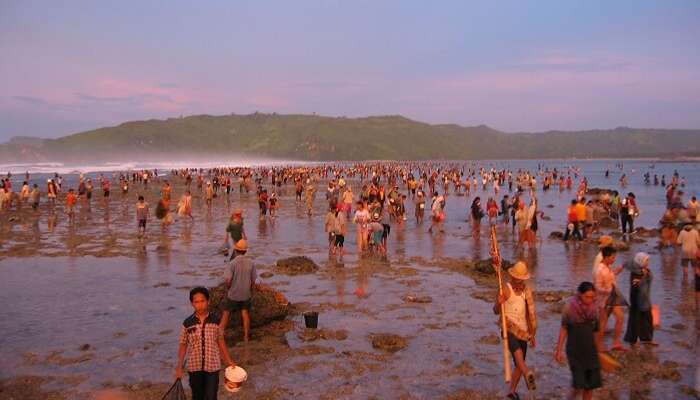 One of the fun things to do in Lombok is to take part in Bau Nyale Festival. You have never seen anything like this festival where hundreds of locals gather at the beach to collect Nyale – worm like fish. This special fish, which locals believe is an incarnation of Princess Mandakini, only washes off on the beach once a year. It is also believed that eating this worm fish make men more energetic and women more beautiful. Who wouldn't want that?
6. Beleq Village: Take A Tour
Don't waste all your time on the beach sunbathing and swimming. There is so many interesting things to do in Lombok, one of which is taking a tour of Beleq Village. It is not a village like any other. The origin of the village goes back to the 14th century. So, you will see traditional Sasak houses and gazebos constructed in Lombok style. The village has a fascinating story. Make sure to dig out interesting tales.
Suggested Read: 10 Indonesia Travel Tips You Must Follow To Make Your Trip Memorable
7. Camping at Lake Segara Anak
Who does not like to be outdoors? You may not get many places on the island of Bali where you can camp under the stars but Lake Segara Anak is where you would want to spend all your days on the island. The scenery and quietude are magnetizing. However, you would have to work up your muscles and trek all the way up to Mount Rinjani. You will be surprised to find the lake inside the caldera at the summit. The turquoise blue lake looks so serene and beautiful that makes you forget about everything in the world.
Suggested Read: 12 Indonesian Islands That Will Take Your Breath Away!
8. Semeti Beach
You will find a number of beaches in Lombok but what makes Semeti Beach stand out is its stunning volcanic formations. You will find a series of pools, inlets, and bays that have been carved out with time by the waves. Semeti Beach looks outworldly and spectacular. It is a perfect place to escape and enjoy solitude as you can have the whole place to yourselves. You should definitely make a point to visit this beach in Lombok.
Further Read: Komodo Island: An Ultimate Guide To Explore Indonesia's Land Of Dragons
Lombok Island is an amazing place on the Indonesian group of islands. With so many exciting things to do in Lombok, it is hard to make a pass on visiting this heavenly place that too when it is only 90-minute ferry ride from Bali and just half an hour away from the plane. Everyone takes a vacation to Bali, if you want to do something unique, add Lombok to your itinerary.
Comments
comments