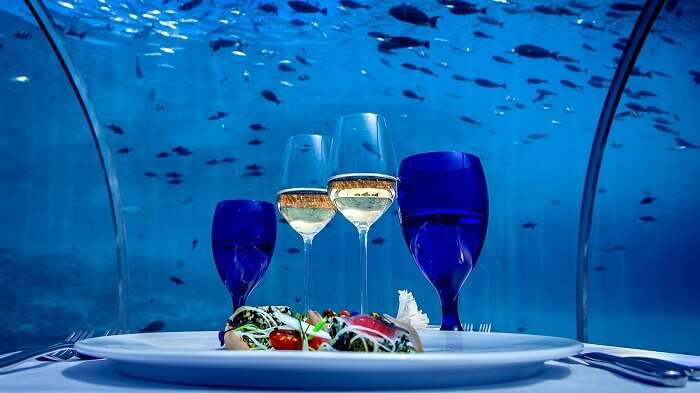 Magic is synonymous with Maldives, and if there's anything apart from accommodation that adds on to it, it is an exquisite dining experience. And it's not beach dining anymore, but the five breathtaking underwater restaurants in Maldives, which you need to visit for making your holiday experience on the island an affair to remember. Make sure to dine at these restaurants with your significant other to make this a night to remember. We promise you'll have the time of your life.
5 Underwater Restaurants In Maldives
Built feet below the ocean, offering gorgeous views of the marine life through glass ceilings, these restaurants truly redefine the experience of underwater dining in Maldives. Take a look at the list of 5 best underwater restaurants in Maldives.
Ithaa Undersea Restaurant
Subsix
SEA
5.8 Undersea Restaurant
Minus Six Meters
1. Ithaa Undersea Restaurant
Image Source
Built 16 feet below the sea level, the Ithaa is undoubtedly the best Maldives undersea restaurant, which you need to visit. Offering 180 degree panoramic views of the beautiful sea life, this restaurant provides an absolutely unforgettable experience and is one-of-its-kind on the island. What makes it exclusive is that it can also be booked for private breakfasts, weddings, and other special occasions!
Wow Factor: Ithaa is the worlds first all-glass undersea restaurant, and is the winner of three Global Awards at the World Luxury Restaurant Awards, 2017.
Cuisine: European
Cost: INR 13929/- for lunch, and INR 22859/- for dinner per person (including a glass of champagne)
Timings: 11 AM to 12 AM every day
TripAdvisor Rating: 4.5/5
Location: Conrad Rangali Island 20077, Maldives
Must Read: 10 Pristine Places To Visit In Maldives For An Amazing Time Amidst The Pristine Views!
2. Subsix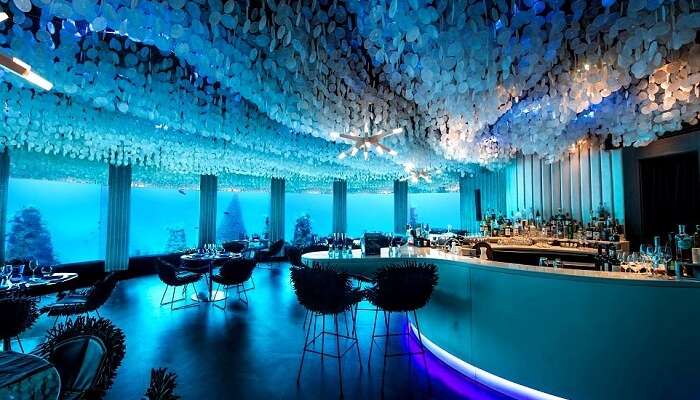 The Subsix Underwater Restaurant in the Maldives is quite literally the undersea playground and the first underwater nightclub on the island. True to its name, everything from the chairs that look like sea anemones to the shell-shaped bar reflects the aura of the sea. To top it all, the coral-like chandeliers and the ocean blue lighting add up to the mermaid theme, and makes one feel like a part of the undersea life.
Wow Factor: Set up 20 feet under the Indian Ocean, what makes this restaurant exclusive is not just the dining experience it offers, but also the thrill involved in reaching here. After taking a speedboat, you can make your way for a scrumptious meal here by descending a three-tier staircase.
Cost: INR 5143/- for two
Timings: 12 PM to 2:30 PM for lunch everyday, and 9 PM onwards for Underwater Glow Party on every Wednesday and Saturday
TripAdvisor Rating: 5/5
Location: Niyama Private Islands Maldives, Huluwalu, Dhaalu Atoll 00000, Maldives
Suggested Read: 8 Restaurants In Berlin To Visit In 2020 That Offer Delicious Food & Gorgeous Views, All On One Platter!
3. SEA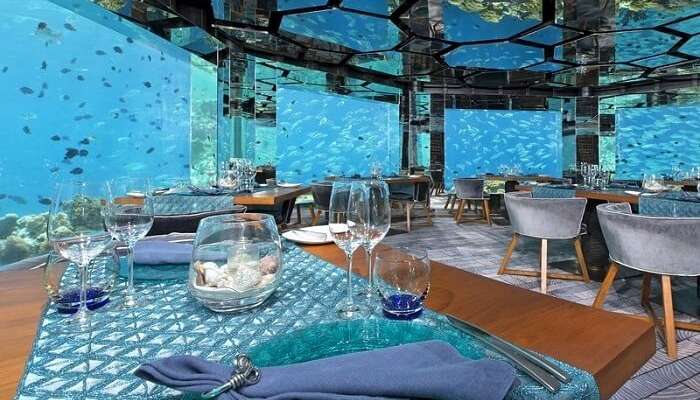 The SEA restaurant at the Anantara Kihavah takes the experience of underwater dining in Maldives to a new level. Apart from offering a spectacular range of wines, which have been spanning nine decades, it also features an excellent array of life swim, dart, and dance while you dine. There is no doubt that this is an extraordinary place to visit with your loved ones for experiencing the underwater life right with your eyes!
Wow Factor: Being the worlds first underwater wine cellar, SEA offers a dreamy and an out-of-the-world experience accompanied with international gourmet cuisines
Cost: INR 14287/- per meal
Timings: 12 PM to 2 PM for lunch, and 6:30 PM to 10:30 PM for dinner
TripAdvisor Rating: 5/5
Location: Kihavah Huravalhi Island, 20215, Maldives
Must Read: Paradise Island: A Resort In Maldives That Is Made For Men But Is Fit For Gods!
4. 5.8 Undersea Restaurant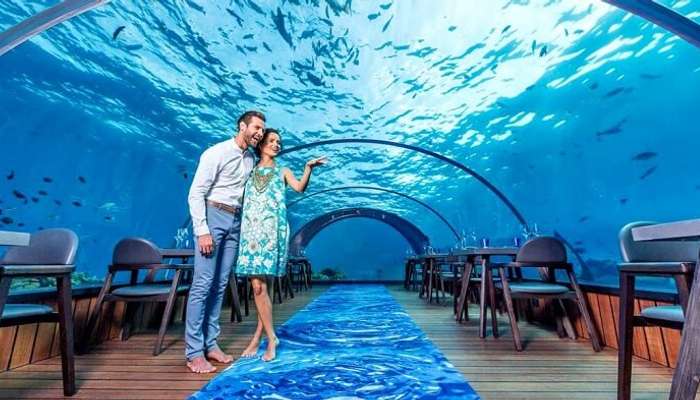 Dazzling in appearance, and offering an exquisite undersea dining experience, this is one of the exotic Maldives restaurants which is no less than a marvel. While this is a great place for having lunch, it is also an ideal spot for experiencing a sunset dinner. The extensive menu of the restaurant adds on to the lavishness and makes it an extraordinary culinary treat for you. The prices here might seem too expensive, but believe us the experience is all worth it!
Wow Factor: Situated at Hurawalhi Island Resort, 5.8 is the worlds largest all-glass undersea restaurant Maldives, which offers a class apart experience and a multi-cuisine extravaganza.
Cuisine: Seafood, European, International, Fusion
Cost: INR 17143/- for a 4-course lunch, INR 23571/- for a 7-course lunch and dinner respectively for one person
Timings: 12:30 PM onwards for lunch, 6:15 PM onwards for sunset dinner, and 9:15 PM onwards for moonlit dinner
TripAdvisor Rating: 5/5
Location: Hurawalhi Island Resort, Lhaviyani Atoll, Hurawalhi Island, Maldives
Suggested Read: 6 Best Homestays In Maldives For Your Budget Maldives Vacation
5. Minus Six Meters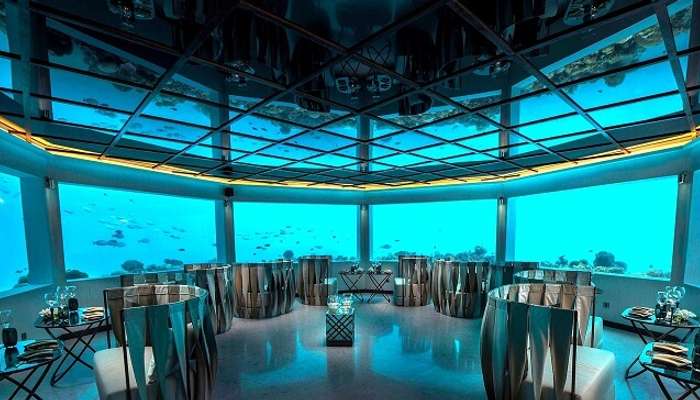 Set amidst the plush ambience and beautiful marine life, Minus Six Meters is the shining gem in Ozens crown. It offers an incredible fine dining experience and exotic seafood cuisine that will leave you smitten with its charm. Adding on to the exclusiveness, you can also dine at the restaurant for free if you stay at the resort for more than four nights. With its location 20 feet under the blue lagoon, it is ideally the most romantic and surreal place to visit with your loved ones! Apart from lunch, you can either try the Champagne breakfasts here or book the space for a special evening themed events, and party like a whale!
Wow Factor: An exclusive undersea dining spot, Minus Six Meters offers captivating views of the sea turtles, shells, and the other emerald beauties.
Cuisine: European, Seafood
Cost: US $100 to US $300 (approximately)
Timings: 12 PM to 2 PM for lunch, and 7 PM to 10 PM for dinner
TripAdvisor Rating: 5/5
Location: OZEN by Atmosphere, Maadhoo Island, South Mal- Atoll, Maadhoo Island 20094, Maldives
Suggested Read: The Maldives Honeymoon Of This Couple Will Give You Major Travel Goals
Tips For Visiting Underwater Restaurants In Maldives
We've shortlisted a few tips you should keep in mind while visiting the underwater restaurants in Maldives to ensure that you have a hassle-free meal with your significant other. Read through them carefully:
If you're holidaying in Maldives with your family and have kids along, try and visit the Ithaa Restaurant for lunch as it doesn't allow children during the dinner hours.
All of these restaurants have different timings for lunch and dinner. Don't forget to check the schedule before you plan a visit.
In case you're not staying at the respective resort of the undersea restaurant you wish to visit, contact the management of the resort and book your transfers & table in advance.
Make sure you're smartly dressed.
Capturing memories and your experience at the restaurant is a must. Just make sure you do not act too touristy as it might make the other people around awkward.
Further Read: 10 Best Resorts In Maldives For Honeymoon In 2020 To Rekindle The Spark Of Love
In love with these underwater restaurants in Maldives already? We bet that these restaurants will surely captivate you by their charm. Think how amazing it would be when you will actually visit one during your holiday in Maldives. Get packed and leave right away to relish some tasty food underwater! We promise you'll have the time of your life and won't be disappointed by everything that Maldives has to offer you.
Frequently Asked Questions About Underwater Restaurants In Maldives
Q. How much does it cost to eat at Ithaa Undersea Restaurant?
A. Ithaa Undersea Restaurant is one of the most amazing underwater restaurants in the Maldives where you can dine-in for 390 US dollars for dinner and 238 US dollars for lunch. They take every meal seriously and serve some of the best dishes.
Q. Are there any underwater restaurants?
A. The concept of underwater restaurants is now common and you will find several in the Maldives. Some of the most popular ones are Ithaa Ithaa, the Atrium Bar, and Subsix Subsix among others.
Q. Where is the world's largest underwater restaurant?
A. World's largest underwater restaurant has been opened in Norway. 'Under' is five meters under the sea on the southern tip of Norway.
Q. What is the name of the underwater restaurant in Dubai?
A. If you are looking for an underwater restaurant in Dubai then you must head to Ossiano which serves the finest seafood with a mesmerizing view of the marine life.
Q. How much does it cost in an underwater hotel in the Maldives?
A. Staying in an underwater hotel in the Maldives costs a whopping amount of $50,000 per night which includes a private boat and a personal chef.
Q. Is the underwater hotel real?
A. The concept of an underwater hotel is developing with advancements. While there is no fully submerged hotel but the concept is developing. You can find water bungalows in the Maldives.
Q. How much is it to stay at the Underwater Hotel?
A. Guests can buy a package for around $250,000 to stay in the Muraka Hotel in the Maldives.
Comments
comments