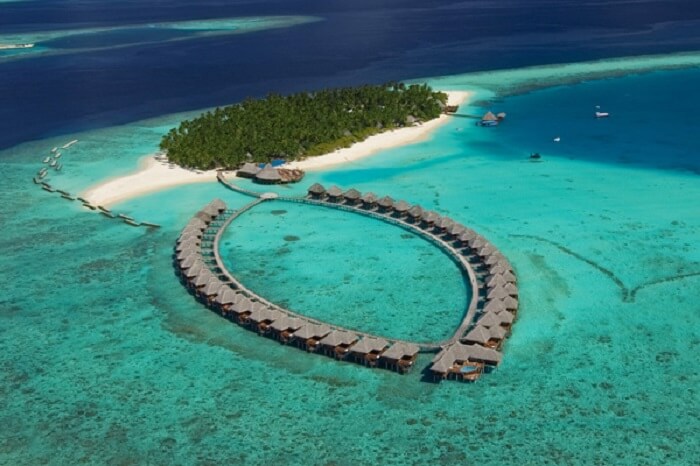 Maldives is endowed with incredible beauty and splendor of nature. With 1200 islands and 26 atolls, this island country holds a great allure for tourists across the globe for its exotic islands, enthralling blue seas, shiny-sandy beaches, magnificent reefs, and a variety of water sports. Being an island country dominated by water sports, the tourism here is strictly relative to the dry weather conditions and hence the span of December to April is the best time to visit Maldives.
23 Best Places To Visit In Maldives
If choosing from so many attractions gets tough, keep our quick list of 10 most beautiful places to visit in Maldives handy. Though not exhaustive, the list helps you tick of all major tourist spots in the country.
1. Malé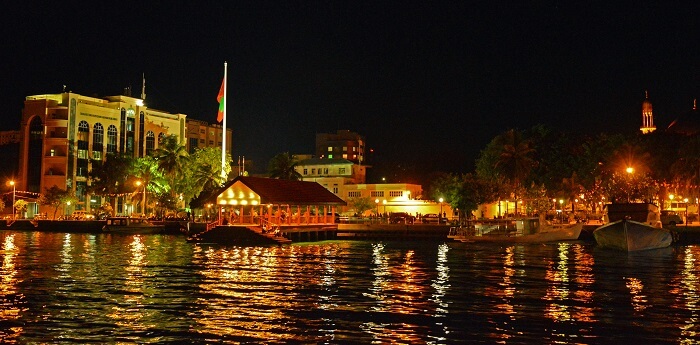 Image Source
Located on the southern edge of Kaafu Atoll, the North Malé Atoll is the largest city and the most popular destination among the best places to visit in Maldives. It is among the top Maldives tourism places. It used to be called 'Mahal' for being the abode of the 'Royal Dynasties' and is now famous as the King's Island. Malé has a tropical monsoon climate with rains occurring through most months in the year. The best thing about Male is its consistently moderate temperature, round the year.
Major attractions at Malé: The Grand Friday Mosque, Scuba diving and snorkelling, Malé Fish Market, Malé's National Museum, Tsunami Monument, Dive Club Maldives, Underwater Scooters
Best places to stay in Malé:  Centara Ras Fushi Resort & Spa, Hotel Octave, The Beehive
---
Maldives Holiday Packages On TravelTriangle
Experience the best of Maldives with its snorkeling trips, coral islands, fishing tours, and sandy beaches. Holiday Packages at the Best Rate. Get customized deals from expert agents on TravelTriangle. Book Now!
---
2. Sun Island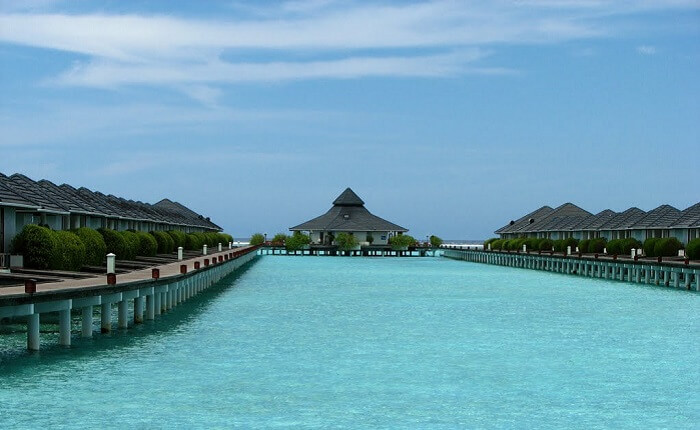 Also famous as the Sun Island, Nalaguraidhoo Island in South Ari Atoll is among the top Maldives points of interest. It is adorned with some stunning beaches, beautiful tropical flowers, and lavish greenery that pulls a great number of tourists wanting to bask in the lap of nature. With its extremely charming blue waters, sparkling beaches and fabulous resorts, the island guarantees immense joy to its guests. Given its serenity and beauty, it is the perfect escape for honeymooners and lovelorn couples.
Best time to visit Sun Island: March to April – the summer season, suitable for water sports.
Major attractions at Sun Island: Diving, windsurfing and snorkelling, relaxation at sauna and spa, Island Divers
Best places to stay: Sun Island Resort & Spa, Holiday Island Resort & Spa, LUX* South Ari Atoll etc.
Suggested Read: 15 Best Islands In Maldives For Honeymoon To Have A Secluded Vacation With Your Bae
3. Banana Reef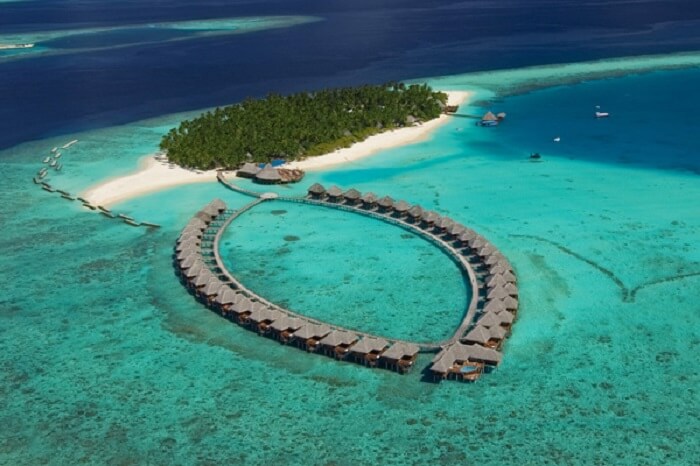 Image Source
Located in North Malé Atoll, Banana Reef is globally renowned for being one of the best diving sites in the world which adds it to the list of top Maldives points of interest. It was, in fact, the very first diving spot in Maldives to get recognition for licensed diving and training. Shaped like a banana, the reef is choc-a-block with exuberant marine life, fantastic corals, amazing cliffs, overhangs, and caves. And thanks to the myriad adventure activities here, it is one of the favorite places to visit in Maldives for the adventure junkies.
Major attractions at Banana Reef: Underwater activities like Scuba, snorkelling, Jet skiing in the reef; places like Maldive Victory, Hulhumalé, Alimatha Island, Biyadhoo Island, Manta Point
Best places to stay: Coco Bodhu Hithi, Paradise Island Resort & Spa, Adaaran Prestige Ocean Villas are the luxury accommodations that will keep you happy and comfy.
Suggested Read: 10 Exciting Water Sports In Maldives For Your Adrenaline Fix
4. Alimatha Island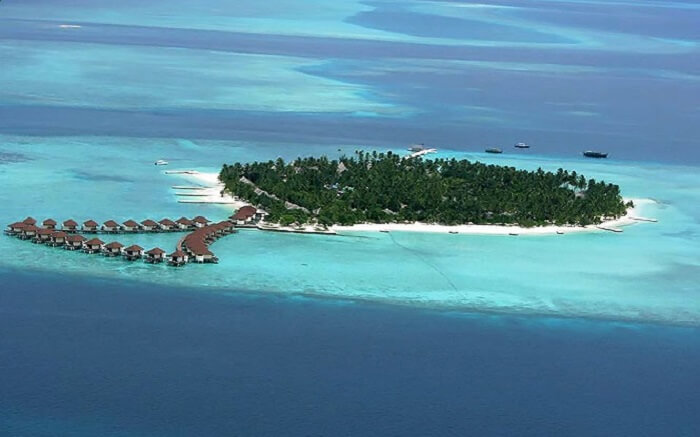 Image Source
Sitting on the eastern edge of Maldives, Alimatha Island is located in Vaavu Atoll. With its azure, crystal clear waters — apt for diving, snorkeling and boating, the island is a perfect spot for a family vacation and for honeymoon too. Volleyball matches in the sun-kissed beaches and the dazzling sand, here, are great fun. The Ayurvedic massage centre, spa, bars, and restaurants make it a revitalising option among the popular tourist places in Maldives.
Major attractions at Alimatha Island: Diving, snorkelling and canoeing at Miyaru Kandu, Fotte Kandu (Govt. sanctioned protected sites); Alimatha Aquatic Resort
Best places to stay: VOI Dhiggiri Resort, Rihiveli by Castaway Hotels & Escapes, Fun Island Resort, Holiday Inn Resort Kandooma Maldives, are some of the places that promise you a great stay.
5. Artificial Beach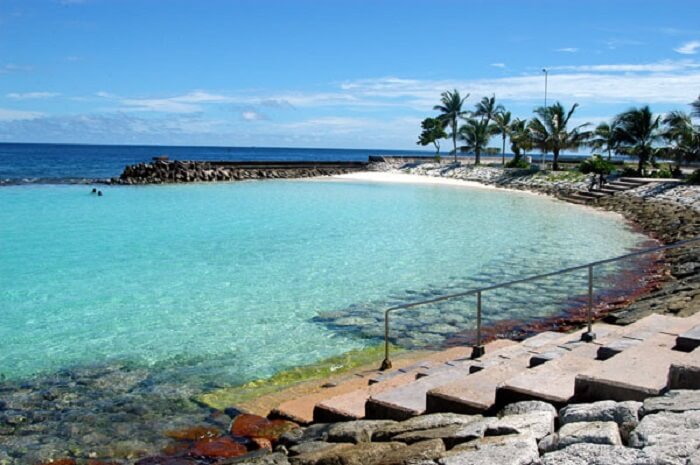 Image Source
Situated in North Malé Atoll, this beach is what its name tells you – artificial. It is the favorite haunt of the swimming enthusiasts among the top places to visit in Maldives. The Artificial Beach is an open area and has certain restrictions for clothing as per the local law. The beach also hosts several carnivals, water sports, and peaceful walks. The evenings here turn beautiful as music groups gather to jam and perform.
Major attractions at Artificial Beach: Shark Point, Manta Point, Nassimo Thila, Kani Corner
Best places to stay: Isola Guest House, Huraa East Inn, Ocean Cottage, Eriyadu Island Resort & Spa.
Suggested Read: 15 Best Maldives Beach Resorts That Are A Perfect Blend Of Luxury & Elegance
---
Planning your holiday in Maldives but confused about what to do? These Maldives travel stories help you find your best trip ever!
Real travel stories. Real stays. Handy tips to help you make the right choice.
---
6. HP Reef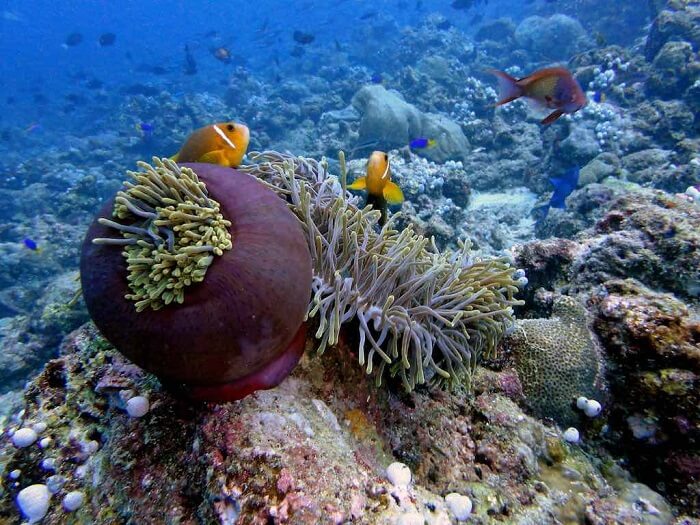 Image Source
Stationed in North Malé Atoll, HP Reef is among the top-rated tourist attractions in Maldives. It is a protected marine location that witnesses widespread presence of a variety of marine creatures. From small, harmful and colorful fishes to multi-hued corals, caves and overhangs — the sea here is bustling with the vivacity of marine life. With utmost care, the marine beings are protected here while making sure that ardent swimmers and divers only spring into waters when it is completely secure.
Major attractions at HP Reef: Marine life for those who love photography and diving
Best places to stay: Lily Beach Resort & Spa,  SeaHouse TopDeck, The Somerset Hotel, Hotel Jen Malé Maldives – nearby hotels.
Suggested Read: 5 Underwater Restaurants In Maldives That Offer An Out Of The World Experience!
7. Fihalhohi Island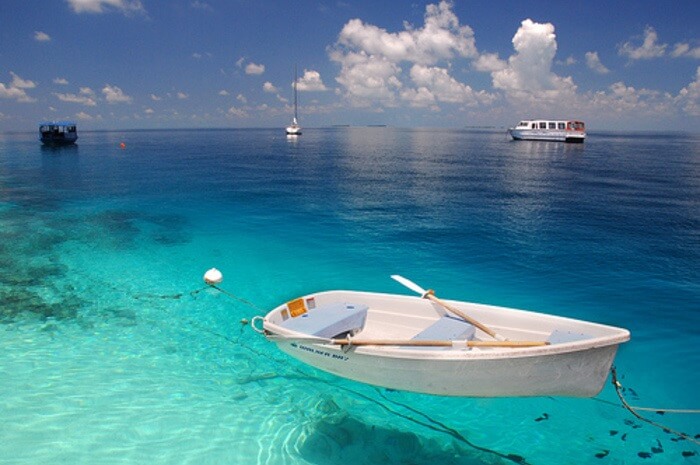 Image Source
Fihalhohi Island, situated at the South Kaafu Atoll in Malé, is one of the most attractive and gorgeous places in Maldives to spend your hard earned holidays. The island is beautifully surrounded with shady coconut palm trees, pristine beaches, and clear waters. You must visit this island if you are looking for a romantic getaway or planning your honeymoon. The island offers warm weather, making it an ideal place for water activities that visitors thrive for. One of the best things about Fihalhohi Island is the reef that surrounds the island that houses an abundance of marine life. With the availability of scuba diving, one can experience the marine life among the reef and make memories that will last for a lifetime. This island is also known to offer the best tropical with Balinese and other international treatments.
Major attractions at Fihalhohi Island: Fihalhohi Island Resort, Rannalhi and Rihiveli beaches in close proximity
Best Places to stay: Fihalhohi Island Resort, Veligandu Island Resort & Spa, Meeru Island Resort & Spa, Eriyadu Island Resort- easily accessible from the Island.
8. Utheemu Ganduvaru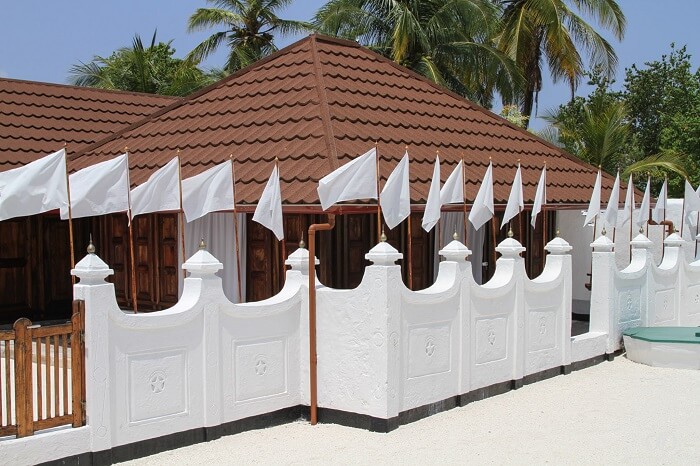 Image Source
Located in the Northern part of Maldives, Utheemu is one of the best places to visit in Maldives. It is a small island that resembles a small green jellyfish. One of the historical significant tourist places in Maldives, it is the birthplace of Sultan Mohamed Thakurufaanu — revered  in Maldivian history for chasing away Portuguese intruders. The place has got a monument in its name — Utheemu Ganduvaru, a heritage building that you must see. Home of the Sultan Mohamed, this palace is made of wood and a major tourist attraction in Maldives.
Major attractions at Utheemu Ganduvaru : The home of Sultan Mohamed, Ancient Cemetery, New Mosque, Beach North shore etc.
Best places to stay in Utheemu Ganduvaru: Amra Palace Laamu, J Resort Alidhoo, JA Manafaru, The Barefoot Eco Hotel.
Suggested Read: 10 Best Resorts in Maldives For Honeymoon
9. Biyadhoo Island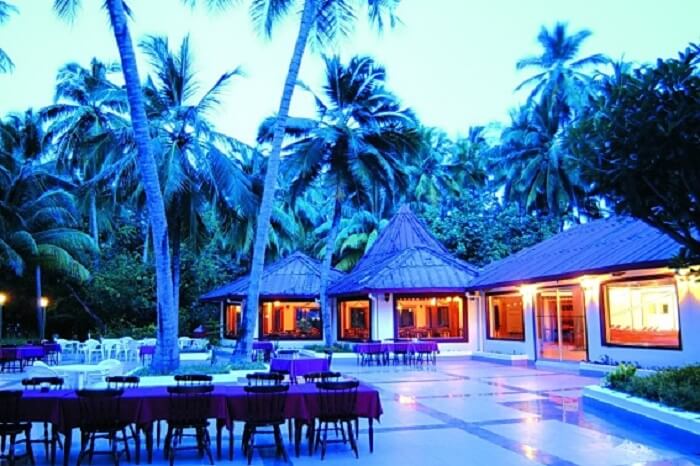 Image Source
Another popular island among the best places to visit in Maldives, the Biyadhoo Island is stationed in South Malé Atoll. Spread over ten acres of land, it is around 18 miles away from South Malé International Airport and has Makunufushi Island in close proximity. The island has abundant vegetation of bananas, coconuts and mangoes along with cucumbers, cabbage and tomatoes. It is popular for its sparkling waters and adventurous water sports and hence got the name — 'the Scuba-diving Island'.
Major attractions at Biyadhoo Island: Biyadhoo Island Resort, snorkelling, scuba diving, canoe-paddling
Best places to stay: Cocoa Island by COMO, Arena Beach Hotel, Crystal Sands, Beachwood Hotel, Island cottage, etc. are some of the near-by, luxurious hotels for your comfortable stay.
10. Veligandu Island Beach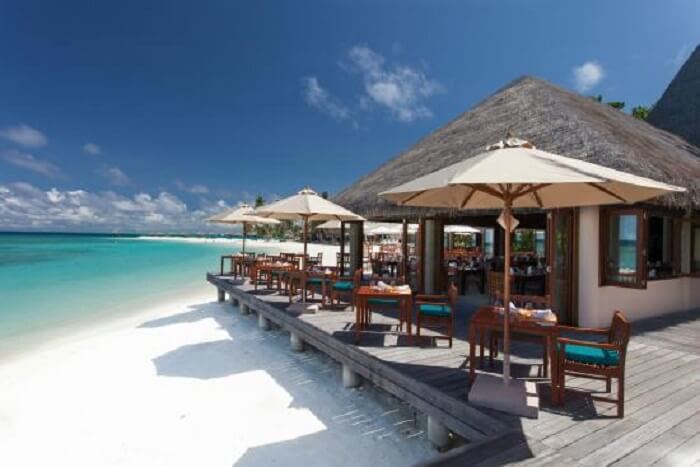 Image Source
Located in North Ari Atoll, Veligandu Island is a reasonably small island. But in spite of being small, it has its own glory for vacationers. The island is filled with astonishing greenery that provides immense serenity in this land of shimmering waters. Also, the lagoons here provide great opportunities for diving and snorkeling. Being in close proximity to a fishing village, the island also promises to serve you delicious food.
Major attractions at Veligandu Island Beach: Veligandu Island Resort & Spa, snorkeling, diving, fishing, village tours
Best places to stay: Rasdhoo View Inn, Rasdhoo Dive Lodge, Ras Reef Guest House, Kuramathi Island Resort.
11. Baros Island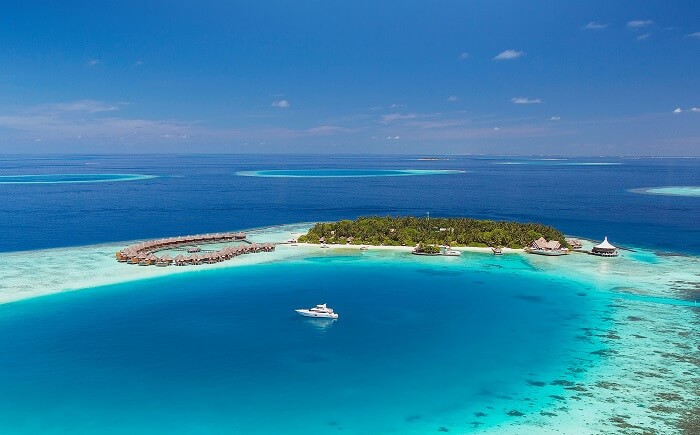 An ideal place that will keep the crowd at bay is the Baros island, which happens to be among the top-rated islands in the Maldives. Mostly known for its natural elegance, the luxurious boutique resort, and the sun-kissed beaches is something to die for. With a number of water villas, the Baros Island is exclusively sought after, for its services and the privacy guests get to enjoy during their stay. With a few restaurants and bars in the precinct of the villas, it makes for an ideal vacation for honeymooners and vacationing with friends. What is to die for is the cyan blue water which is a treat to the eyes and the soul.
Major attractions: Snorkelling, Scuba diving, Coral reef and relaxation in the resort spas
Best places to stay: Baros Maldives, Banyan Tree Vabbinfaru, Angsana Ihuru, and Grand Park Kodhipparu
12. Emboodhu Finolhu Island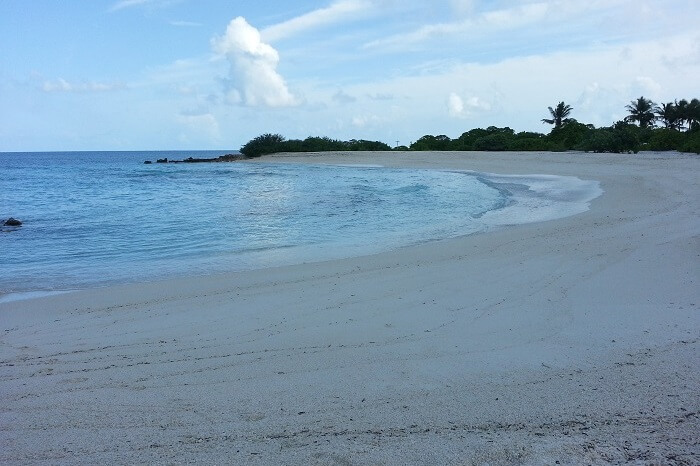 The arrangement of water villas in the Emboodhu Island is a major attraction in itself. The water villas are arranged in the shape of a flower giving this island a jewel to add to the crown. If on a seaplane, the view is as beautiful as the stay here. Featuring about fifty-five water villas along with the luxe Taj Exotica Resort, the five-star accommodation and hospitality services that guests enjoy here is remarkable and has always received positive feedback. For those looking to relax can opt for the revitalizing spa retreat.
Major attractions: Scuba diving, Cruising, and relaxation at the best spas
Best places to stay: Embudu Village, Taj Exotica Resort & Spa, Adaaran Prestige Vadoo and Nasandhura Palace Hotel
Suggested Read: The All New Kudadoo Maldives Is The Most Exotic Vacay Spot You Ought To Explore Soon!
13. Mirihi Island
Vacationers looking for a complete detox stay at the Maldives should head to the Mihiri Island. With no television to watch, one is absolutely detached from the outside world if they keep their cell phones at bay. With no distraction from the outside world, ones stay at the beautiful island of Mirihi, honeymooners thrive here. they can also avail to the Adam & Eve spa treatment, which is romantically sinful. With around 30 water villas and restaurants that dish out lip-smacking delicacies, the Mirihi Island is a must visit with your loved one.
Major attractions: Scuba diving, Snorkelling, romantic dinner setups and relaxation at the luxe spas
Best places to stay: Mirihi Island Resort
14. COMO Cocoa Island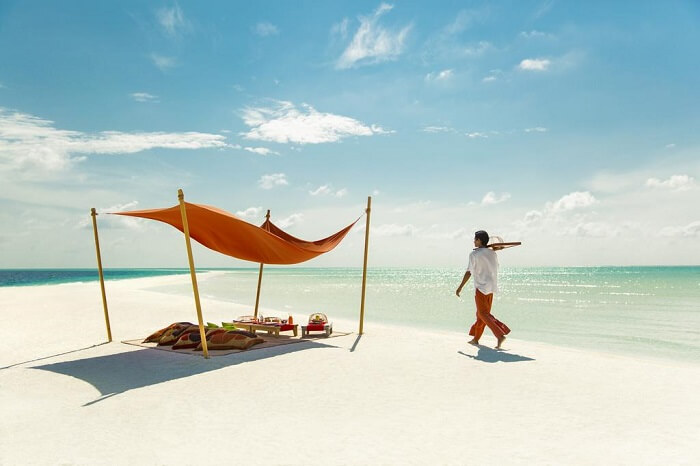 A country like the Maldives is proud of its sandy beaches and gorgeous islands, but among the many, the COMO Cocoa Island stands out as it is the most sought-after islands in all of Maldives. It is a slice of tropical heaven for relaxation and rejuvenation. The island is home to a large number of resorts and water villas with around 33 of them. Each of these villas provides five-star accommodation and the best hospitality services in all of the surrounding islands. The white powdery beaches that are softer than your skin is something to live for, along with the crystal blue water that surrounds the place with pride.
Major attractions: Snorkelling, Scuba Diving, swimming pools, infinity edge bathtubs and relaxation at the spa
Best places to stay: COMO Cocoa Island hotel, Holiday Inn Resort
15. Huvahendhoo Island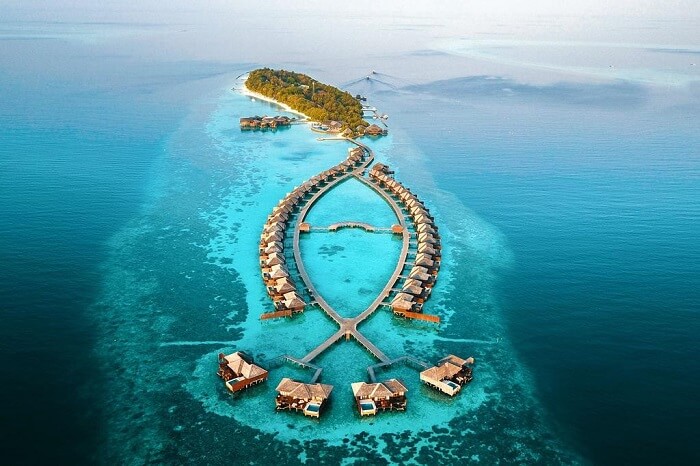 The calm water and the lustrous greenery that makes up the Huvahendhoo island is where you should be for an undisturbed stay for rejuvenation. Whether you are traveling with family or your pack of friends, this island is where you can relax and detox yourself off of the hustle and bustle of daily city life. Known for a family oriented place, kids can have their share of fun at the 'Kids Club' while the adults can enjoy their time walking down the soft white sandy beaches. With restaurants serving top-notch delicacies, both foreign and local, the Huvahendhoo island has a lot of perks to it.
Major attractions: Swimming pool, tennis courts, beach volleyball, billiards and spa at the Lily Beach Resort & Spa
Best places to stay: Lily Beach Resort & Spa and Drift Thelu Veliga Retreat
Suggested Read: 6 Best Homestays In Maldives For Your Budget Maldives Vacation
16. Maafushi Island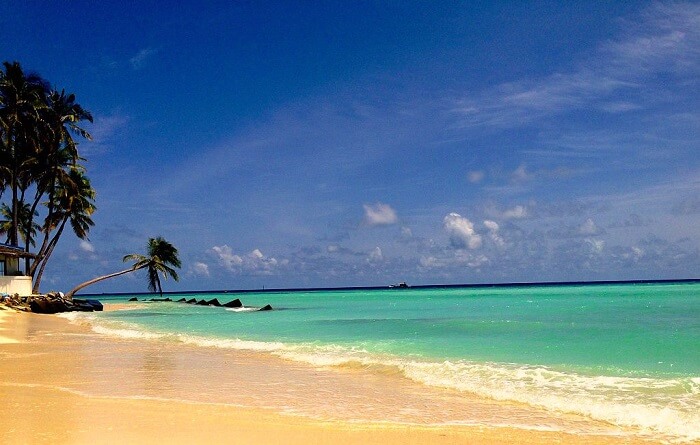 Also known as Maldives paradise, the Maafushi beach is among the best beaches in the country, that is sought after for fun activities. With a wide range of water sports that keep the tourists hooked, the food served here is lip-smacking and will leave you licking your fingers. Apart from the amazing activities, one can indulge in, one should treat their eyes to the scenic beauty that graces this island. The mix of blue and white is perfectly blended to relax your mind by the sight of it.
Major attractions: Bikini beach, Vihamanafushi Island, Island hopping, Scuba Diving, Snorkelling, and Shark Diving
Best places to stay: White Sand Lodge, Crystal Sands, Beachwood Hotel and Spa
17. Kanuhura Island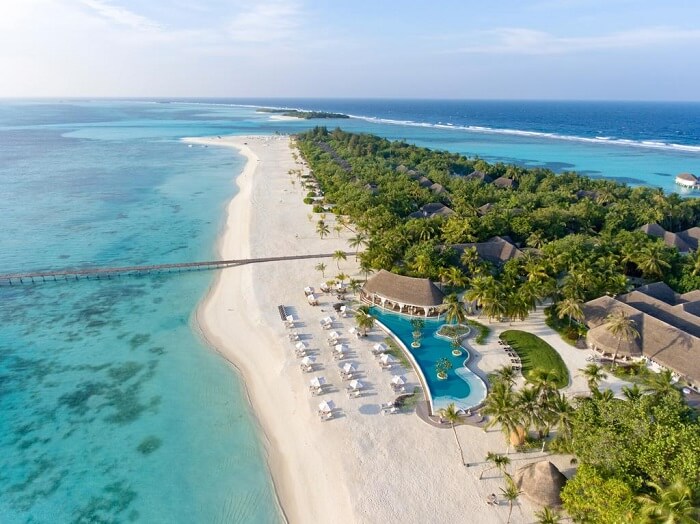 The Kanuhura Island boasts of an elaborate villa setting and the five-star luxurious amenities and services that it provides to its guests. Known for a kid-friendly place, this place sees a lot of kids and packs of friends vacationing here apart from the regular honeymooners. Every villa at the island resort, Kanuhura, provide a private host that will take care of all your needs. While you enjoy the pampering the island provides you, away from the desk work back at home, the kids get to have a good time at the Kids Club. One aspect about the villas that make it worth the stay is the décor that leaves the guests amazed.
Major attractions: Surfing, Snorkelling, Scuba Diving, Beach volleyball, Tennis and rejuvenation at the resort spa
Best places to stay: Kanuhura Maldives
Suggested Read: Thailand vs Maldives: It's Time For A Face-Off Between The Two Paradises
18. Rangali Island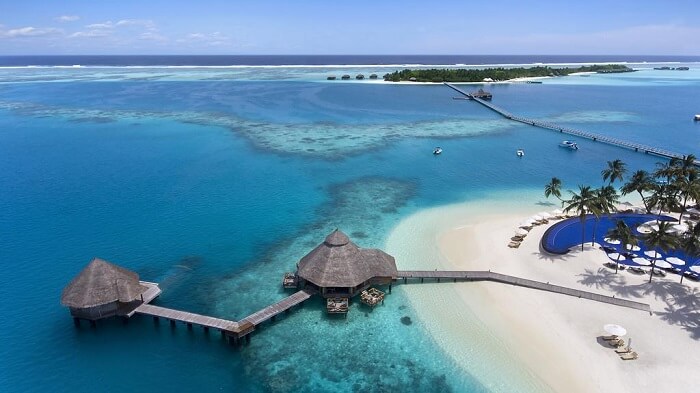 The Conrad Maldives in Rangali Island is where you would want to take your family for a long vacation amongst the sandy beaches and crystal clear cyan blue water. Owned by the Hilton Hotels group, the Conrad offers the best hospitality services along with many fun activities both kids and adults can tend to during their stay. With a range of indoor and outdoor activities to choose from, one can enjoy a day at the spa and relax. Also, for those who love fishing, the Conrad Maldives in the island offers fishing activities in the vicinity.
Major attractions: Infinity swimming pool, Dolphin sighting, Island hopping, spa, and indoor sports
Best places to stay: Conrad Maldives and Rangali Island Resort
19. Whale Submarine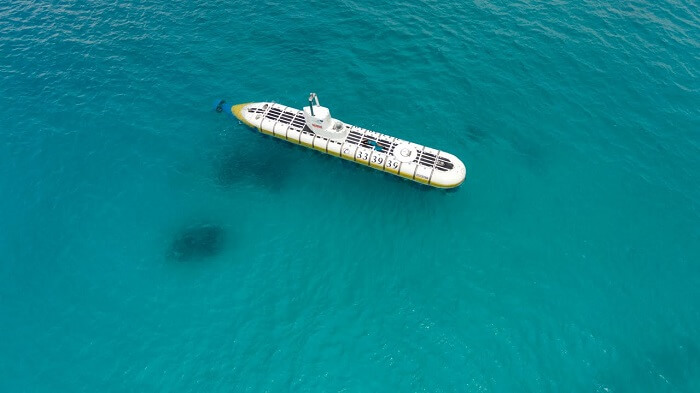 The Whale Submarine is obviously not a place, but the 45 minute underwater tour of the Indian Ocean falls nothing short of an excitingly new and elaborate experience of the underwater life. Cruising through the underwater can be compared to the touring of a garden. The only difference is, you are in a cage and the underwater world is your spectator while your cruise past the marine life.
Major attractions: Common Lionfish sighting, Yellow Boxfish and a school of yellow and blue snappers
Best places to stay at: Hotel Jen Male, Maagiri Hotel and the Beehive
Suggested Read: Reethi Beach: A Quick Guide To The Blissful Waterfront In Maldives
20. Halaveli Islands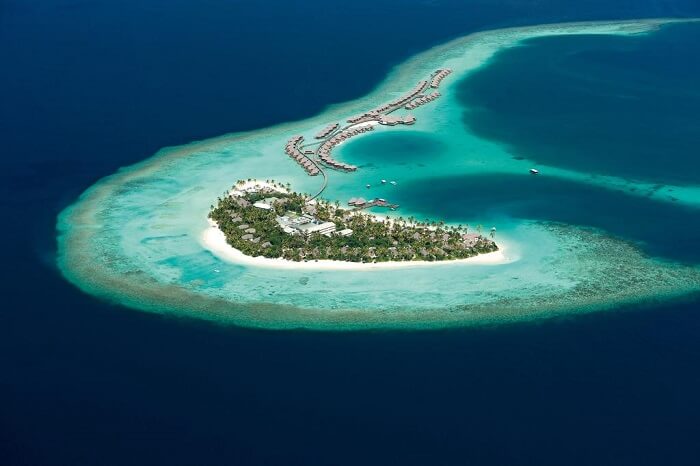 Isolation can sometimes be good for your health and this is where Halaveli Islands come into the picture. Surrounded by water in every direction, the Halaveli Islands are a perfect spot to detach yourself from the real world with nothing but enormous scenic beauty and relaxation. Well, not at all nothing, for the island is the best place to spend quality time with your friends and family. the Halaveli Island is also home to the Constance Halaveli Resort. Known for its elaborate hospitality services that ease every stay. With 57 water villas for a romantic getaway, the rooms are equipped with televisions and iMac entertainment system.
Major attractions: Paddle boating, Jahaz Restaurant & Bar, Swimming pools, Scuba diving, and Snorkelling
Best places to stay: Constance Halaveli and Ellaidhoo Maldives by Cinnamon
21. Dhigu Island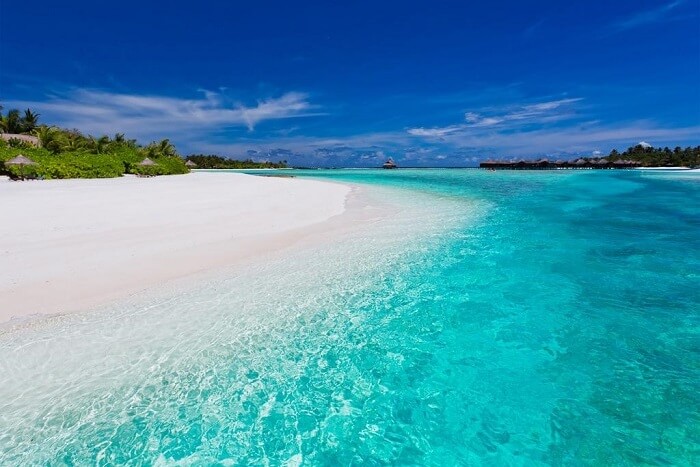 The island of Dhigu is more about the blue than the green, for everywhere you look you find the blue skies and the crystal clear water that calms your sight. The island resort in Dhigu Island has a range of 36 water villas with top-notch facilities and five-star accommodation along with infinity edge bathtub and an enormous view of the vast sea. Your stay at the Anantara Dhigu Resort & Spa is everything one can ask for when it comes to vacationing luxuriously. The food served at the four restaurants of the resort is known to be the best in the region with local and foreign cuisines to fill your palate.
Major attractions: Island hopping, Ferry rides, Scuba Diving, Snorkelling, and other water sports
Best places to stay: Anantara Dhigu Maldives Resort, Anantara Veli Maldives Resort, and the Taj Exotica Resort & Spa
22. Majeedhee Magu
Street shopping is an activity that everyone enjoys, from children to adults, people like to engage in street shopping. When in the Maldives, you ought to visit the Majeedhee Magu, which is just a walk down the main road of the capital city of Male. Here, you will find the latest fashion wear to a wide range of local delicacies that you can savor upon. The best things here that you should take home is the local handcrafted items, that make way for gifting and self-possession as a souvenir. You can come down here any time between 9 am and 11 pm to shop some goodies to take back home.
Major attractions: The Market
Best places to stay at: The Somerset Hotel, Nalahiya Residence, Coastline Hotels, and Resorts Pvt. Ltd.
23. National Museum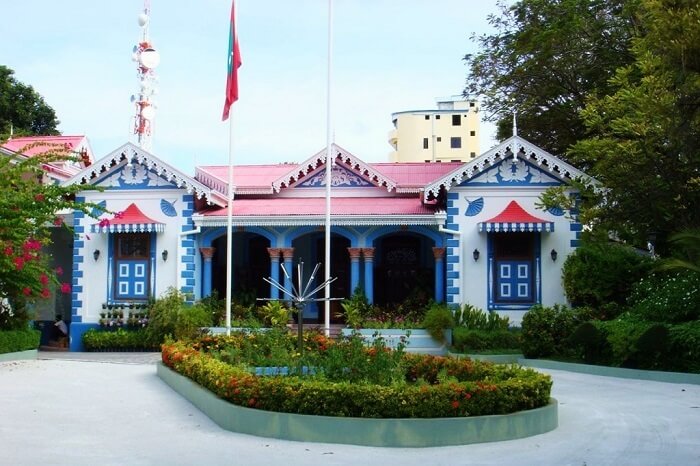 Located in Male stands the quaint building known as the National Museum. It is always a good practice to visit museums during a vacation to learn a little about the history of the place you are staying in. the National Museum of Maldives holds a large collection of artifacts. The components of which traces all the way back to the founding (history) of the Maldives Islands. The building is a part of the 17th century Maldivian Royal Palace and also houses a public park known as the Sultan Park. The well-conserved colonnades and historic artifacts tell a lot about the country. The museum witnesses a large number of visitors and art connoisseurs.
Major attractions: 13th-century wooden plank, Coral stone head of Lord Buddha and 11th-century piece from Alifu Todd
Best places to stay nearby: Hotel Octave Maldives, Novena Hotel and Hotel Jen Maldives
Further Read: Mauritius vs Maldives : Which One to Pick For Your Holiday?
So what is your pick among the best places to visit in Mauritius – calm & serene islands or adventurous water sport centre? Indulgent island resorts or a walk down the history? If all these things already excites you, then plan and book your trip to Maldives with TravelTriangle now! and experience a blissful vacation amidst the beaches.
Frequently Asked Questions About Maldives
Q. What are the best places to visit in the Maldives with family?
A. The best places to visit in the Maldives with family are the Veligandu Island Beach, Alimatha Island, and Hulhumale Mosque.
Q. What are the things to do in Male island?
A. Visit the Old Friday Mosque, National Museum, and Newport at Male.
Q. When is the best time to visit the Maldives?
A. The most ideal time to visit the Maldives is in the month of March.
Q. What should I pack for the Maldives?
A. Men should pack shorts or lightweight pants and short sleeved upper garments. Women should pack a bikini, summer dresses, skirts, and airy cotton shrugs. Flip-flops are a must.
Q. Is visiting the Maldives very expensive?
A. The cost of visiting the Maldives depends on how you plan your trip. The prices of resorts vary from low to high, with rooms that cost Rs 7000/night to a lakh/night.
Q. How many days should I plan Maldives trip for?
A. Unless you wish to indulge in specific activities only, Maldives is perfect for a short stay. A week of holidaying at the Maldives is enough for a single trip.
Q. Is drinking in Maldives legal?
A. Yes, drinking in the Maldives is legal if you are of the legal age. Since the Maldives is an Islamic country, alcohol is banned for locals. However, the resorts and bars are licensed to purchase and sell alcohol, but at a steep markup price.
Q. What is the legal age of drinking in the Maldives?
A. The legal age of drinking in the Maldives is 18. If you are of the legal age, you can purchase and drink alcohol only if you are a not a citizen of the country.
Q. Should I go to the Maldives for my honeymoon?
A. The Maldives is one of the most ideal places for honeymooning in the world, with privacy and peace that the scenic beaches provide.
---
Looking To Book An International Holiday?
Book memorable holidays on TravelTriangle with 650+ verified travel agents for 65+ domestic and international destinations.
---
Comments
comments