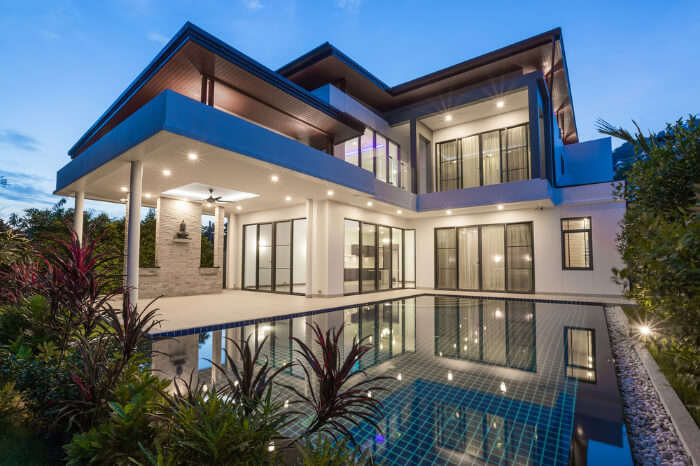 It is safe to say that Las Vegas is the most popular destination in the western part of the United States of America. Each and every one of us has for once dreamt of enjoying in the various Casinos and Bars on the iconic Las Vegas Strip. Las Vegas is the one of the most insanely luxurious destinations. For those with super budgets, we've come up with some of the best estates and villas in Las Vegas.
8 Best Luxury Estates & Villas In Las Vegas
While there are numerous luxury villa and estate accommodations, each good in their own right, after a thorough exploration, analysis and reviewing we have compiled a list of 8 best Villas and Estates available for vacation renting in Las Vegas. Choose your favourite property from the below given list of the premium luxury accommodations in Las Vegas.
1. The 2810 Private Luxury Estate
Often referred to as the symbol for the epitome of modern-day luxury, the legendary 2810 Private Estate gives you all the luxuries of the best 5-star hotels inside a private estate. Having 11 bedrooms, 6 bathrooms, 24/7 concierge, within an area of 1 and a half acres just five minutes away from the strip, now that's what you call Luxury! The Estate mixes the best of South of France, the Mediterranean, and tropical beaches and natural scenic destination and brings it to Las Vegas. This property has no competition in Las Vegas when it comes to Luxury. Relax and Enjoy the ever so vibrant city of Las Vegas by staying at this gated heaven.
Location: 2810 East Quail Avenue, Las Vegas, Nevada
Contact: +1 702-461-8082
Rating: 4.9/5
2. Bella Villa
Newly Built Luxurious Bella Villa has 6 bedrooms and 6 full bathrooms and a two vaulted ceiling home with 2-way staircase and an impressive entrance hall. High-speed Wi-fi is mandatory here, equipped with a Le Gourmet kitchen with a full maple cabinet and French steel double-door refrigerators. Having 9 queen beds, extra bedding is available and you are free to play with the full billiards and poker kits available.
Location: Palmyra Avenue, Las Vegas, Nevada, USA
Contact: +1-866-599-6674
Rating: 4.5/5
Must Read: The Las Vegas Nightlife: Nightclubs, Pool Parties, Strip Clubs, & More!
3. Villa Health
Located 13 km from the City Center of Las Vegas, the Villa Heath is a 7 room Villa with an indoor private pool and 7 luxurious bedrooms. This accommodation offers free Wi-Fi, a fully equipped kitchen, a big front garden to enjoy, an indoor swimming pool, private parking and is within the reachable distance of every major landmark in Las Vegas. This is your own experience of luxury redefined.
Location: Gilespie Street, Las Vegas, Nevada, USA
Rating: 4/5
Suggested Read: Romantic Places In Las Vegas: Exploring The Top 15 Attractions In & Around The Strip!
4. Villa Arthur
Villa Arthur is a huge 11 Bedroom villa which can sleep about 46 people under 1 roof. Equipped with an NBA level Basketball Court, fully equipped kitchen, an indoor pool and a central location within the commutable distance of any of the popular destination of Las Vegas, this is a Villa is perfect for throwing wild parties and balls.
Location: Belcastro Street, Las Vegas, Nevada, USA
Review: 4/5
Suggested Read: Honeymoon In Vegas: Must Experiences For Unforgettable Memories!
5. Wyndham Desert Grand Resort Villa Accommodation
A perfect family vacation property, the Wyndham Desert Grand Resort which located just a mile away from the Las Vegas Boulevard offers 2 bedroom accommodations for families which can sleep 6 people under 1 roof. The place is centrally located, the staff is friendly and there are many on-site activities conducted by the resort itself. You can have a dip in the numerous pools and enjoy in the lounge and the various restaurants.
Location: 265 E Harmon Ave, Las Vegas, NV 89169, USA
Contact: +1 702-691-2600
Review: 4.4/5
6. West Gate Las Vegas Resort Presidential Villa
West Gate Last Vegas International Hotel's Presidential Villa is all the luxury that you can wish at one place. The Presidential Villa has 4 King Sized Bedrooms, 5 Bathrooms and 2 Entertainment area. Having an elegantly decorated interior and an amazing view of the Las Vegas Strip, this Villa is unique among many offered in Las Vegas. You'll be provided with catering services throughout the day. The Hotel and Resort is also popular for hosting Elvis Presley, who used to stay here very often.
Location: 3000 Paradise Rd, Las Vegas, NV 89109, USA
Contact: +1 702-732-5111
Review: 4.0/5
7. Villa Hermes
Villa Hermes is a 5-bedroom Luxury villa within the affordable range when compared to others offering similar luxuries. With one pool, fully equipped kitchenette, and a central location commutable from and to popular destinations in Las Vegas, this villa offers everything in prices lower than the average rate in Las Vegas.
Location: 144 E Robindale Rd, Las Vegas, NV 89123, USA
Contact: +1 305 704 8404
Review: 3.5/5
8. Promontory Ridge Luxury Villa
The Promontory Ridge Luxury Villa has 6 Bedrooms, a terrace, and a great view down from the Promontory Ridge. Having 2 outdoor Swimming pools and 1 indoor swimming pool with luxuries like a library, barbecue facility, and a free parking space all with the unlimited free internet as well as LAN Wi-Fi. This is a great place to live just on the edges of the mountain ranges visible from Las Vegas. A stay in this villa means calmness, luxury, quietness, and serenity.
Location: Promontory Ridge Drive, Las Vegas, Nevada, USA
Contact: +1-866-599-6674
Review: 4.5/5
Further Read: Honeymoon In USA: 10 Dreamy Escapes For The Couples To Experience Their Own Fairytale!
Las Vegas is a highly stylish city that oozes luxury. The city is famous for its casinos and bars but ones you experience the luxury accommodation here, you will agree that the city still has a lot to explore. So, plan a trip to Las Vegas and live like a kind/queen in the 'city of sin'.