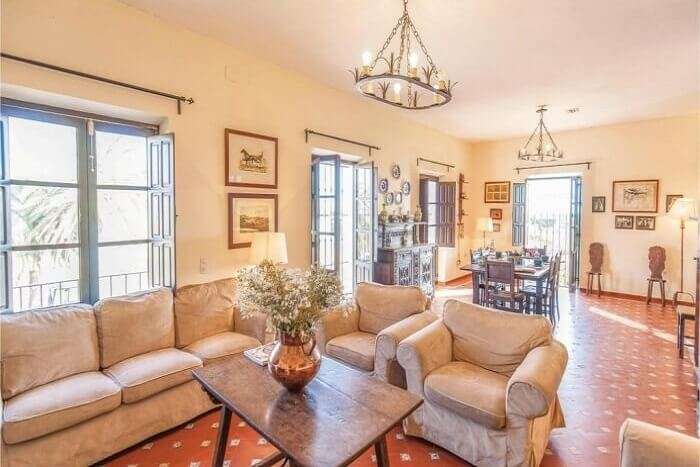 In Spain the biggest city is Seville. This place is also famous for flamenco dress and famous festivals Feria which takes place in the month of April. Seville is also known for its style and sophisticated atmosphere. The famous Baroque architecture is the finest example of style of design. Here the buildings and landmarks are attractively designed and draped which will really keep mesmerized.

People would here get to see villas in Seville. Here in this city both style and personality greatly matters. During the springtime people celebrated Seville Fair and fiesta and on the other hand during summer people here enjoy and get little busy with siesta. For the traveler wish to walk around the city then that can be the best option to explore the place.
8 Best Villas In Seville, Spain
Seville is a historic place and commonly known as the doorway to the past. While walking around one must feel like that they are traveling back to the past. Read on, to know of the best holiday villas in Seville, villas near Seville with pool, and more.
1. Villa Olivar

This is a very airy villa which is distributed into two detached parts with the living room in mutual. In the first part there are 3 bedrooms present along with 2 bathrooms and a full prepared kitchen and a big dining area. On the other hand the second part of the villa is composed of 2 bedrooms and two bathrooms attached to the rooms along with a kitchen and dining space. In this beautiful villa one would find a spacious garden along with 50m 2 pools where the travels can take sunbath on the sunbeds along with umbrella around the pool. This villa is encircled by 3 verandas from where the visitors can get the best view of the landscape that surrounds this most visited villa.
Must Read: Seville In Winter: 10 Best Things To Do For Ultimate Fun In The Snow
2. Casa Leonor

Casa Leonor is a villa which provides free Wi-Fi to the visitors. This beautiful villa is separated into two different in mater of rooms. 2 bedrooms are present without bathroom and there are 2 bedrooms present along with bathrooms and free toiletries and hair dryer. A well-furnished dining area is also present in this villa along with equipped kitchen were dishwasher, microwave and toaster is present. This villa is nearby to the airport which is just 10km away. This place is quite famous if the visitors have any interest in architecture, atmosphere and tapas.
Suggested Read: 8 Churches In Seville Where You Will Fall Under The Trance Of Utter Bliss
3. Villa Lola

One must find this luxury villa in Seville. This villa is actually located in Tomares and which is situated 5km from the Seville. This is a 7 bedchamber villa along with 4 restrooms. This is a 2 storied building which almost extends over 192 m² therefore offers adequately of space for about people together. Outside into the garden one can enjoy the lovely summer day relaxing by the pool. In and around the house one will not find any market.
To reach the market place they need to travel a bit. This beautiful villa is build up with bricks and woods. First this villa was built in the year 1973 and then reconstructed in the year 2016. This popular place has been rated with three stars. The villa is quit maintained and furnished with standard furniture. The villa also provides free wireless internet to the travelers for their convenience.
Suggested Read: 9 Festivals In Seville That Will Put You Under An Extravagant Trance
4. Casa Palacio Siglo XVIII

This place is one of the top villas in Seville which boasts a terrace, unrestricted Wi-Fi and great garden view. This property is also offers a privet parking area. Inside this villa there are 7 bedrooms present along with 6 bathrooms which are well equipped with hot tub, a bath and a hair dryer. Inside this villa a flat screen TV is also available. All visitors can relax themselves in the shared lounge area which is presented inside the villa. This place is best for visitors if they have interest in architecture, atmosphere and tapas. The place has been rated for the best value in Seville, Spain.
5. Villa La Campana With Private Pool

This wonderful Andalusian property is surrounded by a horse stable. Villa La Campana with Private Pool is the most luxury villas in Seville with private pool. This land the villa is quite spacious with beautiful terrace and with stunning garden area. On the other hand an individual will get to find amazing bedrooms and dining room. One will find countryside decoration along with small bar in the dining area. You can go out to stroll into the garden for refreshment.
You will find garden furniture there too. In the garden there are natural grasses present which lead to a nice and spacious privet pool. One could find another living room in the upper floor. There you can relax yourself in the afternoon reading book. There you can find fully furnished kitchen, bedroom and restroom. This building was first built in the year 1960 with bricks. The villa is rated with four stars along with average furniture. This is definitely one of the best luxury villas in Seville, Spain with pool.
Suggested Read: 8 Top Things To Do In Seville – The City Of Pride In Spain
6. Loft Rivero

This is a newly furnished villa which is located near the city center. In this apartment one could find free Wi-Fi internet connection. The building has a beautiful terrace which help individual to relax themselves and they also can enjoy the sunbath there. There you can also enjoy the wonderful breakfast, lunch and dinner. The villa is consisting of living rooms, single bedroom, bathroom and a separate kitchen. It's a historic place which becomes very vibrant at times.
Suggested Read: 6 Beautiful Beaches In Seville For An Amazing Vacay Smack In The Middle Of Spain
7. Nice Apartment In The Heart Of City

This particular villa is placed on the ground floor of the newly renovated building. In the villa is consist of the bedroom with a double bed along with a bathroom. In the villa one will find a beautiful dining area consisting of double sofa-bed and an equipped kitchen. A big courtyard is present in front of the villa which helps travels to relax themselves and enjoy their time. This place is quite close to the Guadalquivir river and the picturesque Triana neighborhood.
8. Mateo Alemán 22

This is another villa which is quite popular amongst the traveler. In this villa there are 5 bedrooms and a living room along a furnished kitchen. Along with that there are 4 bathrooms present with hot tub and bath. This villa is located in the old town therefore a great choice to the traveler if architecture interests them. apart from that one can enjoy free Wi-Fi internet access.
In this beautiful and historic place all the antiques and the old buildings are very well conserved and well maintained. The city remarkable follows Christianity which is obvious from all churches and convents which includes the Cathedral of Saint Mary or Seville Cathedral. Along the west of the cathedral flows the Arenal. At Seville there are amply of shops for a busy commercial streets of Calles Sierpes and Cuna.
Further Read: 9 Best Things To Do In Seville in December To Enjoy A Great Winter In The City!
Seville cuisine has an irrefutable North African flavor which includes the honey clad pastries, dates, almonds, lemons and many more. Some of the city's finest villas are found here. Therefore if people planning to visit this place during vacation and festival they must not be shocked due to sudden high of charges of the hotels and privel villas. So you must book and speck to all your accommodation providers before and agree to fix rate in advance. Villas near Seville, Spain become quite expensive during the festive time of the year. So, plan a trip to Spain for an enthralling holiday experience with your loved ones!
---
Looking To Book An International Holiday?
Book memorable holidays on TravelTriangle with 650+ verified travel agents for 65+ domestic and international destinations.
---