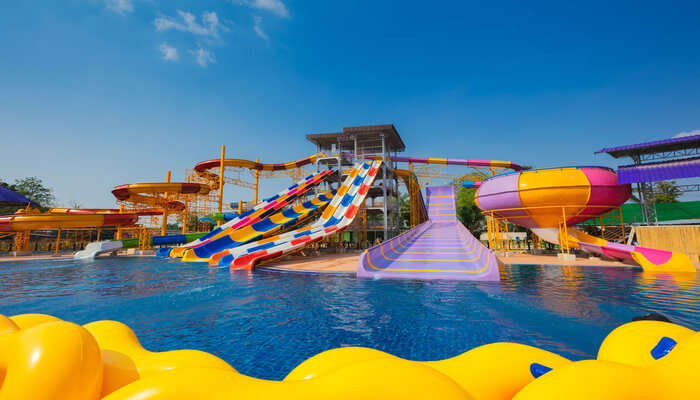 With the onset of summer, when the weather is rapidly reaching a boiling point and summer vacations have just begun, all that everyone yearns for is to take pleasure in the chilling waters of the waterparks. Surat being one of the popular tourist hotspots for spending joyful holiday boasts a multitude of waterparks. Waterparks in Surat poses as the marvelous treasure house of entertainment and fun.
Be it the water rides or the huge swimming pools or the music to groove on, these waterparks are a perfect choice for you to take a dip, sit back, rewind, loosen up and let out a sigh. As life is too short to ramble on the scorching heat, you just need to visit these amazing places and feel the magic of gallons of water. Spending time here will not only let you uplift your mind, body, and soul but will also offer you to spend moments of bliss with your friends & folks that you somehow miss these days.
7 Best Water Parks In Surat
You can overcome the sweltering heat of this taxing summer while visiting Surat water parks. So, let these chilling lands keep all your stress at bay.
1. Amaazia Water Park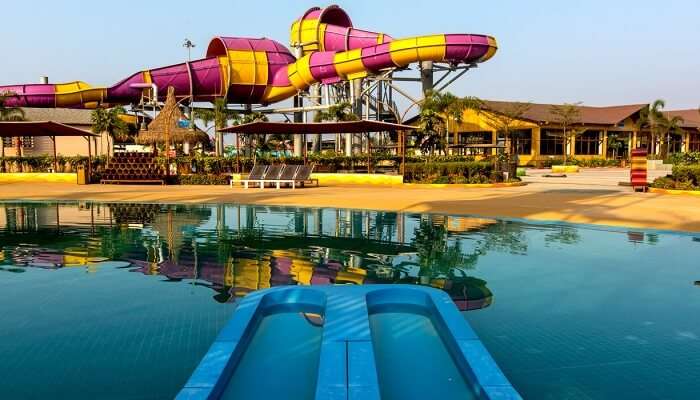 Astonishigly designed based on the theme of Amazon jungle this newly-curated waterpark houses a plethora of water slides and rides. Offering you sheer thrilling, chilling and electrifying experience, this place will not let you have even a single dull moment. Moreover, whatever age you are at, you will surely find a ride for yourself. Housing the breathtaking ride such as the award-winning King Cobra, Forest Jump, Kamikaze, Twister Amaazia Water Park, is indeed a paradise of if you are an adrenaline junkie. One of the best waterparks in Surat, it has got something for everyone!
Location: Opp. Dumbal Transport Godown Canal Road Parvat Patiya, Magob, Surat, Gujarat 395010
Timings: 10:30 AM – 5:30 PM
8:00 AM – 10:00 PM
Entry Fee: Adult: INR 799
Child: INR 499
Must Read: 10 Temples In Surat That Will Let You Take A Dip Into The Ocean Of Spirituality
2. Water Fun Park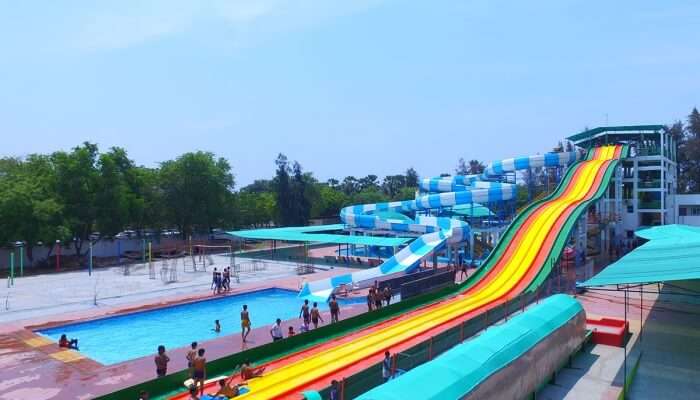 Also known as Chab Chaba Chab Water Park, Water Fun Park is located in Hazira Road Surat. It is an ultimate refuge for families and to enjoy, relax and let all the worries leave behind. You will find here a variety of amusing slides and ride that will make you try them at least once. Moreover, at Chhab Chhaba Chhab Water Fun Park in Surat, you are bound to bask in the glory of fun & entertainment while going for rides such as a lazy river, speed slide, wave pool, kids pond, cyclone, and pendulum. Also, the humongous swimming pool will allow to kick-away the scorching heat. Additionally, Chab Chaba Chab Water Park Surat tickets price are not much on the higher side and will fit every traveler's pocket.
Location: Near Reliance Factory, Rajgari Village, Via, Hazira Rd, Mora Tekra, Surat, Gujarat 395009
Timings: 10:00 AM – 5:00 PM
8:00 AM – 10:00 PM
Entry Fee: Adult: INR 550
Child: INR 450
Suggested Read: Dutch Garden In Surat: Top Reasons Why You Should Visit This Exquisite Tourist Destination
3. Neverland Water Park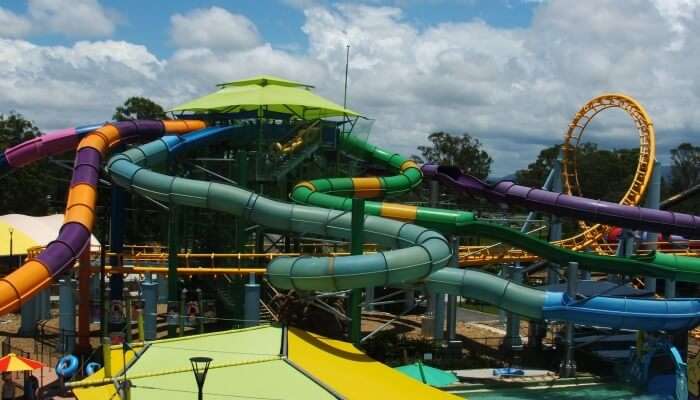 Ideally located in the heart of the city, Neverland Water Park is one of the top waterparks in Surat. This water cum amusement park boasts amazing rides and slides allowing you to enjoy a myriad of entertaining moments. With a huge swimming pool, wonderful rain dance, and many eateries, this entertainment hub will offer you various ways to enjoy a fun-filled day. If you are seeking an ideal getaway for having various thrilling activities and amusing rides then this is surely a must-visit place.
Location: Bhavik Apartment, Turning Point, Ghod Dod Road, Surat-395007
Timings: 10:00 AM – 6:00 PM
Entry Fee: Adult: INR 750
Child: INR 550
Suggested Read: Visit These 7 Historical Places In Surat To Go Back In Ancient Time
4. Blues Adventure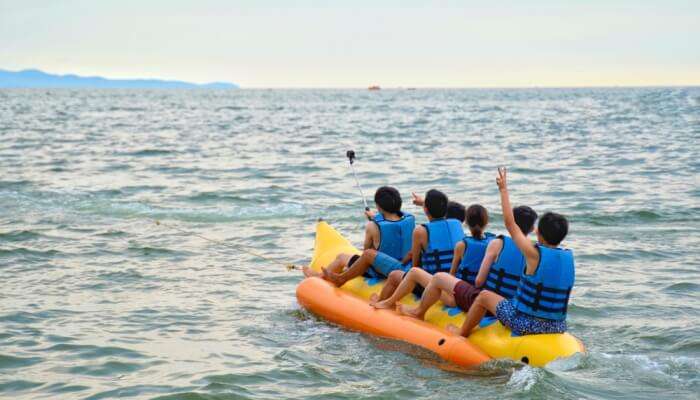 Apart from being famous for its slides and water rides, this amusement park is greatly renowned for adventure water activities that it offers. Touted as the first and only water sports center in Surat, Blues Adventure will allow you to try hands at various water sports under the provisions of security professionals. If you are fond of thrilling rides like kayaking, jet-ski, bumper rides, banana boat ride, adventurous speed boats, and many more, then this is definitely the right place for you. Apart from this, the food zone called "Halka Fulka" will take care of all your hunger pangs! A marvelous picnic spot for children, teenagers, and families, Blues Adventure is indeed an ideal spot for enjoying a refreshing time.
Location: Singapore side of Wier-cum-Causeway, Beside Permanand Garden, Surat, Gujarat- 395004
Timings: 8:00 AM – 10:00 PM
Entry Fee: 699
Suggested Read: 10 Places To Visit in Surat Thani For An Offbeat Experience
5. Modi Resorts and Amusement Parks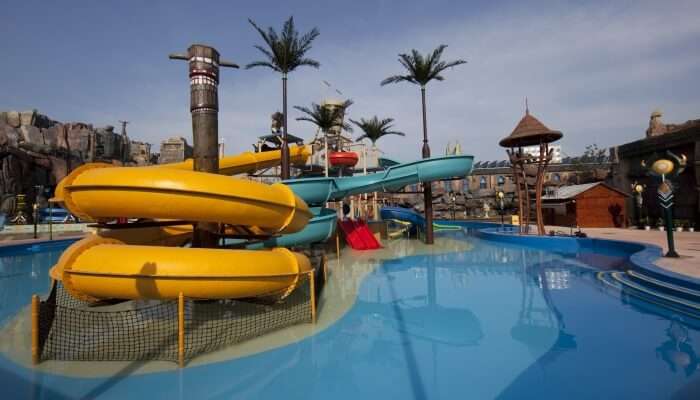 One of the best waterparks in Surat, Modi Resorts and Amusement Parks is a seashore resort where you can spend s stupendous time with your family and friends. Home to a number of slides, water ride and plenty of opportunities to indulge in entertaining activities, this place is a perfect hub for you if you are looking for a refuge from the daily mundane life. Rides & entertainment options such as a super chair, sweeping chair, boating, go-carting for visitors of all ages. Besides this, the park also facilitates its guests with sumptuous pool-side lunches and dinners. Not only this, but it also offers you lavish rooms with latest amenities for cozy night stays.
Location: S-2, 4th Floor, Safal Square, Vesu Char Rasta, Near Happy Home, Udhana – Magdalla Rd, Surat, Gujarat 395007
Timings: 8:00 AM – 10:00 PM
Entry Fee: 801
Suggested Read: 8 Cool Things To Do In Surat Thani This Summer
6. Aquacity Water Park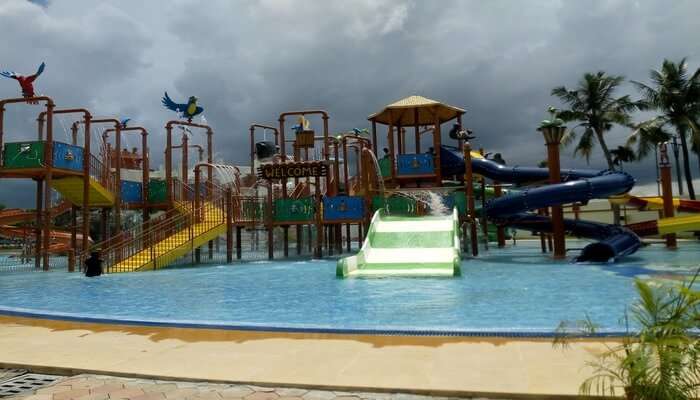 Sprawl over an area of 7 acres of land, this water park boasts an array of water slides and rides for all age groups. For people who want just want an exciting day mingled with some thrill, Aquacity Water Park offers an absolute base. The colossal swimming pool possessing chilled water will keep all your stress at bay. Furthermore, taking care of your hunger breaks, this place also houses a restaurant where you can savor tempting food.
Location: 6, Narmad Nagar, Ankleswar Industial Industris, Behind M T B College, Opposite Gaypagla Mandir, Kamrej, Surat, Gujarat -395001
Timings: 10:00 AM – 6:00 PM
Entry Fee: N.A.
Suggested Read: Street Food In Surat: 18 Must-Eats To Make You Swoon
7. Nilkanth Amusement Park

Enjoying a central location, Nilkanth Amusement Park is also one of the best amazing sources of recreation and entertainment. Packed with thrilling rides and various entertainment options, this amusement park offers a wonderful escape for children as well as adults. Because of its exciting rides and fun activities, kids will especially love this place. If you are seeking a cheerful day-out with your family, don't forget to consider this amazing water park.
Location: Palanpur Road, Rang Avadhut Society-1, Ramnagar, Palanpur Patia, Surat, Gujarat 395009
Timings: 10:00 AM – 6:00 PM
Entry Fee: N.A.
Further Read: Shopping In Gujarat: 10 Incredibly Awesome Places That Will Tempt You To Splurge More!
Rescuing you from the blistering and simultaneously offering you to spend some cozy time with your loved ones, waterparks in Surat offer you an ultimate getaway. Brimming with a wide range of thrilling rides, swimming pools, vibrant themes and decor, these water warks are meant for visitors of all ages. Also, not being quite heavy on the pockets, water park in Surat ticket prices are ideal for all. So, take a break from the daily humdrum of life and Plan a trip to Surat and get engaged in some cozy moments with your friends & folks.
People Also Read
Water Parks In Jalandhar Water Parks In Gurgaon Water Parks In India