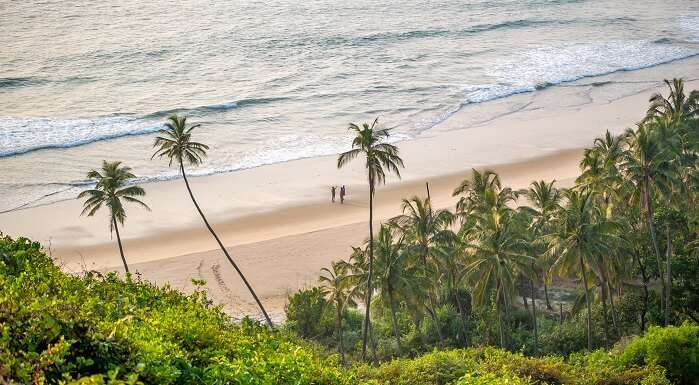 A picturesque coastal town set in the Sindhudurg area of Maharashtra, the glistening beaches, quiet backwaters, ancient forts, and water sports in Malvan entice vacationers from all over the country. Positioned around 145 km from Goa, the tiny town of Malvan is a perfect destination for all travelers that features a striking coastline of sparkling white sands lined with cashew, mango, and coconut trees. While there are a plethora of water sports one can enjoy on the best beaches of Tarkali Beach, Malvan Beach, Devbag Beach, and Chivla Beach, the relaxing activities like snorkelling and dolphin watching can also be enjoyed at the same time. So, take a look at these best water adventures in Malvan and experience the rush of adventure.
10 Water Sports in Malvan Best for all Adventure Enthusiasts
Here is a list of the most popular water sports in Malvan that can get your adrenaline pumping. Get ready to embark on an exciting journey in Malvan.
1. Snorkelling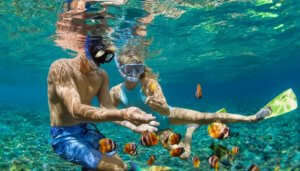 Snorkelling is an excellent activity for the ones who wish to try underwater adventure. No matter whether you are a pro swimmer or a beginner, you can thoroughly enjoy snorkelling with just a brief training session that includes some knowledge about the equipment and a few safety measures. The activity requires you to wear a diving mask that is basically a breathing tube, also called a snorkel. Since there are hardly any complications in this snorkelling and persons of age 10 and above can do this activity, it has now become one of the most popular water sports in Malvan.
Where to try: Tondavali Beach, Tarkarli Beach, Tsunami Island
Average cost: ₹1,000
Age limit: 8 and above
8 Best Malvan Resorts That Add Comfort To Your Beach Vacation In Maharashtra!
2. Scuba Diving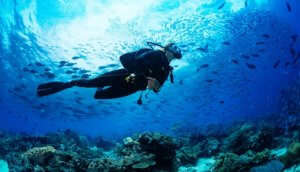 Delve deeper into the sea, and witness vibrant corals and colourful marine life while trying your hands at scuba diving in Malvan. There are several PDAI certified scuba divers available who will train you and take you to the deep spots of the sea. While Tarkarli Beach is quite famous among tourists for scuba diving, other spots like Devbagh Sangam, Chivla Beach, and Vengurla Rocks also allow you to make the most of this activity. The depth during scuba diving usually ranges between 10 to 30 feet. Moreover, you can dive for 10-30 minutes depending on your preferences. So, just don a diving mask and a dry suit; get to know the basics of scuba diving, and head on to explore the paradisiacal underwater world.
Where to try: Tarkarli Beach, Karli Backwaters, Chivla Beach
Average cost: ₹700
Age limit: 10 and above
3. Banana Boat Ride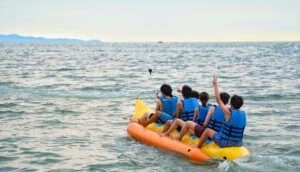 If you are seeking an activity to enjoy with your family, friends, or colleagues, the banana boat ride is the best option. Hop on an inflatable banana-shaped boat that is further attached to a speedboat. As the speed of the boat increases, you get to experience the gigantic waves and find it challenging to stay on the banana boat — that's when the thrill begins. The yellow coloured boat has a seating capacity of 6-10 persons. The fun escalates when adventurers fall into the sea, making the activity all the more exciting. So, if you wish to try water sports in Malvan without going into the sea, give the banana boat ride a shot.
Where to try: Tsunami Island, Achara Beach, Devbagh Beach
Average cost: ₹1,000
Age limit: 10 and above
10 Alluring Homestays In Malvan For A Refreshing Holiday In 2022
4. Parasailing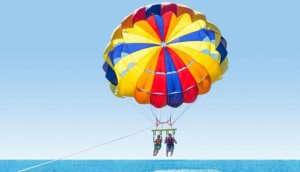 Imagine flying like a bird in the sky while viewing the serenity of the ocean — that's exactly what parasailing in Malvan offers. This thrilling activity includes parasail equipment that is attached to the speedboat with a 30-40 metre long rope. As the speedboat moves, the rope pulls up and within seconds you reach the maximum height. Since two persons can enjoy parasailing at the same time, it's a great activity for couples.
Where to try: Achara Beach, Devbagh Beach
Average cost: ₹800
Age limit: 10 and above
5. Bumper Boat Ride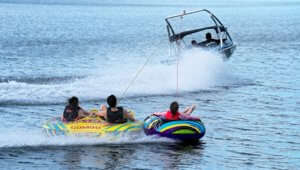 Also known as tubing, the bumper boat ride is yet another one of the best water sports in Malvan that adventurers of all age groups can enjoy. The activity involves riding on a round boat on the water while wearing life jackets. The bumper is attached to a speedboat that tows you through the water. All you need to do is to hang on tight while the speedboat increases its speed and amps up your adrenaline rush. Devbagh Beach, Tarkarli Beach, and Achara Beach are some of the best spots in Malvan where you can enjoy a thrilling bumper boat ride.
Where to try: Tsunami Island, Chivla Beach, Tarkarli Beach
Average cost: ₹900
Age limit: 10 and above
5 Picnic Spots Near Malvan For Those Who Can't Get Enough Of Forts And Beaches!
6. Flyboarding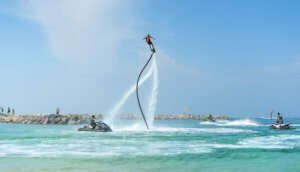 Flyboarding in Malvan is relatively a new water sport that includes a combination of jet-ski and jetpack. The hydro-flight gadget is attached to a jet ski that launches the rider as high as 15 metres in the air. Once you get the basics of the activity, you can flip, scoop, fly, and dive the way you want to. It's best to team up flyboarding with other activities like banana boat rides, parasailing, etc while opting for a reasonable Malvan water sports package.
Where to try: Malvan Beach, Tarkarli Beach
Average cost: ₹2500
Age limit: 16 and above
7. Jet Skiing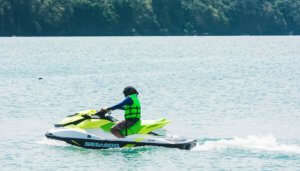 Jet skiing is an overwater activity that does not require any training, making it a perfect pick for non-swimmers. The activity includes a jetski or a water scooter on which the adventurer sits or stands to enjoy an exciting ride. With a speed of 65 to 110 km/h, the jetski skims across the surface of water leaving once downright ecstatic. The water vehicle can take up to 2 passengers with a combined weight of around 180 kg. You can either take the control of the jetski or just sit behind the operator who controls the accelerator and steering.
Where to try: Devbaugh Beach, Tsunami Island, Tarkarli Beach
Average cost: ₹900
Age limit: 10 and above
10 Best Hotels In Malvan Making Your Vacation A Luxuriating One!
8. Speed Boat Ride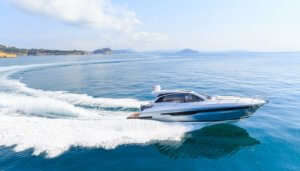 Speed Boat Ride is an ideal water sport to try in Malvan for all high-speed lovers. Somewhat like jetski, this activity requires adventurers to sit on a speedboat that has a capacity of 6-7 persons. As you enjoy a boat ride with a speed of around 80 km/h, you can experience the clear seawater splashing onto your face and fresh air seeping through your veins. The best season to indulge in this thrilling activity is between October to May.
Where to try: Malvan Beach, Tarkarli Beach, Tsunami Island
Average cost: ₹600
Age limit: 10 and above
9. Dolphin Watching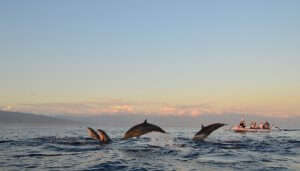 Dolphin Watching is an ultimate water spot for the ones who do not wish to be drenched in seawater. Hop on a 10-20 seater boat and venture out into the sea to spot carefree dolphins circling and playing in the deep waters. Tarkarli Beach and Malvan beach are the two best spots where you will get to witness the most common species like Finless Porpoises and Humpback dolphins. So, if you wish to enjoy water sports on Malvan Beach, add dolphin watching to your itinerary.
Where to try: Karli Backwaters, Nivati Beach, Devbagh Beach
Average cost: ₹1000
Age limit: NA
35 Places To Visit In Mahabaleshwar For A Refreshing Maharashtra Trip In 2022!
10. Kayaking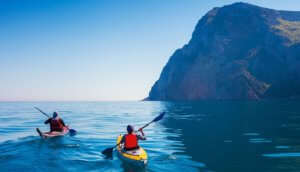 Kayaking is one of the most thrilling water sports in Malvan that involves a kayak which is a small and narrow human-powered boat. The activity allows the rider to manoeuvre through waterways with the help of a double-blade paddle. Usually, kayaking is for single riders, but you can opt for a tandem kayak that has a capacity of two persons. During the activity, your arm and upper body muscles are in full swing, so take care of your physical fitness beforehand. Notably, Tarkarli and Devbagh are the two best spots to try this activity.
Where to try: Devbagh Beach, Tsunami Island, Tarkarli Beach
Average cost: ₹800
Age limit: 14 and above
With numerous water sports in Malvan having varied difficulty levels, the fun in this destination is neverending. So, plan a trip to Malvan and try your hands at some of the most adventurous water activities like snorkelling, flyboarding, banana boat ride, kayaking, and more.
For our editorial codes of conduct and copyright disclaimer please click here.
Frequently Asked Questions about Water Sports in Malvan
What is the cost of scuba diving in Tarkarli?
Scuba diving in Tarkarli may cost you somewhere around 500 to 1500 per person depending upon the location, duration, and other factors. Additionally, videography is also included in the cost.
Which are the best water sports to try in Malvan?
Some of the best water adventures to try in Malvan include:
1. Scuba diving
2. Parasailing
3. Snorkelling
4. Banana boat ride
5. Dolphin watching
6. Flyboarding
7. Jet skiing
Can I visit Malvan during the current Covid situation?
Yes, Malvan is one of the safest places to visit during Covid times. However, make sure to follow all the basic protocols like wearing a mask, sanitizing hands at certain intervals, and maintaining the required social distance.
Which are the best beaches in Malvan to try water activities?
Here is a list of some of the top beaches where you can enjoy all sorts of water activities.:
1. Nivati Beach
2. Kolamb Beach
3. ChivlaBeach
4. Achara Beach
5. Devbagh Beach
6. Malvan Beach
7. Tarkarli Beach
Which are the best underwater activities to try in Malvan?
Snorkelling and scuba diving are the two most popular underwater activities that one can indulge in. Additionally, the best time for both the activities is from October to May.
People Also Read:
Water Sports In Goa Water Sports In Havelock Water Sports In Gokarna