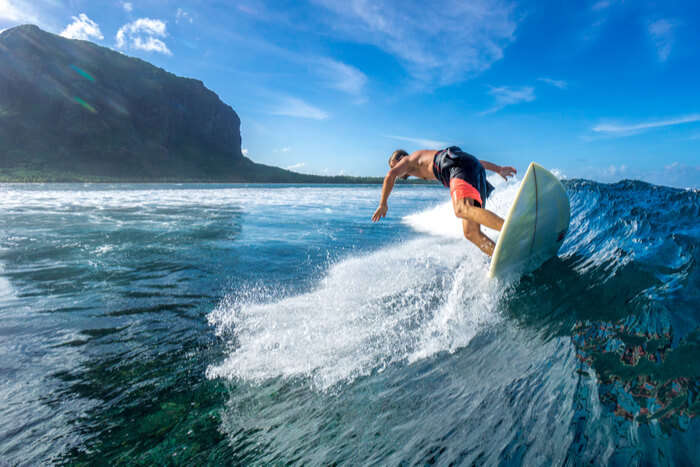 Mauritius is famous for the experience it offers to beach lovers in the area. Mauritius is a paradise for many, especially for those who like to walk on the white sand. You can visit some of the most spectacular beaches such as Grand Baie, Mont Choisy, Trou aux Biches, and Pereybere. Tamarin Beach is no different. There are many water-sports in Tamarin Beach Mauritius that you can enjoy without care. The beaches are public – all 160 km of the coastline. Thus, it only makes sense to head out and enjoy what nature gave Mauritius in abundance.
Water-Sports In Tamarin Beach Mauritius
While people only think of sunning themselves when thinking about beaches, there is more to a beachfront than just sunbeds and sunscreens. There are a number of activities that you can enjoy when in Tamarin Beach:
1. Cave Sea Kayaking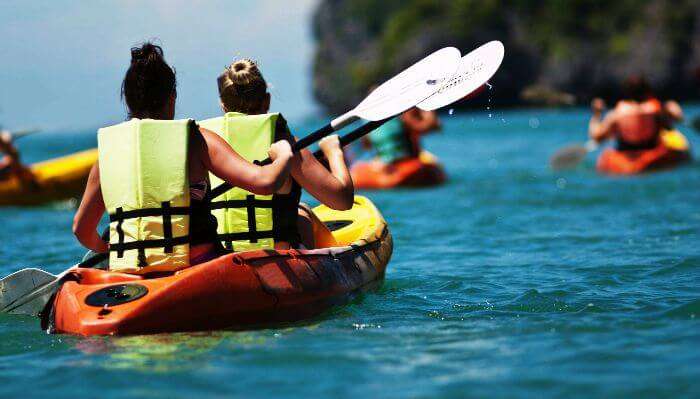 A rather easy one among various water sports holiday in Mauritius, kayaking allows you to explore mysterious islands and caves. You can opt for a single kayak or a double kayak. The best part is that you can discover a lot more on your own. If starting from Pointe Aux Sable, paddle through the water and discover the gorgeous basalt rock gardens while entering in the stunning rock caves. You will be left spellbound with the beautiful sights you witness on this journey.
Adventure level: Moderate to Difficult
Where: The Cliffs of Albion in the Mauritius West Coast; starting point is Pointe Aux Sable.
Swimming required: No
Tips: Pack extra pair of clothes, sunscreen, towels and comfortable sandals. You can also opt for Cave Sea Kayaking classes. Yemaya Adventures offers various courses.
2. Water Skiing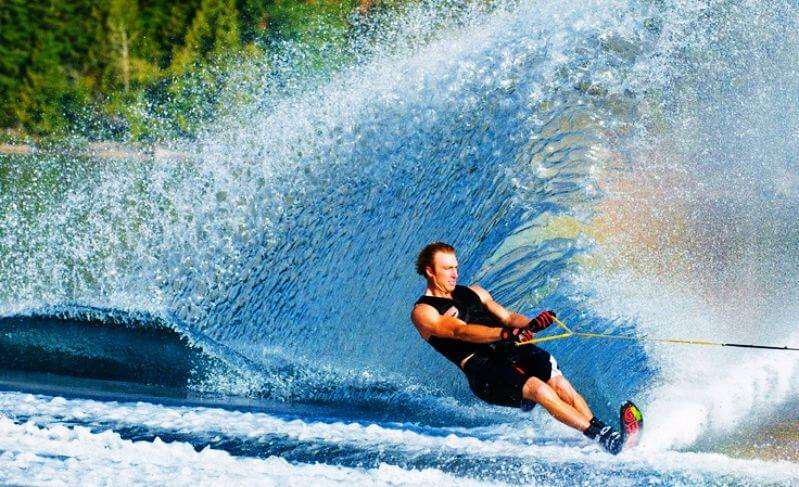 Water skiing in Mauritius is a wonderful sport to get an adrenaline rush. This high-octane sport seems a tad difficult at first, but soon it becomes a smooth sail. All you need to do is skim along the surface of the water, standing upright on skis holding a tow rope. Water-ski is best enjoyed where the water is calm. This water sport will need you to use a lot of energy, so keep your energy drinks handy.
Adventure level: Difficult
Where: Trou deau Douce and Grand Baie
Swimming required: Yes
Tips: Before you hit the water, get a brief idea about the sport and the equipments. Don't forget to wear a life jacket.
3. Windsurfing

Windsurfing in Mauritius is exciting as well as challenging. For beginners, it involves standing on a surfboard and controlling the speed, acceleration and the direction with the sails. Crash courses are available easily. Besides being fun, it's a great form of workout and can burn upto 1000 calories per hour. Thats good for a sport, right-
Adventure level: Difficult
Where: Le Morne peninsula, Small Reef, Manawa and One Eye
Swimming required: Yes
Tips: Warm a little bit before you start. Get a big board for easier surfing. Learn from the pros. Best season is December to April.
4. Blue Safari Submarine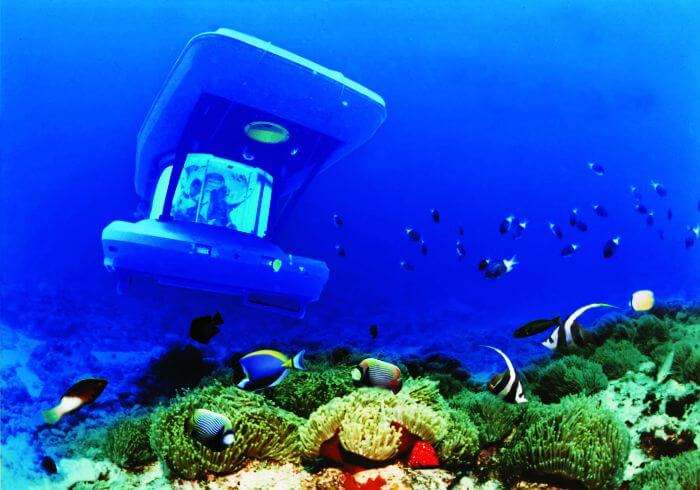 Wish to dive, but don't want to get wet- Try Blue Safari Submarine ride. It is a different one among Mauritius water sports, and takes you among the exotic corals and the ship-wreck Star Hope. Located at Trou Aux Biches & Mont Choisy, Blue Safari Submarine will give you a whirlwind tour of the ocean. So, this like a aquarium but with a twist, as you are inside it!
Adventure level: Moderate
Swimming required: No
Tips: Reservations are recommended at least a day in advance.The price per adult is Rs 39,000 and for children its Rs 23,000.
Read More: 12 Exciting Water Sports In Mauritius For An Out-Of-The-World Experience In 2022
5. Dolphin Spotting And Whale Watching

If any of the above water sport activities in Mauritius dont seem like your style, try this one. Not exactly a sport, but dolphin spotting and whale watching in Mauritius definitely makes your trip unforgettable. It requires a bit of patience and hunting, but the result is priceless. Its a great feeling to witness the giants of the ocean, in their natural environment.
Adventure level: Easy
Where to try: The coast of Tamarin
Swimming required: Yes (If you want to swim with the dolphins)
Tips: This trip will take about two hours. Take enough drinking water with you. Not recommended for pregnant women. Also, the activity depends on the weather and sea condition.
6. Sea Hover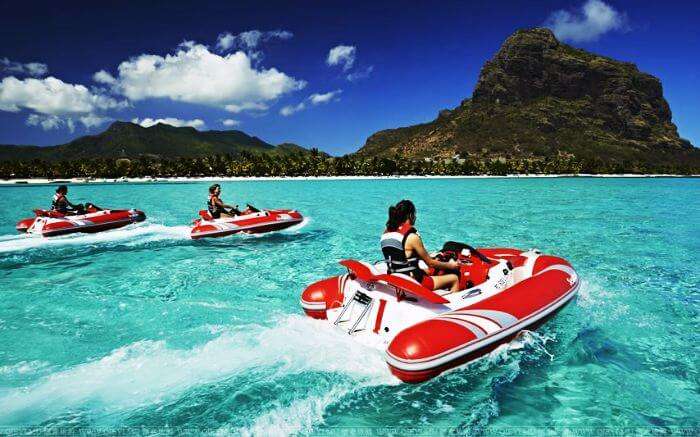 Craving for some intense fun- Try Sea hover. If you love speed and roller coasters, sea hover will be one of the most exciting sea activities in Mauritius for you. Sea Hover is recommended for adrenaline junkies out there! But make sure that you have your safety gears and that you follow all the safety instructions too.
Adventure level: Moderate
Where to try: Benitiers Island, Le Morne, La Balise Marina and the coast of Flic en Flac
Swimming required: No
Tips: Since its all about speed, get yourself ready for some extreme fun. Don't forget your life jacket!
Water-Sports In Tamarin Beach Mauritius is not just about tanning and beach walks. There is more. These watersports can be thoroughly enjoyed when around the beach. As it is, most beaches are quite near to each other, and all the activities conducted there are general, without many of them being a specialty. Of those mentioned above, we suggest you do go for Blue Safari ride and Whale watching as these activities are safe for even those who have no experience with the sea or watersports. On your next trip to Mauritius, we are more than sure that you will enjoy your time.
People also read:
Beaches In Port Louis Beaches In Balaclava Beaches In Grand Baie
---
Looking To Book An International Holiday?
Book memorable holidays on TravelTriangle with 650+ verified travel agents for 65+ domestic and international destinations.
---
p.box-links a {
display: inline-block;
margin-right: -2px;
font-size: 13px;
-webkit-box-sizing: content-box;
-moz-box-sizing: content-box;
box-sizing: content-box;
border: none;
color: rgb(0, 0, 0);
-o-text-overflow: clip;
text-overflow: clip;
background: #98eae3;
-webkit-transform: skewX(-20deg);
transform: skewX(-8deg);
text-decoration: none !important;
padding: .2em .6em .3em;
margin-top: 2px;
}
p.box-links a:hover {
background-color: #000000;
color: #ffffff;
}