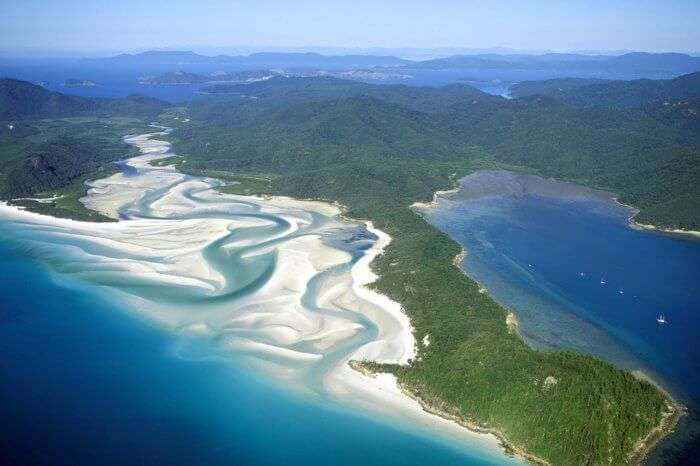 Whitehaven beach is a very beautiful beach that stretches over 7 km. The beach is beautiful in the sense that the sand is white and quite soft. If you walk along the beach you will have an amazing experience. Many people claim that Whitehaven beach and Hill Inlet is the most awesome place in the whole world. This beach can be explored in several ways. Every year, thousands of people come to this beach in order to cherish its beauty and natural scenes. They really feel refreshed upon arriving at this place.
About Whitehaven Beach
It has been seen that at the northern part of this beach is the Hill Inlet. It is the place where the tide shifts the sands and the water creates beautiful colors. The colors are very rare and uncommon that cannot be described in words. This place is said to be the best spot and most of the people accumulate here to cherish its beauty. Once you will see the colors you will really feel amazed.
Location: The Whitehaven Beach is located on the Whitsunday Island area. It is very near to Queensland, Australia. It is also considered to be the most beautiful beach in Australia. It has also won several awards for its beauty out of 74 islands of Australia.
10 Things To Do At Whitehaven Beach
Now let's have a look at some of the amazing things that can be done at Whitehaven Beach.
1. Explore Whitehaven Beach
Whitehaven beach, Australia is a great place for relaxation and sitting. You can easily relax on the beach and refresh for some time. If you have a boat, then you can take it and go boating on the sea. The sea is quite calm at this beach. You can also take your friends on the beach and relax for some time.
Must Read: 10 Best Hostels In Townsville For A Budget Australian Vacation
2. Scuba Diving
Scuba diving is also a good option to do on this beach. While taking a dip in the sea you will really feel very excited. There are many guides who conduct various types of outdoor activities on the beach. It will be much relaxing and refreshing at the same time. If you have a strong passion for taking snaps then you will find that the Whitehaven beach images are very clear and nice.
3. White Sunday Island
Take a complete view of the Whitehaven beach and the Coral Sea that surrounds the whole area. If you wish then you can also sail on the White Sunday Island. This island is recognized and considered as a great cruising destination. You will surely love the entire ambiance of nature. Most of the beaches are well maintained and they are very clean.
Suggested Read: Gold Coast In June: An Ultimate Guide To Enjoy A Thrilling Aussie Summer Vacay
4. Aerial View Of The Beach
If you hire a seaplane or helicopter then you can see a wonderful view. Hire such a boat and sail to a certain distance. You will be excited to see how the sea waves shifts and appear to be like a mosaic in the sea. Also, don't forget to take a camera for capturing such an awesome moment. If you are in a helicopter you will also be able to take a view of the Great Barrier Reef from the above portion. That will also be a great achievement.
5. Sea Kayaking
Sea Kayak is said to be a perfect way to get closer to various types of tropical fishes, and various types of sea fishes. You can also hire a paddle boat. In fact, that would be much more comfortable. By using such boats, you will not get wet. The Whitehaven beach tours are really an exciting and fun-filled one. You will never forget it in your entire lifetime.
Suggested Read: 10 Romantic Places In Queensland One Must Visit To Rekindle The Love In Australia!
6. Whitehaven Beach Great Fun
Every year in the month of June Whitehaven beach conducts and hosts Idyllic Great Whitehaven Beach Great Fun. People from various corners of the country participate in such an occasion and enjoy it fully. They can also participate in various types of water sports activities. This is a scope when you can also participate in swimming competitions as well.
7. Camping
Whitehaven beach is also a great place for camping. So if you wish, you can make a camp on the north side of the beach. The camps are big enough and it can hold a good amount of people. By joining the camp you will also be able to explore the night view of the beach. There is a pit toilet option for the campers that can be assessed only by a boat. On the other hand, the Whitehaven beach weather is very pleasant and charming. It can be highly enjoyed by the tourists.
If you are camping on the beach, then you have to prepare your food on your own. So it is always recommended to take readily to eat foods that are quite easy to prepare. It takes a very short time for such preparation. For some people, such preparation of food seems to a great adventure. So these are some of the moments that must be cherished and enjoyed by each and every one.
Suggested Read: 15 Reasons Why Spending Winter In Australia That Is Better Than Being Anywhere Else!
8. Ricochet Yachting
Ricochet Yachting is also an amazing experience that you can explore on the blue sea water of the Whitehaven beach. By sailing in this way you can go at a long distance and deep into the sea. As and when the waves will touch your feet, you will simply feel wonderful. Most of the yachts depart from Hamilton Island. Once they depart you will simply relax by the 5-star service that will be offered by the staffs. Don't miss this wonderful opportunity to experience yourself completely.
9. Morning Walk
The early morning walk across the beach will be a very relaxing one for the visitors. Wake up early in the morning and wear a slipper. The slipper will help you to walk smoothly. While walking you will come across a wide variety of things such as the small waves that will touch your feet. Also, you will see various types of sea fishes and crabs that lie on the beach. You can take those creatures. Also, if you wish, you can capture them within a camera. The whole ambiance in the early morning is above all and it cannot be described in words.
Suggested Read: Overland Track Trek: An Ultimate Guide For Trekkers To Discover The Finest Trails Of Australia
How To Reach Whitehaven Beach?
This beach can only be reached by speedboats or helicopters. So it is best to hire a boat from Hamilton Island. There is much such type of services that are available at Hamilton Island. It will take 30 minutes time to reach this place from Hamilton Island, Australia. It can be a great outing as a full day trip. If you wish, you can also take a seaplane.
Further Read: Australia On A Budget: A Guide For Backpackers To Explore The Best Of The Country!
Whitehaven beach is indeed one of the best beaches in the whole world. If you are long dreaming to experience some wonderful place on this earth, then Whitehaven beach is the best option. The beach is excellent in all respects. The serene sea and white sandy beaches always attract tourists from all over the world. There are beach festivals that are held every year. You can come during those times and participate in the beach festival. There are various types of sports activities that are held. All the people are wholeheartedly welcome to this festival. So, get packed and book your trip to Australia right away!
---
Looking To Book An International Honeymoon?
Book memorable honeymoon on TravelTriangle with 650+ verified travel agents for 65+ domestic and international destinations.
---