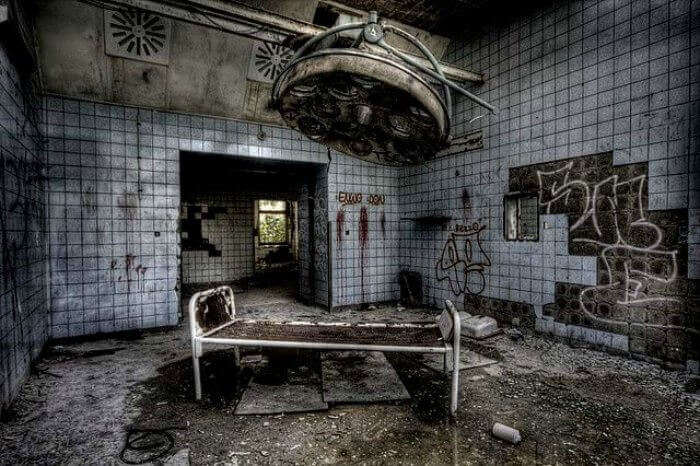 How thrilling it is to curl up in bed at night and watch horror flicks. But a horror movie turns scarier when we know that it is either shot at a place that actually exists or is based on a true story and not movie sets. Here, we bring you some places that are spooky enough to be potential sets for horror movies.
Take a virtual trip to these eerie places from across the world that include abandoned mansions, haunted houses, ghost towns, endless woods, petrifying hospitals, and much more. Who knows, we might watch these places in upcoming horror movies, right?
1. D'Souza Chawl in Mahim, Mumbai
The chawl has a well inside its compound in which a woman drowned while getting water from it. People have seen the apparition of the unfortunate lady wandering near the well at night.
Scary enough?
2. Cane Hill Hospital
Suggested Read: 10 Scary Secrets of Haunted Cemeteries In India
Cane Hill was meant for treating those who were mentally ill. The hospital remained functional from 1882 to 1991 and is abandoned since then.
The messages on the walls might make it to your next nightmare.
3. Victorian Hospital, North America
Image Source

One of our favourites from the list, Victorian Hospital was built between 1846 and 1848. This neglected building closed down in 1995 and has been abandoned ever since.
Hospitals and horror movies, a pretty strong, old and scary connection!
4. The Eastern State Penitentiary, Philadelphia, Pennsylvania
Image Source

Also known as ESP, The Eastern State Penitentiary is a former American prison, which was operational from 1829 until 1971. Since the last year of its operation, the prison remains abandoned.
Dare to go alone? Don't even think about it!
5. The Hodgson Family Home, aka The Conjuring 2 house, Rhode Island
In August 1977, the tenants of the home claimed to have been tormented by the Enfield Poltergeist, involving supposed possession of 11 year old Janet. They experienced overturned chairs, thrown toys, and children levitating.
Haunted alert!
6. Abandoned Doll factory, Spain
Image Source

It seems that the factory was hurriedly abandoned, although there is no specific date for the same but some kind of sacrificial ritual was performed there, which is believed to be the reason due to which this factory still remains abandoned.
An ideal location for the next Child Play installment, maybe?
7. Military Hospital, Germany
Image Source

Better known as Beelitz-Heilstätten, the hospital was built between 1898 and 1930, which once treated Nazi leader Adolf Hitler, and was abandoned during the fall of East Germany.
One hell of a blood-curdling location it is.
8. Forest Haven Asylum, North America
Must Read: 25 Most Haunted Places In The World
Built in 1925, this asylum for the mentally ill is among the deadliest institutions of the United States. Here, several residents lived a horrific life and numerous died, it was closed in 1991.
The images say it all!
9. Villisca Axe Murder House, Iowa
Image Source

On the fateful night of Sunday, June 9, 1912, eight people were murdered mysteriously. This is the most infamous murder in Iowa history and the murder/murderers remain unpunished till date. Well, you really need to have the nerves to go and shoot here.
Definitely not for the faint hearted!
10. Feroz Shah Kotla, Delhi, India
Image Source

Rebuilt by Feroz Shah Tughlaq in 1354, Feroz Shah Kotla Fort is ruined and haunted. It is believed that Djinns reside in the dark and empty halls, and the locals there light candles while offering grains and milk to please them.
Been there in the day? Try going alone at night!
11. Underwater City, China
Image Source

The Qiandao Lake in Zhejiang province, China covers an entire city, which was submerged to create a hydroelectric power plant in 1959. Baptized as Lion City, it was built more than 1,000 years ago.
Difficult to shoot at but will definitely be a hit!
12. Chateau Miranda, Celles, Belgium
Image Source

Built in 1907, the castle was too expensive to be maintained. The architectural beauty is completely abandoned since 1991.
The inside shots of the castle would send a chill down your spine!
13. Church of the Nine Ghosts, Lukova, Czech Republic
Image Source

Built in 14th Century, the church was originally named St George's, and houses eerie white-robed figures, which are art installations, were created to draw tourists and raise money to save it from further decay. The church has never been used, since 1968, when part of the roof collapsed during a funeral service.
Need we say more?
14. Eltz Castle, Germany
Suggested Read: 14 Haunted Places In Pune In 2022: Unveil The Stories Behind Them
Eltz Castle is a medieval structure, which has survived through 800 years. Parts of this castle are now open for visits.
Ideal for a horror movie set in the 80's maybe?
15. Sherwood Forest, Nottinghamshire, England
Image Source
Renowned for its association with its legend of Robin Hood, this royal forest is dense and less visited and would make an ideal horror movie set.
Ideal spot for the sequence to the Ring series! Whta say?
16. Sequoia Bayview Trail, Joaquin Miller Park, Oakland, CA
Image Source

Sequoia Bayview Trail is a long trail that features beautiful wild flowers.  It is now open for joggers and runners but turns into a seemingly haunted and eerie spot as the sun sets.
17. Abandoned Higdon hotel, East Tennessee
Image Source

Built in 1890, this beautiful hotel has not seen any guests for almost an era. It is abandoned since 1920 and would prove to be a great location for the next big horror movie.
18. Lovecraftian Greyfriars Woods, Dunwich, Suffolk
Image Source

This is an ancient woodland that extends in the old medieval town of Dunwich. The site also houses the ruins of Greyfriars monastery. It looks so much like what is shown in the horror movies, feel like paying a visit? We hope not!
19. The Bell Witch Cave, Adams, Tennessee
Image Source

The Bell Witch Cave has been associated with the spirit of Kate Batts, who allegedly haunted the Bell family as she was believed to be cheated by them in a land purchase.
Perfect spot with the ideal script!
20. Creepy woods, Lockerbie, Scotland
Image Source

This setting is created by nature for a horror movie. This is a hard to access coniferous forest on a hillside. Taking a walk at night here could prove to be spine chilling adventure. Scared much?
21. Kolmanskop, Namibia
Image Source

Kolmanskop is a ghost town in the Namib Desert in Southern Namibia. After depopulation, the houses of this town have been invaded by sand.
This one is straight out of the nightmares!
22. Quinta da Regaleira, Sintra, Portugal
Image Source

Located near the historic center of Sintra, Portugal, Quinta da Regaleira is classified as a World Heritage Site by UNESCO within the "Cultural Landscape of Sintra".  It has now opened its doors to tourism, but you might want to avoid this place at night!
23. Haunted Bridge, Sector 16, Chandigarh, India
Image Source

It is said that a lady doctor died here 20 years ago in an accident. Since then, she is seen moving down the bridge with a lamp in her hand but suddenly disappears.
Enough said!
24. Zombie Road, St. Louis, Missouri
Image Source

Zombie Road is a short road located in the City of Wildwood and is listed among the most Haunted Roads in the world.
Green, dark, dense woods, what else do you need?
25. Garnet, Montana, U.S
Image Source

Belonging to 1860s, this is an abandoned mining town in Granite County.
It appears quite ghostly from the outside but proves to be scarier from the inside.
Have an addition to the list? Share it with us and get featured on our next blog. We are waiting!