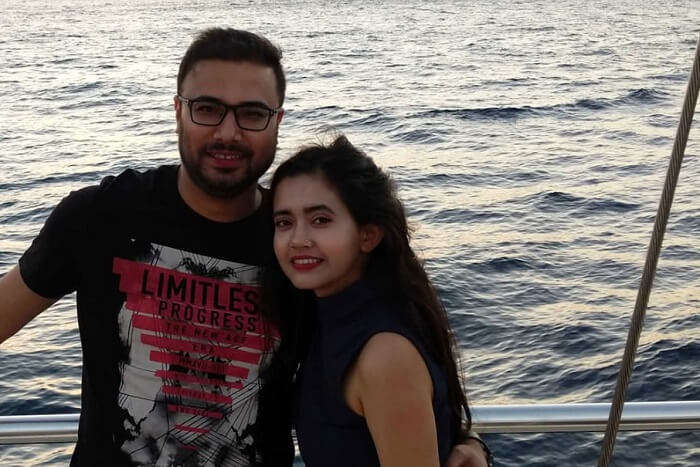 "Hawaii is not a state of mind, but a state of grace- Paul Theroux"
One of the lauded vacation spots, Hawaii is home to mesmerizing beaches, oceans, coastline, volcanoes, palm trees, and scintillating greenery. It is a chain of many islands and each one is famous for its own flavor, landscapes, vibes, and experiences. Whether holidaymakers want to indulge in exciting activities or just relax by the pristine beaches & savor some Hawaiian delicacies, this place makes a perfect abode for all. Islands like Oahu, Maui, Kauai, Hawaiian island, Molokai are some of the renowned spots that offer vacationers countless ways to enjoy their vacation. There are various places to travel in Hawaii that offers travelers to indulge in a range of wonderful activities. Immensely charmed by the beauty of this tropical paradise, Debanjan decided to spend 9 days in Hawaii with his better half. Check out how they had wonderful experiences with the help of TravelTriangle team.
Being avid travelers, my wife and I go on an International at least once in a year. So this time we thought to pamper ourselves in the cozy vibes of Hawaii. Looking for a travel organizer was a no brainer for us as we've already had one wonderful trip with TravelTriangle. Just like the first one, this trip also gave us a plethora of memories. Here I am jotting down some of the best experiences that we had on our spectacular Hawaiian trip.
Table Of Content
Details Of Our Blissful 9 Days In Hawaii Trip
Trip Type: Romantic Trip
Cost: INR 367500
Duration: 9 Days
Inclusions: Airfare, Taxes, Airport Transfer, Sightseeing
Exclusions: Lunch, Dinner, Visa, Personal Expenses, Insurance
A Sneak Peek Into Our Hawaii 9 Day Itinerary
Day 1: Hotel Check-in & Explore City
Day 2: Explore City Own
Day 3: Explore City Own
Day 4: Hotel Check-in & Explore City Own
Day 5: Enjoying a road trip to Hana
Day 6: Whale watching in Maui
Day 7: Hotel Check-in & Explore City Own
Day 8: Hotel Check out
7 Stunning Beaches In Kuta Bali To Visit On Your 2022 Vacation!
Hawaii Weather In June
The temperature in Hawaii is quite consistent with just slight changes throughout the year. We visited this destination in the month of December when the temperature was about 24-25° C. Also, the temperature would drop down to 10.6° C in the night time. Needless to say, the weather was extremely pleasant and we found that it is the best time to visit Hawaii.
Best Experiences That Took Our Hawaii Trip To A Next Level
While soaking up the picturesque sites and spending 9 days in Hawaii, we made most of our vacation. Here are some of the best experiences that will surely make you plan your Hawaii trip!
1. Maui: Enjoying Dolphin Cruise





The first day of our Hawaii itinerary 9 days scheduled took us to Maui. Our splendid joyride took off with a 2-hour whale watching in Maui. Our excursion started with the narration from our caption about the safety measures and the majestic experiences that we were going to have. Even though we could not witness the whales or dolphins, we thoroughly enjoyed our cruise experience. Especially the stunning views while traveling along Maui's exquisite coastline was indeed a breathtaking experience. We believe that going on a cruise One of the best things to do in Hawaii.
2. Kaanapali Beach And Waikiki Beach: Two Dreamy Lands







Our main goal was to make the most of the Hawaii itinerary 9 daysschedule and to just relax and keep all our stress at bay. We did the same mostly by spending a tranquil time at the beaches that mainly included Kaanapali Beach and Waikiki Beach. If one wants to try water activities in Hawaii, then Kaanapali Beach is the best option. Here, vacationers can try hands at snorkeling and witness the magical marine life. Apart from this, Waikiki Beach, which is one of the best beaches in Hawaii had crystal clear water where swimming was a delight. Although it was a bit crowded, we managed to have a wonderful and cozy time with each other.
 5 Amazing Places To Visit Near Ubud Art Market Bali For A Great Vacation!
3. The 9 Seater Flight: An Iconic Experience!






Without a shred of doubt, the island hopping in a plane from Ohio to Maui was the real highlight of our entire trip. The plane had only 9 seats and each seat was a window and an aisle seat. Witnessing the beauty of this place with a birds eye view was indeed one-of-a-kind experience for both of us. All-in-all we had a very unique experience flying on Mokulele Airlines. We would definitely go for it on our next Hawaii trip.
 Hawaii Nightlife: Best Places On The Island To Get Tipsy On The Refreshing Tiki Cocktails
Shopping In Hawaii
Shopping in Hawaii is indeed a refreshing experience. This place offers various intriguing things that one can bring home as souvenirs. Being not much of shopaholics, we actually didn't have a shopping spree. But one thing we shopped in abundance was "Macadamia Nuts". Since these are locally produced, the markets are replete with these yummies. Additionally, some of the other things which we thought one could buy are Lei necklaces, Hawaiian quilt, Loa wood products, Hawaiian shirts, and many more.
 10 Amazing Night Markets In Bali In 2022 For The Shopaholic Inside You
Best Hawaiin Restaurants
Our dining experiences of each day from the Hawaii itinerary 9 days were next to perfection. We tried out several kinds of delicacies in various restaurants and cafes and noticed that the quantity of food was quite much for two persons. As a reason for that, we couldn't go for too many options, nevertheless we extremely enjoy or dining experiences. We especially enjoyed gorging on the original cheesecake from "The Cheesecake Factory". For people having a sweet tooth, pineapple ice creams from Dole Plantation is a must try. Lappert's is also another eatery where we savored a variety of ice creams. Honestly, the food in Hawaii added great value to our 9 days in Hawaii trip.
Here's What To Expect From A Honeymoon In Hawaii
Hawaii Hotels
One of the USPs of our vacation was the stay in the hotels. Our first stay was at Hyatt Place Waikiki Beach which was one of the best accommodations we've ever come across. Be it the facilities, the staff services or the scintillating ocean views, everything this was perfect here. Next, we stayed at Kaanapali Beach Club where the rooms were quite spacious and especially the location was something that impressed us to a great extent. Courtyard Waikiki Beach where we spent the last day featured spacious rooms but there everything was marvelously organized and special heed was paid to the cleanliness as well. Frankly, all these accommodation options offered us utter relaxation. Hotels in Hawaii
Dos & Don'ts In Hawaii
Dos
Find a few activities that might interest you and enjoy.
Check the weather conditions for your traveling dates and pack accordingly.
Smile at strangers. The more, the better. You will get to know some really interesting people that way.
Don'ts
Don't take surf warnings lightly.
Don't eat out at all times as it is expensive and not really healthy.
Don't forget to try Hawaiian food. 
What To Pack For Hawaii
Swimsuit
Hiking shoes
Tank tops & t-shirts
A light jacket
A cap or hat
Shorts
Some Handy Tips For Future Travelers
Use lots of sunscreen and moisturizer to stay away from sun tan and sunburn
Keep scarves, shades, and caps handy
Don't forget to try various water sports
Take out at least 10 days to visit this tropical wonderland
Take deet-free mosquito wristbands or insect repellant to avoid insect bites
 Our Bali Trip From India Was All About Fun, Delicious Food, And Little Adventures!
Our Experience With TravelTriangle
Since it was our second trip with TravelTriangle, we already knew this would be a fantastic one like our first Australian trip with TT. We both are highly impressed with services provided by our travel consultant and the agent. Everything was synchronized commendable and we actually didn't have to worry about anything. We did not expect that our Hawaii travel would be this much dazzling.
 3 Enthralling Restaurants In Kintamani Bali To Enjoy Balinese Food!
The pristine waters of scintillating beaches, mesmerizing views, and the tranquil vibe of Hawaii captivated vacationers from all over the world. While spending 9 days in Hawaii, Debanjan along & his beloved wife were able to have the best experience. If you also got enchanted by their wonderful experiences, then plan your vacay & travel to Hawaii with TravelTriangle and loosen up yourself in the lap of nature.
Queries You Might Have On Your Hawaii Trip
What is the ideal duration to visit Hawaii?
We believe that a Hawaiian vacation is incomplete if you don't spend at least 10 days. There is so much to explore here and even if you are not much interested in activities, you can simply relax by the pristine beaches.
What is the most unique thing to buy in Hawaii?
Macadamia nuts are something which you must but in your Hawaiian trip. These nuts are quite popular here and in nearly every market, you will find these. So, don't go home without taking so many packets of Macadamia nuts.
Is Hawaii expensive to vacation?
Hawaii is one of the most expensive areas in the United States. The food and accommodation is comparatively expensive than the other areas.
Which are the best places to visit in Hawaii?
Some of the must-visit places in Hawaii are Waimea Canyon, USS Arizona Memorial at Pearl Harbour, Kaanapali Beach, Haleakala National Park, Kamakou Preserve, and many more.
Is Hawaii Family Friendly?
Apart from being a couples' favorite destination, Hawaii also offers a marvelous shelter for families as well. with natural wonders, white sand beaches, natural wonders, drool-worthy food, and many activities to try, this destination will surely be loved by kids as well as adults.
People Also Read:
9 Days In Cambodia 5 Days In Thailand For Couples 15 Days In Europe