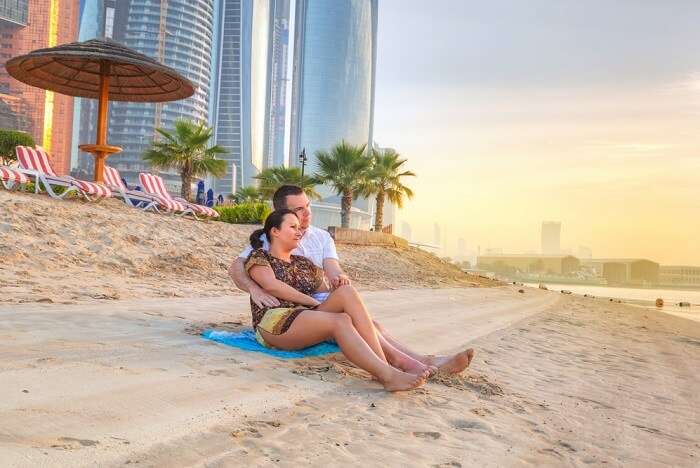 Abu Dhabi is an incredible city in UAE with epic tourist destinations. The beautiful and unique islands, the luxurious accommodations offered by the magnanimous resorts and the shifting sand dunes makes Abu Dhabi a travel enthusiast's paradise. It offers numerous unique exploration opportunities to every kind of traveler. If one wishes to see this city in its full glory, they should plan to visit Abu Dhabi in March. Abu Dhabi festivals in March along with the many events organized are a delight. Here's a detailed guide with a few tips for traveling in Abu Dhabi during the month of March.
Weather Of Abu Dhabi In March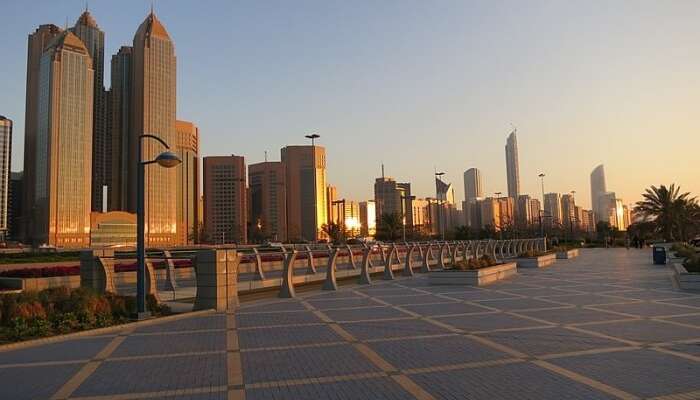 Image Source
The best time to explore Abu Dhabi is during the winter season which spreads through the months between December and March. Abu Dhabi March temperature is moderate and the weather is neither too hot nor too humid. During March, every kind of tourists flocks to this city from every part of the world. The daytime temperatures during the month of March rests comfortably between 75 to 85 degrees. Abu Dhabi in March, weather is ideal to leisurely hang out in the beaches and explore the city, without having to face the humid climate.
Places To Visit In Abu Dhabi In March
Abu Dhabi has several options for living the life in the grandest way possible. There is a rapid rise in the number of visiting tourists in March to witness the various events in while visiting Abu Dhabi in March. Here are some of the best places for sightseeing in this region of UAE:
1. Sheikh Zayed Grand Mosque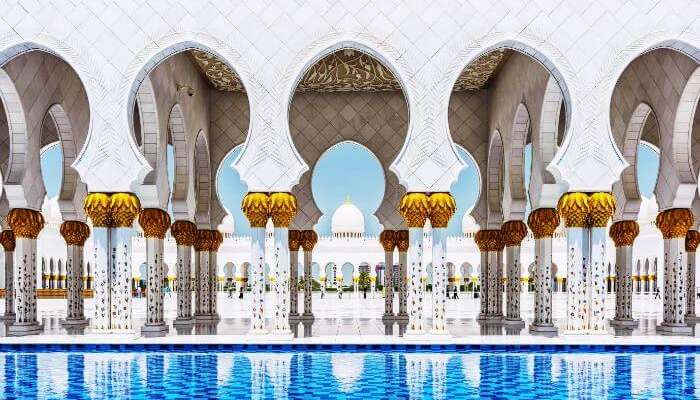 This is a unique mosque which captures the interactions between Islamic culture and world cultures in the most beautiful way. It is counted among the largest mosques of the world. The architecture of the mosque was designed by a team of highly talented architects from different nationalities. It is a grand architectural marvel with a magnanimous capacity of 40,000 visitors and worshippers. The most astonishing wondrous creation housed by the mosque is the world's largest carpet and chandelier housed which is entirely handmade by talented craftsmen. It has an open-door policy, and anybody from any part of the world can come and witness this beautiful creation in Abu Dhabi.
Must Read: 7 Most Recommended Things to Do In UAE For A Wholesome Experience
---
Dubai Holiday Packages On TravelTriangle
Travel Dubai in Luxury. Visit grand Burj Khalifa or the breathtaking Palm Islands. Enjoy Dhow Cruise, International Buffet Dinner, Dubai City Tour, Desert Safari, Ferrari World and Abu Dhabi City Tour. Book your Dubai holiday package on TravelTriangle.
---
2. Corniche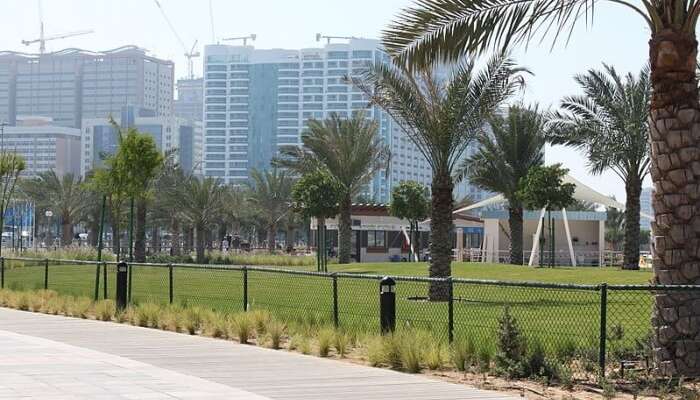 Image Source
This is a beautiful pathway which spreads along the coastline for 8 km. The spectacular views of the Corniche beach can be enjoyed from here. There are many activities offered here like a playing area for children, a separate pathway for both pedestrians and bicycle riders and several eating joints serving local delicacies. The Corniche Beach of Abu Dhabi has won the coveted Blue Flag Status, which is given to the world's cleanest, safest and the most eco-friendly beaches. Several travelers from every nook and corner of the world come to visit this place which has a three separate section for families, singles and the general public, with the entry to the general public section being free.
Suggested Read: Under 18? Grab The Golden Chance As UAE Offers Free Visa To Minors Till September Only!
3. Emirates Palace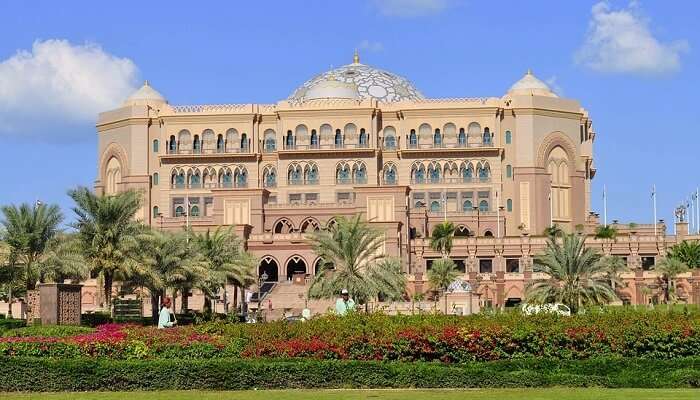 Image Source
Emirates Palace is Abu Dhabi's most iconic landmark. This grand and beautiful hotel perfectly blends the Arabian splendor with all the latest modern luxuries to create the most magical and unforgettable experience for every traveler who visits here. It houses the most spectacular gardens with the most colorful and well-maintained flowers and plants. The night view of this hotel is one of the most incredible views to witness as the top dome color gradually shifts to a rainbow like texture. The interiors are adorned with gold fixtures, huge magnificent chandeliers and handmade large carpets, making it the most majestic experience to walk through the huge halls of this marvelous creation.
Suggested Read: Dubai Summer Surprises 2018: Be A Part Of UAE's Hottest Fiesta Before It Ends!
4. Ferrari World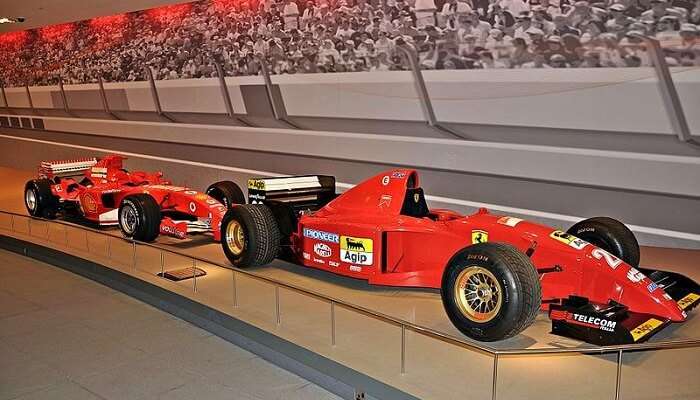 This is a popular attraction in the Yas Island. It has the world's fastest roller coaster, "Formula Rossa" which are one of those things which must be there in every adventure enthusiast's bucket list. Ferrari World is a spectacular building which houses this indoor roller coaster ride which speeds from 0-240 km/h in just a matter of 4.9 seconds. Other attractions here include Flying Aces, which is the world's biggest, steepest and fastest inclined cable lift. One can even experience driving around a Ferrari with a certified driver from the company. Many other live shows and car exhibitions held here offer an incredible experience. Out of all the things to do in UAE in March, Abu Dhabi F1 Grand Prix event steals the show, which is conducted near the Ferrari world.
Suggested Read: Ajman Shopping Guide: 7 Famous Places To Splurge And Shop At This UAE Capital!
5. Arabian Nights Village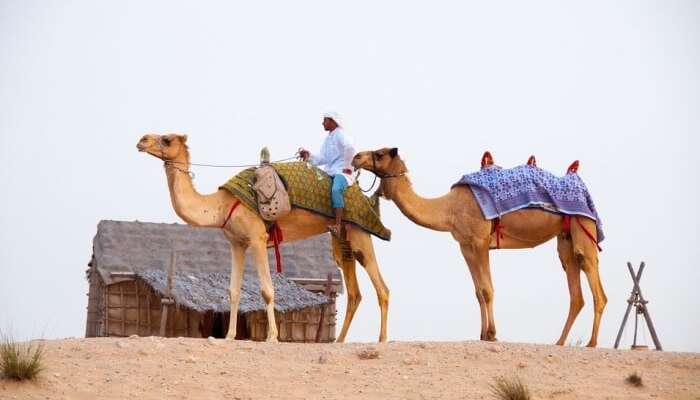 One can experience the feeling of being in Old Arabia by visiting this village. The essence of traditional Emirati life in the deserts can be experienced in this beautiful and mystical place. This exploration journey starts with the trained guides taking the visitors through the beautifully towering sand dunes spread across the landscape and into the village which emerges majestically. There are luxurious accommodation options all of which are aimed at making your stay the most comfortable ever. There are so many activities offered here that visitors tend to spend their entire holiday just here. Some of the many activities offered here are camel rides, quad biking over the dunes and sand surfing.
6. Aqua Park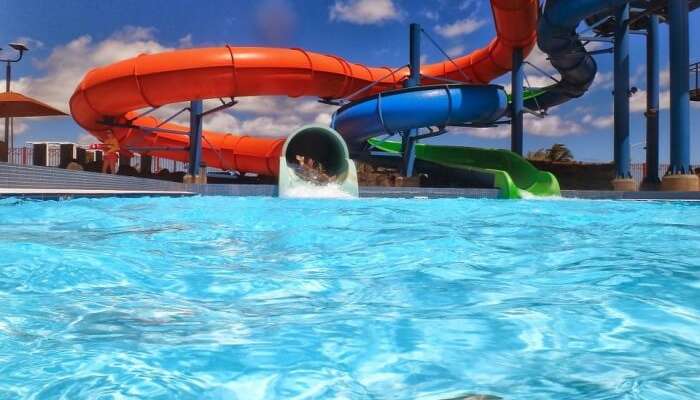 The travelers here can choose from a variety of watersports offered in Abu Dhabi. Some of the activities include waterboarding, waterskiing, kneeboarding, white water rafting, kayaking, sand surfing, swimming, snorkeling, diving and much more. It is a dream come true for all the watersports lovers. Some other fun-filled water activities can be explored in the Aqua Park as well which is located right in the central Abu Dhabi and contains many obstacle courses like slides, steps, jumps, ramps, bridges etc.
Suggested Read: Top 5 Palm Jumeirah Resorts That Are Redefining Luxurious Lifestyle Of UAE
7. Etihad Towers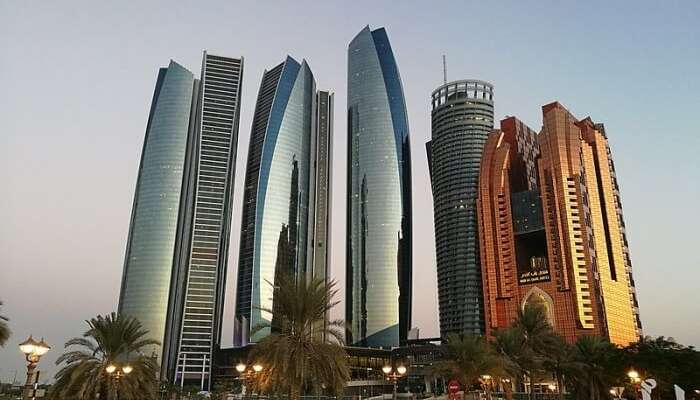 Etihad Towers is one of those landmark structures in Abu Dhabi that you'll surely recognize in photographs. This skyscraper consists of five glass-faced buildings. The towers also have 11 bars and restaurants dedicated to different cuisines and pricing. These restaurants are open to the open public and operated by the famous Jumeirah hotel. The towers also have shopping zones that display everything from food products to jewelry.
What To Pack For An Abu Dhabi Trip In March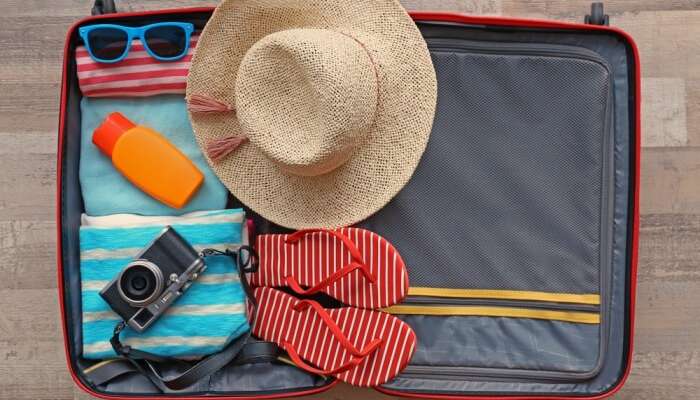 Prior visiting Abu Dhabi in March 2020, one should know what to wear in Abu Dhabi in March and consider packing the main essentials for the trip. A few details are listed here:
1. First things first, one shouldn't forget to pack all important official documents.
2. During the month of March, it might get a little cold during the nights, so it is better to pack a shawl or a light jacket.
3. Pack light summer clothes for the day.
4. Pack a moisturizer to combat with the dry weather of the area.
5. Don't forget to carry a pair of hiking boots suitable for walking around in the desert.
6. Carry a small backpack to hold the essentials while traveling from one place to another in Abu Dhabi.
7. Take your camera along to capture all the spectacular views in Abu Dhabi.
Further Read: 12 Places To Visit In UAE For A Lavish Vacation
Visiting Abu Dhabi in March is the best thing to do, as the exploration of this magnanimous city becomes easier during the pleasant weather. So plan a trip to UAE ASAP, head to Abu Dhabi and indulge in the above-given activities scheduled for this time of the year.
Frequently Asked Questions About Abu Dhabi In March
Q. What is the best time of year to go to Abu Dhabi?
A. The best time to visit Abu Dhabi is between the months of April and May or from September to October.
Q. How hot is Abu Dhabi in March?
A. In March, the afternoons in Abu Dhabi are the hottest with temperatures reaching upto 29 degree Celcius and at night it drops as low as 17 degree Celcius. The average temperature is 23 degree Celcius.
Looking To Book An International Holiday?
Book memorable holidays on TravelTriangle with 650+ verified travel agents for 65+ domestic and international destinations.
---
People Also Read:
South Africa In March London In March Brazil In March
Comments
comments