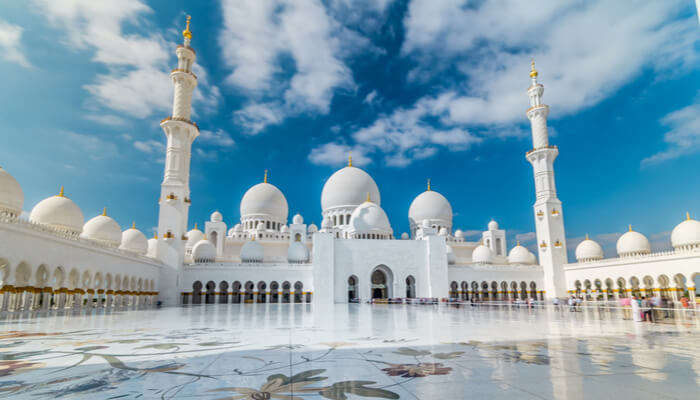 Mesmerizing the world with its skyscrapers, posh hotels, fancy malls, and an impressive coastline, United Arab Emirates is undoubtedly a part of every traveller's bucket list. Home to some of the world's best resorts and hotels, UAE is an incredible architectural gallery. Along with these sky-touching structures, the mosques, museums, and most importantly, the famous man-made islands here have an aura that draws people to this land. Ferrari World, Legoland, and Marina Mall are some places to visit in UAE on your vacation here.
And while this "luxury holiday destination" is what everyone expects to explore and enjoy, delve deeper into its parks, its waves, and its deserts, and you will be enthralled by its charming nature, its rich history, and flavorsome culture. Burj Khalifa, Fujairah Fort, Sharjah Heritage Museum, and Al Ain Oasis are some places where you will get a glimpse of this beautiful side of UAE. Perfect for a family vacation, honeymoon, or even a getaway with friends, there is also an adventurous side to this land that is exciting, to say the least.

The mountains, deserts, and the waters offer activities like kayaking, mountain biking, hiking, and zip lining. You can also spoil the explorer within with the nature reserves that offer you an opportunity to see some rare species of plants, animals, and birds, and the gulf that is home to vibrant marine life. Read along to check out the best 26 places to visit in the United Arab Emirates, and start planning your next vacation soon!
Top 36 Places To Visit In UAE
From the spectacular Palm Islands to the mesmerizing Sir Bani Yas, experience the best of UAE on your luxury vacation.  Here is a list of the best places to visit in UAE. Scroll down to know what all awaits you in this charming land of the United Arab Emirates!
1. Dubai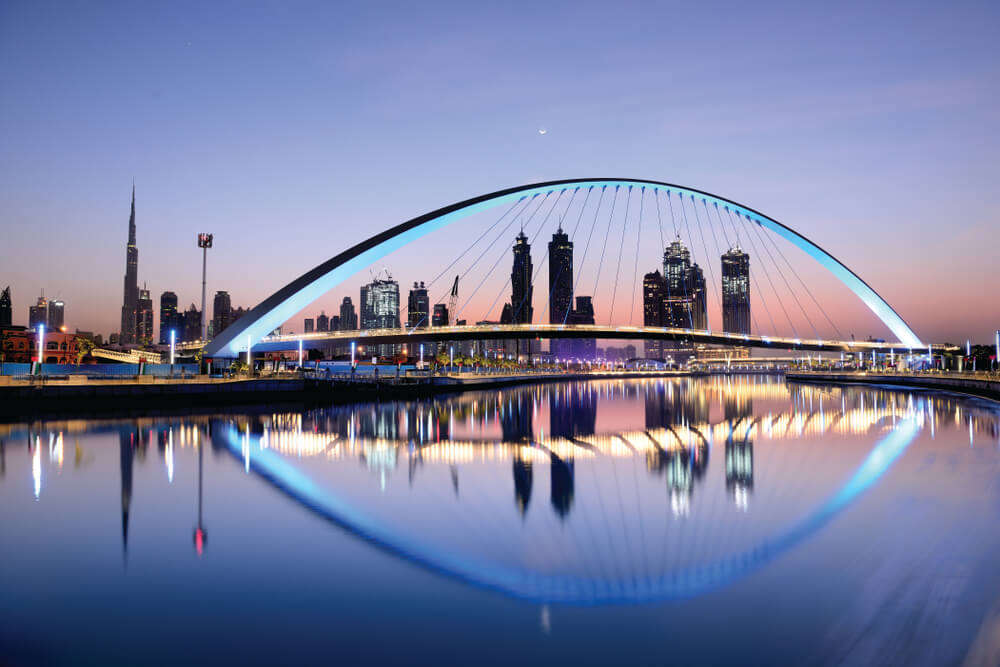 Home to the opulent Burj Khalifa, Dubai is leading the list of the best places to visit in UAE with family. This city showcases a multitude of moods with a sandy coast, world-class cuisine, shopping malls, and amusement parks. The Marina, Dubai Mall, Wild Wadi Water Park are some places to visit in Dubai.
Best Time To Visit: November and December
Best For: Mosques, Museums, and Waterparks
8 Pristine Beaches In United Arab Emirates Presenting The Best Of Coastal Gulf
---
Dubai Holiday Packages On TravelTriangle
---
2. Sharjah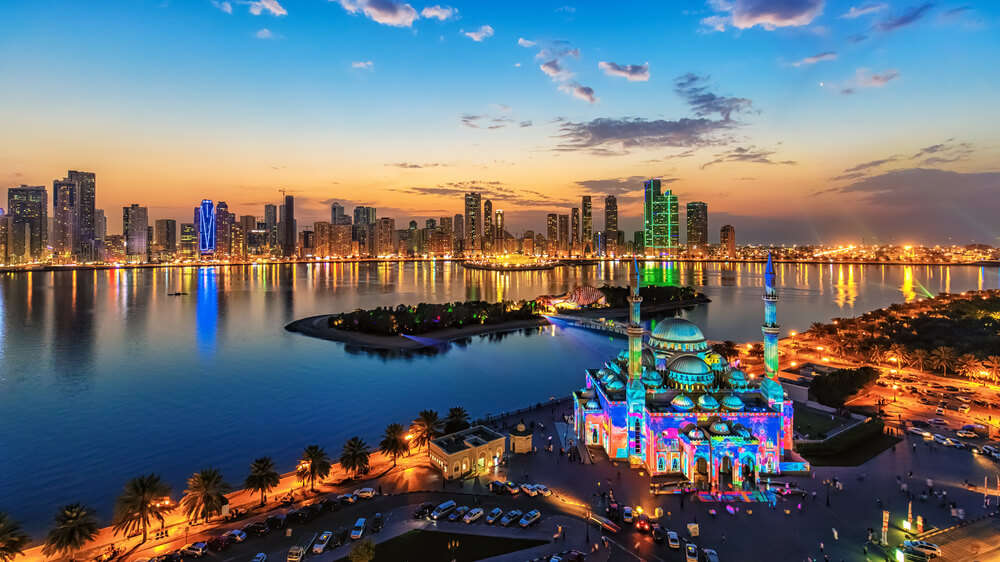 A wonderful city to explore the heritage of UAE, Sharjah is packed with a number of sites giving you a glimpse of different facets of this rich culture. The pride of UAE tourism, some must visit places in Sharjah include the Heritage District, Sharjah Heritage Museum, Mahattah Fort, and King Faisal Mosque.
Best Time To Visit: From October till April
Best For: Car Museum, Wildlife Center and Heritage Areas
3. Abu Dhabi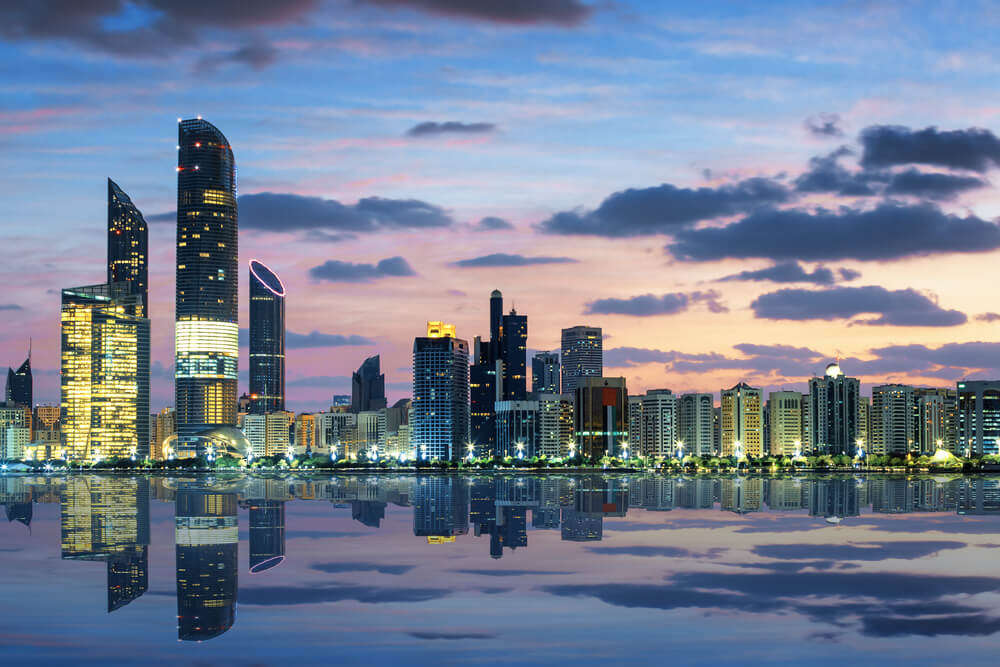 Expect nothing less than a lavish experience at the capital of UAE. The Sheikh Zayed Mosque, Ferrari World, Marina Mall, and the waterfront make it a perfect destination for families, couples, and friends. It is also one of the best places to visit in UAE during summer as it has a number of waterparks, and a stunning shore.
Best Time To Visit: From December to March
Best For: Sheikh Zayed Grand Mosque, Emirates Palace, and Al Jahili Fort
6 Best Places To Visit In 5 Days In Dubai To Unravel The Magic Of UAE
4. Al Ain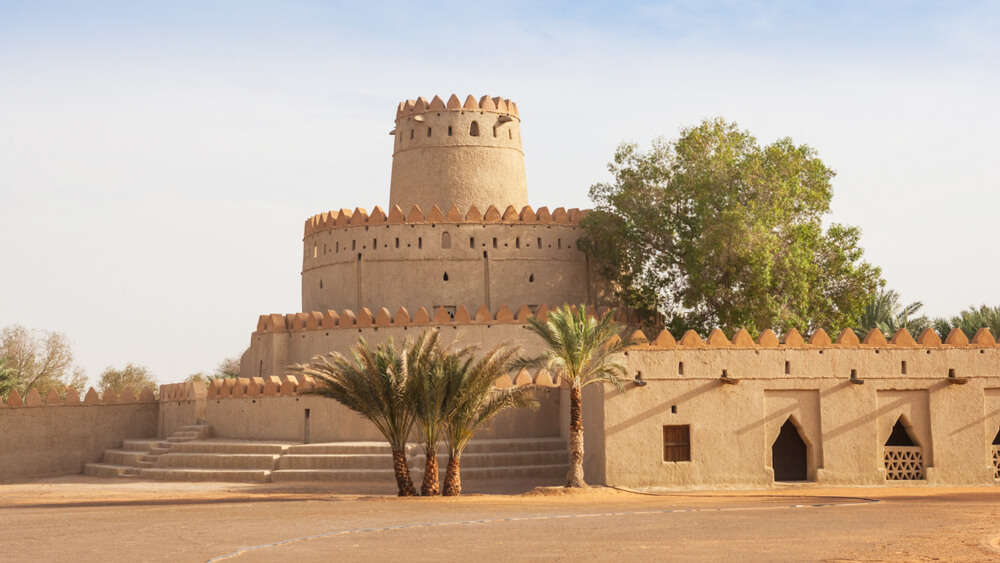 Also known as the Garden city of the Gulf, Al Ain is known to be one of the greenest cities of UAE. A striking contrast to the capital, the small houses, huge mountains, and a green expanse is what this city offers. Al Ain Oasis, Al Ain Zoo, and Jebel Hafeet are some charming spots here.
Best Time To Visit: May to September
Best For: Al Ain Oasis, Public Gardens, and Camel Racing
5. Fujairah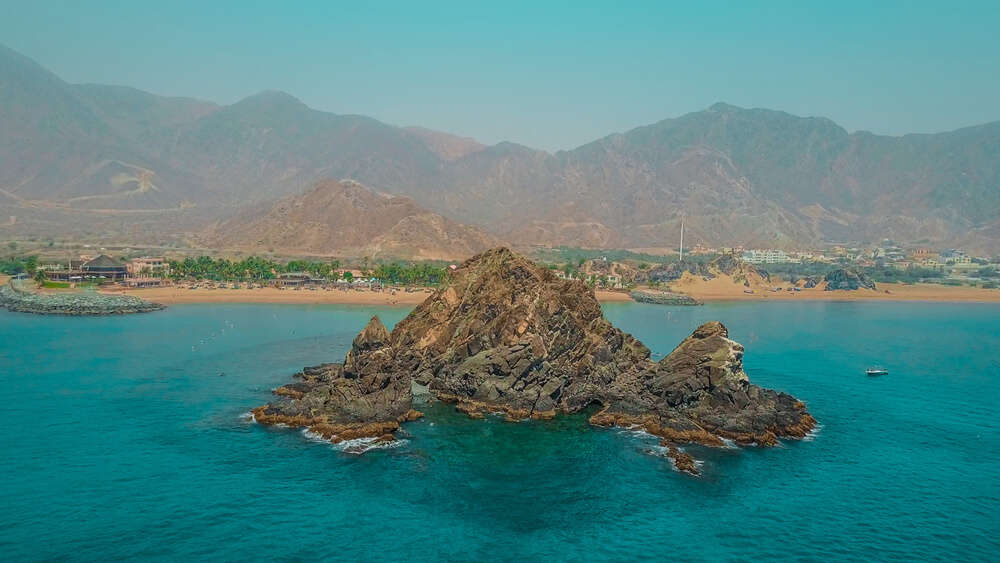 One of the 7 emirates, Fujairah is famous for the oldest mosque of UAE that is located here. Made out of mud and stones, Al-Bidyah Mosque is one of the best tourist places in Fujairah. Apart from the mosque, the expansive desert, the Fujairah Fort, and Fujairah Museum are interesting sites to explore.
Best Time To Visit: October to March
Best For: Fujairah Museum and fort, Al Bidhya Mosque, Snorkeling and Diving at Snoopy Island
Snorkeling In Dubai: Places To Experience This Water Sport In UAE's Stunning City
6. Palm Islands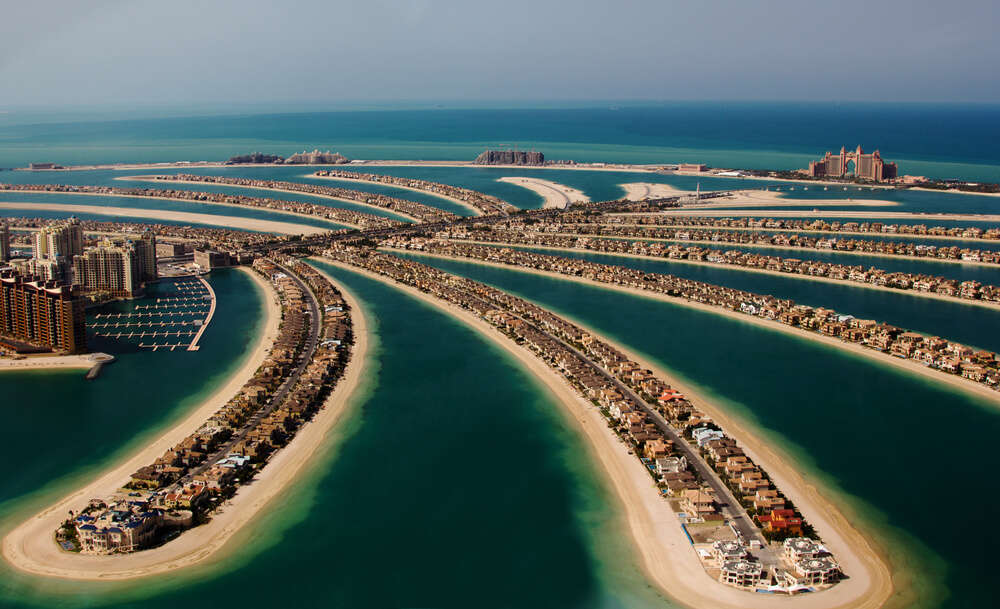 One of the most famous man-made archipelagos in the world, Palm Islands is a group of 3 islands, Palm Jumeirah, Palm Jebel Ali, and Deira Island, that last one of which is still under construction. Their mindful design, stunning infrastructure, exciting entertainment centers, and other tourist spots make these islands famous and most sought-after.
Best Time To Visit: September and October
Best For: Luxurious Hotels and Resorts
7. Ras al-Khaimah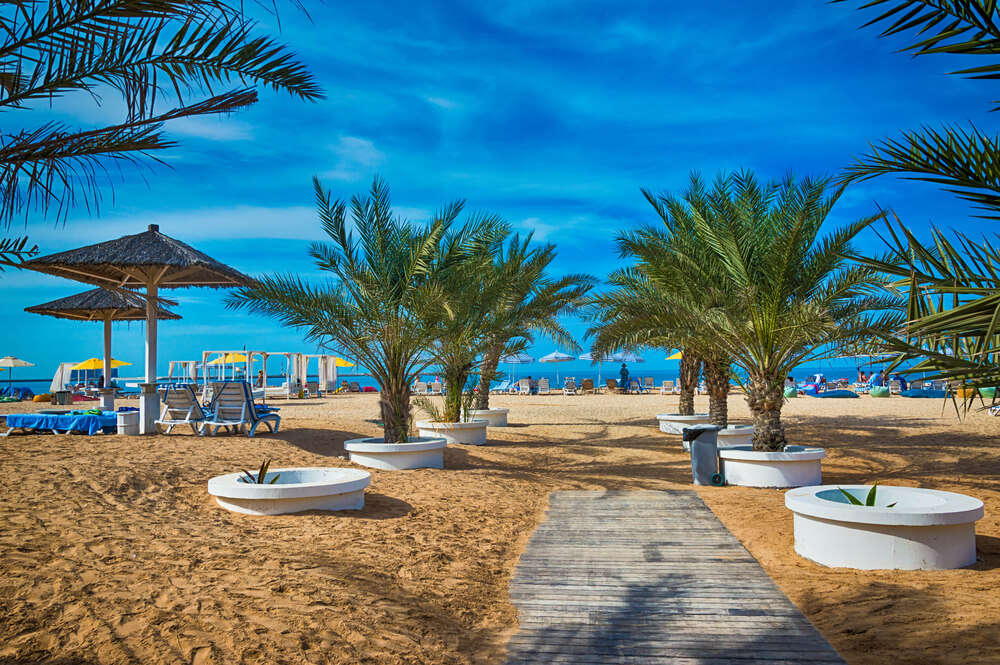 One of the most unique United Arab Emirates destinations to travel to, Ras al-Khaimah is known to glow with the authentic vibe of the gulf. With art, culture, and cuisine boasting of its rich history, you can also include a number of adventure activities like zip lining, cycling, hiking, and more, up the rocky mountains here.
Best Time To Visit: December to February
Best For: Dhayah Fort, Khaimah National Museum and Jazirat al-Hamra
9 Theme Parks In Dubai That Add The Fun Factor To Your UAE Vacation
8. Jebel Ali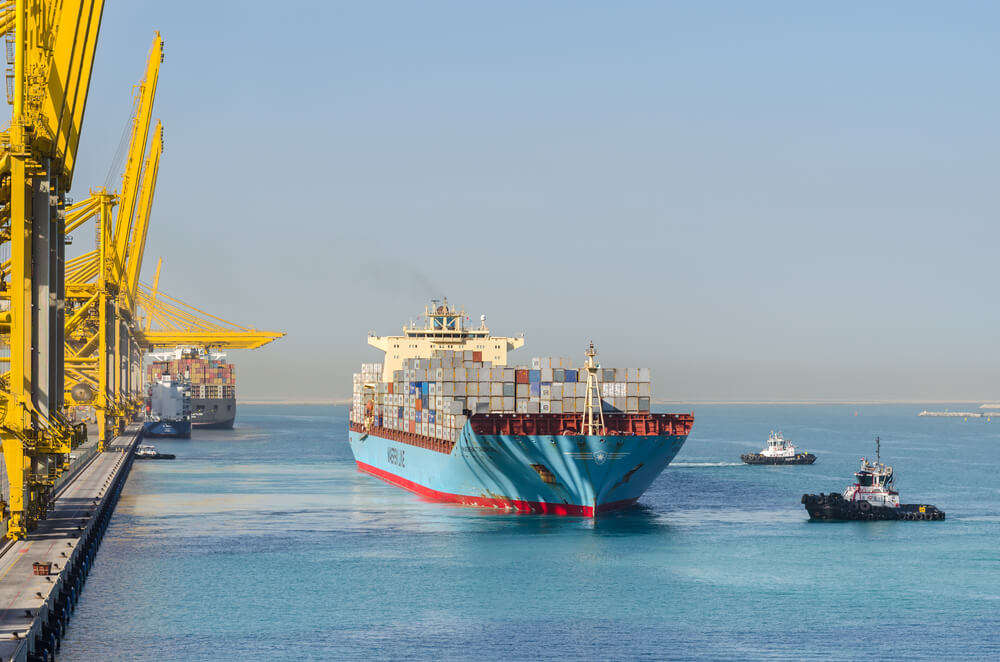 Jebel Ali is an unconventional tourist destination. It is a port located on the outskirts of Dubai, which make it a perfect for those who are looking to enjoy Dubai, as well as this port. Jebel Hafeet will let you witness that greenery in all its glory as you can cycle, drive or even walk up to the absolute top of the UAE's second highest summit. Located in Al Ain, this place allows you to look over the Oman border and the vast beauty of Al Ain. But a panoramic vista isn't all that you will be getting in this free entry place, as you can explore the museum's, forts and tombs present in the surrounding tourist spots too while you are here.
The place is open all day, so you can head up there whenever you want. A number of attractions like Legoland and Bollywood Parks are close by. Apart from them, the Jebel Ali Beach offers a relaxing experience and is one of the most exotic places in UAE.
Best Time To Visit: November
Best For: Historical Places
UAE Tourism Holds An Exclusive Abu Dhabi Week In Kochi And Kolkata For Indian Travelers!
9. Umm al-Quwain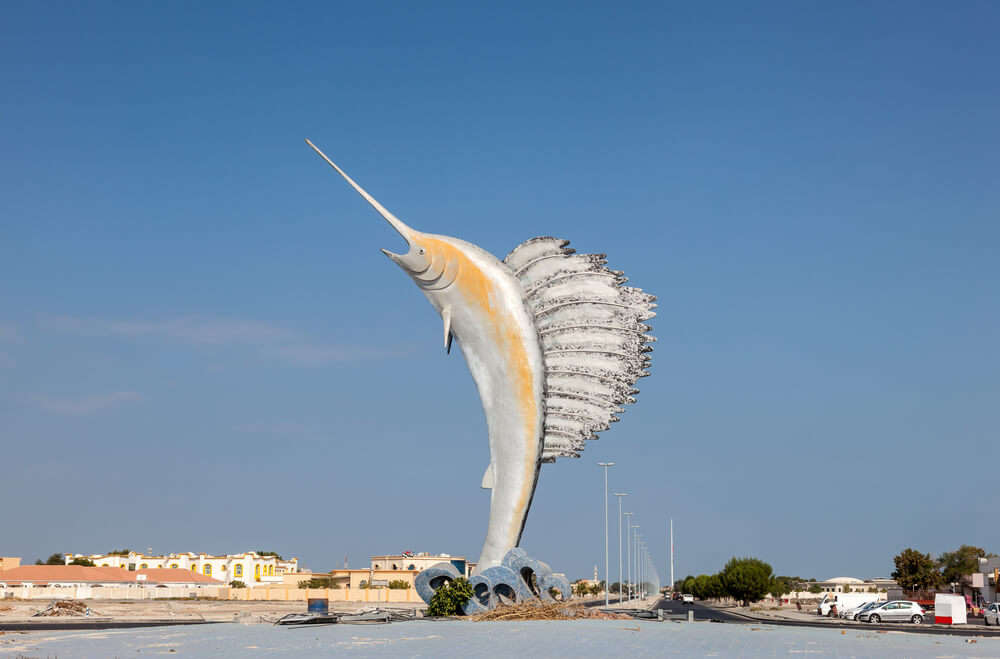 A small coastal town in UAE, Umm al-Quwain has the best gardens and water parks, a blissful shoreline, and a variety of museums and other cultural experiences. One of the best places to visit in UAE with family, do visit UAQ National Museum and Dreamland Aqua Park while here.
Best Time To Visit: November
Best For: Umm Al Quwain Fort, Ajman City Centre and UAQ National Museum
Abu Dhabi In March Travel Guide: Things To Do And Places To Visit
10. Sir Bani Yas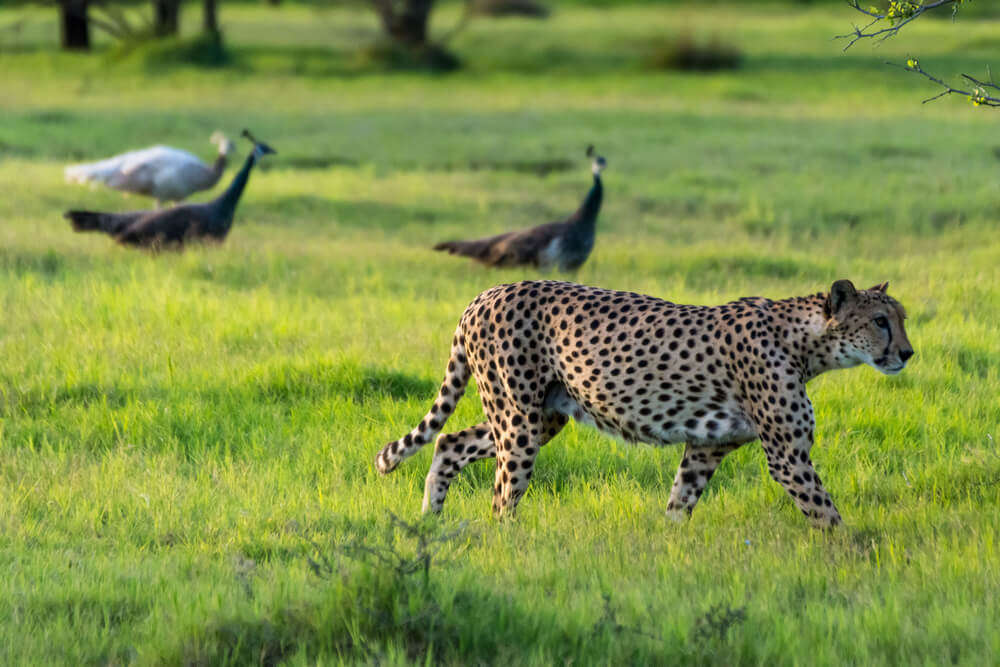 Sir Bani Yas is popular for being the largest natural island in UAE. While it was among the top natural reserves in Arabia, it is, as of today too, home to a large variety of flora and fauna. Activities like wildlife viewing, bird watching, and safaris, as well as mountain biking, snorkeling, and kayaking, can be enjoyed here.
Best Time To Visit: July and August
Best For: Luxurious Resorts
11. Kalba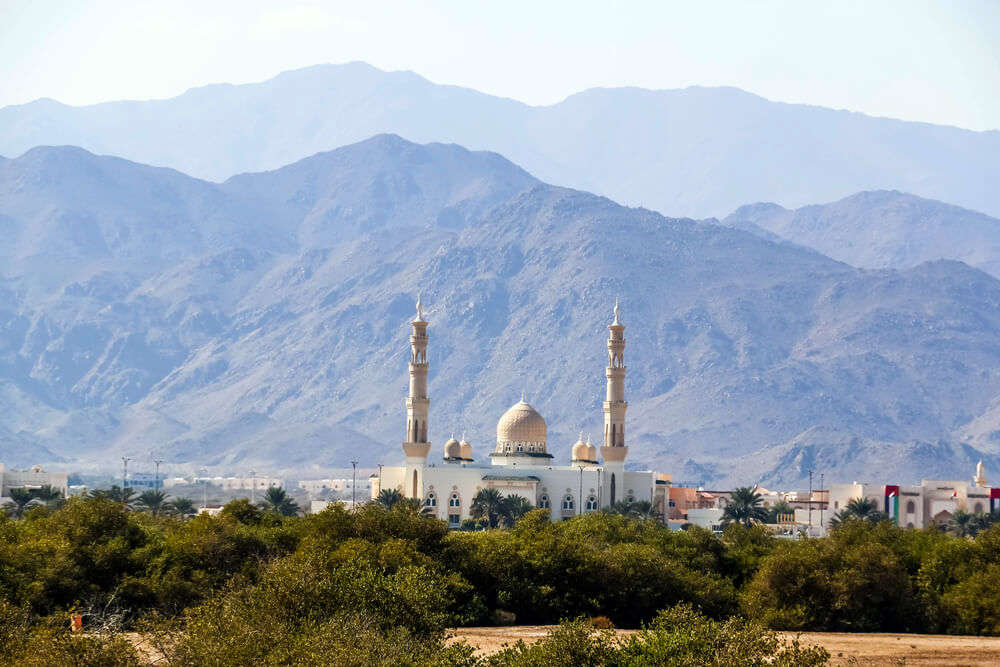 A tranquil coastline, trickling musical creeks, and an expanse of mangroves is what this small town offers. Kalba is a lesser-known paradise that serves as breeding and migrating grounds for many species of birds. Keep a lookout for a white collared kingfisher, and you may spot it easily here.
Best Time To Visit: January
Best For: Kalba Corniche Park, and Al Hefaiyah Mountain Conservation Centre
Unlocking The Magic Of UAE During Our Impeccable 5 Days In Dubai
12. Ajman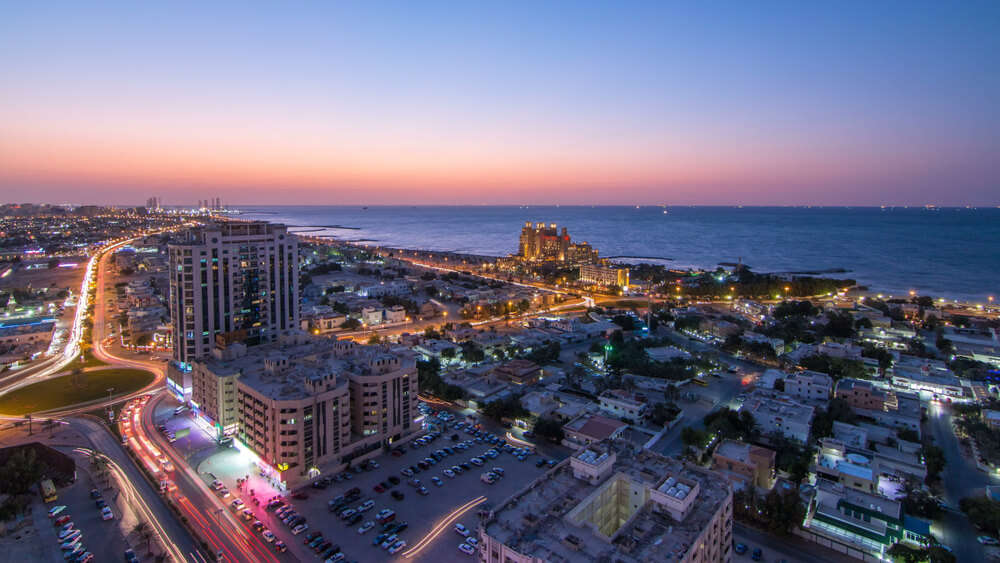 Making it to the list of the top places to visit in UAE at night, Ajman offers a more relaxed experience than Abu Dhabi and Dubai. Coffee shops, shopping malls, and multicuisine restaurants offer the perfect environment to unwind after a day of sightseeing.
Best Time To Visit: December till March
Best For: Etisalat Tower, Al Zorah Natural Reserve and Ajman Corniche
13. Zabeel Park

Image Source
Zabeel Park is one of the greatest recreational facilities which Dubai has to offer. Located near the Jafiliya Metro Station, it is lusciously green and also close to the city center so visitors who are not sure of roads and directions can also enjoy it. Visit during the hot weekends and splash around to cool off in its blue waters.
The park has barbeque places, playgrounds and also an amphitheater. So bring in your meat to grill, let your kids enjoy at the playground and enjoy the amphitheater atmosphere of the place. While you are here, there is also the Dubai Garden Glow nearby which you can take a look at.
Best Time To Visit: February
Best For: Activity Zones
10 Best Abu Dhabi Festivals & Events That You Must Attend On Your UAE Trip
14. Abra Ride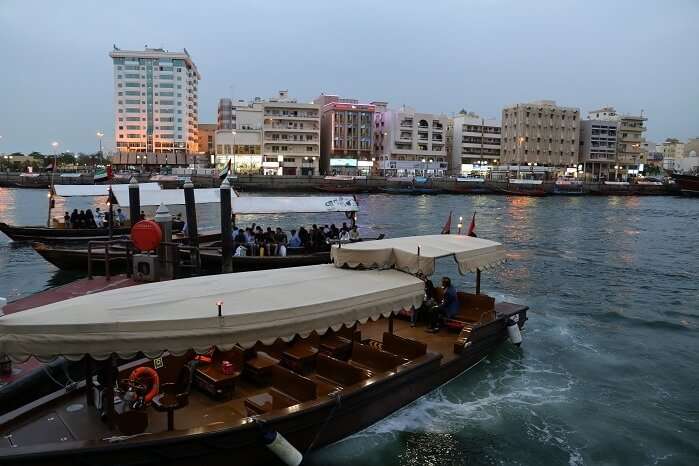 Image Source
Dubai is a perpetually hot destination and going there means that you will constantly be in a state of trying to find a shade or a cool place to visit. If you want to beat the heat then hop on the Abra Ride, located at Bur Dubai. It's an easier way to cool off without having to drive all the way down to the beaches.
Best Time To Visit: All throughout the year
Best For: Bur Dubai Abra Station
15. Al Fahidi Historical Neighbourhood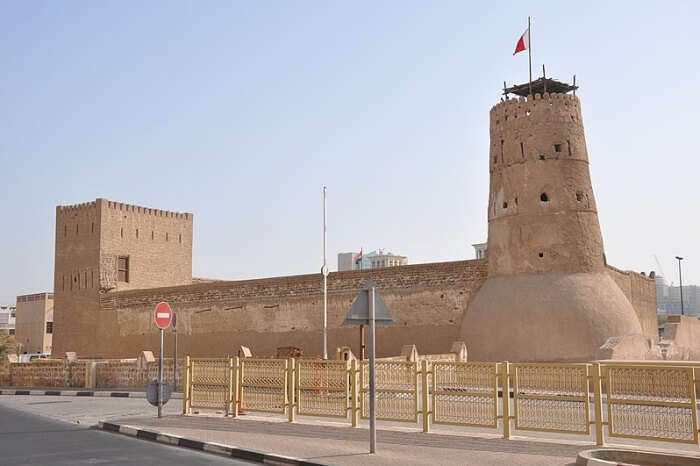 Image Source
As you walk around the streets here, you will get to experience what old Dubai is like. Located at Bur Dubai, it is just across the metro station. Al Fahidi still has its classic 20th-century architecture, but the effect of being transported in a different time altogether is made more profound by the process with which life is carried out back there. Here you will find that life is still centered around the community. There is no entry fee and it is always open for visits, but make sure to go at a time where you will be able to visit the museums and shops nearby.
Best Time To Visit: All throughout the year
Best For: Old Dubai Lifestyle
Monsoon In Abu Dhabi: Visit This Middle Eastern Gem In The Rainy Season
16. Hatta Pools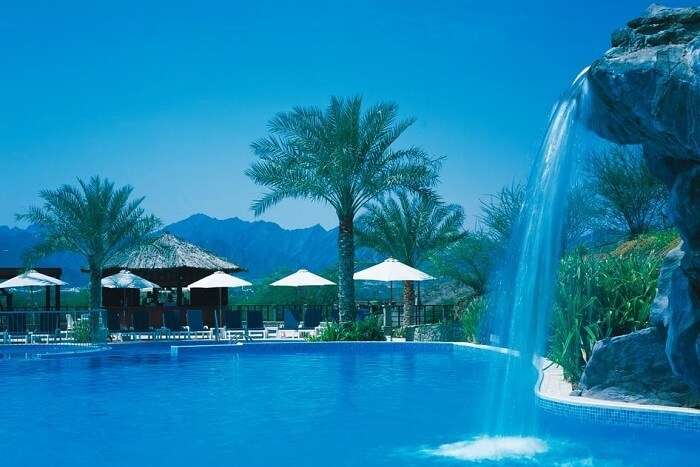 Image Source
If you have ever wanted to be in the midst of pure luscious and pristine greenery, then this is the place to head to. Hatta Pools are located at Hatta and you can visit this place absolutely free of cost. You will have to rent a car to get here, but the drive is totally worth what you will be getting in return. Wade into the clear blue-green waters that is the centerpiece of the gritty rocks which sprout around them. Explore the well preserved rich culture. If you want to know more about Hatta, then there is the heritage village on the way too. Make sure to carry your Emirates ID along with other verification documents with you.
Best Time To Visit: June Till August (to avoid crowd)
Best For: Siteseeing
17. Sheikh Saeed Al Maktoum's House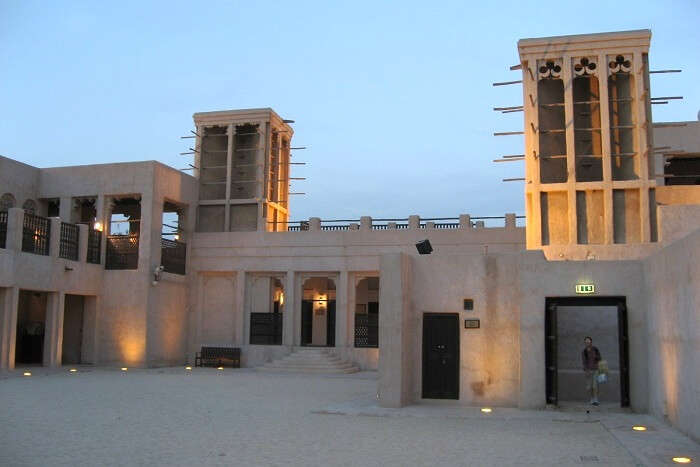 Image Source
This place will allow you to get an in-depth knowledge degrading the history of Dubai since it was the residence of a former ruler of Dubai. Located at Al Shindaga, you will get to see a variety of impressive collection of exhibits here since the house has now been converted into a museum. But the conversion hasn't made the place sterile as museums tend to be, and the place still holds the same old world charm.
Best Time To Visit: All throughout the year
Best For: Siteseeing
Off To The City Of Wonders: Our Couple Trip To Dubai
18. Al Mamzar Park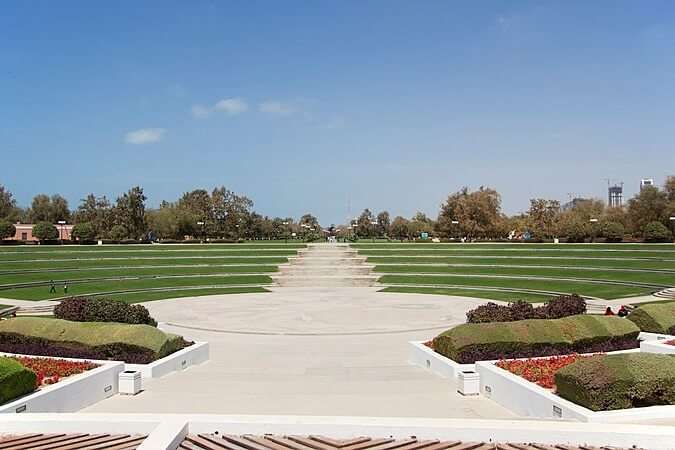 Image Source
If you are tired after the constant sightseeing or maybe you are looking for some peace and quiet, then the Al Mamzar Park is the best park to go to. Located in Al Mamzar, here you will get the opportunity of relaxing under the lush and vibrant trees as you forget everything around you. There's also some blue to compliment the green as you can also choose to enjoy the calming pristine waters of the beach.
Best Time To Visit: All throughout the year
Best For: Beaches, Barbeques, Open-air Amphitheatre
Entry fee: Dh5 per person
19. Saruq Al Hadid Museum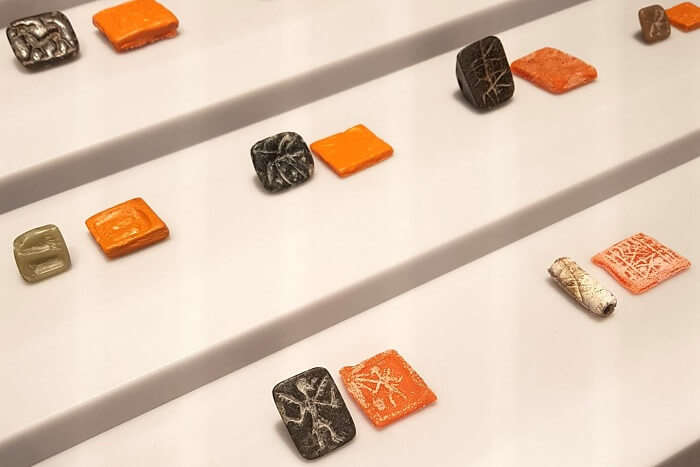 Image Source
Here you will get to know and learn about the iron age of the Arabian peninsula at the open museum in the historical district of Dubai. This place is a beautiful merging ground of both the past and the present. Bring your family with you and enjoy knowing a tale as old as time. Apart from the various arts and artifacts therein, the architecture of the place is also worth admiring. The Saruq Al Hadid Museum is located in the Shindaga district.
Best Time To Visit: All throughout the year
Best For: Exploring rich culture and heritage of the place
Entry fee: Dh 20 per person
Honeymoon In Abu Dhabi: For A Romantic Rendezvous In The Charming Capital Of UAE
20. Al Ain Classic Car Museum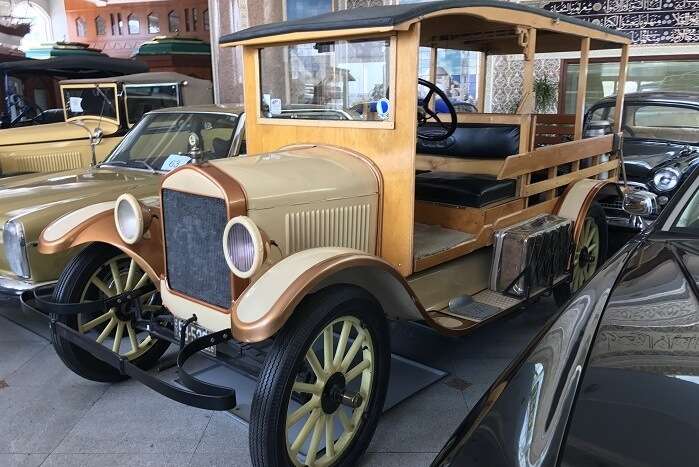 Image Source
This is the perfect place for automobile enthusiasts to head to. Located in the AL Faida Complex, it houses classic cars which you don't get to see anymore driving out on the streets. Managed by the Classic Car Club, here you will get to see the cars up close and personal as well as get to know more about them, like when they were created, when production for it stopped, where was it made and more.
Best Time To Visit: All throughout the year
Best For: Vintage vehicles and car shows
Ajman Shopping Guide: 7 Famous Places To Splurge And Shop At This UAE Capital
21. Qaryat Al Torath Heritage Village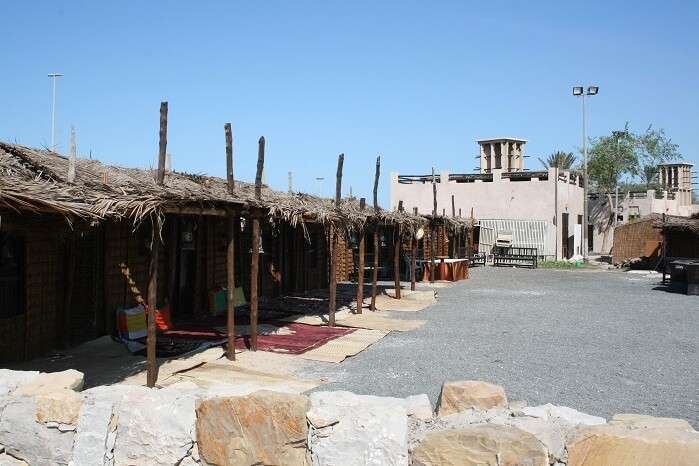 Image Source
As the name suggests, here you will get to experience a little piece of what the heritage of Dubai actually is amidst all the globally known and admired steel towers. This heritage village is located at Al Ain and here you will get to see and know more about the traditional handicrafts and practices of the community herein. You will also get to take these home, courtesy of the 32 stalls which are set up there. The aim of the Qaryat Al Torath Heritage Village is not to showcase a barely alive tradition, they also aim to spread knowledge about its existence so the tradition survives.
Best Time To Visit: All throughout the year
Best For: Souq stalls and handicrafts
Entry fee: Dh 5 per person
Timings: 9 am to 1 pm
7 Best Abu Dhabi Beaches That Are Perfect For Soothing Your Mind, Body and Soul
22. Sheikh Zayed Grand Mosque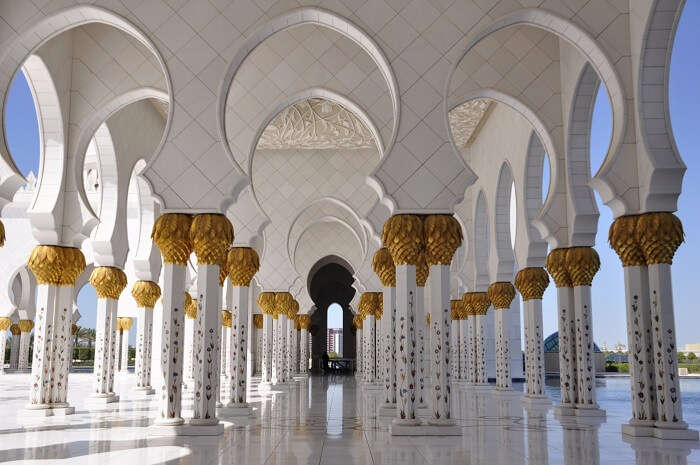 This is one of the fewer mosques of a grand scale that actually allows non-worshippers. Located between the Mussafah, Shaikh Zayed and Maqta bridges, it is both majestic and full of splendor. It is one of the cultural landmarks of Abu Dhabi and is a must visit to get a sense of the grandiosity which Dubai operates on. Entry is free.
Best Time To Visit: January
Best For: Praying
23. Gold Souk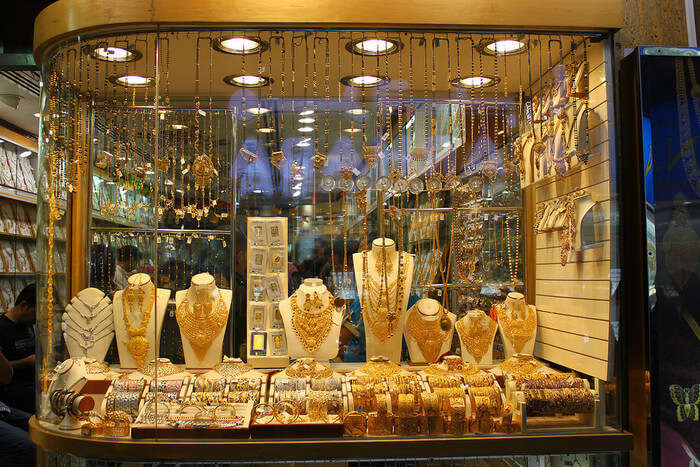 The streets of Gold Souk prove the saying that here, all that glitters is gold or maybe a semi-precious or precious stone. A great place to head to get some bling shopping done, located at Deira; this is the destination which will put a shine on you. Full of rows of shops, selling all possible kind of expensive stones or gold; this may be the chance for you to bring your bargaining skills to the table. Entry here is free, but money will start flying out as you begin buying.
Best Time To Visit: October till February
Best For: Buying gold jewellery and other gold items
Delve Into The Abu Dhabi Nightlife & Let The Party Begin
24. Jumeirah Mosque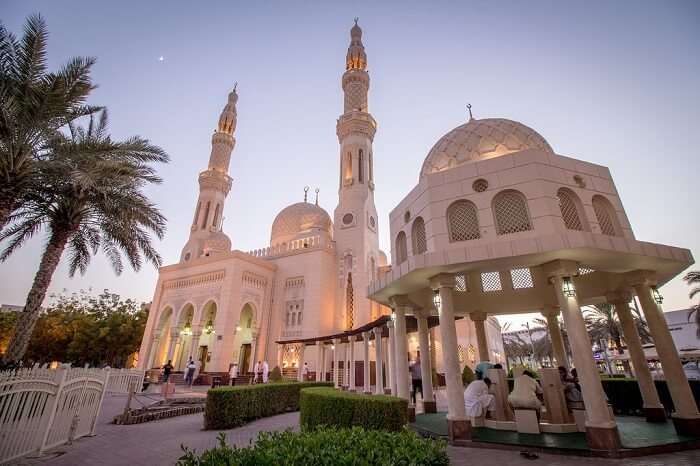 This is the only mosque in Dubai, which allows non-Muslims six days a week. The mosque is a center for cultural learning and it can be depicted in its architectural style as well, which is reminiscent of the Fatimid style. You can take a guided tour of this place as well, but for that, it is advisable that you arrive a little early in the daytime. One of the benefits of taking the tour is that you will get to taste the traditional food. This is one of the best UAE tourist places.
Best Time To Visit: December to February
Best For: Praying
25. Dubai Safari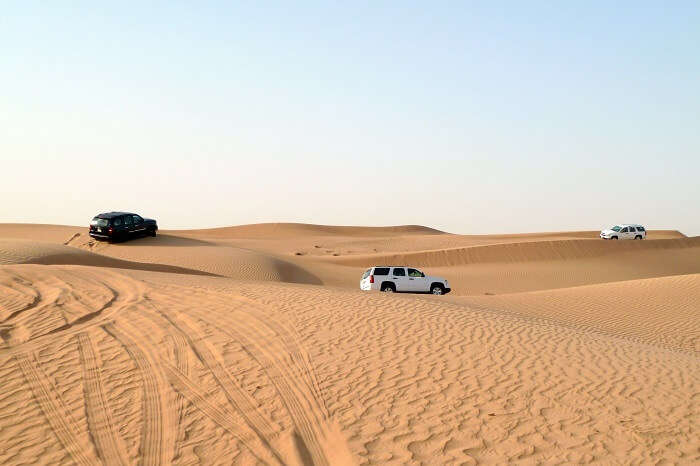 Image Source
Home to around 300 species of birds and animals, the Dubai Safari is the perfect place to head to if you want some time off from the constant sightseeing of crowded tourist attractions. Located at All Warqa, it is an ideal place to take family and kids, and you will love the close encounter with these animals.
Best Time To Visit: November till March
Best For: Wildlife
9 Abu Dhabi Museums Presenting Arab World From Different Eras
26. Masdar City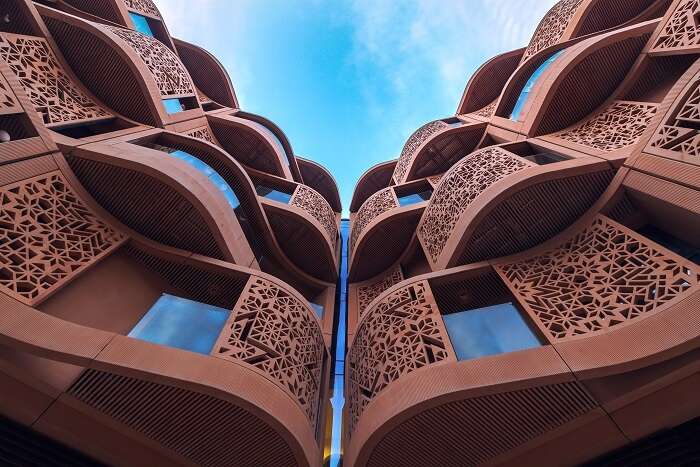 Image Source
Masdar is located near the Abu Dhabi International Airport and it is custom built to aid in the progress of sustainable development. The famous Masdar Institute of Science and Technology too is here and it is open for visitors throughout the day. You will reach the place using an unmanned pod-like vehicle. Get ready to enjoy the city of the future.
Best Time To Visit: November till March
Best For: Modern architecture and best utilisation of energy resources
27. Burj Khalifa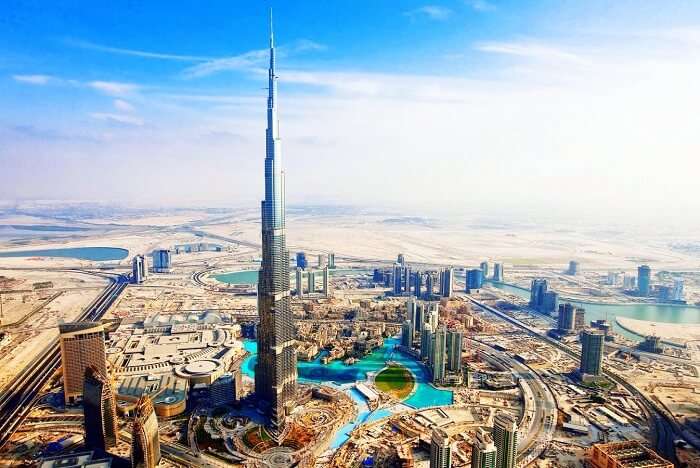 Burj Khalifa is a famous skyscraper in Dubai, UAE. This tourist attraction should be on your list of places to visit in UAE. Since 2008, this is the tallest building in the world. The skyscraper is believed to be a perfect mix of cultures all across the world. This masterpiece structure hosts parties and events too. It is one of the places to visit in UAE in 2023.
Best Time To Visit: All throughout the year
Timings: 9 AM to 11 PM
Top 13 Places To Visit In Ajman Presenting The Very Best Of Coastal Dubai
28. Jumeirah Beach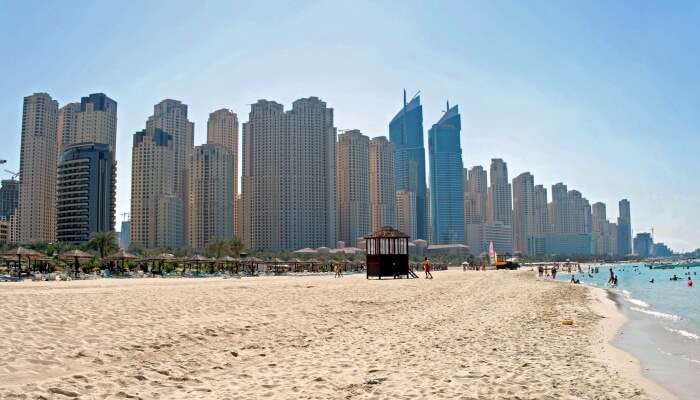 Image Source
If you love to spend some quality time at the beaches, then this is one of the best places to visit in UAE for free! Jumeirah Beach is lush white sand beach, well known in Dubai for its picturesqueness. One of the best highlights of this beach is that the top hotels – Burj al Arab and Jumeirah Beach Hotel are located at the coast of this beach.
Best Time To Visit: anytime of the year
Best For: bathing, surfing
29. Liwa Desert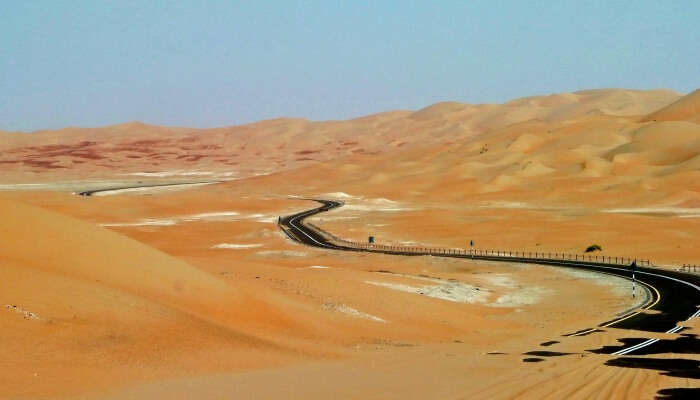 Image Source
The amazing desert horizon of Liwa extends till 26 kilometers till the border of Saudi Arabia. From this border, starts the well-known Rub al Khali desert. The oases at Liwa are a sight to behold! At Liwa desert, you can also enjoy witnessing the orange sand dunes, an extended view of the buildings at the border, and the desert villages. This could be one of the best places to visit in UAE during holidays.
Best Time To Visit: May, June, July
Best For: Oasis, safari
31 Places To Visit In Abu Dhabi For Those Who Want Everything From One City
30. Al Fujairah City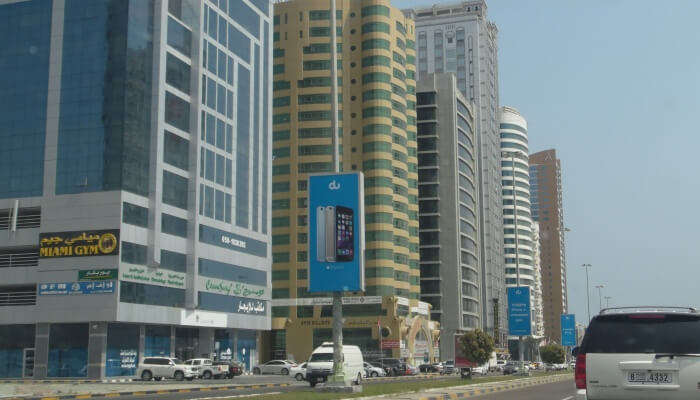 Image Source
This city is essentially known for the awe-striking district that is admired for its historicity. The city has various ancient buildings that reflect the traditional architectural styles. The city is the capital of Al Fujairah Emirate and one of the spots it is known for is the history museum that features the heritage of this city in the best way.
Best Time To Visit: October to March
Best For: heritage tour
31. Al Muraba'a Fort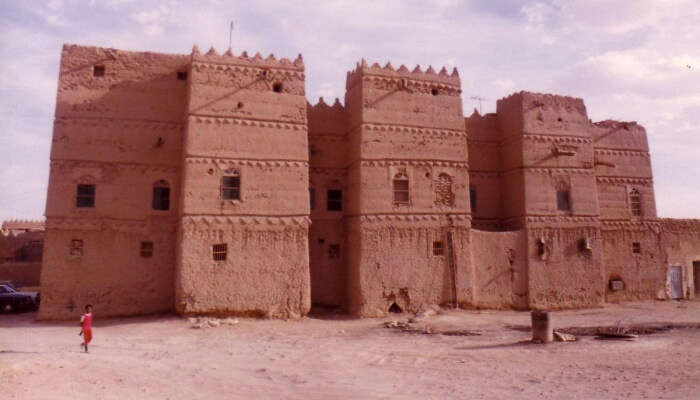 Image Source
This fort is situated in Al Ain city center and is believed to be constructed using clay, mud plaster, and dried bricks. Reflecting the beauty of traditional architectural style, this fort is one of the most-visited and admired tourist attractions in the Emirates. This fort is also popular by the name Police Fort. It was built in the order of Sheikh Zayed Bin Sultan Al Nahyan during the 1940s.
Best Time To Visit: February to April
Best For: Heritage tour
10 Things To Do In Abu Dhabi Unveiling The Best Of Arab Emirates
32. Emirates Fine Arts Society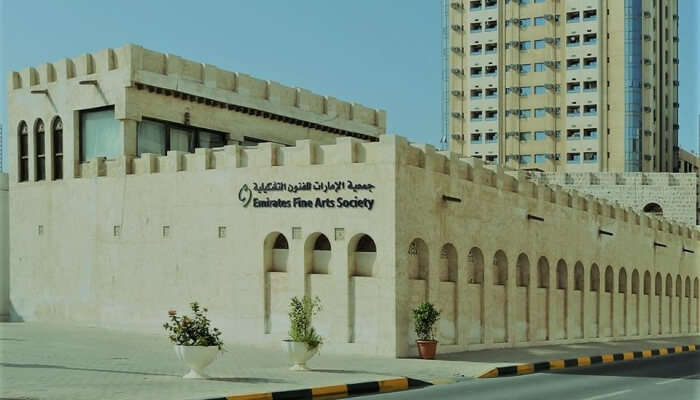 Image Source
If you have an inclination towards arts and their significance in the Emirates, then you must visit this place. This venue was established in the year 1980 and is considered to be a non-profit association. The head office is located in Sharjah. However, its branches can be found in Ras Al Khaimah, Khor Fakkan, and Abu Dhabi.
Best Time To Visit: February to April
Best For: Art and Culture
33. Hatta City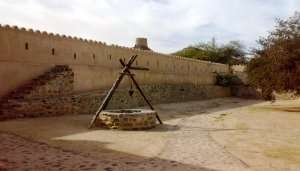 Image Credit: Bjoertvedt for wikimedia
The city is an exclave of Dubai, located in the United Arab Emirates. From here you can enjoy beautiful views of the Hajar Mountains. This restored centuries-old Hatta Heritage place features stone houses, a defensive tower, a traditional water system, falaj, and many quaint things. Other things like antique crockery, traditional weapons, and furniture are also seen here. Plan a visit to one of the best tourist places in UAE & explore the archaic treasures here.
Best Time To Visit: December and January
Best For: Dams, rock pools, village
 Flying Via UAE Is Not Boring Anymore, As You Can Get A Free Transit Visa For 48 Hours Soon
34. Musandam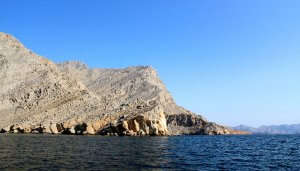 Image Credit: Riyadh Al Balushi for wikimedia
The place's jagged coastline features fjordlike inlets called Khors, and its water is a living habitat of dolphins & other marine life. The most popular activity here is Dhow Cruises. When looking for United Arab Emirates points of interest do consider this place. Plan your visit to this exceptional place whenever touring UAE!
Best Time To Visit: November and December
Best For: Paragliding, adventurous activities
35. Khor Fakkan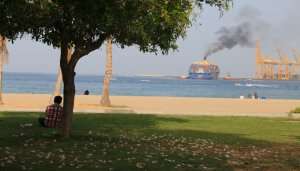 Image Credit: Iwona Rege for wikimedia
A town on the Gulf of Oman, in the UAE. The town centers on Khor Fakkan Bay, home to the curved Khor Fakkan Beach. There are many archeological sites that include ancient graves and a not so preserved Portuguese fort. The Western side of this town includes a mountain area with natural pools & waterfalls. Visit this thrilling place as it is one of the best tourist places in UAE.
Best Time To Visit: November to February
Best For: Beaches, sea diving, marine campers
They Had The Most Amazing Time Holidaying In Dubai And They Captured It All Beautifully
36. Dibba Al-Hisn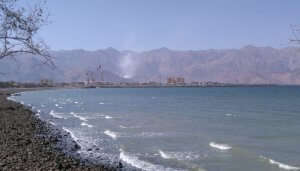 Image Credit: SurvivorNgugz for wikimedia
Dibba Al-Hisn is a pene-exclave of the Emirates of Al-Sharjah. One of the seven United Arab Emirates. It is surrounded by the Gulf of Oman from the East, Dibba Al-Baya from the North, and Dibba Al-Fujairah from the South. The place is geographically part of the Dibba sphere & a beautiful place with lots of tourist places.
Best Time To Visit: February to April
Best For: Views, tourist places
UAE has everything like safaris, beaches, parks, resorts, clubs, and more. What sets it apart is the grandeur of it while remaining down to earth. So, how many of these do you have on your list for your Dubai vacation.
Frequently Asked Questions About Places To Visit In UAE
How many days can you stay in Dubai with a tourist visa?
One can obtain a visitor's visa for 30 or 90 days depending upon which country one belongs to. Therefore, while planning your trip in UAE, one must take care of this fact.
Does Dubai accept travel documents?
Advance travel documents are not needed and one's passport is stamped with a visa while passing through immigration at any of UAE's international airports.
Is there a grace period for Dubai tourist visa?
A grace period of 10 days is allowed after the 30 days visa on arrival expiry.
---
People Also Read:
Places To Visit in Oman Places To Visit in Beirut Places To Visit In Doha