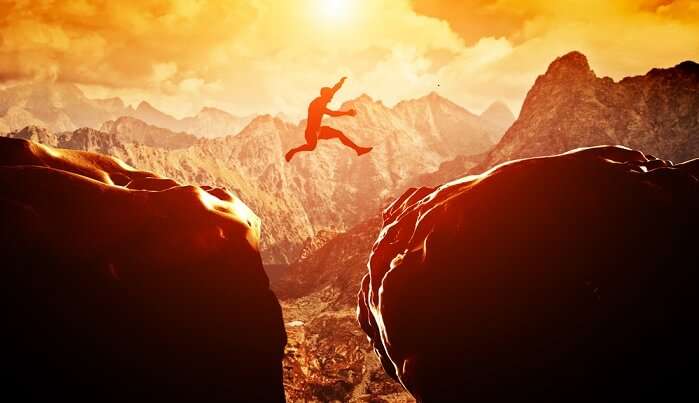 India isn't just about exploring the exclusive, vibrant, authentic and magnificent places but also a captivating land for adventure junkies. Its huge spread of geographical diversity makes it an ideal destination for thrill-seekers. Be it the most rip-roaring adventures or the less challenging activities, you'll find the most amazing blend of both here in India.
But when it comes to listing all the extreme sports in India the list is pretty long, so to make things easier and more exhilarating for you we have curated a list of the 8 most stimulating adventure sports in India. Scroll down to know more about them and get set to update that bucket list of yours. This listicle contains some of the hacks and pieces of information that you'll require in order to cherish the gleeful memories of your life.
8 Best Adventure Sports in India
The following list will brief you about the best adventure sports in India that you must not miss if you are someone who is passionate about speed, thrill, and adrenaline.
1. Zip Lining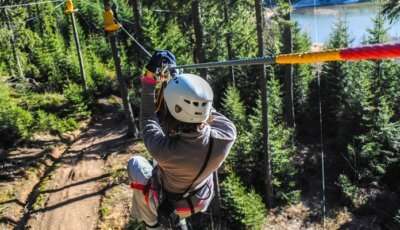 Zip Line, zip-wire, or zip power is a pulley suspended on a cable. It is made out of stainless steel. In ziplining, you can sway through the air at a rapid pace over a deep valley, excited? For the exotic extravagance this comes with, ziplining is one of the best adventure sports in India that any adrenaline junkie should not miss. Munnar tops the list of destinations when it comes to adventure sports destinations in India. There, the wanderers can witness the thrill of hovering over the stunning tea gardens of Munnar while soothing themselves around its charismatic beauty.
Best Time: September to November, January – March
Cost: INR 200 – INR 500 per person
Best Place: Kerala
23 Best Trekking Places In India: Your Month-Wise Trekking Guide Is Here
2. Flyboarding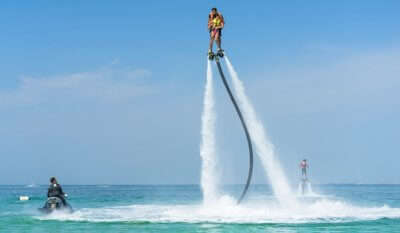 Over the past years, flyboarding has gained a lot of popularity. In this activity, the rider is required to stand on a board that is connected by a long horse to witchcraft. If you are someone who enjoys rip-roaring fun and is always up to try activities with adventure then flyboarding must be on your bucket list. Since the activity has emerged out to be one of the popular adventure sports in India then it must secure a place on your bucket list. Be it one of the extreme sports in India or one of the best adventure sports in India flyboarding always tops the list.
Best Time: October – April
Cost: INR 2500 – INR 3500 per person
Best Place: Goa
3. Dune Bashing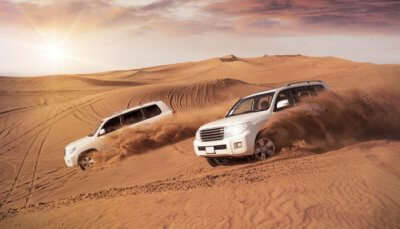 Dune Bashing is an off-road sport done on the dunes, which itself is a challenge as the rider is required to find the appropriate balance on the surface that keeps on changing.
This adventure sport takes a stand when it comes to pioneering the tourists coming to Jaisalmer. Many would say Rajasthan is all about authenticity, royalty, luxury, and vibrant cultures, but when it comes to the best adventure sports In Rajasthan then no activity can beat dune bashing. Include this thrilling activity on your itinerary and get set to relish the experience of riding through the smooth dunes
Best Time: November to March
Cost: INR 1500 – INR 3000 per person
Best Place: Jaisalmer
9 Best Places to Visit in Winter for Couples for a Dreamy Getaway in India
4. Caving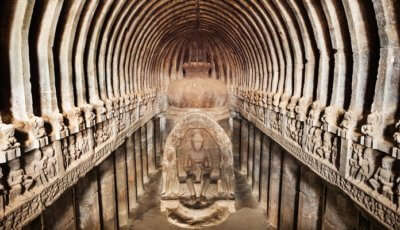 Caving is quaint, quirky, and one of the most unique adventure sports in India that has evolved over the past many years. Adventure lovers who love to explore the darkest and most unknown caves would enjoy this one-of-a-kind experience. In India, there are many undiscovered caves even today, and with so many places to explore around caving is definitely one of the best and ideal ways to explore the spread region. Having said that, one cannot keep caving off the list of extreme sports in India. You can try this activity in Meghalaya as it has some of the deepest and less-explored caves.
Best Season: November to March
Cost: INR 5000 per person
Best Place: Meghalaya
5. Rock Climbing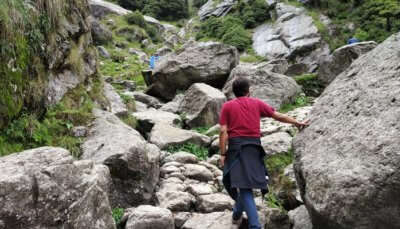 Rock climbing is a challenging sport in which you are required to climb up and down the rock with the goal to reach the summit of the formation. In India, you will find a balanced blend of both man-made and natural sites which makes it one of the ideal places to try rock climbing with your adventurous friends. If climbing a cliff, or a rocky site excites you then you should definitely try this sport. One of the best sites for rock climbing is in Himachal Pradesh, while adoring the natural beauty of the places do try some thrill.
Best Season: May – October
Cost: INR 8500 – INR 12500 per person
Best Place: Himachal Pradesh
29 Famous Lakes In India That Will Bedazzle You With Their Stunning Beauty
6. Mountain Biking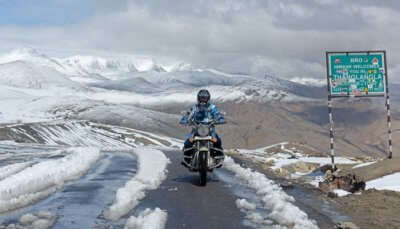 If you are looking for a less challenging adventure sport in India then it is Mountain biking. Read that again, we said less challenging that doesn't imply the activity won't excite you with its pack of adrenaline. You can try mountain biking if you are tired of those usual adventures and thrill loaded activities. In the northern part of India, you will find many hills that are just ideal for this adventure that makes this a new addiction for thrill lovers. The dry, rocky routes and cold climate is adrenaline-inducing that lures most adventure junkies. Include this activity on your list of must-try adventure activities to do in India and get set to cherish memories of a lifetime.
Best Season: Mid-June to September ( Ladakh)
Cost: INR 30,000 – INR 40,000 per person
Best Place: Ladakh
7. Parasailing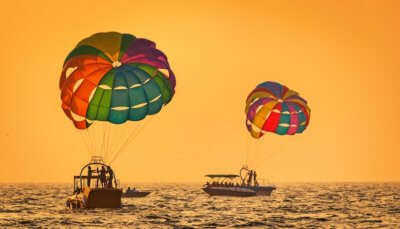 Parasailing is for you if a fusion of wind, speed, and flying tempts you. Try this, one of the most fun-filled adventure sports in India and live the happiest highlights of life with your buddies. The best place to explore parasailing in India is Goa, where you can experience the breathtaking aerial view of the Arabian sea and the pristine Goan beaches. Keeping aside the buzzing nightlife and bustling markets, Goa is surely a place for adventure lovers especially for all those who are all for watersports and parasailing.
Best Season: October – March
Cost: INR 950 – INR 1500 per person
Best Place: Goa
15 Romantic Budget Resorts In India For Spending A Memorable Time
8. White Water Rafting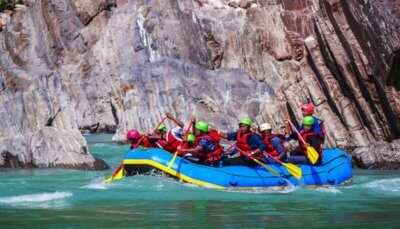 If gushy waves, rapid pace, and exciting mix of speed, wind and water excites you then include river rafting to your list of adventurous activities to do in India. For many first-timers, this water sport is now a claimed addiction. You can pick from your own pace as there are many levels of grade for dialling up the difficulty. The unusual names like Double Trouble, Sweet Sixteen, Three Bling Mice, will pump you even more to try this thrilling water sport. In Rishikesh, there are a total of 13 river rapids starting from 9 km to 36km.
Best Season To Visit: Mid September to Mid June
Cost: INR 1500 to INR 2500 per person
Best Place: Rishikesh
10 Beautiful Places In India You Are Not Allowed To Visit
Excited yet? Then what's stopping you? Start planning your itinerary for India and include your kind of thrilling activities in it. With our list of the best adventure sports in India, you can easily customize a suitable tour package that feeds the daredevil in you. Get going, book the most adventurous trip of your life and save all the waves of laughter for a lifetime.
For our editorial codes of conduct and copyright disclaimer, please click here.
Frequently Asked Questions About Adventure Sports In India
How many adventure sports are there in India?
When it comes to counting the number of adventure sports in India the list is unending. But if you still want an estimate then there are roughly 10-15 exciting adventure sports in India. Thus, if you are planning a trip to India just to feed your adrenaline rush then you definitely should, as there are plenty of activities for you in India.
Is it safe to explore adventure sports in India during Covid?
Yes, it is safe to explore adventure sports in India during Covid but before heading out make sure you have received all your doses for Covid and you follow the latest updates on the pandemic. Travel in a small bunch, and maintain social distancing all the time. If you follow all this with utter sincerity then the chances of you getting infected are very slim. Having said that, your safety is always in your hands.
What are the different types of adventure sports in India?
In India, you will find a long list of adventure sports and some of the must-try ones are: Skiing, surfing, kayaking, parasailing, rock climbing, dune bashing, and trekking. Craft your itinerary in such a way that most of these are covered.
Which sport is one of the most popular adventure sports in India?
Out of all the thrilling adventure sports in India, river rating is one of the most popular adventure sports. The activity is especially for those who love to float on a pointed boat at a rapid pace. It is believed to be one of the hardcore adventure activities.
Which is the safest extreme sport?
There are many safe extreme sports for beginners to explore in India. Some of the safest ones are indoor skiing, rock climbing, trekking, mountain biking, and indoor skydiving. Every sport is safe if tried out under the supervision of a professional.
Are water sports popular in India?
India is gradually emerging as one of the top destinations for adventure sports in the world. That makes it a popular place for water sports too. Some of the popular water sports are river rafting, scuba diving, jet-skiing, and kayaking.
Which state is famous for adventure sports?
Ladakh is one of the best-known places for adventure sports. Be it cycling, biking, trekking, or paragliding you can participate in any of these sports here in Ladakh and cherish some of the fun-filled memories for life.
Which place is best for adventure in India?
The following places are best for adventure in India; 1. Goa 2. Ladakh 3. Kerala 4. Himachal Pradesh 5. Andaman 6. Rishikesh