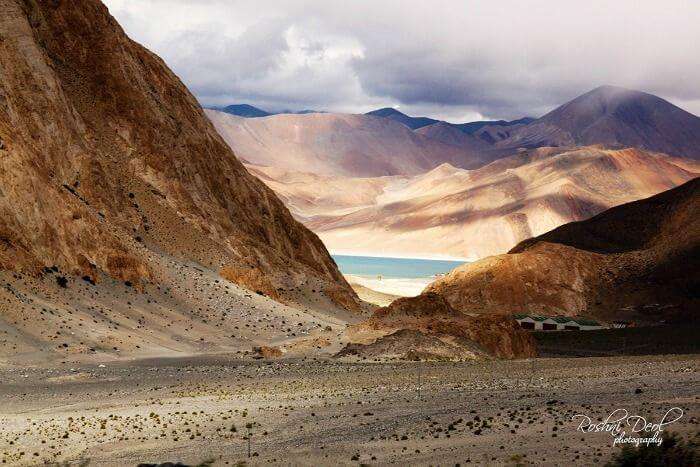 This blog post is not meant to discourage tourism in any manner. In fact, the very purpose of this article is to raise awareness of the unbelievably gorgeous places in India that are out of our easy reach. In spite of being bestowed with immense natural beauty, some places in India can't be visited without having a dagger hanging over your head. The reasons may vary but the restraints are the same and that is what makes them even more intriguing.Here is a list of beautiful places in India you are not allowed to visit.
Beautiful Places In India You Are Not Allowed To Visit
We have shortlisted the deadliest places in India that are spellbindingly gorgeous. These places are bound to leave travelers in awe of the natural wonders and help them fight their fears. Here are 10 beautiful places in India you are not allowed to visit.
1. Aksai Chin

Aksai Chin features on the top of the places you cannot visit. It is a ceasefire line, one that separates the Indian-controlled state of J&K from the Chinese-controlled area. It lies further to the east and is known as the Line of Actual Control (LAC). It is also referred to as one of the most dangerous places in the world. The infamous LAC passes through the famous Pangong Tso Lake of Ladakh. Need I say more about how beautiful this place is? It is one of the most mysterious places in India.
30 Unbelievably Beautiful Places To Visit In Kashmir One Cannot Miss In 2022!
2. Silent Valley National Park

Due to a recent Maoist attack at Silent Valley National Park in Kerala there has been a considerable decline in the tourist influx. The tropical evergreen forests of the national park is bestowed with unspoilt natural beauty. You will be amazed by the beauty of this place. This is one of the most stunning prohibited places in India. 
Top 10 Places To Visit In Kerala During Monsoon For A Mesmerising Trip In 2022
3. Chambal River Basin

The unmatched beauty of Chambal has been long reigned by some of India's most infamous outlaws, who also seemed to have fancied the creativity of Bollywood movie makers since a long time. However, the danger of falling prey to the regional dacoits is still quite possible and hence it's usually avoided by travellers. You will be blown away by how magnificent this destination is. It's the most famous forbidden places in India.
24 Cheapest Places In India Even A Broke Student Can Visit In 2022!
4. Manas National Park

You may find it hard to believe that a highly promoted wildlife sanctuary is also a place where terrorist activities have taken place but it's true. Back in 2011, 6 WWF officials have been kidnapped by Bodo militants from Manas National Park. Government is still trying hard to keep peace and promote tourism of the wildlife sanctuary which is undoubtedly one of the most unbelievable places in India.
---
Planning your holiday but confused about where to go? These travel stories help you find your best trip ever!
---
5. Tura

Tura is all about vibrant tribes, picturesque landscapes, gushing waterfalls, eerie limestone caves and sadly enough, terrorism. This little town in Meghalaya has been the victim of some of the most notorious terrorist organisations of Northeast since quite some time now making it a dangerous place for travellers. This picture doesn't do justice to the beauty of this region. It is one of the most prominent prohibited places in India.
43 Places To Visit When Travelling To North East In 2022
6. Haflong

An enchanting town in the heart of NC Hills in Assam, Haflong faces major hindrance in its tourism sector by militants of various terrorist organisations. It is heartbreaking that you are not allowed to visit as this is one of the most spellbinding and ubelievable places in India. It is magnificent and definitely a sight to behold. Do you wish you could go here? You're not alone!
7. Bastar

Home of the Indian Niagara Falls, Chitrakoot, Bastar is a district in Chhattisgarh with rampant Naxalite activities. The entire district is laden with places of enchanting natural beauty but unfortunately it's also one of the primary places falling in the red corridor. Isn't this the most beautiful thing you have seen on the Internet so far this week?
8. Phulbani

Some 200 km away from Bhubaneswar in Odisha this splendorous little town is located boasting of charming waterfalls and picturesque landscapes. It is another place that falls in the red corridor of India affected by Maoists. Wish you could eradicate terror and travel to Phulbani? You are not alone!
60 Best Hill Stations In India In 2022 That You Must Explore At Least Once In Your Life!
9. Nicobar Islands

Unlike the Andamans, the Nicobar Islands are untouched and pristine. The forests are lush and the beaches are surreal beyond explanation. However, foreigners would require passes to enter the Islands and no visitor is allowed to enter the tribal belts unless for some special purposes like research. And even for that one will have to go through rigorous formalities. This is a one of a kind destination.
10. Barren Islands

The only active volcano in India is located in the Barren Island of Andaman and Nicobar. You can see red-hot lava and smoke erupting from the mouth of the volcano for a distance inside the safety of a small ship. However, no one is allowed to get any closer to the hill due to safety reasons. This region is way too beautiful to even exist.Barren Island
Top 53 Places To Visit In Andaman
India is one of the biggest countries in Southeast Asia. It is blessed with lush geographical landscapes and immense natural beauty. And yet, there are a few places in India that you aren't permitted to enter. Have you come across other beautiful places in India you are not allowed to visit? Tell us in the comments section. Book a trip to India right away to have interesting experiences on the road.
For our editorial codes of conduct and copyright disclaimer, please click here.
Frequently Asked Questions
Why tourists are not allowed in the Nicobar Islands?
The Nicobar Islands are home to two tribal communities – Nicobarese and Shompen. It is the wish of these communities and the government that tourism should not be allowed in this destination so that the outer world does not hamper with their living.
Can tourists go to the Nicobar Islands?
No, tourists are not allowed to visit the Nicobar Islands as the tribes residing the jungles do not want the travelers to disturb their living.
Why was the Silent Valley declared a national park?
The Silent Valley is home to many rare and exotic wildlife including the lion-tailed macaque. It was to save the habitat of these species from getting flooded due to the Hydroelectric project that this spot was converted into a national park.
How do you get to Silent Valley National Park?
The nearest railway station to the Silent Valley National Park is the Palghat Junction in Palakkad. Once in this destination, travelers can easily board the private bus to cover the remaining distance.
How do you get to Manas National Park?
The nearest railway station to Manas is Barpeta Road. Manas is well-connected to all the major cities of Assam by the road. One can easily hire a cab from Guwahati or the railway station to cover the remaining distance.
What is Manas National Park famous for?
A UNESCO Natural World Heritage Site, Manas National Park is a Project Tiger Reserve, an Elephant Reserve, and a Biosphere Reserve. This is famous for being the only tiger reserve in Assam, and also for the golden langur, red panda, and other rare animals.
How can I reach Phulbani?
The best way to reach Phulbani is to take a flight from Kolkata to Bhubneshwar and then hiring a cab to cover the distance.
What kind of volcano is Barren Island?
Barren Island is a Stratovolcano sitting in the Andaman Sea.
Can we go to Barren Island?
One can visit the island by boats or ferries, however, tourists are restricted to land ashore.
---
Looking To Book An International Holiday?
---