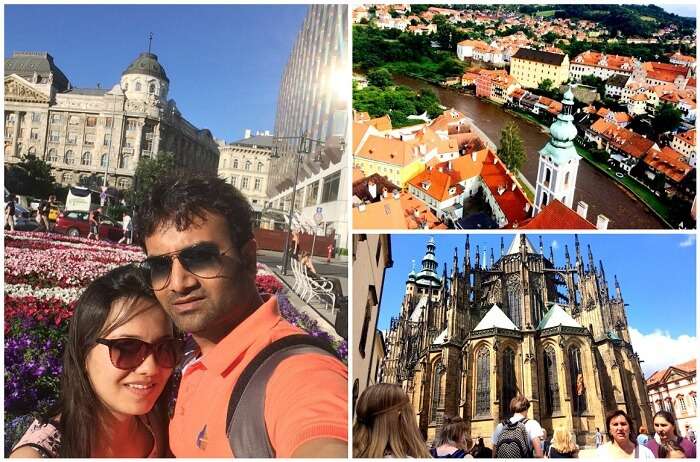 Ankit's passion for travel lead him to a honeymoon trip to Europe. The fulfillment of a dream to explore the untouched gems of Eastern Europe with his wife makes this trip all the more special. It cost them a total of INR 121000 which included their accommodation, transfers, meals and sightseeing.
Europe always fascinated me and to go their with my wife was one of the things in my bucket list. I chose Eastern Europe because it had a lot underrated and unexplored places.
I came across TravelTriangle while I was searching on the internet for companies which could provide me a tour, to the countries I wanted. I got attracted with the option having the flexibility to customize your own package.
I put in a query on their website and after that a representative from TravelTriangle called me and understood my requirements. I was connected to a few agents who sent me various quotes as per our needs and I selected the best one which suited our travel plan.
After carefully planning each and every final detail, my dream was about to come true. A new phase of my life was about to start on such a magical note.
Day 1 : Landing in Budapest, Hungary.
We boarded the flight from Mumbai and reached Budapest at 1.30pm. On our arrival, a taxi was present to receive us and take us to the hotel. After the check-in, we had lunch and started exploring the city by foot. In the evening, we did a boat cruise on the Danube River.
After the beautiful cruise ended, we went to a local restaurant for some dinner. As we were tired from the traveling, we decided to call it a night early and catch up on some sleep.
Day 2 & 3 : Exploring Budapest
Suggested Read: DO NOT Leave For Europe Without Packing These 8 Things
We had breakfast early morning and proceeded for the hop-on hop-off city bus tour. We started with the "Buda" side of the city which had all the castles and medieval architecture.
Later in the afternoon at 2pm, we covered the "Pest" side of the city. We saw all the major landmarks like the  the Hungarian Parliament, Heroes' Square and Andrassy Avenue. After finishing the sight seeing tour, we headed to some pubs which mere made in city ruins.
It was a unique experience for us to enjoy nightlife like that. After visiting these pubs, we retired for the night.
The third day began with breakfast and then a visit to the thermal baths near Budapest called Szechenyi Baths. Around 4pm, we proceeded to the Szimpla Kert Ruin pub to have some drinks and food.
I admired the concept in Hungary of making cool places for people to hang out from ruins and rubble. A unique method to reuse a city's own resources. After visiting the pub, we headed back to the hotel and slept for the night.
Day 4: Train To Vienna
Suggested Read: Romance, Luxury, Comfort and Beauty, Her 8 Day Trip To Europe Had It All
We checked out of Budapest early morning and boarded a train to Vienna. We arrived in Vienna at 1.30 pm and checked into the hotel. We began exploring Vienna with a bus tour which was scheduled for us at 3pm. First up was the famous Schönbrunn Palace and the State Opera.
The tour finished by 6pm and the guide dropped us off at a restaurant where we had some dinner. Later on, we went back to the hotel for the night.
Day 5 & 6 : Sightseeing in Vienna
The day began with at the Ringstrasse. A ring road which contains major monuments of Vienna. We visited the Museum of Fine Arts, Parliament, National Theater, Prater Amusement Park and Belvedere Palace. In the evening, we dropped off at a local market where we thought of exploring different food outlets.
As evening turned into night, we went to a local restaurant to have dinner and enjoy a few drinks. Luckily, that night we also enjoyed the final of the football Eurpean Championships.
On the sixth day, we were greeted with lovely weather. Post breakfast, we started the day by visiting the zoo. Later on, we proceeded to the lovely Schonbrunn palace playgrounds. Afterwards, we visited a local farmers market which is known for dry fruits, vegetables, and spices.
Day 7 & 8 : Scenic brilliance in Cesky Krumlov
Suggested Read: 15 Experiences Not To Miss On Your Euro Trip
In the morning, we checked out of Vienna and took a train to Cesky Krumlov in Czech Republic. It was a beautiful, picturesque, and unspoiled town. The town had no transport system, because of it being very small.
So after we checked into the hotel in Cesky Krumlov, we decided to explore the town by foot. Post lunch, we visited the City Castle. Afterwards, we went to a local artisan beer factory.
On our final day in Cesky, we kept the day for leisure to admire the beauty and quaint ambiance of the city.
Day 9 & 10 : Traveling to Prague
We said goodbye to Cesky after breakfast and headed to Prague via a train journey. We arrived in Prague at 1pm and checked into the hotel. After that, we had lunch at a local restaurant. Post lunch, we visited the Charles Bridge which connects the two major parts of Prague.
Later on, we went to the Old Town Square to enjoy the local art performances in the street by local artists.
On the tenth day, we had the Prague Castle Tour scheduled for us. The tour started at 10 am and concluded at 2 pm. We finally located a good Indian restaurant for lunch. After lunch,  we visited the St. Vitus Cathedral and Lenin Wall to round up our visit to Prague.
Day 11 : Flight back home
On the final day, we checked out of the hotel and took a flight to Mumbai.
I never imagined that a honeymoon trip to Europe could be as good as this one. For my wife and I this was our perfect fairy tale beginning.
High Points :
The two-day stay in Cesky Krumlov was fantastic.
Tips to Travelers :
Book hotels near train stations or city centers. It will save you a lot of money.
Think you have the wanderlust to explore these hidden gems? Book your honeymoon trip to Europe NOW!