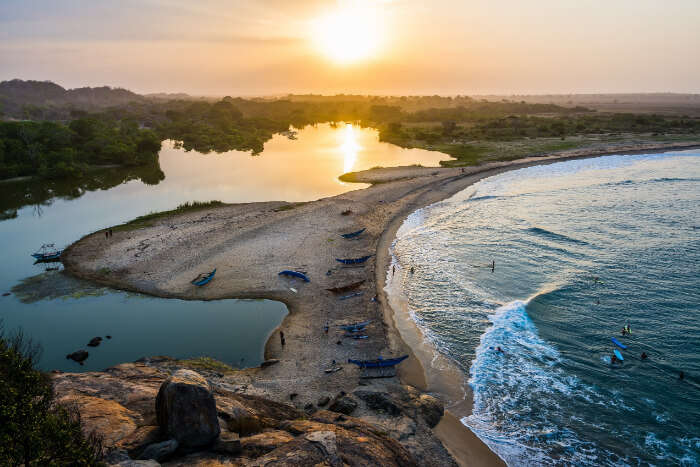 Arugam Bay is a hidden gem located on the east coast of Sri Lanka. As it's located far from the capital and other tourist attractions, it is not really popular among tourists. Thus, it has managed to retain its small-town charm while gaining popularity among travelers looking to explore some offbeat destinations in Sri Lanka.
Known to be a surfers paradise, Arugam Bay in Sri Lanka has some of the best beaches in the country. For those who are planning to give it a visit, here is our detailed guide to Arugam Bay:
Best Time To Visit Arugam Bay In Sri Lanka
Since Sri Lanka is a tropical country, the weather of Arugam Bay, Sri Lanka is mostly pleasant, except during the monsoon season. The best time to visit would be during the months of May to September when the monsoons have descended.
Must Read: Top 6 Honeymoon Places In Colombo For A Romantic Rendezvous
How To Get To Arugam Bay?
The closest airport to Arugam Bay, Sri Lanka, is the Batticaloa Airport.
By Bus: You can travel by bus from Colombo to Arugam Bay and the journey would take about 9 hours.
By Road: You can hire a taxi or rent a car and drive to Pottuvil from any part of Sri Lanka. From Colombo, the journey takes 8 hours.
Places To Visit In Arugam Bay
There are many places to visit in Sri Lanka, but Arugam Bay takes the cake. Here is a list of the top tourist places that you need to visit on your trip to this bay:
1. Muhudu Maha Vihara
This Buddhist Temple is ancient and has quite a rich history. Constructed around 2,000 years ago, by a king named Kavan Tissa of Ruhuna, this temple located right next to a beach is a must visit for all tourists, even if you are not a spiritual person.
Distance from Arugam Bay: 4.5 km
How to get there: Car/Scooter
Suggested Read: Top 7 Water Sports In Colombo That Will Give You An Adrenaline Rush
<
2. Kudumbigala Monastery
This monastery is about an hour's drive from Arugam Bay but is definitely worth the drive. This sacred place was built in 246 BC and was constructed in order to provide shelter to the monks who wanted to escape the hustle bustle of the city.
Distance from Arugam Bay: 30 km
How to get there: Car/Scooter
3. Elephant Rock
There are some amazing viewpoints in Arugam Bay from where you can admire the long stretch of the sea and watch the sunset. The best one among these is the Elephant Rock, which offers the best panoramic views of the beach, and has some splendid sunset views.
Distance from Arugam Bay: Located in Arugam Bay
How to get there: Car/Scooter
Suggested Read: Take The Safari In Colombo To Spend Some Time In The Wilderness & Cherish The Rare Fauna
Things To Do In Arugam Bay
There are many things that you can try your hand at when in Arugam Bay. Here are some adventurous things one can do in Arugam Bay:
1. Go surfing
The most popular tourist activity in Arugam Bay is surfing and you should not leave without trying your hand at it, even if you haven't surfed before. There are trainers who will guide you, and the waves are pleasant enough for all types of surfers, whether you're a beginner or a pro. So, make sure you don't leave this place without a surf session.
Suggested Read: Scuba Diving In Sri Lanka: 12 Places For An Adventurous Underwater Experience!
2. Take a Lagoon safari
Lagoon safaris are some of the most popular tourist attractions in Arugam Bay and if you have two hours to spare, you must make time for this interesting activity. Visit the lesser explored lagoons like Kottukal and Urani, which are home to many creatures like elephants and crocodiles. This will definitely be an activity you'll remember for a long time.
3. Unwind at the Pottuvil Beach
On a vacation, the best thing to do is relax and have fun, and Pottuvil Beach in Arugam Bay is the perfect place to do that. Sunbathe on the beach and watch the waves gently touch the shore, all the while munching on some delicious seafood. Remember to pack your-sunscreen to save yourself from the intense heat.
Suggested Read: 7 Adventure Places In Colombo For A Thrilling Vacay
Where To Stay In Arugam Bay In Sri Lanka?
As is it, to make a holiday complete, a good hotel, too, has a great part to play. Here is a list of the top options for an accommodation of Arugam Bay, Sri Lanka:
1. Babar Point
This splendid resort has 6 swimming pools, apart from their extremely spacious villas and bungalows. It also has grand terraces and enough open space for guests to explore. Every room is air-conditioned and is equipped with WiFi, so you stay connected all the time.
Location: Whiskey Point, Urani Pottuvil 20, Arugam Bay, 32500 Pottuvil, Sri Lanka, 32500 Arugam Bay, Sri Lanka
Cost per night: INR 6,000
2. Arugambay Roccos
Located only a minute away from the beach, a lot of amenities are offered here, which make it one of the top hotels in Arugam Bay, Sri Lanka. Not only does it have an outdoor pool and a bar and restaurant, but it also has a private beach, if you feel like enjoying a day in but still want access to the beach.
Location: Main Street Arugambay, Pottuvil, 32500 Arugam Bay, Sri Lanka
Cost per night: INR 6,000
3. The Blue Wave Hotel
Another hotel that is located close to the beach, this property boasts of an impressive outdoor pool, a great restaurant and bar, and a well-equipped fitness center. The rooms come with balconies and offer splendid views of the garden.
Suggested Read: 7 Best Restaurants In Colombo To Relish The Real Culinary Delights Of Sri Lanka
Where To Eat In Arugam Bay?
Here are our recommendation for the top restaurants and cafes in Arugam Bay:
1. Why Not
If you're looking for some delicious curries with rice and bread, this is definitely the place to go. The ambiance goes along with the beachy-vibe and the food is based on various Sri Lankan cuisines. One can relish local Sri Lankan delicacies at this restaurant which is quite popular for its aromatic curries and properly cooked rice.
Recommended dish: Chicken curry with rice
Price for 2: INR 600
2. Hideaway Resort
Probably the best place in town to grab some good quality breakfast and a great cuppa coffee. Not only that, the ambiance of the caf-, with its outdoor seating, is really pleasant as well. The locals, as well as the tourists, love the spot as it has amazing interiors and also the outdoor seating area is perfect for those who like having their breakfast in the fresh air amidst nature.
Recommended dish: Omelette toast with sausages.
Price for 2: INR 900
3. BreakPoint
This joint may not look like much, but if you have a hummus itch, the restaurant will scratch. In fact, it might turn out to be the best youve ever had. So, if you are a hummus and pita lover and are looking for the best place which serves it in Sri Lanka, don't forget to visit BreakPoint. Also, it is frequented by surfer crowd, making it worth visiting for great conversation!
Recommended dish: Hummus platter
Price for 2: INR 800
Further Read: Top 5 Colombo Beaches That Are A Must On Every Traveler's Bucket List!
We are sure that after reading this article, the wanderlust bug has bit you and you are already planning your next vacation to Arugam Bay in Sri Lanka. For any travel queries, contact us at Travel Triangle to find out the best trip to Sri Lanka?
---
Looking To Book An International Holiday?
Book memorable holidays on TravelTriangle with 650+ verified travel agents for 65+ domestic and international destinations.
---