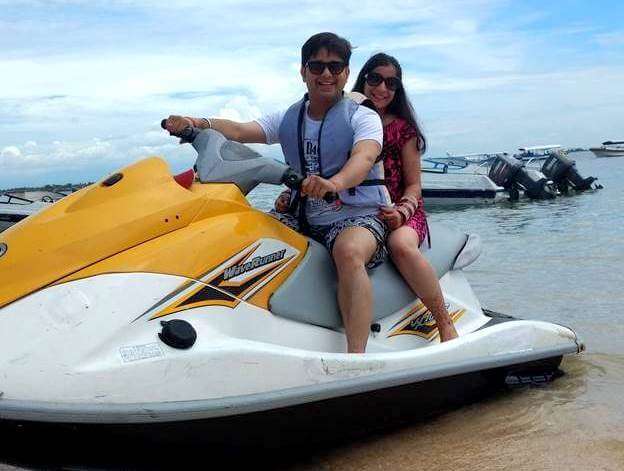 A paradise that was meant to bring two loving souls together. Read about the magical experience Ashu and her husband shared on their five night/six day honeymoon trip to Bali. They overcame fears, built trust, and shared loved that will last with them for a lifetime.
Trip Duration: 5 nights/ 6days
Trip Cost: INR 1,55,000
Inclusions: Transfers, accommodation, flight sightseeing, breakfast, and cruise,
Agent Name: ALS Destinations
Month of Travel: January
Departure City: New Delhi
Duration Of Flight: 8 Hours
My husband and I had been looking for an ideal honeymoon destination which would fit into our budget and give us a memorable experience such that, even the after-thought of it would paint a smile on our faces.. We compared quotations from various holiday booking websites and then we knew that best quotations to us were given by TravelTriangle as we could compare quotations from various agents.
After our booking process was done, my husband anxiously began our wait to experience the magic and beauty of Bali we had heard about from so many people. For us it meant like an adventure that could strengthen our love for each other more than ever.
Day 1: Arrival in Sunny Bali
Their Trip Had All The Best Things To Do For Couples In Bali
When we arrived at the Airport in Bali, our chauffeur was waiting for us. He welcomed us and took us to the Grand Mirage resort. We had no activities planned for this day as it was already afternoon. Our trip to Bali began in bright sunshine.
We were dropped at the resort where we were welcomed with drinks and garlands. When we opened the windows to our room, the view was exotic. We could see the beach and the pool from our room. We relaxed for the rest of the day and explored the beautiful resort.
Day 2: Beautiful temples in Bali
The next day of our trip to Bali began with a delicious breakfast. Afterwards at 11am, we went to visit the calming and peaceful Taman Ayun temple and Bedugul temple. The Bedugul temple was built in the centre of a lake. The way to Bedugul temple was scenic and eye capturing with all the clouds and mountains.
Post lunch, we were taken the Tanah Lot temple to enjoy the ocean view and sunset. At 7 pm, we departed back for the resort and called it a night.
Day 3: Water sports in Bali
The next day of our trip to Bali, we went for water sports in Tanjung Benoa. The driver was present at the resort at 10 am to begin the journey to Tanjung Benoa. Over there we did parasailing and jetskiing. It was a memorable experience as we could see the unending ocean from the top while doing parasailing.
Post lunch, we spent our time at the nearby Dreamland beach where we saw the Indian ocean at its full zenith kissing the shores. For us, this was a romantic day that we will cherish forever. We arrived back at the resort around 8 pm and rested for the night.
Want A Perfect 6N7D Honeymoon In Bali? Follow Ruchir's Tips
Day 4: Scenic cruise to Lembongan Island
This day was our cruise to Lembongan island. With a lot of enthusiasm we got ready to depart for our cruise at 10 am. However, our cruise wasn't very comfortable and it took us two hours to reach the island.
We were served lunch at the island and we had unlimited water activities, that were planned for us there. We went for submarine and did not opt for other water activities as we were already very tired by the time we reached the island.
Afterwards, we did the village tour on Lembongan Island. This evening on our trip to Bali, the weather became rough, although the scenery was very beautiful. A little after sunset we arrived back on Bali mainland and drove back to the resort for the night.
Day 5: Witnessing the Barong Dance of Bali
This day, we woke up early and got ready for our sightseeing tour in Bali. We traveled to various places to see the famous Barong dance of Bali, the rice terraces, coffee plantation and a silver factory.
As souvenirs, we bought some coffee and also learned how the famous luwak coffee was prepared and its benefits. Late in the afternoon, we had a spa session booked, which was most relaxing after a hectic day of sightseeing. The perfect way to conclude our trip to Bali.
Honeymoon In Singapore And Bali: A Magical Trip Full Of Love And Adventure!
Day 6: Bidding goodbye to Magical Bali
Alas, the last day was upon us. This was the time to bid adieu to Bali. Our flight was in the afternoon so we did not had any activities planned for the day. We packed our bags, thanked the hotel staff for their lovely service and set out on our way to Denpasar for our flight back to India.
I had never been outside India, and this turned out to be an unforgettable experience. Thanks to TravelTriangle and ALS Destinations. My husband first time experienced parasailing.
It was a real experience of being with each other as he was a bit afraid of heights and we kept talking there in order to overcome our fears. The scenic beauty of Bali brought us more closer. Our visits to local markets, to the island, the trip altogether added a new spark to our relation and made us love each other even more.
Our wow moments in Bali
Doing parasailing and jet ski
Visit to the Lembongan island
Here are some valuable tips for people looking to go on a trip to Bali
Exchange your money at airport as exchange price offered at airport is much better than the exchange centers in the city.
It's difficult to get food for vegetarians, so do carry some stuff with you.
While booking activities like cruise, please note the journey details. Different cruise have different facilities and take different times to reach the destination.
Plan a budget which also includes the entrance tickets to the various places you visit.
Low Points:
There was hardly any vegetarian food available. Even burgers and pizzas were not available in veg. We mostly skipped lunch and then searched long times for vegetarian food.
In Four Points by Sheraton, they offered us the suite room in which there was a door to the other room. Also, the room location was bad.
Want to enjoy on a similar vacation? You too can book the perfect Bali honeymoon package and enjoy like Ashu did!