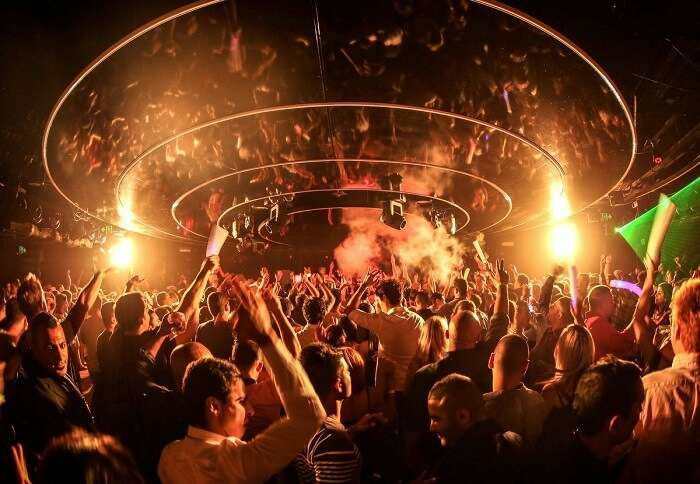 What's a trip to Australia if one hasn't experienced it's awesome nightlife. With plethora of after-hours entertainment to cater to every kind of night crawler and party animal, Australia nightlife is where you can find the best of bars, restaurants, nightclubs, strip clubs, live music venues, open-air cinemas, theme parks, opera shows, dinner cruises, comedy gigs, theatre performances, games, and much, much more. There's so much fun that awaits in those glittering avenues and glamorous streets Down Under that you'll find yourself wishing for the night to never end!
Australia Nightlife: What Makes It So Awesome
Australia is an enormous country with countless avenues where people can relax, hang out, and entertain themselves, all thanks to the fun-loving nature of Aussies who just need a reason to party no matter what! Apart from friendly and unbelievably easy-going, Aussies are also strict believers of the notion 'work hard & party harder!' From pubs and clubs to simple barbecue gatherings in the back lawns and campfires under the stars, you'll find Aussies having fun anywhere and everywhere.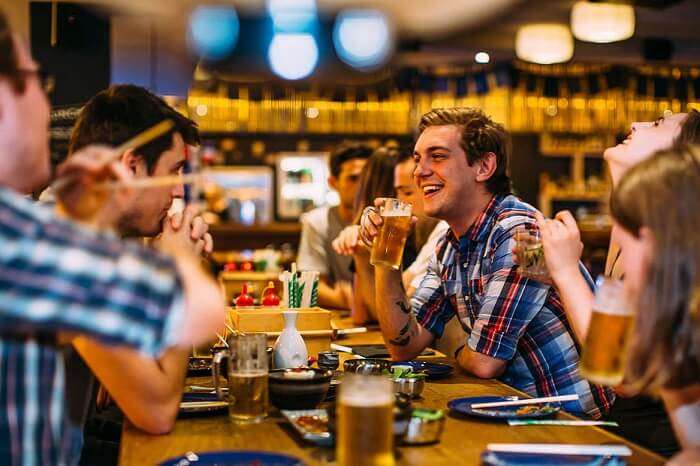 Other places in Australia with a rocking nightlife include Perth, Cairns, Outback, Byron Bay, Airlie Beach & Whitsundays, Magnetic Island, Nimbin, and Darwin to name a few. Basically, every city and town in Australia will give you some or the other night-time activities to have you fall in love with this country. So, the next time you're hunting for some Australia tour packages, make sure you pick one that lets you perfectly experience the glamour-loaded, trend-setter nightlife in Australia. For now, scroll down to see what makes it tick!
Sydney Nightlife
With opera shows, karaoke bars, clubs, and lounges, Sydney boasts an excellent nightlife. With endless places to chill after a long day at work for every kind of night crawler, you'll never run out of options for what to do in Sydney at sundown. From loud and chaotic nightclubs to quiet beach shacks and lounges, Sydney has it all!
1. Grasshopper: For Night-Long Booze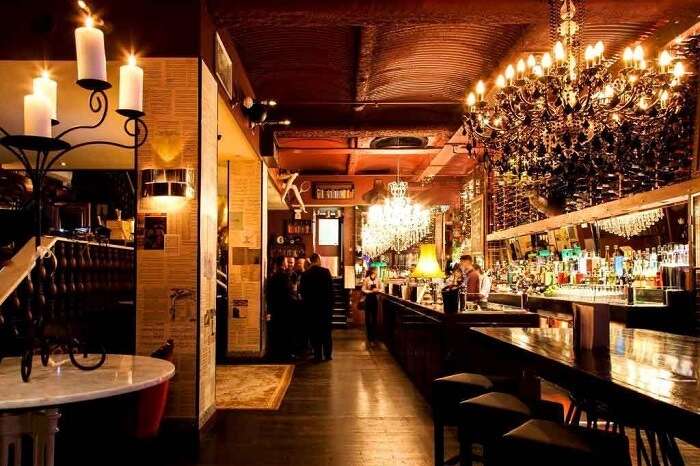 Image Source
Sensational and unique, Grasshopper is a 'laneway bar' typical of the small bar trend in Australia nightlife. Don't be afraid of the dark alleyway that leads to it; this gem of a bar at the end of it will surely make your night memorable! You can enjoy a thirst-quenching cocktail from their elaborate menu of hook yourself up a jazzy wine from their list. Other thanboozee, it's also the perfect spot for some late night snacks and dinner.
Location: 1 Temperance Lane, CBD, Sydney, NSW
Open Till: Midnight
Cost For Two: INR 1,942/- (with alcohol)
Zomato
Suggested Read: 10 Free Things To Do In Melbourne
2. Chinese Laundry: For Dancing The Night Away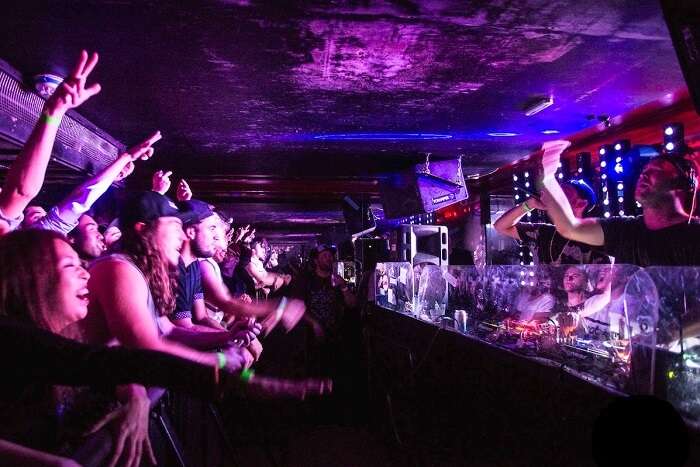 Image Source
Nestled under the Slip Inn in Sydney, Chinese Laundry is one of Sydney's largest and oldest clubs to surface and flourish in a very less time. Hosting various kinds of rocking DJ's and music events from time to time, Chinese Laundry is one of its kind music and entertainment Sydney nightclubs. The venue's three floors are known to cater to every genre of music from electro to house and RnB to hip-hop. Chinese Laundry pampers guests to the extent that the low ceilings, pounding music, and packed dance floors are never a bother! And if they do turn out to be, you can just head to the courtyard garden bar and outdoor dance floor outside.
Location: Slip Inn Hotel, 111 Sussex Street, Chinatown, Sydney, CBD
Open Till: 3 AM
Cost For Two: INR 3,885/- (with alcohol)
Zomato
3. Sydney Opera House: For The Most Entertaining Night Ever!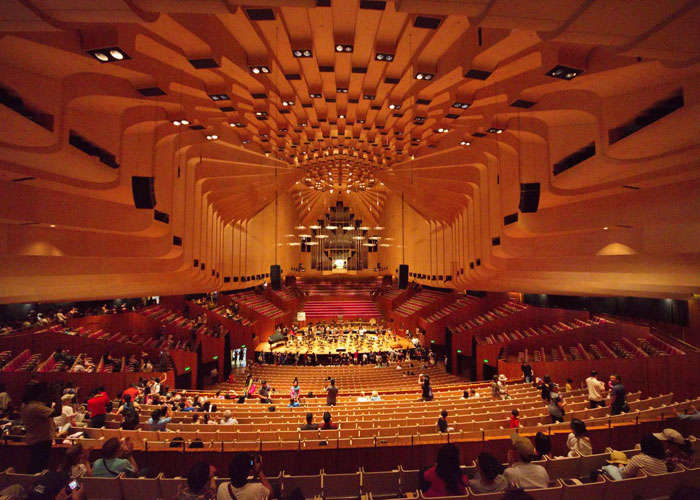 Among the best aspects of Sydney nightlife is the Sydney Opera House, a multi-venue performing arts center in this happening town. With a soaring white roof, shell-shaped sails, and the red granite platform, the Sydney Opera House is always able to lure in and bewitch zillions of travelers every year. This attractive hub of entertainment has been internationally acclaimed as an architectural icon of the 20th century and a UNESCO world heritage site.
Location: Bennelong Point, Sydney NSW 2000
Open Till: Around midnight
Entry Fee: The tour and event prices vary with every performance.
Website
Tip: Go for a backstage tour that lets visitors meet the stars behind the action and takes them through areas normally reserved for performers and crew members.
4. St George Open-Air Cinema: For A Movie Under The Stars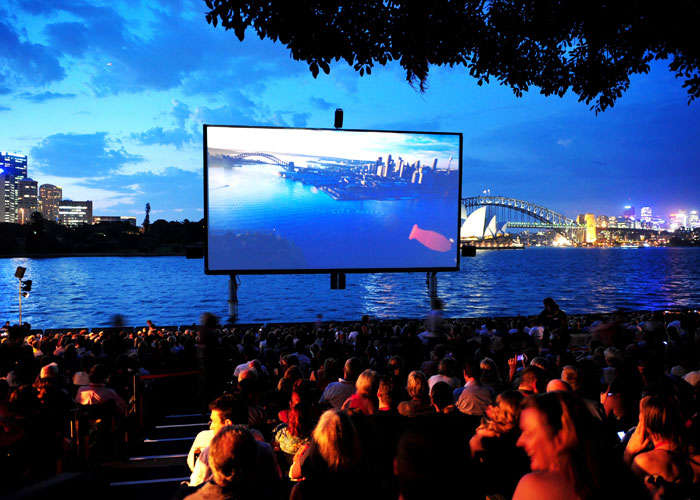 St George Open-Air Cinema is a great place for couples looking for the unique sides of Australia nightlife other than bars and clubs. This classic summer-date-night venue shows majorly current release films, premieres, and previews. From one's allotted seats in the stadium, they can watch the screen rise, breaking the water surface with the Opera House and the setting sun in the backdrop. Viewers are served a lavish three-course meal with a collection of the finest wine on the menu. There couldn't be a better movie experience to gift to your amour!
Location: Mrs Macquaries Rd, Sydney 2000
Open Till: Around midnight (on selected dates)
Entry Fee: INR 1,950/- (with alcohol)
Website
Tip: Don't forget to visit 'Mrs Macquaries Chair' nearby.
5. Marquee: For Clubbing & Casinos

Image Source
A premiere award-winning entertainment venue in Sydney, Marquee is probably the most happening night club in the town with an undisrupted reputation as the venue of choice for music lovers celebrities alike. The number one party destination in Sydney, Marquee has taken clubbing to the next level. A visit to this glamourous gem is a must if you wish to experience Australia nightlife to the fullest.
Location: Marquee Sydney, The Star, Harbourside Entry via Pirrama Road Pyrmont, NSW, 2009
Open Till: 4 AM
Cost For Two: INR 9,710/- (with alcohol)
Zomato
Melbourne Nightlife
Thanks to its vibrant street art scene and a thriving hipster culture, Melbourne is an amazing center to experience the best of art, food, and music. Bard, clubs, lounges, and many more avenues serving great food and playing energizing music aren't hard to find in Melbourne. Not a fan of booze and noise? No worries. From comedy shows, cinema, peaceful cruise tours, the best nightlife in Melbourne is a lot more than just a happening party scene. And the best part, the public transport in Melbourne runs round the clock, so you never have to worry about getting to that jazzy party at the other end of the city.
6. Bar Ampere: For A Refreshing Drink After A Tiring Day At Work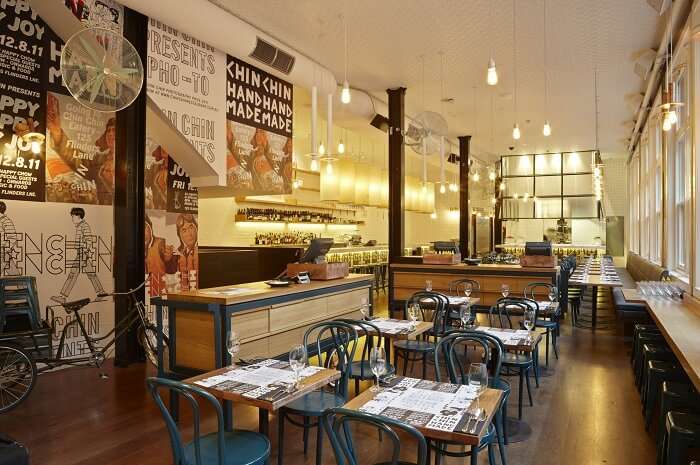 The hot ambiance and the lavish menu with the finest of booze in town, Bar Ampere attracts both drinkers and nondrinkers alike. The creative visionary behind Bar Ampere, Vernon Chalker, has created the place in such a way that it reflects the perfect mixture of the bygone era as well as the future! And judging by the madness one will come across here every evening, he seems to have pulled it off quite well, so that one can enjoy the best of Australia nightlife right here in Melbourne at this kooky bar.
Location: Russell Place
Cost For Two: INR 3,885/- (with alcohol)
Open Till: 3 AM
Zomato
Suggested Read: 11 Boutique Australian Music Festivals To Make Your Feet Tap
7. La Di Da: For Grooving To The Beats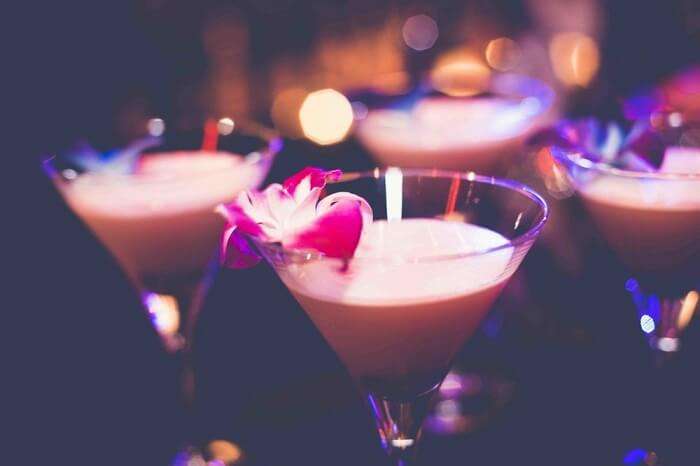 Image Source
If you're hunting down some serious partying avenues, get to La Di Da across King Street. It might appear smaller than most other Melbourne nightclubs, but it surely attracts the best of the crowds being the most happening hub around for party animals. Visit on a Friday night and their three huge rooms of banging music along with an erotic burlesque show will make you never want to leave. Saturdays at this place are equally amazing! They will get you going with a host of popular DJs and never-ending rounds of drinks that go easy on the pocket, but not on your wits!
Location: Little Bourke Street
Cost For two: INR 5,500/- (with alcohol)
Open Till: 5 AM
Zomato
8. Boilermaker House: For Late-Night Nibbles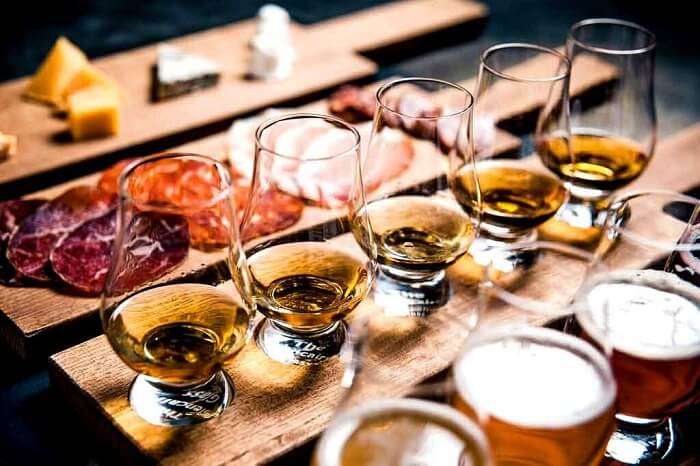 Image Source
Late night snacks? Boilermaker is the place to be. Apart from being a temple of whisky and beer lovers in Melbourne, Boilermaker is also the favourite retreat of all late-nighter foodies. Located in the most happening hub of the city, it serves mouth-watering tidbits like charcuterie plates, ploughman's platters, maple-glazed banana chips, prosciutto-topped toast, cheese boards, and more, all of which comes saddled with, obviously, whisky and beer! It's one of the most rocking places to visit for some fun Melbourne nightlife.
Location: Melbourne CBD
Cost For Two: INR 5,200/- (with alcohol)
Open Till: 3 AM
Zomato
9. The Spirit Of Melbourne: For A Romantic Cruise Dinner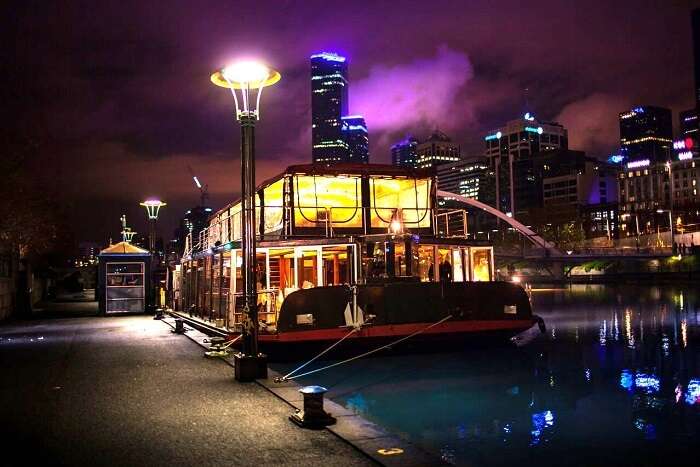 Imagine enjoying a lavish meal on the open-air decks of the grand Spirit of Melbourne cruise with your amour while the sparkling night-lit views of the city and its skyscrapers whiz past you. Sounds magical, doesn't it? It sure is! The 4-course dinner menu served to guests aboard the cruise ranges from balsamic glazed smoked lamb, shredded chicken with glass noodles, prawns and scallops for starters, with chargrilled chicken breast, pan fried beef eye fillet, Portuguese lamb shank, and crispy skinned Moroccan salmon for main course. Offering the best of nightlife in Australia, The Spirit Of Melbourne is nothing less than a statement of luxury with the most scenic views, food, ambiance, and romance. A dinner date aboard this cruise is sure to be the most memorable affairs of your life, as well as that of your beloved!
Location: Southbank Promenade
Approx. Cost: INR 6,500/- per person
Open Till: 10:30 PM
Website
Suggested Read: 21 Best Resorts In Australia For The Perfect Vacation Down Under
10. Strike: For Bowling The Night Over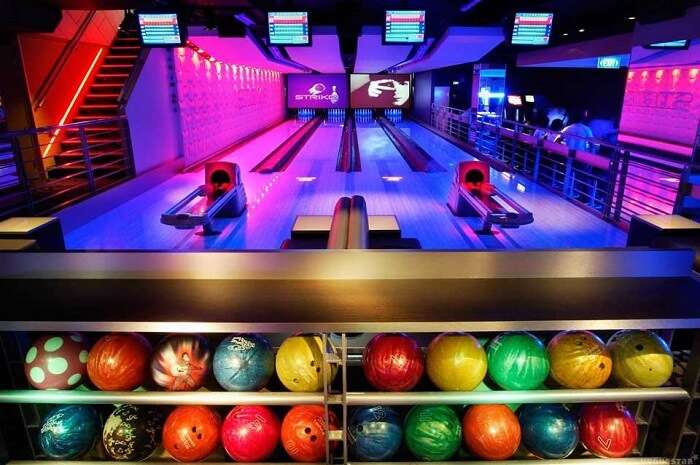 Image Source
If cocktails don't tickle your fancy, come over to Strike QV for unlimited fun. Let the child in you roam untamed at one of the best nightclubs in Melbourne for gamers. Beat your friends in a game or two of bowling, flaunt your singing talents with a round of karaoke, beat your buddies at a laser tag tournament, or race time in one of the themed escape rooms at this upmarket place to hangout in the town. Apart from endless excitement, Strike also has a fully stocked bar and kitchen for those seeking escapism through booze. Make sure to visit during the Happy Hour for the cheapest of alcohol and entertainment.
Location: La Trobe Street
Cost For Two: INR 4,530/- (with alcohol)
Open Till: 1 AM
Zomato
Gold Coast Nightlife
It's every Aussie's favourite party haunt where you will be spoilt for choice amid busy strips of restaurants, bars, clubs, and theme parks near the stunning Surfer's Paradise beach. From bars and pubs offering gorgeous views of the coast along with tangy cocktails to quirky lounges hooking up guests with free drinks and food, there's no end to how much fun you can have in this coastal town once the sun dips. Apart from party animals, the town also has happening avenues for peace seekers whose idea of fun and entertainment doesn't involve booze and crowded dance floors.
11. Surfers Paradise Beergarden: For The Perfect Mix Of Beer & Nature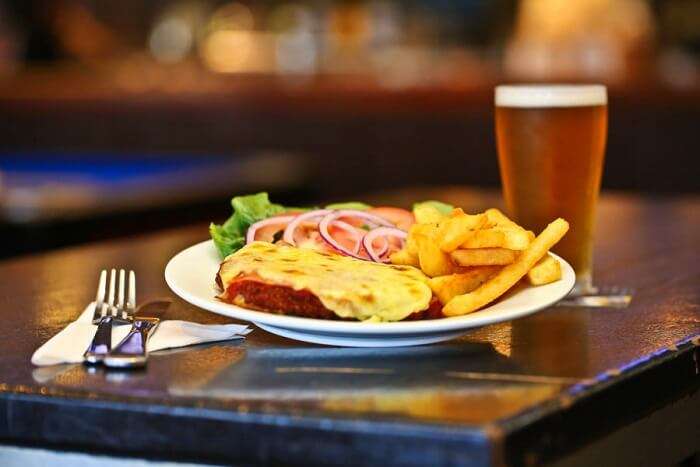 Image Source
A buzzing venue located in the most favourite spot of travelers and locals alike in Gold Coast – Surfer's Paradise. This happening bar and lounge features a long balcony ideal for catching some sunshine and enjoying the fresh sea breeze on your faces as you sip on your thirst quenching cocktail. The interiors are laden with pool tables, flat screen TV's, and comfortable seating, all to suit every type of visitor. One can unwind here and catch the game live on the enormous flat-screen TVs. Visit on the weekends to experience the best of Gold Coast nightlife at this very abr the most amazing live rock music performed by toe-tapping cover-bands and up-and-coming rock stars.
Location: Cnr Cavill & Orchid Ave, Surfers Paradise, QLD
Cost For Two: INR 2,600/- (with alcohol)
Open Till: 11 PM
Zomato
12. Love Nightlife: For Burning The Dance Floor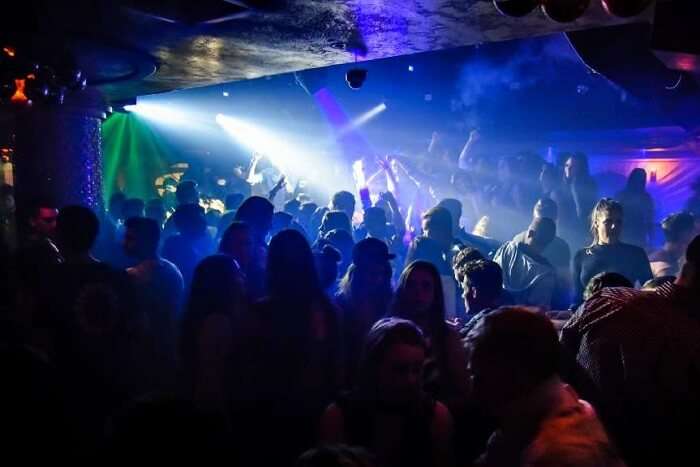 Based in Broadbeach, this entertainment hotspot for surfers and party animals alike offers an enormous bar menu of creative cocktails, shots, and fancy fizzy wines. Don't keep it subtle, go all out, and request VIP bottle service for your group of friends when you're here! With DJs pumping out house, hip hop, and classic R&B, there's no dearth of banging tunes to go wild to in this all-night club.
Location: Niecon Plaza Basement, Albert Avenue, Broadbeach QLD
Cost For Two: INR 4,530/- (with alcohol)
Open Till: 5 AM
Zomato
Suggested Read: Sonic Side Of The Sunny Capital: 11 Places To Spend An Electric Night In Perth
13. Arts Cinema: For Blockbuster Flicks With Wine & Beer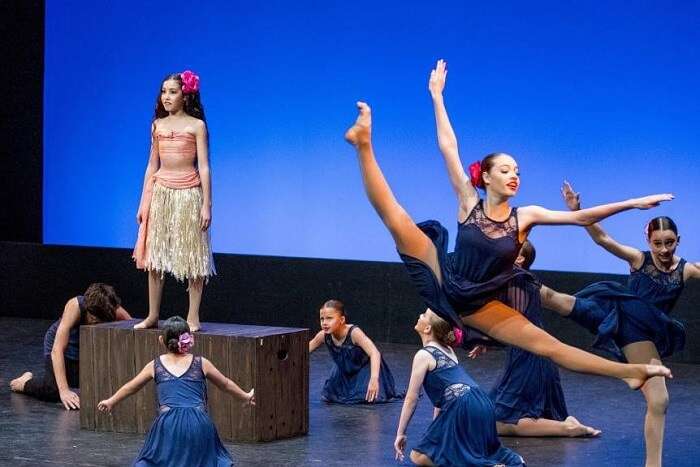 Image Source
Situated majestically in the the cultural hub of the coast – Arts Centre Gold Coast, this quaint cinema venue offers a rare blend of independent, arthouse, foreign language, and blockbuster flicks, catering to just about everyone's taste. The cinema-cum-club for many also serves food and drinks before and during the movie to pamper you some more. You can take your beer or wine into the cinema for an indulgent screening and enjoy this fascinating aspect of Australi Nightlife!
Location: 135 Bundall Rd, Surfers Paradise QLD 4217, Australia
Cost For Two: INR 4,530/- per person
Open Till: 10 PM
Website
Brisbane Nightlife
Offering an eclectic mix of rooftop bars, Irish pubs, and sophisticated nightclubs on the platter of all party-hungry souls in the vicinity, Brisbane lures in nightcrawlers with the promise of a rocking night and doesn't let them leave! Live music pubs, dance clubs, DJ Nights, cheap BYOB restaurants, jazzy outdoor rooftop bars, stage shows, and karaoke – the list of fun and frolic centers in Brisbane is endless.
14. Elixir Rooftop Bar: For Delectable Cocktails Under Twinkling Lights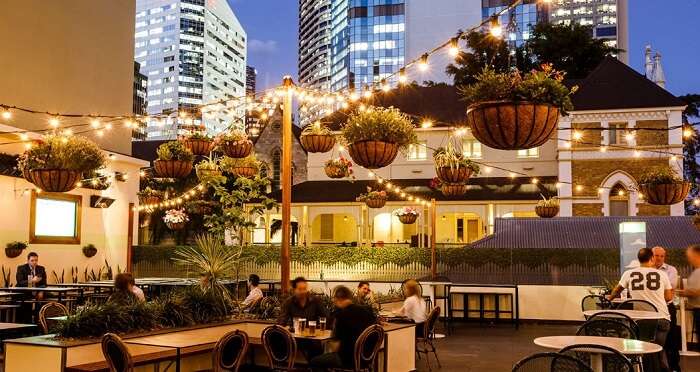 Image Source
Tucked away over the busy Ann St of Brisbane, Elixir Rooftop Bar offers a tranquil retreat away from the hustle and bustle of the busy Fortitude Valley below. Sporting an extensive drinks list of boutique wines, local craft beers, specially hand-crafted ciders, and cocktails blended to perfection, Elixir is the primary choice for night crawlers hunting for some quaint and sexy Brisbane nightlife. Elixir allures guests with its fresh wooden decor, lush green plants, relaxing day-bed seating, and fairy lights to illuminate the rooftop setting at sundown.
Location: 646 Ann Street, Fortitude Valley, 4006, QLD, Australia
Cost For Two: INR 5,200/- (with alcohol)
Open Till: 3 AM
Zomato
15. The Triffid: For Rocking Live Music Performances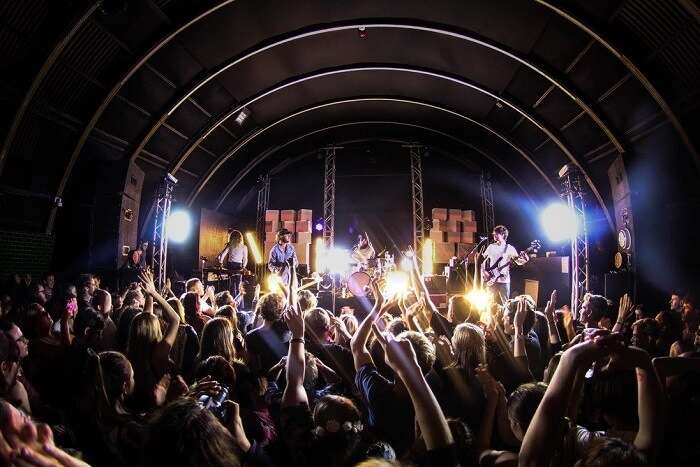 Image Source
Focused outright on bringing the best of international, national and local acts to Brisbane's backyard in Newstead, the commercial hanger of The Triffid takes guests through a magical setting to make their evenings memorable. The club is walking distance from James Street and the Valley. The Triffid is known to merge its industrial identity with state-of-the-art sound techniques and amazing music roster to bring you the best of the nightlife in Australia. The outdoor pop-up beer garden bears food and drinks served up from shipping containers promising to create a space for locals that they can call their own. One of the best live music venues in Newstead, The Triffid is now looking forward to expanding to incorporate other elements of the arts like film festivals and art shows.
Location: 7-9 Stratton St, Newstead, 4006, Queensland
Cost For Two: INR 4,530/- (with alcohol)
Open Till: 2 AM
Zomato
16. The Press Club: For Soul-Satisfying Beats To Groove To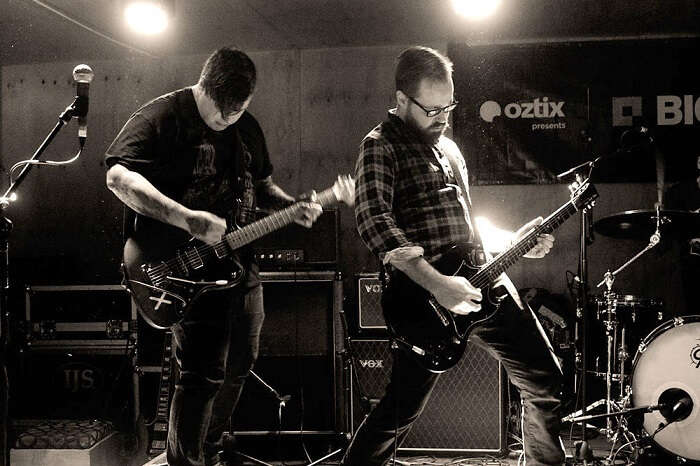 One of Fortitude Valley's premier nightclubs and hot part of Australia nightlife, The Press Club invites party animals and night crawlers of all kinds and tastes to immerse in its unique charm every night. Once you step through those iconic doors, you wouldn't want to go back. Settle in for the most fun night of your lives where the drinks call to the taste buds and the music sinks into the soul. Press Club is famed for its collection of finest drinks, live music with an eclectic mix of jazz that shal pull even the most shy friends of yours to the dance floor.
Location: 339 Brunswick St, Fortitude Valley, 4006, QLD, Australia
Cost For Two: INR 5,200/- (with alcohol)
Open Till: 3 AM
Zomato
Further Read: Barossa Valley: An Absolute Guide To Explore The Wine Paradise On Your Next Australian Holiday!
Craving some beach and booze therapy? Book yourself a rocking trip to Australia and satisfy your party-hungry soul with the best Australia nightlife. Know of any more badass aspects of the nightlife Down Under? Put them down in the comments below.
Disclaimer: TravelTriangle claims no credit for images featured on our blog site unless otherwise noted. All visual content is copyrighted to its respectful owners. We try to link back to original sources whenever possible. If you own the rights to any of the images, and do not wish them to appear on TravelTriangle, please contact us and they will be promptly removed. We believe in providing proper attribution to the original author, artist or photographer.
Please Note: Any information published by TravelTriangle in any form of content is not intended to be a substitute for any kind of medical advice, and one must not take any action before consulting a professional medical expert of their own choice.
Frequently Asked Questions About Australia Nightlife
What is the best time to visit Australia?

Australia is a year-round destination. The country observes a pleasant weather in the summer months from December to February when the average temperature remains around 25° Celsius. June to August marks the winter time in Australia when the average temperature remains around 15° Celsius, making it ideal for exploring this beautiful country.

What are the best clubs in Australia for electronic music?

Chinese Laundry, Nevermind, and Home in Sydney; Platform One, One Six One, and Wah Wah Lounge in Melbourne; Family, Alloneword, and Electric Playground in Brisbane; and Elsewhere and Love Nightlife in Gold Coast are the best hubs in Australia nightlife for EDM lovers.

What are the best nightlife spots in Melbourne?

Melbourne has various nightlife spots catering to different kinds of night crawlers. From late night diners like Boilermaker House and Cumulus Up, bars like 1806 and Heartbreaker, nightclubs like La Di Da and Revolver Upstairs, vegetarian-friendly pubs like Pilgrim and The Boatbuilders Yard, there's something for everyone in Melbourne.
You can show off your singing talents at Charltons Karaoke Bar, laugh the night away at The Comic's Lounge, beat your friends in a bowling game at Strike, ride a horse-drawn carriage, or dine aboard The Spirit of Melbourne. Other than these, you can also go for wildlife sighting with an overnight safari, try your luck at the casinos of Crown Melbourne, or savour the delicious Aussie street-food at Queen Victoria Night Markets when you're here.
---