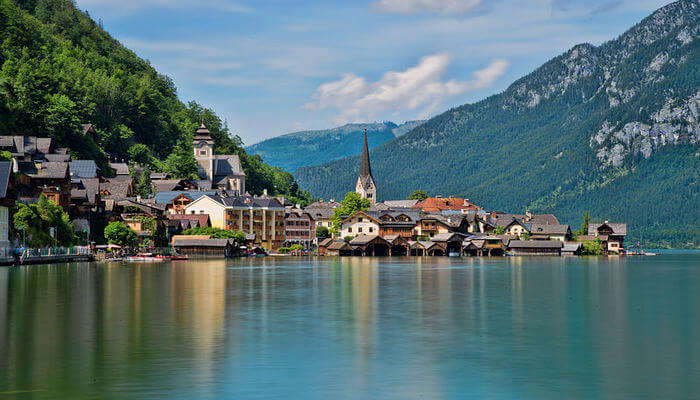 Cover Image Credit: Wikimedia
Austria comprises gorgeous Alpine scenery and breathtaking Habsburg Architecture making it the world's favourite musical. Austria in April effortlessly waltzes between the great outdoors and the imperialist urban. However, it's not just about schnitzel and Mozart ensembles. Modern day Austria consists of varied museums, contemporary art and architecture. Add to that, the sophisticated, clean and attractive cities whose cafes, clubs and bars combine traditional legacy and contemporary cool. If you're planning to visit Austria in April, then this guide is for you.
Weather In Austria In April

April serves as a hybrid for the bygone ski season and the upcoming glorious summer. Austria in April sees temperatures in the range of 5°C to 15°C. Weather in April is generally comfortable and cozy, provided you wrap yourself up in thermal wear. The chances of rain are minimal and you can generally expect to see about 8 hours of sunlight.
Why Should You Visit Austria In April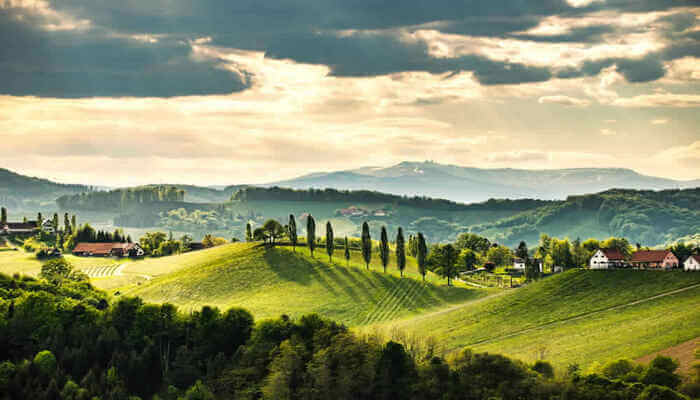 Visiting Austria in April during spring, also known as "shoulder season" is easier and can be lighter on the pocket. Shoulder season travellers can expect to enjoy decent weather, tinier crowds and a whole range of sights and tourist attractions at a reasonable price. Austria also offers the convenience of rail passes for locals and tourists which can be of great value if you're on a tight budget.
However, you need to watch out for the public holidays as they may limit your sightseeing tours. This also means that you can enjoy in a couple of festivals like:
1. Osterfestspiele Salzburg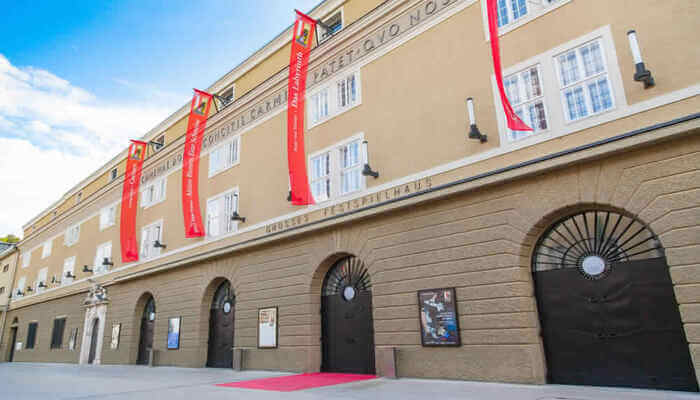 The Salzburg Easter Festival or Osterfestspiele Salzburg is a festival of classical music and opera, held annually during Easter week. You can witness the very best in classical music and enigmatic performances in the opera.
Must Read: 7 Incredible Tourist Places To Visit For Day Trips In Austria
2. Schubertiade Festival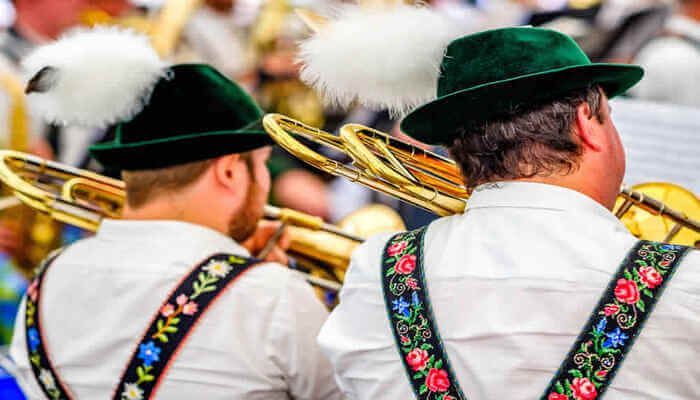 Schubertiade is an event that celebrates the musician, Franz Schubert. The
Schubertiade in Schwarzenberg and Hohenems is the largest Shubert festival. This festival consists of around 80 events and is enjoyed by over 30,000 visitors every year.
Suggested Read: 8 Magical Castles In Austria That Will Blow Your Mind In No Time!
5 Places To Visit In Austria In April
Here are 5 amazing places to visit in Austria in April in order to have a wonderful time in this beautiful country:
1. Vienna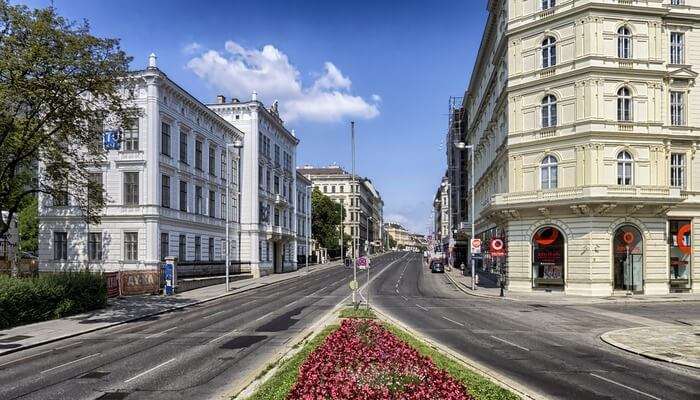 Vienna is considered as the gateway to central Europe. The city is built on a
grand scale as the flagbearer of the erstwhile Habsburg Empire. The old
palaces of Hofburg and Schonbrunn rank high on the list of places to visit.
Other compelling offering, nowadays, are the ghosts of the golden age of 19th century Vienna.
The city also has a number of museums which house gargantuan art
collections and historical artefacts. Finally, your visit to Austria cannot be
complete without the bustling and vibrant night-life, which means everything from techno to modern age opera.
Suggested Read: 10 Hostels In Austria To Explore The Best Of The Country's Mountains And Cities
2. Graz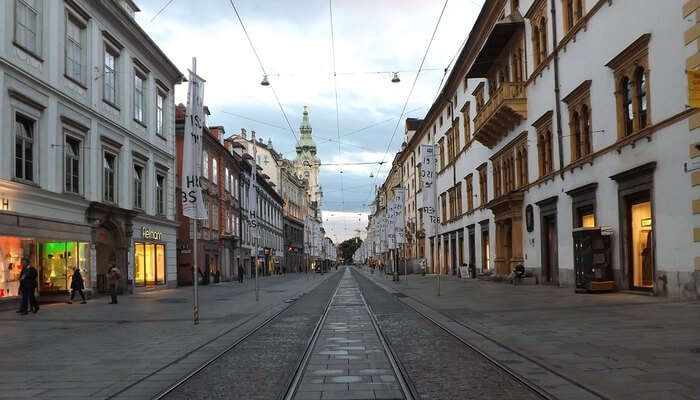 The Styrian capital of Graz is Austria's second largest and one of the most
preserved old town areas. Here, you can find a lot of baroque style
architecture and renaissance era buildings. The main attractions here include the fine-arts museum, Landesmuseum Joanneum and the Altstadt (old town). You can also venture out into the local vineyards and pumpkin fields in the rural areas of the city.
Suggested Read: 10 Best Churches In Austria For Adding A Touch Of Bliss To Your EuroTrip!
3. Salzburg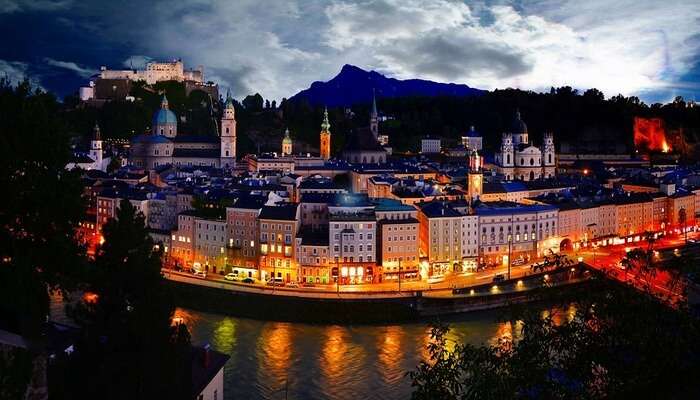 The birthplace of music maestro Mozart, Salzburg is considered the musical
mecca of Austria. The city celebrates a huge annual music festival as well as
a number of classical music concerts. It is a charmingly preserved old town
having baroque churches, splendid gardens and one of Europe's largest
medieval fortresses. The city is crowded with tourists year round,
nevertheless, it's both a must-visit and a joyous experience.
Suggested Read: Two Weeks In Europe: Music Festival, Austrian Beer & Unforgettable Madness With Friends
4. Linz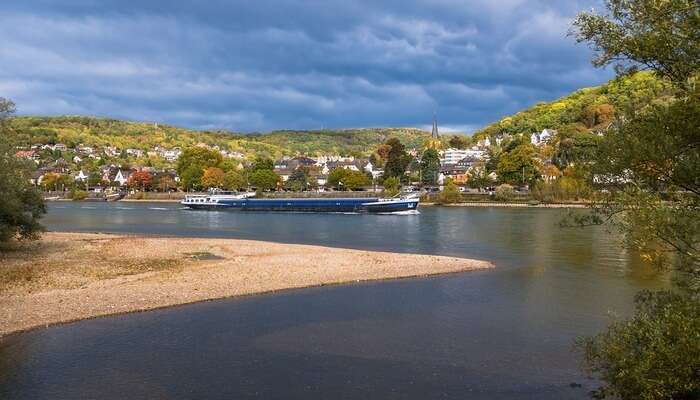 If you're looking for a place which is an amalgamation of innovation, culture and vitality, then your search ends at Linz. This city boasts of a rich cultural legacy with numerous museums and music festivals. Situated by the Danube River, the city is considered as the European Culture Capital since 2009, due to its innovative art and culture scene and independent cultural development.
Suggested Read: 10 Best Water Parks In Austria For A Soul-Stirring Holiday Experience!
5. Worthersee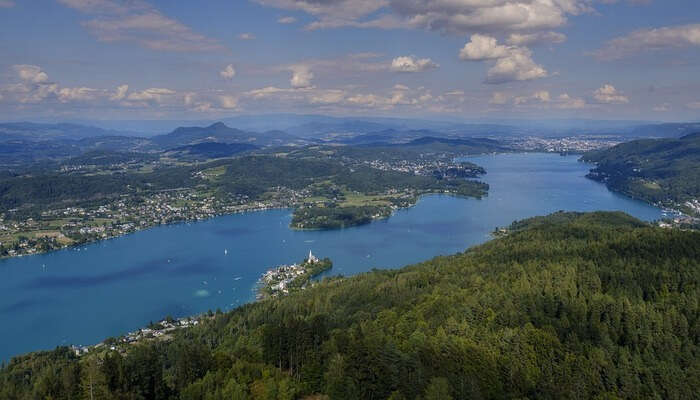 Another must visit place in Austria is Worthersee. The beginning of April brings new opportunities for boating, swimming and canoeing in the Worthersee Lake. The colourful and impressive Griffen Stalactite cave can be an unforgettable experience. If you are an automobile enthusiast, then, you'll be glad to know that his city is also the birthplace of Porsche and you can add that to your list of places to visit.
Suggested Read: 8 Best Hotels In Hallstatt For A Blissful Staycation In Austria!
5 Things To Do In Austria In April
We also have a few recommendations for activities for you to try out on if you are planning to visit Austria in April:
1. Explore The Mesmerizing Danube Valley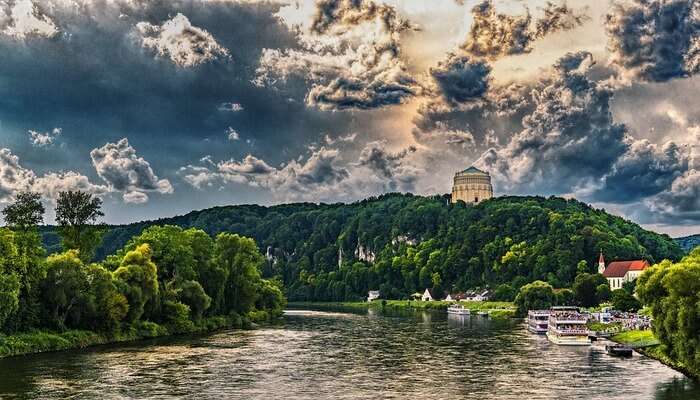 Lined with beautiful abbeys (including the magnificent Melk Abbey), ruined castles, small towns and vineyards, Danube's Wachau valley makes for a compelling case for exploration. You can book a bike ride through the rusty locales or mix it with a romantic cruise through the valley with your significant other. Much of the valley has a warm glow to it, however, your trip isn't complete without a visit to Mauthausen concentration camp memorial.
Suggested Read: 34 Best Places To Visit In Austria That Look Straight Out Of A Picture Book
2. Visit Mozart's Birthplace And The Sound Of Music Tour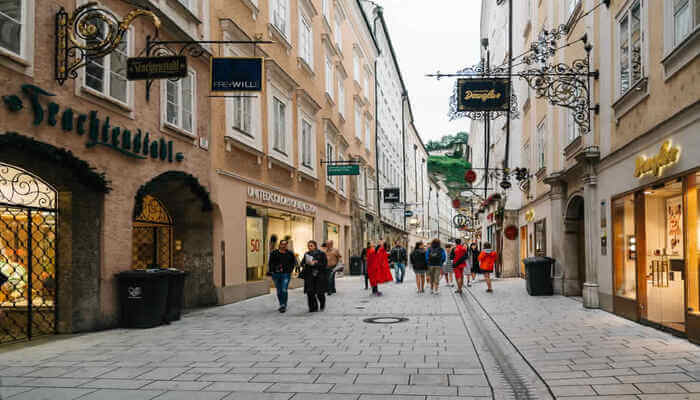 You can pay homage to Wolfgang Amadeus Mozart, Salzburg's most famous son. His birthplace in the Getreidegasse is now a dedicated museum and also serves as the city's premier shopping street. Considered to be the music mecca of Austria, his family home on the market square also acts as a museum of art and musical expression. Here, you can attend concerts and lectures which are held alongside a permanent exhibition.
Suggested Read: 9 Things To Do In Hallstatt For A Memorable Trip In Austria
3. Enjoy A Game Of Golf In The Austrian Alps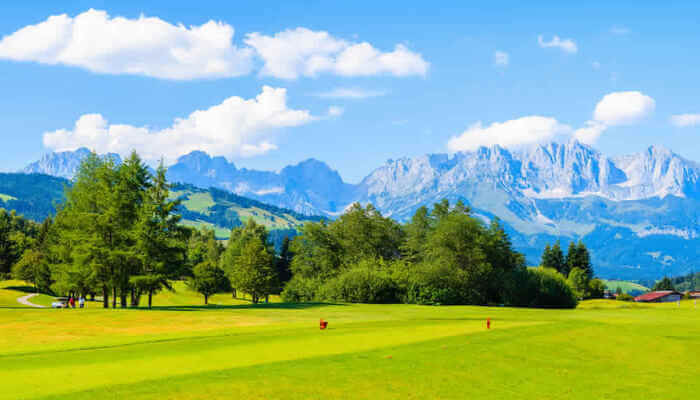 Austria is one of Europe's fastest growing golf destinations. You can test your swing and sway in over 100 courses set in the grounds of erstwhile castles and alpine valleys. With views across the Kaiser Mountains, Golf Eichenheim situated in Kitzbuehel is a great place to visit. Schloss schonborn is known for its standout 19th putting hole in manor house.
Suggested Read: Austrian Food: 20 Irresistible Dishes You'd Want To Relish
4. Travel On Austria's Steepest Steam Railway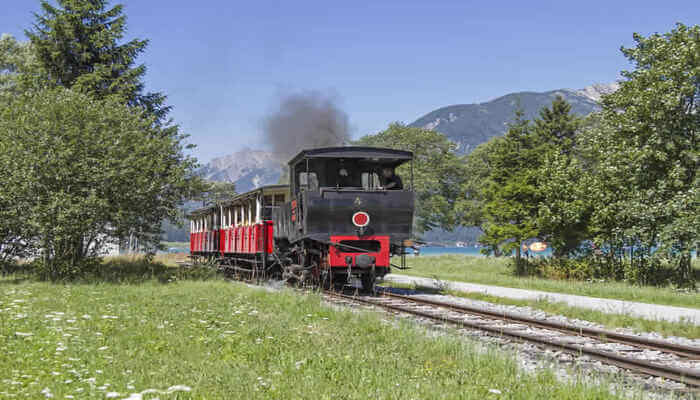 You can also ride in an old 19th century steam train and marvel at the
magnificent Austrian scenery. Beginning the journey from the pristine village of St. Wolfgang in Salzkammergut, Austria's steepest railway line traverses to the top of the Schafberg Mountain which stands at around 5,800 ft.
Suggested Read: 9 Cafes In Vienna That Will Make You Swoon On Your Trip To Austria!
5. Go Hiking In The Alps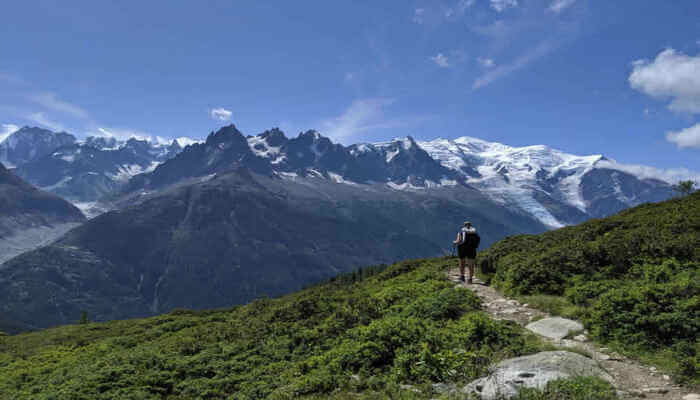 We also have a recommendation for the more adventurous of you lot, who like to get the adrenaline rush. The snow on the mountain peaks of Austria starts to melt away in the beginning of spring in April. Once the snow has melted away, you can plan to take a hike through the beautiful Austrian Alps through varied landscapes ranging from green pastures, glaciers, forests and rocks. The Hohe Tauern National Park is a more demanding trek while the Vorarlberg alpine pastures make for a gentler walk.
Further Read: Spend Winter In Hallstatt For A Magical Time In Austria!
So, what are you waiting for? Come April, pack your bags and head onto the gorgeous, clean and historic country of Austria. We hope this guide helps you to plan your next Austrian trip and make those cherished memories that stay with you for years to come. While out there, don't forget to share your valuable memories with us!
Disclaimer: TravelTriangle claims no credit for images featured on our blog site unless otherwise noted. All visual content is copyrighted to its respectful owners. We try to link back to original sources whenever possible. If you own rights to any of the images, and do not wish them to appear on TravelTriangle, please contact us and they will be promptly removed. We believe in providing proper attribution to the original author, artist or photographer.
Frequently Asked Questions About Austria In April
Is April a good time to visit Austria?
The best time to visit Austria is during the spring season, between April – May, and in the fall, between September – October. The weather is excellent for outdoor activities, and there are less crowds.
What is the weather like in Austria in April?
April averages around 9°C which lies exactly in between the annual low of -1°C in January and the annual high of 19° in July. April is significantly warmer than its previous month, March.
How many days do you need to explore Vienna?
You will want at least two full days to explore. Ideally, you could stay up to five days, especially if you want to take day trips from Vienna, but three days in Vienna hits the sweet spot.
How many days in Salzburg is enough?
Salzburg is a small city. If you are planning on visiting Salzburg, it is easy enough to keep you busy for two days. You need to look at the attractions you wish to visit and then plan accordingly.
Is English widely spoken in Austria?
English is not widely spoken. There is a working knowledge of basic English among locals. The national language in Austria is German. For the record, there is no such thing as Austrian. The only differences are the accent and some vocabulary, quite like the case with British and American English. Germany and Austria use the same spelling.
People Also Read: