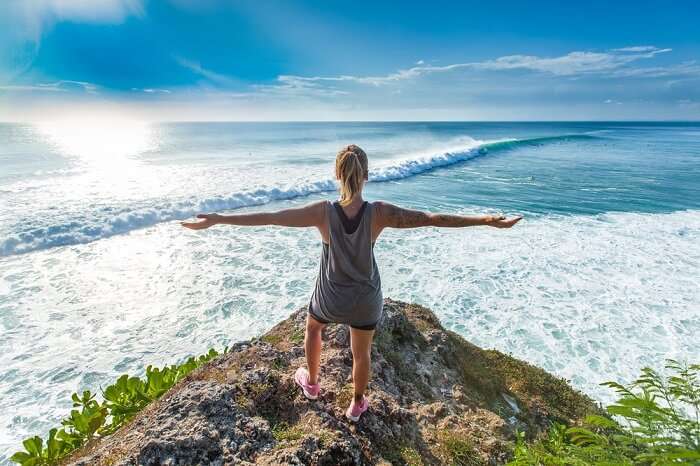 Balangan Beach is an absolute dream destination for anybody who likes beaches. One of the high points of Nature for miles around, this iconic beach is one of the most beautiful destinations. The beauty of Balangan Beach, Bali is simply beyond compare, as the beach features one of the most beautiful stretches of sand one has ever seen. Come sunset or sunshine, this lush sand turns full golden, turning the entire beach into a land where gold flows like sand! This beach is famous among tourists, as it provides one of the best places to tour, without having to spend an inordinate amount on expenses. So, carry this guide about Balangan beach and have fun on your vacation!
About Balangan Beach In Bali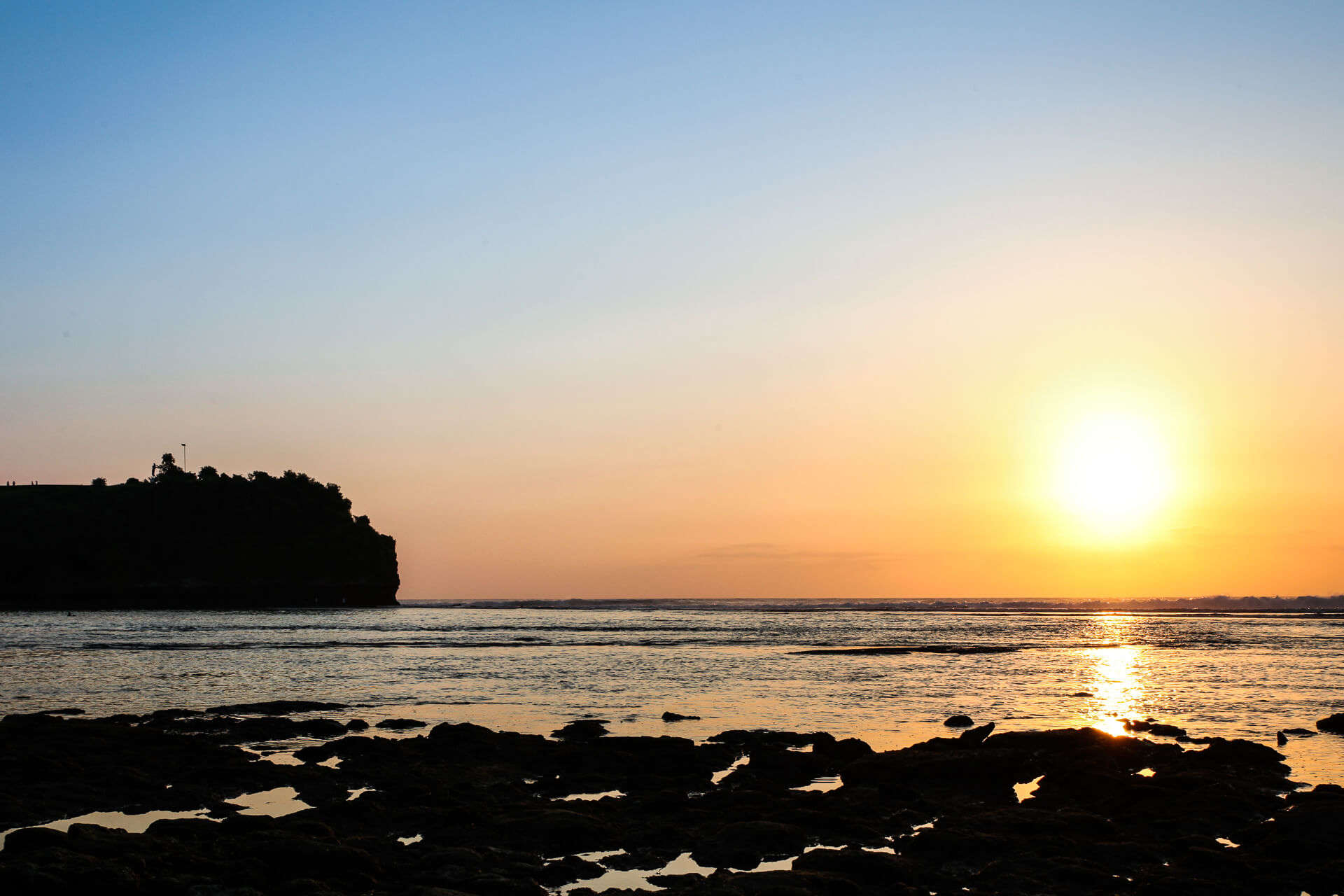 Do you like reefs? If you do, you're going to love Balangan beach, as it features one of the reefs with the longest left hander breaks on the entire island, a feature that has, and still does, attract quite a lot of tourists and natives. This beach is locally referred to as the Pantai Balangan, a name that makes that just about any local smile.
When compared to all of the other hundreds of beaches that dot the side of Bali like so many ants, Balangan Beach still does not lose its immense significance, and emerges victorious in the form of still being one of the most popular beaches, on a much wider national level, as it is one of the beaches that attracts the most numbers of visitors.
Best Time To Visit Balangan Beach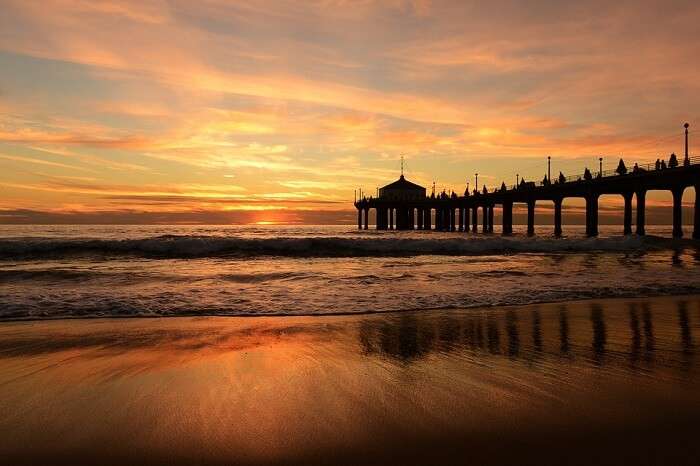 Balangan beach, Bali in Indonesia is one of those places that have the immense power of appearing completely different based on current circumstances. One of the largest factors and circumstances is the time of the year that is beach is visited, as it doesn't even strike one as the same spot after a climate change.
For those of us who like the summer sunshine, and prefer the large, fun noises of the overwhelming crowd while playing ball on the beach, the months of April, all the way up to July, are the best months to visit, while for those who like to visit places off season, and have the whole place to themselves, the months of September, up to October, are the best months. The time right after winter, that are the months of December up to March, are considered the best time to visit, as one gets to see an awesome mix of all kinds of climates.
Must Read: 6 Best Water Parks In Bali For A Fun Day Out With Your Loved Ones
Weather In Balangan Beach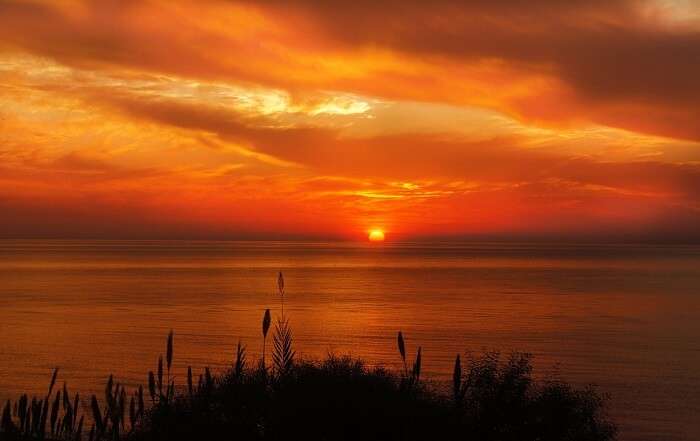 Weather conditions never range or extend to the harsh side of things, as harsh weather conditions are rarer than adamantium in Bali. While there are major thunderstorms and rainstorms, they never get to the hurricane or tornado extent, and being an island, the summers are also quite bearable in Balangan Beach, Bali, Indonesia, and features a tropical climate instead of full on heat blasts.
Suggested Read: 20 Mind Blowing Water Sports In Bali For The Thrill Seeker In You
Where To Stay In Balangan Beach?
A lot of tourists go regularly to Balangan Beach, Jimbaran, Bali, for many purposes, ones that can range from just sunbathing, to playing volleyball out in the sun, to drinking the awesome coconut water sold nearby, and most popularly, to ride the waves. Many of these tourists often stay too late to get transportation, or perhaps tire themselves out. As many of them are left searching hotels and villas, here is the list of the best hotels and villas near Balangan Beach.
1. The Westin Resort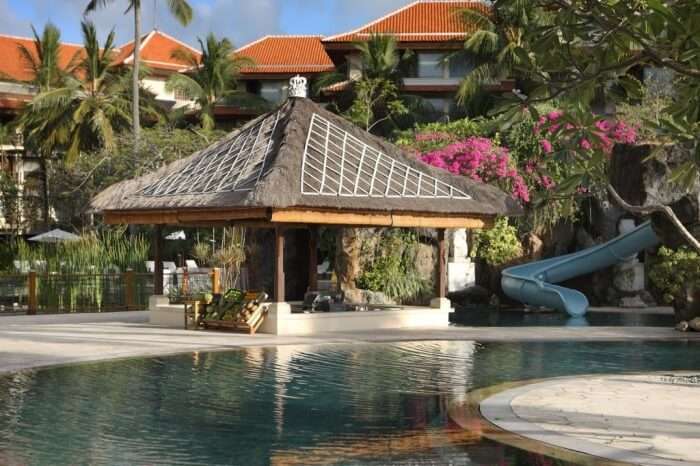 This is one of the more popular hotels and resorts found nearby Balangan Beach. A quite popular place in and of itself, many people come to area just to experience the famed hospitality of this time tested and proven resort. It is one of the most well known Balangan Beach villa Bali locations, as its rooms are no less than villas in their own rights.
Location: Nusa Dua
Suggested Read: Uluwatu Temple: A Tour Guide To The Majestic Sea Temple In Bali
2. The Kana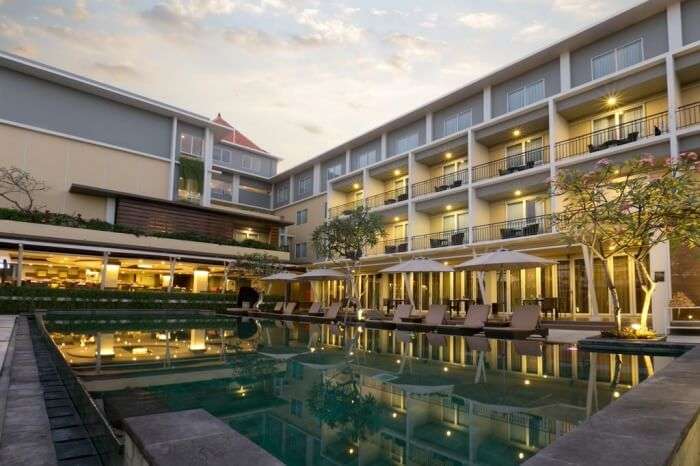 This is a large hotel, of that there can be no doubt. The Kana proves itself to be one of the most strange combos, as it is one of the only places that is enormous, yet has one of the best service qualities, actually living up to the promise of quality along with quantity. The hotel itself is a 4 star hotel, where guests can stay in the very lap of luxury.
Location: Kuta
Suggested Read: 10 Best Things To Do In Jimbaran For A Rejuvenating Bali Experience With Your Loved Ones
3. Hard Rock Hotel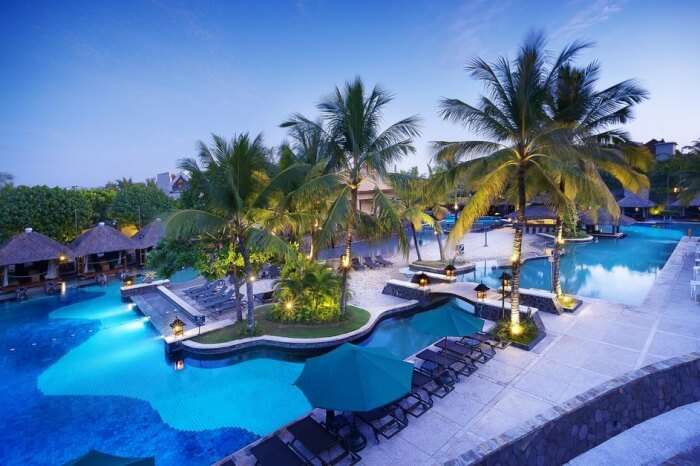 This is definitely a quite well known hotel throughout the entire area, as not only is the hotel one of the most luxurious in the entire district, catering to natives, tourists and even celebrities alike, it houses the iconic Hard Rock Bar, one of the most hip locations to visit in the entirety of Indonesia. The hotel also comes with an awesome free water park that one can visit with their whole family.
Location: Jalan Pantai Banjar Pande Mas, Kuta
Suggested Read: 8 Best Beaches Near Denpasar: Get Bewitched By Sun, Sand, Sea, And Shores!
4. Balangan Beach Amangati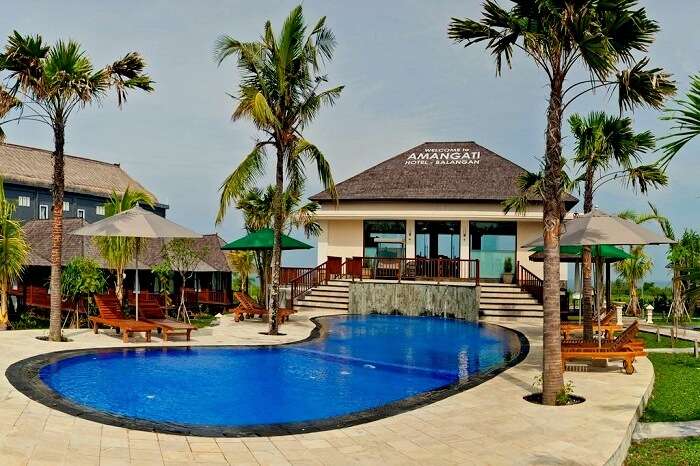 With the beach facing location, this exotic beach resort is a blend of modern and classic architecture. Situated just 10 minutes away from the Uluwatu, this lavish retreat offers an easy access to the beach surf spots. Apart from being close to the surfing locations, this beach resort also offers the chance to take a sunbathe and also enjoy a beautiful sunset.
Location: Jl. Pantai Balangan Jimbaran Denpasar Timur, Jimbaran, Kuta Sel., Kabupaten Badung, Bali 80361, Indonesia
Tariff: INR 3, 850 onwards
5. Flower Bud Bungalow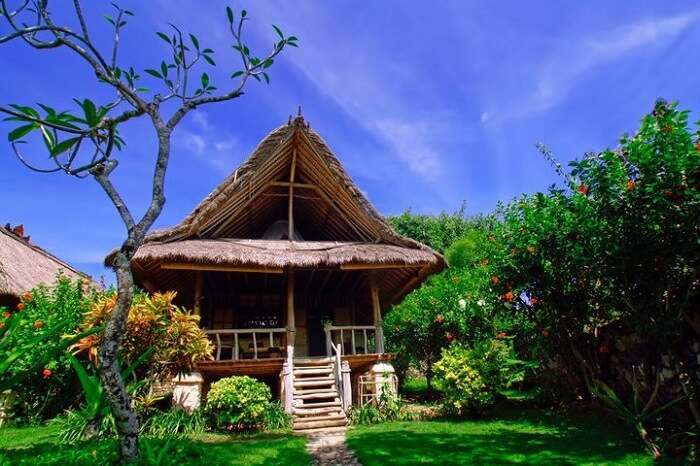 Resting at the southern part of Bali on the Bukit Peninsula, this luxurious bungalow resort offers a relaxing stay close to the finest locations of Bali. Just located 30 minutes away from the airport, this place gives a complete Balinese vibe. The architecture of the bungalow showcases a rustic style and made with bamboo and wood.
Location: Jl. Pantai Balangan, Jimbaran, Kuta, Kabupaten Badung, Bali 80361, Indonesia
Tariff: INR 2,800 onwards
Suggested Read: Bali In June: An Extensive Guide To Witness The Charm Of The Beautiful Island
Tips for Balangan Beach
While one does not need to conform to any strict rules and regulation sets while on the Balangan Beach in Bali, there are a few tips that anybody going them for the very first time should know. In no particular order, here they are:
If you're a tourist, always have your visa verified, and leave no room for errors in your documents.
The coastline can be accessed easily by a taxi ride. This is held as the easiest way to get to the island.
Most hotels that are located nearby also provide shuttle services to the beach.
Further Read: 10 Holiday Homes In Indonesia For A Laid Back Island Vacation
After reading this travel guide, one would naturally come to the solution and answer that Balangan Beach must be one of the very best on the entire island. The amazing combo of the beauty of nature, which can be seen in the surrounding vegetation and reef, the marvel of architecture that can be seen in the nearby hotels and villas and the joy of surfing to one's heart content makes for one of the most satisfying experiences on the island. This fact is quite true, as Bali counts Balangan Beach among its finest beaches and locations to visit. So, pack your bags, plan your Bali vacation and don't forget to visit the Balangan beach!
People Also Read
Whitehaven Beach Guide Palawan Beach Guide Guide To Elephant Beach
---
Looking To Book A Holiday Package?
Book memorable holidays on TravelTriangle with 650+ verified travel agents for 65+ domestic and international destinations.
---