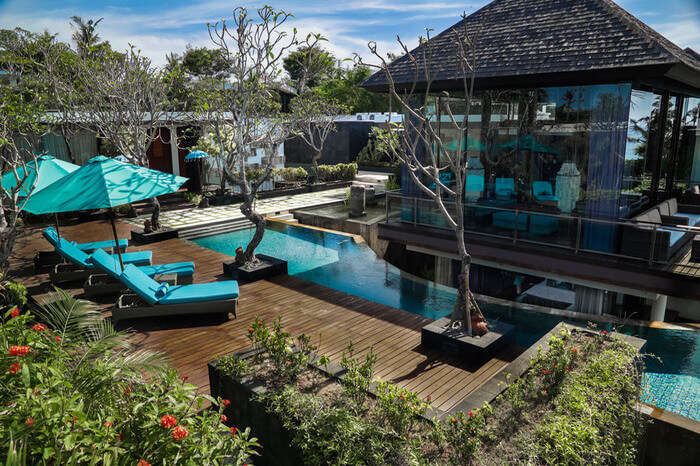 Bali in Indonesia is the most sought-after destination for honeymooners, families, and couples. As soon as someone mentions Bali, it puts you in a tropical state of mind thinking about its gorgeous beaches, verdant greenery, and the volcanoes.

Whether you want a secluded experience or the whole place to your family, the best way to have a laid-back Indonesian Holiday on this happening island is by checking-in a home stay.
While some of the less commercialized home stays give you a first-hand experience of vivid Balinese Culture, there are some chic Villas with a fusion of modern amenities in the traditional Balinese settings. If you are planning a holiday in Indonesia, these home-stays are where you should consider staying.
Top 10 Holiday homes in Indonesia
1. Kuta Town House Apartments, Kuta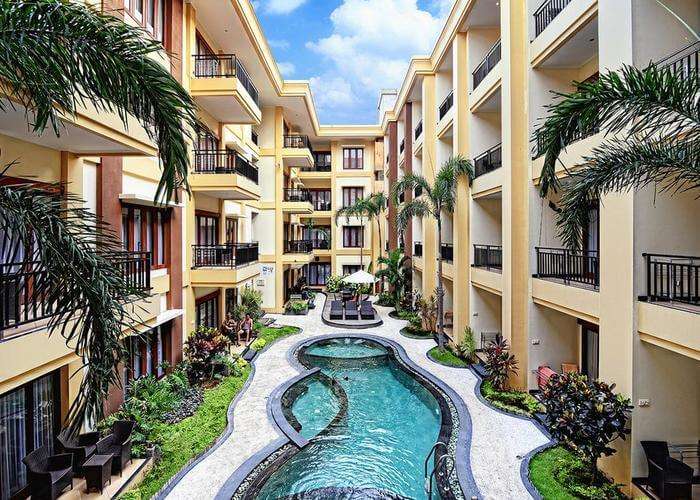 If you are planning a long term stay in the exotic country and looking for Indonesia apartments, Kuta Town House is where you should check-in. The property has spacious apartments and studios for couples and solo travellers equipped with all the- modern facilities.
Laze around in their plunge pool or enjoy the lip-smacking Australian Steak and BBQ in their on-site restaurant.
The apartment is just 5-minute walk to Kuta Beach and 15 minutes away from Seminyak area. They also provide airport shuttle to their guests on request. It is known as the best value for money property in Kuta.
Address: Jl. Pasar Agung, Poppies Lane I , 80361 Kuta, Indonesia
Tariff: INR 3,490 per night
2. POOL VILLA Bali, Ubud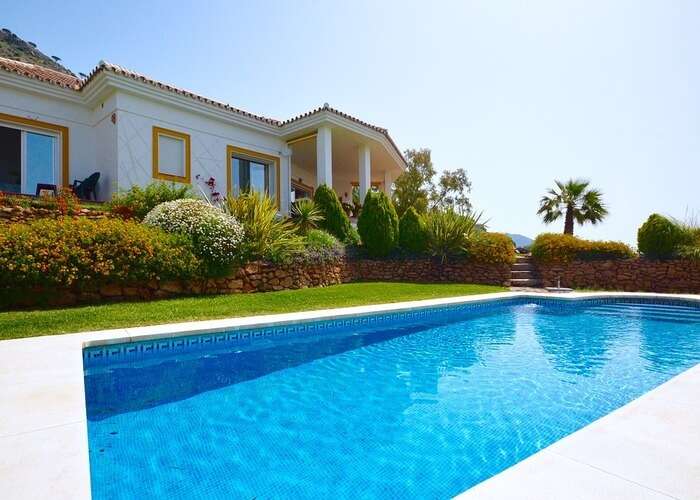 Image Source
Certified as an Excellent Rental on TripAdvisor, POOL VILLA in Ubud, Bali is perfect for your staycation in the cultural heart of Bali. It has two bedrooms which can accommodate maximum of 5 people with request for an extra bedding.
The villa comes with a lavish pool with pool beds, a charming gazebo, and a lotus pond where you can enjoy watching Koi fish swimming. The holiday house for rent in Indonesia comes with free wifi and internet TV and in-house staff for housekeeping.
The villa provides you with two bikes which you can use to go to Monkey Forest or-pedal through rice paddy fields. The art-shops, spas, and yoga studios are located at a walking distance from the property.
Address: Jl. Jineng, Banjar Abian Semal, Lodtunduh
Tariff: INR 4,000 onward
Suggested Read: 43 Best Private Pool Villas In Bali That Are The Classiest Examples Of Luxury, Serenity, & Romance
3. Nicks Homestay, Ubud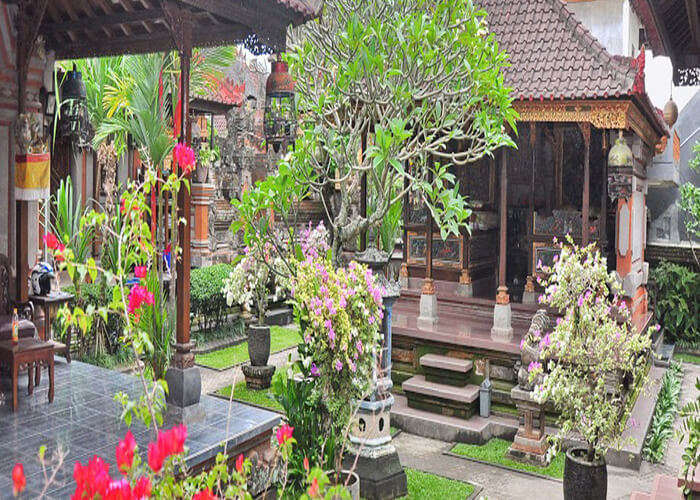 Be ready to receive a warm welcome from the local Balinese family at Nicks Homestay, a peaceful oasis in the busy Ubud. Designed in a traditional Balinese architecture style, the simple yet livid property will charm your senses.
Monkey forest is just 5-minute walk from here and Ubud Center just a 15-minute walk. The homestay even provide transport to make commute to and from Ubud easier.
Located amidst the picturesque surrounding far away from the city clamour,-it is one of the best-holiday homes in Indonesia-to experience Bali at its best. Enjoy your stay at Nicks without commercialisation and commotion.
Address: Jalan Hanoman No. 57, Ubud 80571, Indonesia
Tariff: INR 1,000 onwards
4. Bamboo Bamboo Homestay, Yogyakarta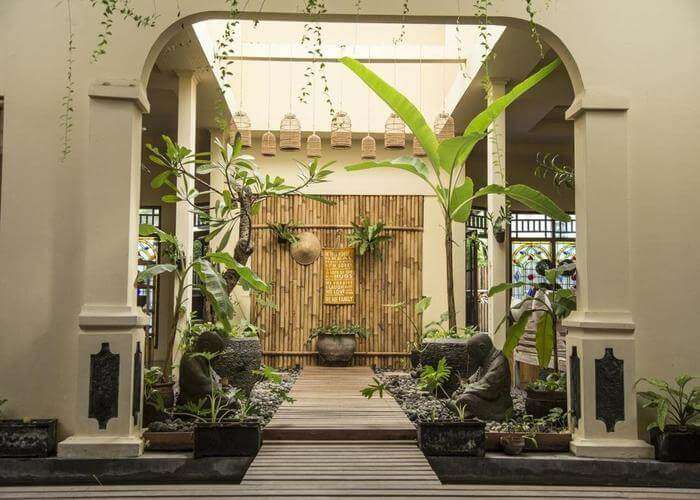 Surrounded by tropical gardens and fish ponds, Bamboo Bamboo Home-stay is a picturesque location to stay during your Indonesian holidays. The home-stay comes with cosy accommodations, a shared kitchen, and a living area amidst tropical garden.
You can choose from-their 2-bedroom villa or deluxe rooms. In case you are travelling solo, you can also get a bed in a 4-bed dormitory.
The best part is the limited number of rooms which provide you with privacy and calm you need on your holiday. They also make arrangements for airport pick-ups and car rentals on request.
Many famous art galleries and handicraft emporiums like Kotagede, which is known for its silver handicrafts, are just 10 minutes away from here.
Address: Jl. Timuran no. 83 | Brontokusuman Mergangsan, Yogyakarta 55153, Indonesia
Tariff: INR 1,104 – 2,013
5. Villa Shanti, Seminyak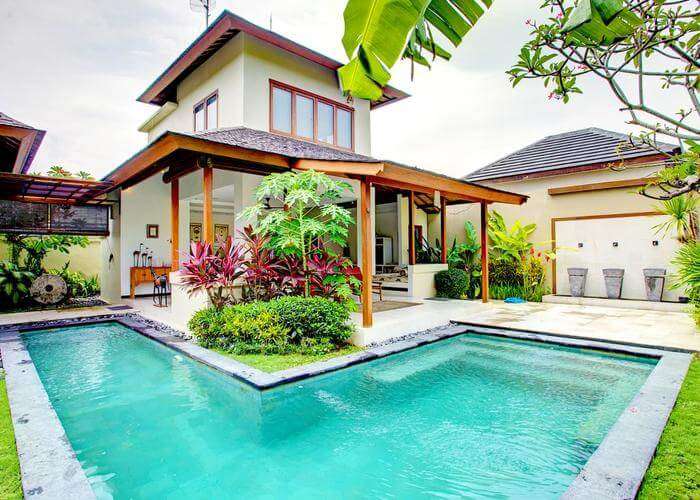 A stylish and contemporary villa in the heart of Seminyak, Villa Shanti is one of those posh-nosh-holiday homes in Bali, Indonesia-for the cosmopolitans. The villa is styled in European and Continental-fashion with a fusion of tropical settings. During your stay here, you will be totally immersed in Balinese culture with the village activities going around you.
Villa Shanti comes with two fully air-conditioned rooms with king-sized Balinese beds and modern fittings in the bathrooms and kitchen. The living area looks over the plush pool nd tropical gardens.
This Bali family Villa is just two-minute walk away from frenetic Seminyak scenes and only 7 km away from Ngurah Rai International Airport.
Address: Jalan Raya Kerobokan, Gang Flamboyan, 80361 Seminyak, Indonesia
Tariff: INR 15,000 onwards per night
6. Puri Temple, Canggu Echo Beach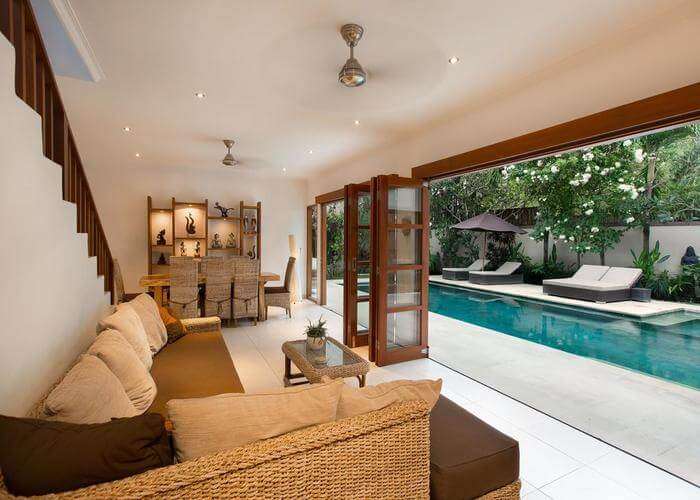 Located in the quaint settings of Echo Beach, Villa Puri Temple is a perfect house for rent in Indonesia for families and large groups. Puri mean palace in Balinese and as the name suggests, the villa has everything you would have asked for; 3 lavish bedrooms, a large L shaped pool, and a gazebo lounge from where you can witness the spectacular sunrises, the volcano, and the Puri Temple.
Spend your evening playing pool at the American Pool Table or playing Volleyball in the yard. It is probably few of the holiday homes in Indonesia with open air kitchen and bar where you can enjoy BBQ and drinks.
The Villa is located 5 minutes from Canggu Street and 15 minutes from Echo Beach. After an exhausting excursion in the city, the villa feels like another world filled with peace and tranquility.
Address: Jl. Batu Megong, 80361 Canggu, Indonesia
Tariff: INR 19,000 per night
Suggested Read: Canggu Resort Village In Bali Is A Dreamy Offbeat Hideout For Couples

7. Petitenget 501, Seminyak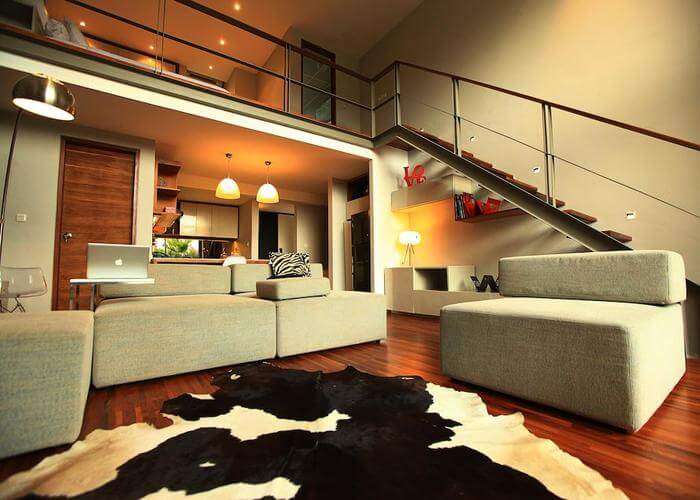 Just 2-minute walk from-the Beach, Petitenget 501 is a hip and stylish property in Seminyak. Their lavish Indonesia apartments is where you would want to lay after a tiring day of recreation. The rooms are air-conditioned, a fully equipped kitchen with a stove and refrigerator.
Its location is what makes it the best pick for tourists surrounded by best dining options in the area and just 10-minute walk to famous Potato Head Beach walk. And, it only takes 20 minute to get from here to Ngurah Rai International Airport by car. It is one of the luxurious holiday homes in-Indonesia-which provides all the comfort of the world.
Address: Jalan Petitenget no.501, Gang Cempaka, 80361 Seminyak, Indonesia
Tariff: INR 10,000 per night
Suggested Read: Best Things To Do In Seminyak To Make The Most Of The Happening Beach Area In Bali

8. Bahagia Villas, Sanur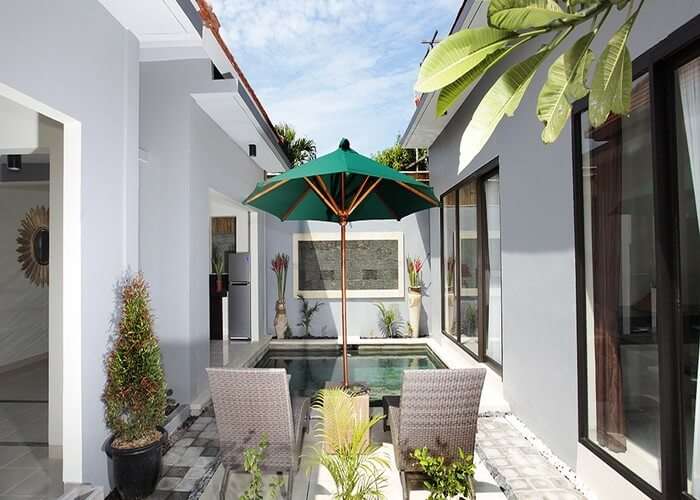 Bahagia Villas are the private Bali family villas in the seaside town of Sanur. The 4 2-bedroom luxury villas come with the modern amenities and private swimming pools to make your stay super-comfortable.
Their friendly staff will cater to your smallest of needs from groceries to surfing tours. The villas are located right next to beach and the shopping centre. So, you can go for a beach walk anytime you want.
For those who seek recluse and a break from the commotion,-these holiday homes in Indonesia are the-perfect refuge in the sleepy town of Sanur.
Address: Jalan Tirta Ening No.18, Sanur, Denpasar Selatan, Sanur Kauh
Tariff: INR 8,900 onwards
9. Villa Taksu Legian, Kuta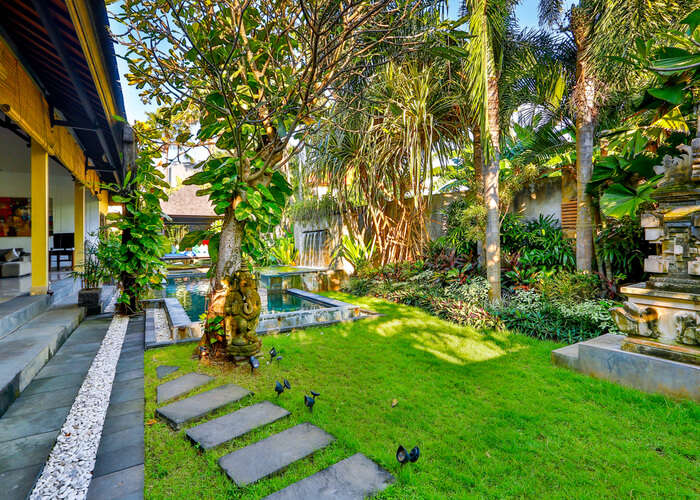 If all you want to do is chill in a private villa with your friends or family, Villa Taksu in Legian is your haven. The villa house 4 large bedrooms along with a massive pool.
Each bedroom comes with their private gardens and open air showers with complete privacy so that you can take a shower while gazing at the stars. Their giant pool is an incredible work of art.
The blend of space, water elements, and tropical gardens create an atmosphere of tranquillity. There is no better escape than this to have a secluded Indonesian Holiday.
Address: Jl. Sri Rama No.36, Legian, Kuta, Kabupaten Badung, Bali 80361, Indonesia
Tariff: INR 26,000 per night
10. Villa Aum, Java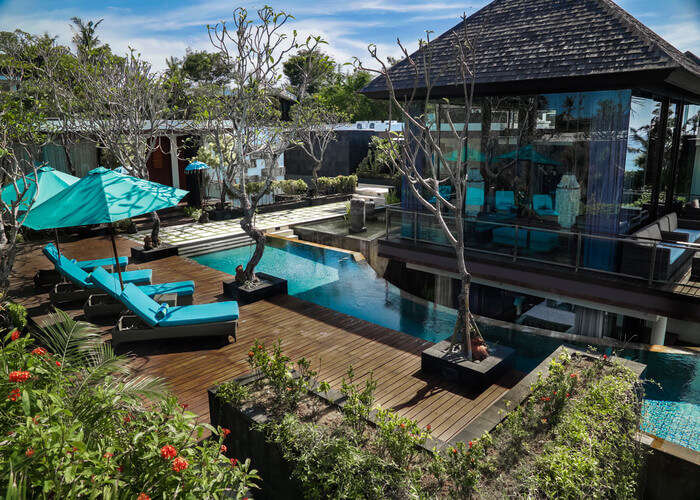 Villa Aum in Bali is situated in the settings which are both flattering and intriguing.It is one of the few holiday homes in Indonesia-which are so close to the beach. The plush 4-Bedroom villa overlooks the sea with private access to the beach and Anya Resort at walking distance.
You wouldnt want to leave its terrace infinity pool. The villa even has a cliff-front jacuzzi and Bale with massage facility. The entertainment room even comes with a pool, home theatre, and a gym facility.
Villa Aum is a little Bali in itself due to the views and liing experience it has to offer making it one of the best holiday homes to rent in Indonesia.
Address: Jl. Pantai Balangan No.54, Jimbaran, Kuta Sel., Kabupaten Badung, Bali 80361, Indonesia
Tariff: INR 59,800 per night
Sorted with your accommodation scenes? Let us help you make the best of your Balinese Holiday with customized Indonesia Tour Packages at TravelTriangle.