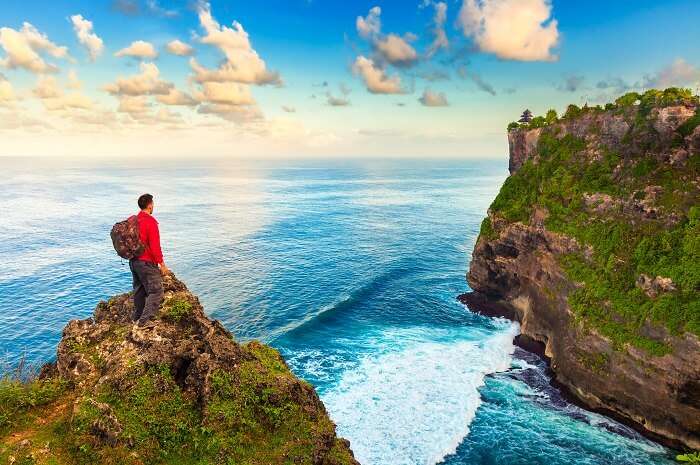 Beaches, temples, villas – Bali is filled with the most exotic of experiences. But if you wish to explore the truly natural side of this island paradise, you will have to look a little further and venture off the beaten track. Immerse yourselves in a stimulating Bali hiking tour that will take you across beautiful paddy fields, rustic villages, scenic hills, towering volcanoes, lush rainforests, cascading waterfalls, meandering rivers, and more. Ranging from the toughest to the easiest, you can find Bali tour packages with hikes suitable for all kinds of travelers.
Bali Hiking Tours
Dipped in the vivid culture and spiritual essence of Bali, we promise you a plethora of surprises on each of these treks in Bali. Just scroll down and take your pick from this Bali trekking guide!
1. Mount Batur Hiking, Bali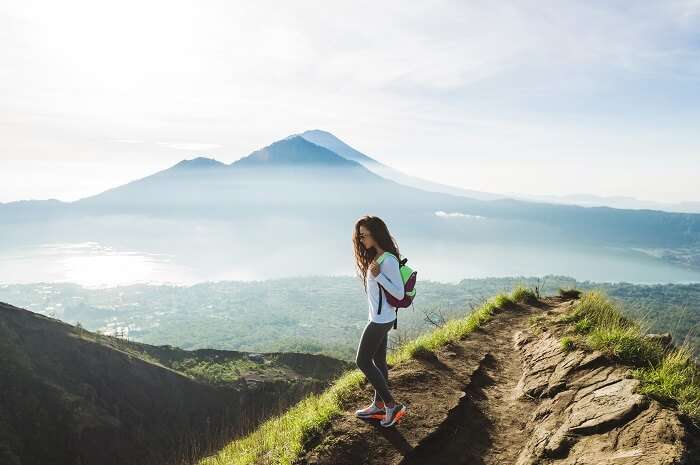 At a staggering height of 1717 meters above sea level, Mount Batur is the second-highest point in Bali and an active volcano that serves as a cornerstone experience for hikers in Bali. Every Bali hikers first love, this is one of the famous Bali hiking and camping tours for its spectacular views from the top. One such view is the transition from a starry night into an outburst of colors at dawn. The breathtaking blend of purple, orange, pink and red hues over Caldera Lake and Mount Rinjani in the distance will put all other sunrise views to shame.
Price: Around INR 5,000/- per person
Where: Bangli Regency, Bali, Indonesia
How: One can take either of these three routes for this trek:
Drive to Songan and then left till Serongga. From here, its a 45 minute trek to the top
Drive to Kintamani and walk to the top, which will take about 45 minutes to half an hour
Hardcore hikers can start their hike from Pura Jati or Toya Bungkah (located at Lake Batur). It takes around 2-3 hours to get to the top from here, so leave at 4 am.
Things to do on Mt Batur Trek:
Behold a dramatic display of colours at sunrise
Other than the sunrise, admire views of the gorgeous mountain itself along with Caldera Lake and Mount Rinjani
Camp on Mt Batur
Enjoy meals cooked over the volcano stam
Enjoy panoramic views of the night sky while camping, with more stars than you would ever have seen!
Soak in natural hot springs on your way down at either Toya Bungkah (free, but crowded) or those at Tirta Sanjiwani with spa (around INR 1,500/- per person, but privacy guaranteed)
Stop over for a traditional Bali coffee plantation tour and get a taste of the worlds most expensive, yet delicious coffee – Luwak
Tip: Hire a certified guide from Mount Batur Tour Guides Association for Bali volcano trekking. The trek may seem easy, but requires the assistance of a trained local guide.
2. Mount Agung, Bali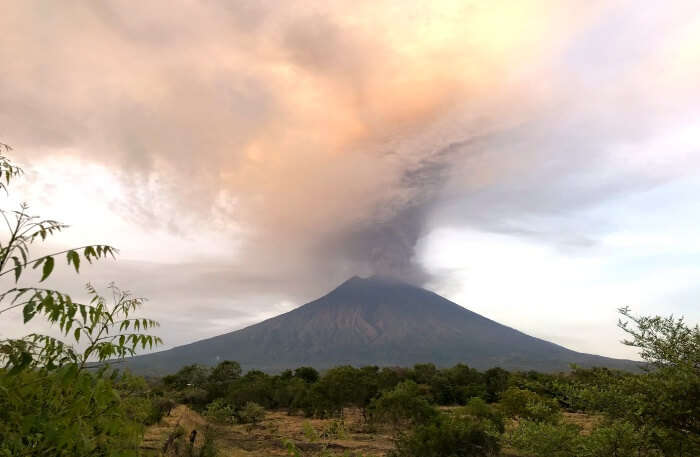 The most sacred point in Bali, the active stratovolcano is the highest peak in Bali, standing majestically at a height of 3,031 meters. An awesome avenue of Bali hiking tour, it tempts all adrenaline junkies to climb the summit and conquer this beast. Just like Batur, this volcano too offers mind blowing views of the sunrise from the top, along with -eye-warming views of Mount Rinjani, the enormous Caldera Batur crater, and its Lake Batur, all bathed in the light of the rising sun. Travelers usually commence their trek from the holy temple of Pura Besakih and Pura Pasar Agung at the bottom of the mountain. This trek includes some of the toughest trails and is usually only suitable for the fit and sturdy hikers.
Price: Around INR 7,000/- per person
Where: Mount Agung, Jungutan, Bebandem, Karangasem Regency, Bali, Indonesia
How: There are generally two climbing routes for Mount Agung hiking:
One is a challenging route from Besakih temple in the west. One has to first hike through the dense jungle of Besakih before beginning the ascent of 6-7 hours.
The other is from Pura Pasar Agung in the south, which is quite easy compared to that from Besakih. Itll take one around 3-4 hours to get to the top.
Things to do on Mount Agung Trek:
Engage in an adrenaline pumping adventure by engaging in this difficult trek
Behold amazing 360 degree views of Bali till where the eyes can see
Visit the famous Besakih temple, the most sacred sanctum, and the Mother Temple in Bali
Check out the delightful village of Sebudi near the temple
Tip: Carry extra clothing as it can be freezing on the top.
Must Read: Top 5 Reasons That Prove Bali Group Tours Are The Best, And The Most Beneficial!
3. Tegalalang Rice Field Hiking, Bali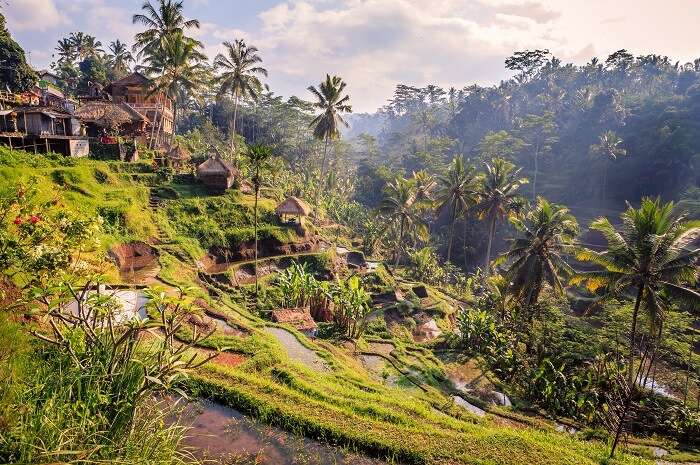 Tegalalang rice field trek is one of the most scenic Bali hiking trails. The most frequented rice field in Bali, Tegalalang is laid out as a beautiful terraced rice plantation perched on the banks of a hill and surrounded by coconut trees. While on a trek here, one can witness charming scenarios of local farmers working in the hollowed rice fields.
Price: Around INR 3,800/- per person
Where: Tegallalang, Gianyar Regency, Bali, Indonesia
How: Drive to Tegalalang through the Campuhan Ridge, offering scenic countryside views. Tegalalang rice field is a mere 20-minute drive away from Campuhan Ridge
Things to do on Tegalalang Rice Field trek:
Go trekking on one of the most scenic Bali trekking routes trails and enjoy natures goodness all around
Observe a day in Balis village life
Connect with the friendly locals and learn the art of growing and harvesting rice
Also visit Campuhan Ridge on your way here and walk the narrow paths created by the merging of river Sungai Wos and Sungai Agung there
Make a detour to Bali Pulina, located just 5 minutes from Tegalalang, where you can see the hidden organic plantations and learn how Luwak, the famous Balinese Coffee is made
Collect samples of different coffee flavours (including Luwak, if possible), tea, pure cocoa, and organic spices while in Bali Pulina
Visit the temple of Gunung Kawi and climb the 270 steps to see this stunning 11th century UNESCO World Heritage Site standing amidst rice paddies and a thick jungle
Suggested Read: Kayaking In Bali 2022: A Handy Guide To Explore Balinese Sea On A Kayak!
4. Tirtagangga Paddy Field Hiking, Bali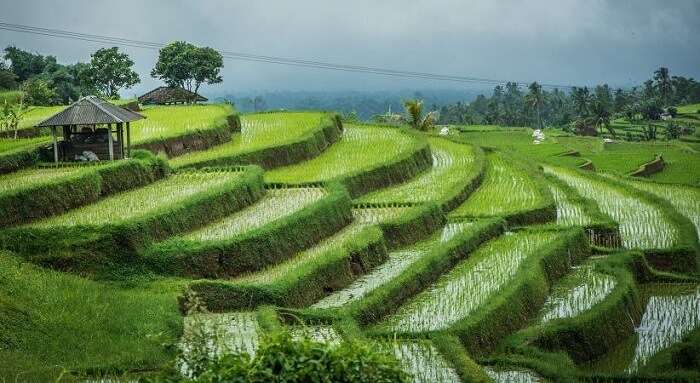 Do you wish you feed your camera with stunning views of hillside paddy terraces, traditional villages, glistening streams, and mighty hills overlooking the eastern Bali coast- Then youve got to get to Tirtagangga, one of the romantic things to do in Bali. Though the place will take your breath away at any time of the day, but it still is ideal to visit early in the morning for the best views. You can walk around and discover new interesting trails here on your trip to Bali that wil take you through marshy rice fields and villages.
Price: Around INR 5,000/- per person
Where: Jl. Abang-Amlapura, Karangasem 80852, Indonesia
How: Start your trek from Tenganan village and walk up to Tirtagangga, while witnessing its unique village layout and architecture and an engaging Balinese culture on the way
Things to do on Tirtagangga Paddy Field Trek:
Visit the temple complex of Tenganan and hilke to the forests from there
Visit the magnificent Tirtagangga Water Palace located near Ababi village
There is a school in Gunung thatll give you an experience of a different dimension of village life in Bali. There is a stone wall near the paddy field that can guide you to it
Hike to the village of Budakeling and see the art and craft skills of villagers on the way, like painting, dancing, and sculpting
Must Read: 10 Best Islands Around Bali For Some Romantic Island Hopping In 2022!
5. West Bali National Park Hiking, Bali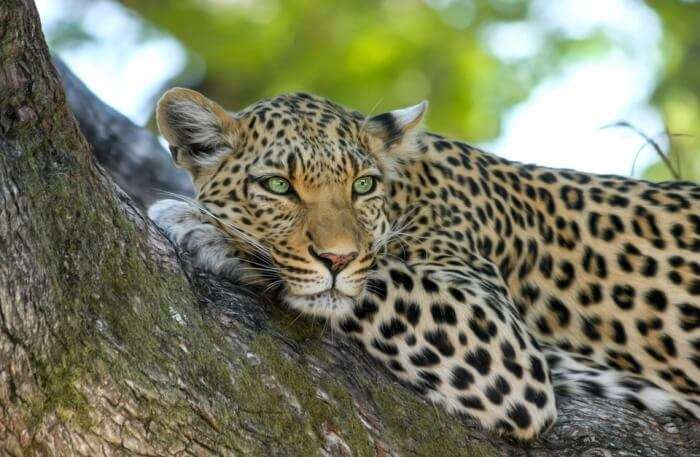 Located on the outermost rim of the island of Bali, the West Bali National Park is home to a wide variety of endemic and endangered species of plants, animals, and birds. One can easily spot animals like the endangered Bali starling, the black macaque, wild pigs, iguanas, snakes, leaf monkeys, munkac (barking deer), sambar, and mice while on this Bali hiking tour. In addition, one can find over 200 species of flora here. This is among the best hiking trails for nature lovers that allows them to witness spectacular conservation forests, beaches, dive sites, mangroves, and dense canopies of the rarest of plants and trees, along with the company of over 300 different kinds of bird species. With such soul stirring views of lush tropical beauty all around, a trek through this park ought to be on every Bali hikers bucket list.
Price: Around INR 2,500/- per person for a guided tour inclusive of permits and donations
Where: Buleleng Regency, Bali, Indonesia
How: Drive to the forest and complete all formalities at the entrance before engage in your 7-hour hike. Get to Park Headquarters in Cekik for making all the arrangements. Park HQ is open from 8 am to 11 am on all days of the week, except Monday till Thursday
Things to do on West Bali National Park Trek:
Go camping in the parks designated zones and fall asleep to the sound of the rainforest
Spot wild animals and birds and engage in wildlife photography
Do snorkeling and diving at the marine park located within the border of West Bali National Park
Tip: One is not allowed to enter the park without being accompanied by a ranger or authorized guide.
---
Planning your holiday in Bali but confused about what to do? These Bali travel stories help you find your best trip ever!
Real travel stories. Real stays. Handy tips to help you make the right choice.
---
6. Munduk Bali Hiking Tour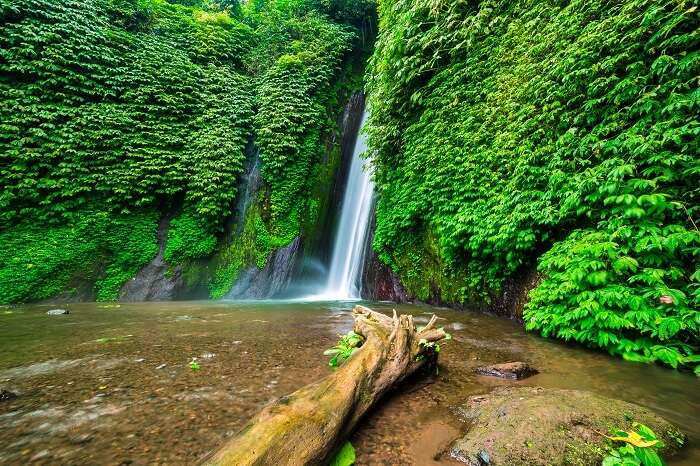 Munduk in Bali was made by Gods specifically for hiking, as is evident from the numerous trails and scenic routes present here for hikers. Hiking in Munduk will take you through all kinds of routes with waterfalls, paddy fields, hills, rainforests, river gorges, coffee and strawberry plantations, gardens, hidden temples, and more. One can choose from the 12 pretty hiking trails and indulge in a variety of experiences along with bestowing you with breathtaking natural vistas. The 12 hikes in here include:
Red Coral Waterfall Trek (2 hours | Level: easy); Loop Waterfall Trek (2/3 hours | Level: moderate); Environmental Trek (3/4 hours | Level: easy); Inter Village Trek (4/5 hours | Level: moderate); Stone Water Spring Trek (3/4 hours | Level: easy to moderate); Dutch Colonial Trek (4/6 hours | Level: challenging); Subak Trek (2/3 hours | Level: easy); Mendaum Riverside Trek (3/4 hours | Level: moderate); Tropical Fruit Trek (3/4 hours | Level: moderate); Inter Lake Trek (2/4 hours | Level: moderate); Historical Trek (3/4 hours | Level: moderate); Balinese Patriots Long March Trek (3/4 hours | Level: moderate)
Price: Only around INR 1,600/- for an English speaking guide for about 2/3 hours
Where: Munduk, Banjar, Buleleng Regency, Bali, Indonesia
How: Drive to the town of Munduk, pick your trail, and get going!
Things to do on Munduk Trek:
Indulge in a myriad experiences on the chosen trail, like visiting crop plantations and diving in waterfalls
Visit The Giant Tree, Balis largest and oldest Banyan tree
Try and visit Ulun Danu Temple (Floating Temple)
Treat yourself to a fresh cup of Luwak coffee on the way
Observe the quaint village life while passing by one and interact with the friendly locals
Discover hidden waterfalls
Tip: Let a certified guide accompany you during your Munduk trek in Bali to get first hand information and to avoid getting lost.
Suggested Read: Have You Been To Blue Point Beach Hidden Away From All The Bustle In 2022?
7. Sekumpul Waterfall Hiking, Bali

Cascading from the top of a forested ravine, the Sekumpul Waterfall is the highest and among the most beautiful waterfalls in Bali. The pleasant trek to the waterfall shall take you past enchanting temples, monuments, alluring rice fields, colourful fruit orchards, and a hidden village in northern Bali with quirky houses and smiling locals. Other than the trek, this unique collection of 5 waterfalls itself will amaze you with its beauty. An interesting thing youll notice on this Bali trekking tour is that the locals are incredibly pro-environment and have planted scores of trees to protect it, something the world needs to learn from them!
Price: INR 72/- per person for entrance ticket
Where: Sekumpul Village, Singaraja 81112, Indonesia
How: Drive or hire a taxi to the Sekumpul Waterfall. Park your vehicle at the designated parking lot for tourists and buy your ticket to the falls to gain entrance into the premises.
Things to do on Sekumpul Waterfall Trek:
Take a charging dip into the falls
Enjoy delicious fare at the restaurants and stalls nearby
Hike to the nearby Lemukih Waterfalls, an equally spectacular avenue
Enjoy the natural landscapes all around
Tip: Avoid hiring and paying any guides around this area. You dont require one here. You only have to pay for an entry ticket at the black gate near the waterfall entrance.
Suggested Read: 43 Best Private Pool Villas In Bali That Are The Classiest Examples Of Luxury, Serenity, & Romance
8. Sambangan Secret Garden Waterfall Bali Hiking Tour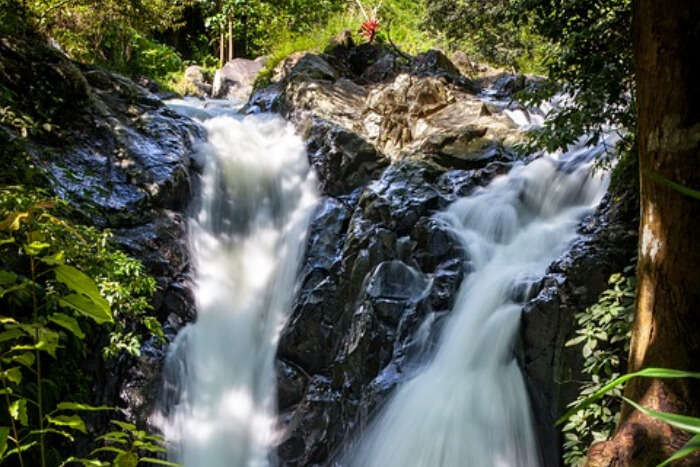 Go offbeat with this wondrous Sambangan Secret Garden Waterfall hike for an unforgettable experience on your Bali holiday. Located in Northern Bali, Sambangan Secret Garden Waterfall is nothing less than heaven filled with 3 staggering waterfalls called Pucuk, Kroya, and Kembar, and a Blue Lagoon, all of them making this place a sublime blend of culture, nature, and spiritualism. It is one of the best hiking tours in Bali.
Price: INR 48/- per person for entrance ticket
Where: Sambangan, Sukasada, Buleleng Regency, Bali 81161, Indonesia
How: Drive or hire a taxi to the Sambangan Secret Garden Waterfall. Park your vehicle at the designated parking lot for tourists and buy your ticket to the falls to gain entrance into the premises.
Things to do on Sambangan Secret Garden Waterfall Trek:
Take a dip in one these refreshing waterfalls to charge up your senses
Slide down the Kroya Waterfall which is at a height of 12m
Dive into into the Kembar Waterfall (from a height of 10m) or the Pucuk Waterfall (from a height of 15m)
Also visit the paddy fields and plantations of coffee, cocoa, palm sugar, jackfruit, and bananas while here
Take a luxurious swim in the Blue Lagoon, the secret natural swimming pool
Taste the fresh tropical fruits of Bali
9. Twin Lake Jungle Hiking, Bali

Catch on an authentic jungle trekking experience in Bali on the Twin Lake Jungle trekking tour. Tamblingan Lake and Buyan Lake are two very famous lakes surrounded by lush tropical forests and amazing flora and fauna. Also hidden in the forest cover is a stunning Bali Hindu temple that speaks volumes of the era of Gods through its architecture. Other than the double lake view the jungle and lake area are also famous for the different kinds of medicinal herbs that the villagers grow here.
Price: No entrance fee
Where: Gobleg, Banjar, Kabupaten Buleleng, Bali, Indonesia
How: Drive till the town of Munduk and trek to the lake through the forest.
Things to do on Twin Lake Bali Jungle Trekking:
Trek through the vast tropical rainforest of Bali
Ride the traditional dugout canoe to cross the Tamblingan Lake
Seek blessings at the secret temple in the forest and admire its architecture
Learn the secrets of the village and forest by the locals
Observe the rich flora and fauna – species of animals, plants, birds, insects
Visit the agricultural village of Pancasari for a taste of true Balinese culture
Visit other temples in the area like Gubug and Pemulung Agung
Suggested Read: 30 Places To Visit In India In April 2022: Beat The Heat This Summer Like A Pro!
10. Mount Lesung Hiking, Bali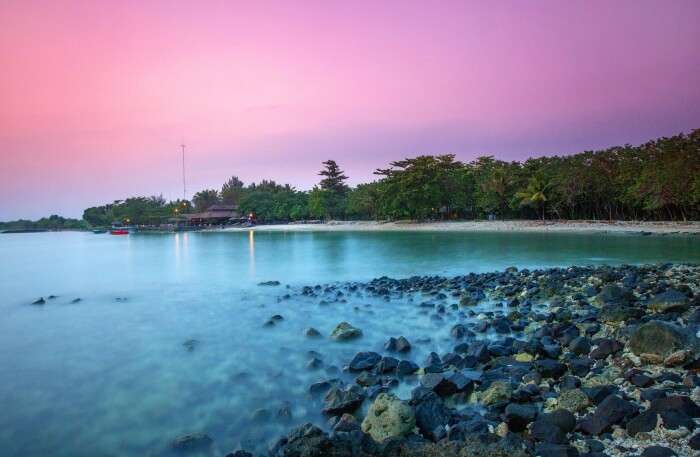 Located in Singaraja at an altitude of 1,865 meters above sea level, Mount Lesung belongs to the Bedugul volcanic region in Indonesia and is another of the top picks for Bali volcano trekking. One can trek to the large crater on the top for splendid views of the village of Munduk and Lake Tamblingan through the lush tropical rainforests bordering Lake Tamblingan.
Price: No entrance fee
Where: Gobleg, Singaraja 81152, Bali, Indonesia
How: The trek to the mountain begins from the forest surrounding Lake Tamblingan. So, drive till the town of Munduk, trek through the forest, and then start your ascend upwards to Mt Lesung
Things to do on Mount Lesung Trek:
Indulge in a riveting jungle trek
Witness glorious views of the sunrise from the top
Camp on Mount Lesung
Enjoy panoramic views of Bali from the top
Visit Bukit Temple located on the top
Suggested Read: The Ultimate List of Adventure Holidays In India For Summer 2022
Bali Hiking Tips
We have put together few tips and suggestions in this Bali hiking guide that you must consider while planning for and indulging in trekking in Bali.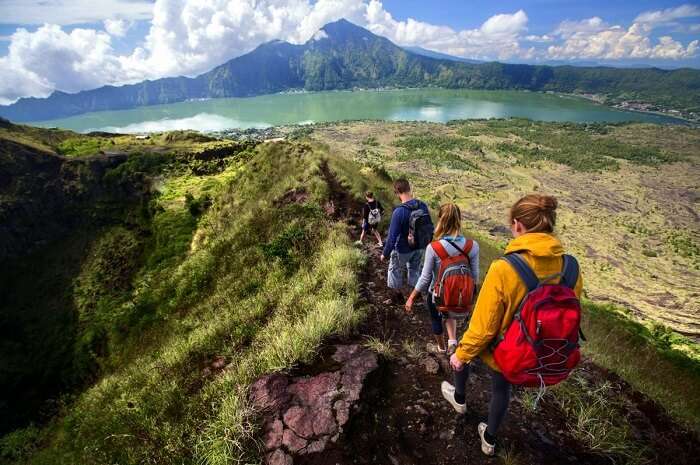 Hire only a certified guide from Mount Batur Tour Guides Association. Many treks in Bali appear easy, but require the assistance of a knowledgeable, experienced guide
Avoid engaging in Bali treks during religious ceremonies
Know your physical limit and don't push yourself too much. If you're not a hardcore hiker, pick easy paddy field, waterfall, and forest treks, and not Mount Agung itself!
And of course, don't be so consumed in the walking that you forget to enjoy the views!
Further Read: 10 Best Things To Do In Kuta – The Liveliest City In Bali
Bali is a great place to venture into the wild. There are so many trekking and hiking trails you can explore on the island if you want to spend some time in the wild. So, which one of these Bali hiking tours would you like to engage in on your trip to Bali? Tell us in the comments below and share this with your gang.
Disclaimer: TravelTriangle claims no credit for images featured on our blog site unless otherwise noted. All visual content is copyrighted to its respectful owners. We try to link back to original sources whenever possible. If you own the rights to any of the images, and do not wish them to appear on TravelTriangle, please contact us and they will be promptly removed. We believe in providing proper attribution to the original author, artist or photographer.
Please Note: Any information published by TravelTriangle in any form of content is not intended to be a substitute for any kind of medical advice, and one must not take any action before consulting a professional medical expert of their own choice.
Frequently Asked Questions About Bali Hiking Tour
What should I consider while planning for a Bali hiking tour?
Here are some of the things that you must consider while planning a Bali hiking tour:
1. Know well about the place where you wish to go hiking tour to, like distance, total time your trek will take, places to rest and eat in the way, alternate routes, etc
2. Stay updated on the weather conditions of the place you're trekking to. It's not advisable to indulge in hiking in Bali during monsoons
3. For a budget trekking expedition, make sure you compare packages offered by different tour operators. Opt for one that offers an all-inclusive trekking tour (with pickup and drop, sharing transfers and accommodation, and meals) to cut down on unnecessary costs
What should I wear while hiking in Bali?
Here are some clothing tips for hiking in Bali:
1. Wear comfortable clothing, especially if your trek requires climbing. In order to help absorb sweat during the climb and keep you warm at the top, you should pick light outfits that can be worn in layers
2. Other than clothing, picking the right footwear also matters. Either wear any comfortable shoes with a good grip or proper trekking shoes
What should I carry on my Bali trekking tour?
Here are some of the things you must carry on your Bali trekking tour:
1. Carry enough light snacks and water for the journey. Don't depend on roadside stalls and 'warungs'. Avoid oily, fried food, and items made from animal fat (like beef)
2. Drink plenty of water and keep yourself hydrated
3. Don't forget to bring a flashlight
Can you climb Mount Batur without a guide?
Yes, you can climb Mount Batur in Bali without a guide if you are an experienced hiker. But it is a difficult hike with steep climbs, so you are advised to take the help of a guide.
How much does it cost to climb Mount Batur?
A trip to Mount Batur would cost you somewhere between INR 1500 to INR 2000.
Is climbing Mt Batur hard?
Yes, Mount Batur is an active volcano with steep hiking trails that are not defined properly, so climbing it is hard.
Looking To Book An International Holiday?
Book memorable holidays on TravelTriangle with 650+ verified travel agents for 65+ domestic and international destinations.
People Also Read