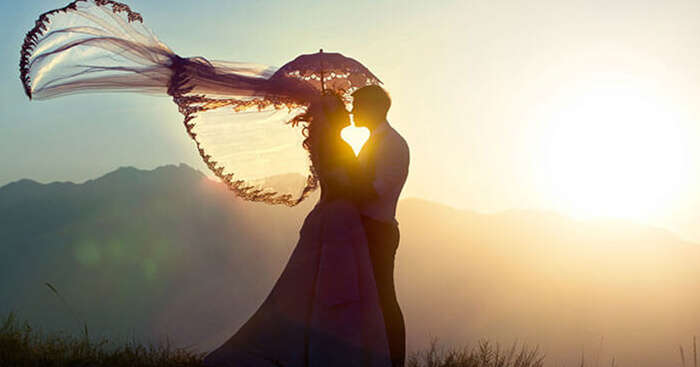 The season of love is here and we know how you've been longing to spend some quality time with the love of your life. This Valentine's day don't just sit at home to "Netflix and chill" instead head out to one of these best Valentine's weekend getaways to kick some punch into your relationship.
Check 'em out:
Best Valentine's Weekend Getaways Near Delhi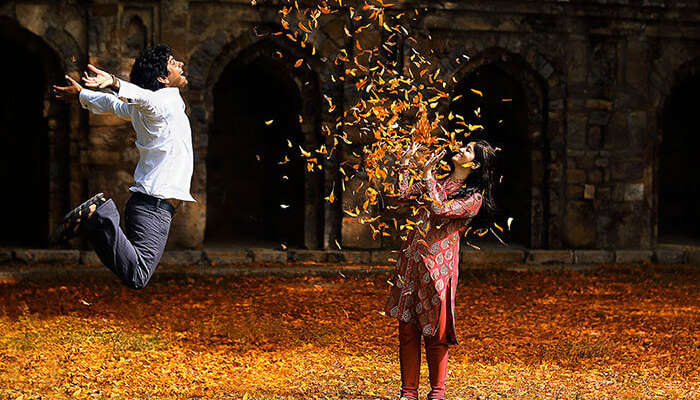 Further Read: 31 Best Romantic Places In And Around Delhi For The Love Birds
Delhi is the beating heart of India which means romance is all over the place. Don't think too much where to take your love this Valentine's. The weekend will give you all the opportunity to spend secluded time with your honey sitting hand in hand. Choose one from the awesome Valentine's day weekend getaways to spend your romantic day.
---
Long Weekend Trips Starting @ Rs 3499/-
Take a trip to spend the upcoming long weekend with your buddies.
✓ Stay at 4 star rating hotels with local sightseeing, meals and transfers.
✓ Travel in AC coach round trip (from Delhi).
✓ All Inclusive Deal– Camping, Jeep Safari & Trekking as per itinerary
✓ Sign up NOW to celebrate the long weekend out of town!

---
Luxurious resorts to spend your Valentine's Day weekend getaways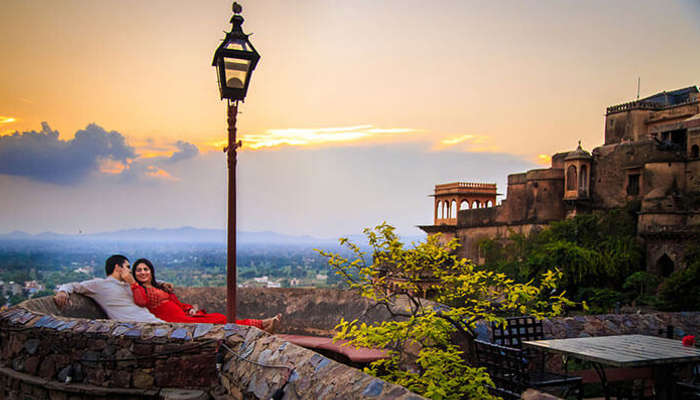 1) Taj Gateway: Just 65 kilometers away from Delhi, the resort is a splendid place to spend this 14th February with your bae. The luxurious inn is very close to Damdama Lake and offers relaxing spa along with some adventurous sports. Ride a cycle around the sprawling greens available at the hotel with your spouse.
Budget: INR 13,500 per night
2) Ramada Neemrana: The beautiful resort stands tall on the Delhi- Jaipur highway which is approximately 90 kilometers from Delhi. Couples seeking for some peaceful time during the Valentine's Day, the place comes highly recommended to them. Gorge on the excellent food and relax at the famous Jacuzzi accompanied by your partner. . Take a camel ride near the Neemrana fort which is just 20 kilometers from the resort.
Budget: INR 5,700 to 10,000 per night
3) Heritage Village Spa and Resort: The famous Valentine's day weekend Getaway is only 53 kilometers away from Delhi. Located in the Manesar district, this resort is an itinerary in itself. The tea lounge, floral baths, Jharokha restaurant and the countryside ambience is incomparable. Take your lady to the royal abode and feel like a prince and princess.
Budget: INR 8,000 per night
Affordable yet beautiful Valentine's weekend getaways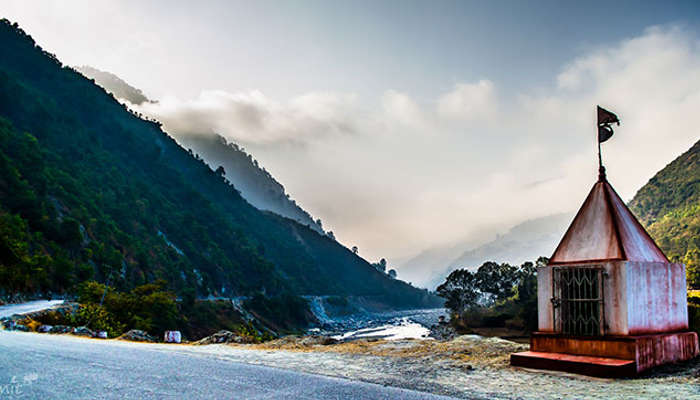 4) Rajgarh: Take your swain to the peach land of India this Valentines which is just 300 kilometers from Delhi. Relax and laze on the hummocks while gazing at the snow on Choor Chandni Peak. Take along some bird and plant books and identify the Himalayan magpie or woodpeckers on your walks in the three-filled forests. Enjoy fishing, camping and romantic dinner near the Giri River with your beau. This best Valentine's weekend getaway is cheap and you don't have to think much about the expense. Just take some time for your sweetheart and take a ride to Rajgarh.
Romantic stay: BodhiSattva which has both homestays and camps
Budget: INR 5,000 to 15,000 depending upon the sports you include
5) Ranikhet: The beautiful forestbound place is just 244 kilometers from the capital city. Ranikhet is a perfect mixture of romance and wildlife sighting. Take a toll to the walker's paradise that stretches along the lanes of forest to Mall Road. Take your doxy to the Chaubatia Orchards which is a picturesque hill garden filled with apples, cherries, figs and strawberries. The paradise is a shadow of god consisting blissful temples and churches. Smell the fragrance of joss stick and pretty flowers during the evening prayers along with the serene sunset.
Romantic stay: Chevron Rosemount
Budget: INR 3,000 per night
6) Orchha: The not so famous enchanted isle is secluded and peaceful Valentine's day weekend getaway. The distance of Orchha from Delhi is 460 kilometers which is not so far for the lovebirds. Visit the palaces like Jehangir Mahal and palace of Rai Praveen to feel like Jodha and Akbar. When in Orchha you cannot miss visiting to the royal cenotaphs which are commonly known as chhatris. Dangle your feet in the cool river waters and watch the colors of the sun with your beloved behind the chhatris. You can even indulge in some adventurous sports like rafting.
Romantic stay: Bundelkhand Riverside
Budget: INR 5,000 per night
7) Mukteshwar: This place is for couples looking for a concealed getaway this Valentine's Day. Mukteshwar, known for its beautiful snow view is the most romantic escape in our suggestion. Pray at the popular Mukteshwar Temple set on the highest point in town. The charming bricks, cement shells and the temple bells will greet you while entering the alluring place. Take a walk to the countryside which goes through the gorgeous woods and viewpoints. Bring home some famed bal mithai and local deep red squash which is freshly prepared.
Romantic stay: KMVN Rest House
Budget: INR 2,000 per night
8) Jaipur: When it comes to the most famous Valentine's weekend getaways near Delhi. From the lavish palace hotels to the royal luxury, couples can indulge into sheer bliss at this romantic destination. Much famed for its architectural marvels like that of Amer Fort, Hawa Mahal, Jantar Mantar, and City Palace, this capital city of Rajasthan is one of the most iconic cities in India which dates back to the 18th century. Hence, it is not only one of the most romantic getaways, but also serves as a great spot to relax, rejuvenate, and refresh your mind, body, and soul while spending some quality time with your loved one.
Romantic stay: The Oberoi Rajvilas
Budget: INR 23,000 per night
Suggested Read: Valentine's Day Hideaways For Those Royal at heart
---
Planning your honeymoon but confused about where to go? These honeymoon stories help you find your best honeymoon trip ever!
Real honeymooners. Real stays. Real opinions to help you make the right choice.

---
Best Valentine's Weekend Getaways Near Mumbai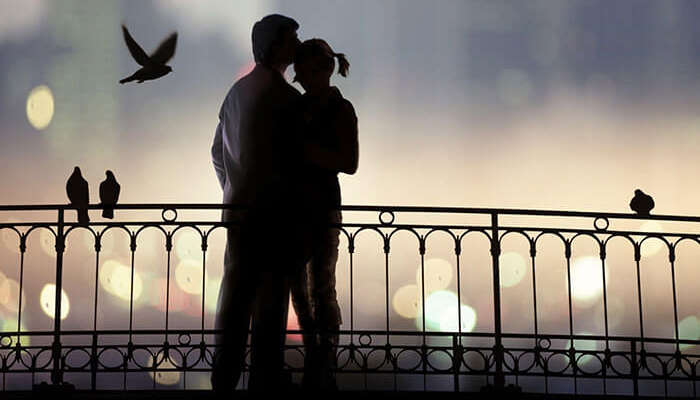 Further Read: 10 Romantic Beach Restaurants In Mumbai For A Dreamy Dinner Date
Mumbai, the financial capital of India is a lover's paradise. From the Marine Drive to the lover's point, the city shows all colors of romance. Mumbaikars generally don't need a reason to celebrate love, to make this Valentine's weekend even more special drive away from the hustle-bustle of the city. Pick one from the list of romantic places near Mumbai and get along with your partner for a perfect getaway.
Lavish resorts for a flawless Valentine's weekend breakout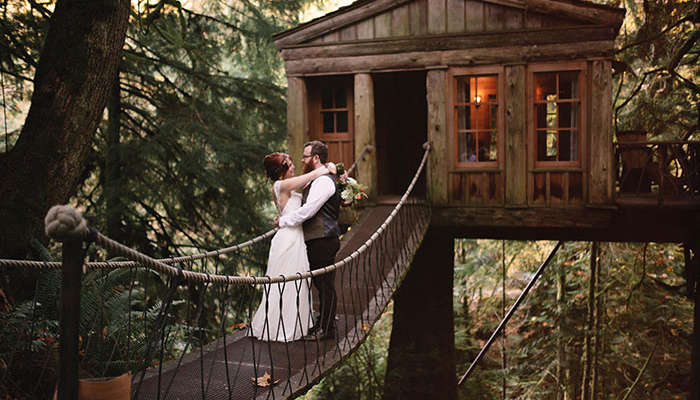 9) The Upper Deck Resort: Resort which is just 104 kilometers from Mumbai is elevated at a height of 2500 feet. Set amid lush green surroundings, the resort overlooks the Valvan Reservoir. It is a perfect place for a quirk retreat from the chaotic hectic lives of the city. Enjoy the re-energizing spa and relax with your beloved.
Budget: INR 15,000 per night
10) Hidden Village Resort: The four acres resort is just 80 kilometers from Mumbai. It is best suited for people who seek respite from the hectic city life. The village is secluded and boasts of natural beauty and undisturbed tranquility. The fresh springs situated in the deep woods provides the couple a delightful experience.
Budget: INR 6,000 per night
11) The Machan Resort: It is a luxury eco-resort with unique tree houses that rises from 30 to 45 meters above the forest. The delightful stay hangs over the edge of the precipice and is popular for its architectural designs and the breathtaking view of the valley. The best Valentine's weekend getaway will be fantabulous spending time with your sweetheart at this resort.
Budget: INR 8,000 per night
Must Read: 15 Best Places to Propose This Valentine's Day
Budget places to spend Valentine's Day weekend getaways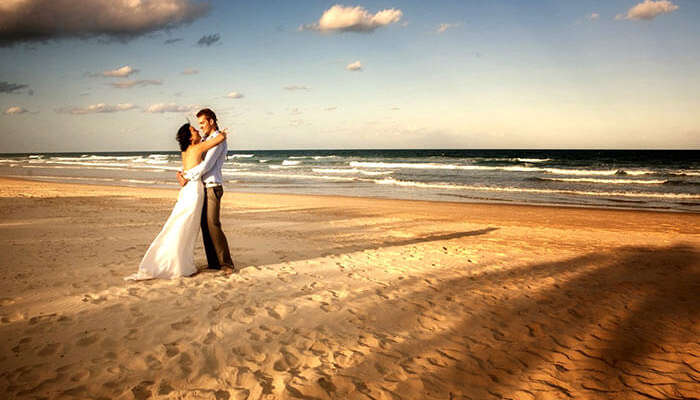 12) Silvassa: This place which is 165 kilometers from Mumbai is considered as the best post-wedding destination. The beauty and the serenity of Silvassa cannot be explained in words. Visit the Vanganga Lake and Island Garden which is 6 kilometers from Silvassa is a straight kitschy picture postcard. The wooden bridges, sea of flowers, thatched huts, and paddle boats are some of the best experiences that you can encounter with your lover.
Romantic stay: Rass Resorts
Budget: INR 5,000 per night
13) Khodala: This is not Khandala, the place is called Khodala just 132 kilometers from Mumbai. The couples that are interested in camping and trekking should visit this place with their honey. The mountain range camping and ham mocking are popular activities which couples do in Khodala. Spend some blissful moments gazing the hillocks, small green plateaus and huge trees near the Deobandh Temple.
Romantic stay: Wild Camp Resort
Budget: INR 3,000 per night
14) Vengurla: The famous beach place is quiet and calm getaway from the city. The distance of Vengurla from Mumbai is 544 kilometers which is perfect to spend time with your lover. Besides the beach there are many ancient temples, historical forts and quaint villages which all are tucked away in the lush green countryside.
Romantic stay: Mermaid Beach Resort
Budget: INR 3,700 per night
15) Raigad: It is believed that god use to walk in Raigad and Malad. The beautiful city is 170 kilometers from Mumbai. There are so many places to visit at this Valentine's Day weekend getaway that you will be confused which to choose. The cliffs, Queens Palace, Gangasagar Lake, Pachad village, Raj Bhawan, Jijamata temple and so on. You will not be able to stop yourselves visiting this quaint place with your beloved.
Romantic stay: MTDC Resort
Budget: INR 3,600 per night
Can't choose where to go? Ask your lover to sort the best Valentine's weekend getaway this year. As Antoine say 'loving is not just looking at each other, it's looking in the same direction'.
Further Read: 10 Most Romantic Places To Go On Valentine's Day
---
Long Weekend Trips Starting @ Rs 3499/-
Take a trip to spend the upcoming long weekend with your buddies.
✓ Stay at 4 star rating hotels with local sightseeing, meals and transfers.
✓ Travel in AC coach round trip (from Delhi).
✓ All Inclusive Deal– Camping, Jeep Safari & Trekking as per itinerary
✓ Sign up NOW to celebrate the long weekend out of town!

---
Comments
comments