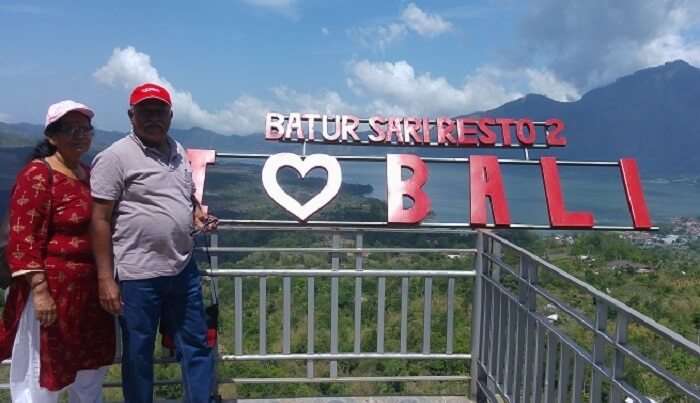 This Indonesian island is a tropical paradise along with an eccentric culture that attracts thousands of tourists every year. From rainforests to volcanoes and white sand beaches, Bali has plethora of places to visit and there are plenty of things to do that makes it one of the best holiday destinations in the world. The religious temples and the scenic landscape with surreal sunsets, Bali is a destination that needs to be visited for a once in a lifetime experience. Go on a bike tour and explore the rice paddy fields, or get sloshed in one of the bars in Seminyak, this place is truly one where you'll be spoilt for choice. Let's have a look at Onkar's Bali trip from Mumbai and how he enjoyed his 6 days in Bali amidst pure bliss.
The reason why I chose Bali as our choice of travel destination was mainly because of its diverse culture, and the scenic landscape. We have been wanting to visit Bali for the longest and it seemed like an ideal option to unwind and relax amidst the pristine beaches and relish the history of Ramayana, the hindu culture of Bali and its essence.
Details Of Our Bali Trip From Mumbai For 6 Days
Trip Cost: INR 105000
No. Of People: 2 adults
Trip Duration: 6 days
Inclusions: Hotel tariff, breakfast, airport transfers, airfare, Visa, Sightseeing
Exclusions: Lunch, dinner, travel insurance, any expenses of personal nature
Day-Wise Itinerary Of Our Bali Trip From Mumbai
Day 1: Arrival and Welcome by Hotel Staff
Day 2: Visit to Monkey Forest and Candle Light Dinner
Day 3: Balanese Massage and Kecak Dance
Day 4: Volcano tour and Visit to Tegenungan Waterfall
Day 5: Besakih Temple visit
Day 6: Departure
Bali Weather In November
Bali's tropical climate creates an environment with temperatures that don't fluctuate much from one month to the next. November sees an average temperature of 27°C with a high of 31°C and a low of 23°C. The beginning of the month sees a mix of cloudy skies and sunny days, with a slight chance of rain.
Best Experiences From Our Bali Trip From Mumbai For 6 Days
Let's have a closer look at Onkar's best experience from his Bali trip from Mumbai to enhance your holiday experience and take tips from their personal experiences:
1. Visit To Monkey Forest Sanctuary

Monkey forest Sanctuary is the natural habitat of the Balinese long-tailed Monkey that are known as Macaca fascicularis. Take a stroll in the lap of nature and replenish yourself surrounded by lush greenery. You will be able to spot these monkeys in their natural element from up and close. Don't miss a chance to get a selfie with the monkeys.
2. Balanese Massage

If you're tired from all the sightseeing and excursion activities, we recommend you to go for the Balinese massage that will absolutely rejuvenate your senses and relax your body. Balinese massage is a famous massage of a special technique that includes acupressure, skin rolling and ayurvedic oils. Try the taste of natural traditional Balinese treatment in Bali. Bali Orchid offers therapeutic massage for health and beauty, featuring traditional Indonesian essential oils that revive the senses and leave the skin radiant.
3. Visit To Tegenungan Waterfall

About 100 flights of stairs will take you down to the most beautiful and stunning waterfall of Bali, the Tegenungan Waterfall. Tegenungan Waterfall is the beauty and hidden waterfall in Ubud village, it is the most surreal place to refresh yourself and take a dip into the fresh waters. Enjoy the time here, you can laze around and enjoy the tranquil views of the waterfall.
4. Witness The Kecak Dance

Kecak Dance is the traditional form of Balinese hindu dance and music drama that includes a bunch of men gathered around the fire who take the centre stage while they chant and sing slogans around the fire in synchronization. The dance is originated from Ramayana that depicts the famous 'Lanka Dahan' episode wherein Hanumana sets fire to the kingdom of Ravana.
5. Volcano Tour


We visited Kintamani, from where you can have a stunning view of the active Mount Batur volcano. An awesome sight surrounded on one side by the Lake Batur, and the other side by lava fields. Driving up passing villages and the greenery part of Bali, when arriving at Kintamani you will suddenly find yourself perched on the rim of a crater making a surreal moment and a once in a lifetime experience.
6. Visit To Besakih Temple

Besakih Temple is a pura complex in the village of Besakih on the slopes of Mount Agung in eastern Bali, Indonesia. It is the most important, the largest and holiest temple of Hindu religion in Bali. The temple is built on six levels, terraced up the slope.
How To Reach Bali
You can reach Bali by taking a flight from Chhatrapati Shivaji International Airport, Mumbai to Ngurah Rai International Airport, which is about 13 km away and is the nearest airport in Bali, can be one of the best ways to travel from Mumbai to Bali by air. Mumbai to Bali (Indonesia) flight distance is about 5580 km.
What To Pack For Bali Trip
Since Bali is a beach destination and boasts a tropical climate, it's best to pack light and carry lots of sunscreen along. Here are a few essential items that you can pack while going on a trip to Bali:
Sunscreen
Beach wear
Flip-Flops
Sunglasses
Hat
Cover-ups
Beach/ Cloth Bags
Our Experience With TravelTriangle
It was a great trip organized by the efficient team of TravelTriangle. We have so much fun and everything was well organized with good planning and good communication from the team. They were very professional and ensured the entire trip was hassle-free. Overall, it was a great trip!
We hope that Onkar's Bali trip from Mumbai enticed you enough to book a trip to Bali and experience a fascinating vacation in the Indonesian islands amidst the salty air and ocean waves. Enjoy the religious sites of Bali along with the tranquil beach sunset and make sure you tell us about your experience later.
Common Queries Asked By Travelers
How much does a Bali trip cost?
A vacation to Bali for one week usually costs around Rp6,455,479 for one person. So, a trip to Bali for two people costs around Rp12,910,957 for one week. A trip for two weeks for two people costs Rp25,821,915 in Bali.
How far is Bali from India?
Bali is 8,605 km far from Bali.
What is the best time to visit Bali?
The best time to visit Bali is between April and October, the island's dry season. Bali experiences only two seasons: the rainy season and the dry season.