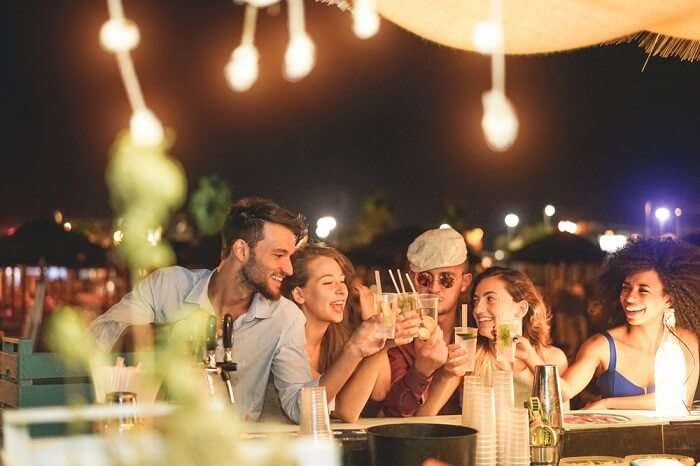 Battambang is located in Cambodia. It is the 2nd largest city of Cambodia. Cambodia is renowned for tours, trekking, holiday trips and much more. Battambang is an attraction in Cambodia for various activities like trekking, places to see and also its nightlife. Here we will discuss the nightlife in Battambang Cambodia and how one can enjoy.
Battambang is located along the side of River Sangkae. The tranquillity of this river can be seen in all the elements of Battambang. It is especially reflected in Battambang Nightlife. Battambang is filled with many low key bars, a couple of romantic places like rooftop bars and chilled out places near the river. Battambang Nightlife is famous for the clubbing scene. Here we have listed 8 happening places you should visit when you plan to trip Battambang.
7 Places To Enjoy The Nightlife In Battambang
There are a number of bars and drinking spots which adds shinning to the nightlife of Battambang. The best nightlife in Battambang could be experienced at these places. Check them out!
Here Be Dragons
Riverside Balcony Bar
The jewel in the Lotus Bar & Gallery
Vintage Wine Bar Meeze
Buffalo Alley
Smokin' Pot on the Rooftop
Madison Corner
1. Here Be Dragons

The first destination in the list of bars is Here Be Dragons. It is considered to be one of the liveliest hostels in the whole Battambang. A person should surely check out this place. It is a bar where a person could prove his/her worth by slaying the dragon in The Dragon Drop. It is the most famous drink in the bar. A person who succeeds is remembered, and a person who fails is given the infamous chili shot to drink. The bar even has a large garden and terrace to chill under the light of the sky by sitting and relaxing in the bucket chairs. The atmosphere in the bar is vivacious and full of energy.
Location – 159 D, Krong Battambang, Cambodia
Must Read: 9 Peachy Things To Do In Battambang, The City With The Bamboo Train!
2. Riverside Balcony Bar

The next stop at the bar is when we will be chilling on the banks of the River Sangkae. The name Riverside Balcony Bar is perfect for it because it is placed on the bank of the river and it also has a balcony. These features make it an ideal bar for Battambang nightlife. It is located in an old rustic wooden house. This bar is well known for its mellow vibes which are, and it is considered to be an excellent spot for a sundowner. It serves with top-notch pizzas which are renowned in Battambang.
Location – Road No 1, Krong Battambang, Cambodia
3. The jewel in the Lotus Bar & Gallery

This place is a combination of the bar as well as a gallery. A person could sip the cocktails as well as enjoy the culture of Battambang. This bar has an art gallery which displays the works of many artists. It is an incredible place, and it helps a lot of young and fresh artists who are talented to grow and also present their work in the Jewel in the Lotus Bar & Gallery. It has a huge collection of wine, beer, cocktails, and even cider to choose from. Cider is compared to Mewtwo in the adventures of Pokemon because cider is very rare to find in whole Cambodia. Lotus has popular movie nights. They display various documentaries on Thursday, and a blockbuster film is screened on Saturdays.
Location – Road No 1, Krong Battambang, Cambodia
Suggested Read: 6 Mesmerizing Places To Visit In Battambang To Enjoy A Thai Vacation On Budget!
4. Vintage Wine Bar Meeze

Vintage Wine Bar Meeze has the best class among this whole list. It is a great place to relax and also an excellent spot to perch and to spend the entire night chatting. Battambang is the rice producing city, and it is the capital of Cambodia. It is the major producer of rice in the whole of Cambodia. This place resembles that Battambang is a major producer of rice. There is a local rice wine which tastes fantastic. It is a great experience. If a person is not interested in trying the rice wine, then don't get disappointed. There is a stock of various other drinks, cocktails, and juices of different brands which a person would like to try.
Location – 5 Num 84 Street 2, Battambang, Cambodia
Suggested Read: 10 Cambodian Street Food Everyone Must Try On Their Trip
5. Buffalo Alley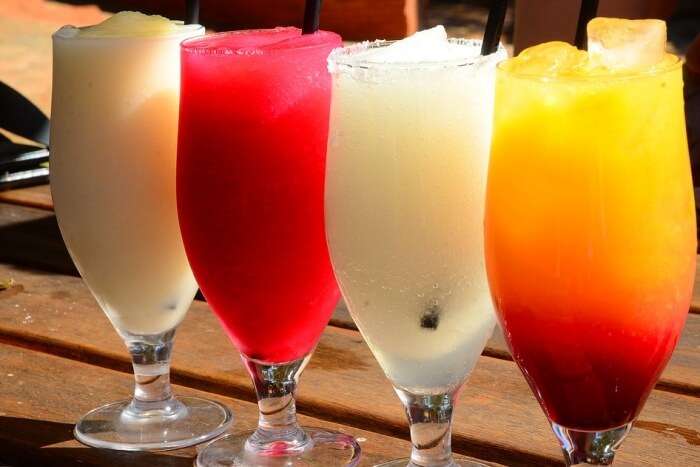 This drinking spot is like a home for people. The bar mostly has a young crowd with a lot of energy, and this creates a lively atmosphere in the bar. The tables are filled with German-style beers and also Angkor draft beers of 50 cents. The usual timing of this crowd is from 4 to 7 pm. As time passes, the lights which are hanging from the ceiling glow like a fairy and the place becomes impressed with the pieces of artwork in the place. There is an excellent karaoke rooftop bar which is located upstairs. The famous show 'Friends' is played the whole day on the TV in the karaoke which is placed upstairs. It makes a person think like he is sitting in his house on the sofa and enjoying the company of Joey, Chandler, Rachael, Monica, Ross, and Phoebe.
Location – Road No 1.5, Krong Battambang, Cambodia
Suggested Read: 10 Top Churches In Cambodia That'll Add More Bliss & Beauty To Your Trip
6. Smokin' Pot on the Rooftop

By hearing the name, a person might be thinking that Smokin' Pot on the Rooftop would be something like hazy herbs under the sky which is studded with stars or some weirdly shaped bongs. But this is not the meaning. This is a place which brings the Cambodian restaurants and the world of education together. The Smokin' Pot is of fantastic food, tasty treats, and aromas of various recipes. The newest addition to the Battambang nightlife is Smokin' Pot, and people love it very much. There is a great variety of cocktails to choose from while sitting in a place like heaven.
Location – 1 Street 121, Krong Battambang, Cambodia
Suggested Read: 10 Most Romantic Places In Cambodia That Will Spoil You Both For Life!
7. Madison Corner

This place is doing an excellent job of bringing the culture of Pub to the nightlife of Battambang. This place is located on the corner of two junctions, and there is a lot of places for the people to even sit outside as there is a lot of tables kept outside the place. It is the perfect place to enjoy a glass full of pineapple palm wine and even a pitcher of beer. The usual time is from 4 pm to 7 pm, but it will depend on the number of customers. If there are more customers after 7 pm also then they keep the place open for a little longer time.
Location – Road No 1, Krong Battambang, Cambodia
The Battambang girly bars are for tourists who wish to explore the wild side of Battambang. With strip clubs and dance bars, the Battambang Nightlife is famous in the whole Cambodia for this business. These bars are also known as hostess bars.
Further Read: The 8 Best Museums In Cambodia For An Insight Into The Country's History
Battambang Nightlife is great when one tries different bars and restaurants here for both food and drinks. Battambang is an excellent place to experience the nightlife. So if a trip to Vietnam is on cards, then visiting Battambang should be on your list too.
---
Looking To Book An International Honeymoon?
Book memorable honeymoon on TravelTriangle with 650+ verified travel agents for 65+ domestic and international destinations.
---