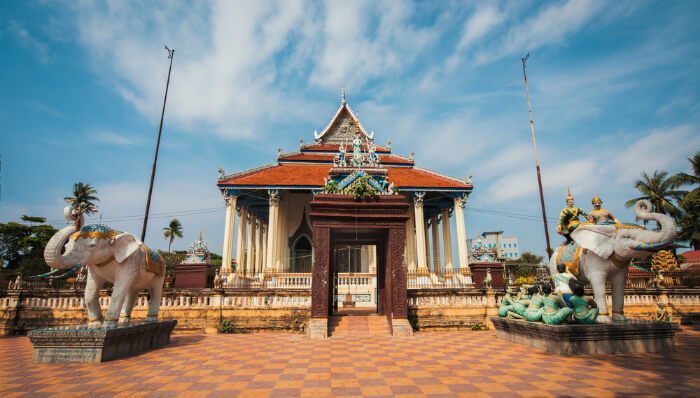 Battambbang is a province with strong historical importance. This province was founded in 11th century. It is a connection of Thailand, Laos. Vietnam and the rest of the country. Battambang is also the largest producer of rice in the country. Quite evidently all these mount up to many places to visit in Battambang.
As a piece of history, this place is filled with evidences that direct travelers to understand what might have happened in the past.
Places To Visit In Battambang
Battambang is one of the oldest cities in the country, this makes it very interesting for all those travelers who love to understand the past. The city also has a few quirky places to visit in Battambang.
1. Battambang Bat Caves
Cambodia is house to many bats. The Battambang Bat Caves are 11km away from the main city. The best time to go there is during sunset. During this time travelers can see thousands of bats flying out of the cave. It is a good idea to carry cameras, to capture this moment.
Location: Phnom Sampeou, Battambang 02000, Cambodia
Entry Fees: Free
Must Read: 10 Most Romantic Places In Cambodia That Will Spoil You Both For Life!
2. Battambang Crocodile Farm
There is a crocodile farm which is surely a must place to visit in Battumbang. This farm is built along the river and is a breeding ground made to breed baby animals. It is surely one of the more quirky spots in Battanbang. The best time to visit here is early morning.
Location: Phum Chrey Kaong, Battambang
Entry Fees: INR 150/- per person
3. Wat Banan Temple
These are ancient ruins of the old city of Battambang. There are many things that stand out in these ruins. One of the things that stand out the most is a temple that is situated on a hill. Although the temple has around 358 steps uphill yet it is surely worth it as it gives a peak at the architectural styles of the ancient times. Opening hours are 7am to 7pm.
Location: 118 Street 3, Battambang 02360, Cambodia
Entry Fees: INR 250/- per person
Suggested Read: 10 Most Popular Festivals In Cambodia: An Insight Into Its Rich Culture
4. Wat Ek Phnom
This temple is one of the major aBattambang point of intrest for the travelers. The temple was made in 13th century during the rule of Suryavarman I. One of the most notable things of this temple is the huge Buddha that is placed in the middle. Many popular celebrations alo take place around this temple.
Location: Battambang, Cambodia
Entry Fees: INR 150/- per person
5. Mrs. Bun Roeung Ancient House
Mrs. Bun roeung Ancient House is a very old house that is preserved over the years in Cambodia. It is a great way get a peek at the Cambodian culture and give a travelers vital knowledge about how the people of Cambodia have evolved. One thing to keep in mind is that the owners of the house have to be informed on a prior notice if anyone wants to visit this place.
Location: 800 St. | Vat Kor Village, West River Bank, Battambang 02000, Cambodia
Entry Fees: Free
Suggested Read: 5 Best Trails For Hiking In Cambodia To Experience & Enjoy It To the Fullest
6. Damrey Sor Pagoda
Damrey Sor Pagoda is made right in the heart of the city, which makes it easy for the travelers to visit this place. This structure is a architectural marvel and young to old every body enjoys this place. This is one of the best places to visit in Battambang. If travelers come during Khmer New Festivities they can also witness the local festival that happens every year.
Location: Krong Battambang, Cambodia
Entry Fees: Free
Further Read: 7 Best National Parks In Cambodia For Wildlife Enthusiasts And Nature Fanatics
Are you looking for a place that is not very expensive yet different then Battambang is the place for you. Enjoy the quirky features of this province with the completely customizable Cambodia holiday packages with TravelTriangle.
Comments
comments