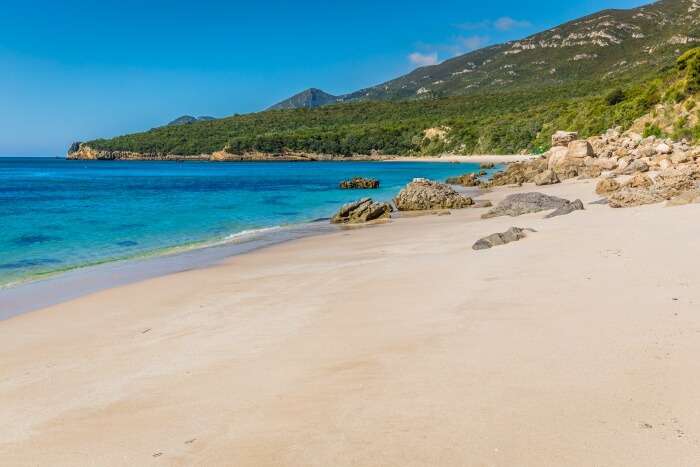 Located next to the Atlantic Ocean, Portugal benefits from the sea, including 956 kilometres of beaches (600 miles) and Lisbon is flanked by some of the world's most spectacular shores. Visit in summertime and you will see bus stops all across the city crowded by bathing suit wear, parasols, and tourists patiently waiting for a ride to some of the nearest sand stretches.
Lisbon has been blessed as a European capital so close to sandy beaches. Beaches near Lisbon are worth a visit and shouldn't be missed out if you are looking for a laidback trip.
10 Best Beaches Near Lisbon
Although the waters in the south of the country (Algarve) are not as warm, the Lisbon coastline boasts stunning beaches ranging from cosseted coves to kilometres of dune -backed sand. Most of them are spotless and fly the Blue Flag of the European Union for brilliance and perfect for a sunny day. The people of Lisbon usually go to the beach every opportunity they have, on holidays, evenings or even for an hour and a half after work, even in the colder months, if only to look out at the sea.
Portinho da Arrábida
Sesimbra (Praia do Ouro and Praia da Califórnia)
Carcavelos
Guincho
Tróia
Costa da Caparica
Tamariz
Praia de Galapos
Praia da Figueirinha
Praia dos Galapinhos
1. Portinho da Arrábida

Dark blue waters like these can be anticipated from the Algarve, but closer to the capital, they are a wonder. This first location in the Serra da Arrábida National Park invites visitors to don trainers, explore the staggered topography and unwind on the pristine white sand shores.
To get to this slice of heaven is pretty easy and only a € 2 – 4 bus ticket from Lisbon Oriente station to the park is required. If you feel daring, walk the rest of the way; otherwise you are advised to take a taxi.
Must Read: 10 Castles In Lisbon That Look Straight Out Of Your Dreams
2. Sesimbra (Praia do Ouro and Praia da Califórnia)

The town of Sesimbra is located in the Serra da Arrábida National Park where you can find some lovely beaches to toss your towel. The Praia do Ouro (Gold Beach) and Praia da Califórnia (California Beach) are two of the most important " town beaches.
Don't go surfing here, there are other locations with bigger waves, but visit the beaches of Sesimbra if you want to paddle and decompress. It is also advised that you try seafood in one of the regional eateries on the beach, as this small village has a great reputation for its fisheries.
3. Carcavelos

If luxury is more valuable than size, visit Carcavelos; this relatively tiny beach is about 23 kilometers from the town (depending of course) in the general direction of Cascais. It can be easily reached by simply hopping on the ferry (a one-way ticket costs less than € 2), so in summer months Carcavelos gets very busy and it's commonplace to see friends and families playing water sports.
The beach bars in Carcavelos are also busy during the summer months of Lisbon. If you drive to Carcavelos, combine your trip with a further stop just north in Parede, yet another small beach area, to get a taste for the coast in front of Cascais.
Suggested Read: 9 Best Churches In Lisbon That'll Make Your Portugal Holiday More Memorable
4. Guincho

Care for bigger swells and nature's protected environment? If so, Guincho Beach is for you, next to the Sintra National Park. It is known to be overcast, so it can be hard to sleep under the sun's rays which may peel your skin, but it is a perfect place to enjoy water sports.
Guincho is not the quickest public transport beach to visit and needs a stop at Cascais before journeying further, but it is a short commute by car. And a car is the way of travelling when you lug around surfboards or other water-based equipment.
5. Tróia

How does it sound, a weekend outside the capital, flanked by unspoiled sand and playgrounds? Tróia is not the finest venue to frequent in the morning or in the afternoon, as it takes a little effort to approach it, but it is a marvellous place to stay overnight.
Summarised as a "resort-style escape", Tróia is 18 kilometers from a peninsula that takes more than an hour from Lisbon.
Suggested Read: 10 Secluded Beaches In Lisbon Known For Their Stunning Landscapes
6. Costa da Caparica

Costa da Caparica, a coastal town located next to Almada, is directly across the Tejo River from Lisbon. The beaches are amongst the most pleasant from the capital and often compete, for the adulation of the local people, with the beaches on the way to Cascais.
Jump on a ferry from Cais do Sodré on a more picturesque path, ride on a bus or drive if you have a vehicle; Costa da Caparica is not hard to tour and can be congested in summer whilst it is calm off-season. Sunbathers are some of the most common travellers at the beaches of Costa da Caparica, as are young folks and families.
7. Tamariz

In Tamariz, the swells are not the only view you will have, because they are situated at one end of a medieval castle and adjacent resorts. In general, it's one of the most pristine beaches in chic Estoril. If you want to visit beaches near Lisbon by train, then this is the place for you, as on the way to Cascais, it is a just jump from the train.
If you're not worn out on a day of sunbathing, visit the Estoril Casino for drinks and food.
Suggested Read: 10 Ancient Places To Visit In Lisbon To Explore The City Like A Local!
8. Praia de Galapos

Galapos Beach is an absolutely stunning beach located right in the incredible Arrábida Natural Park, shielded by strong winds from its wonderful cliffs. The beach is ringed by nature, trait of the gorgeous mountain of Arrábida, with lavish grasses that almost ends in the sea.
9. Praia da Figueirinha

This beach is ideal if you want to experience the water but don't really admire the waves. The waters are always gentle. So you can enjoy swimming or teach your kids to swim. The Praia da Figueirinha is one of Lisbon's finest beaches. It's also in Setúbal. In addition, the seawater is so clear that you can see some fish that your children will enjoy. Take your kids to Praia da Figueirinha and educate them about how to restore and safeguard our environment.
Suggested Read: Shopping In Lisbon: 10 Irresistible Places For Your Next Shopping Spree!
10. Praia dos Galapinhos

The sand is fine and white here. Anybody Who gets there is enthralled by this place's beauty. As the accessibility to the beach is somewhat difficult, it assured that the place is well maintained. Forget the tennis flip flops and bring some tennis shoes to the beach because you're going to have to go rapidly downhill. However, Praia dos Galapinhos becomes more renowned every year and people become more daring.
So, it can get congested in summer. June and December are the best summer months for exploring this dream beach.
Further Read: 10 Best Hostels In Lisbon For Living & Exploring The City With Ease!
Breathe in the fresh Atlantic air and let your troubles melt away as you go on a trip to Lisbon. Though these beaches may not have the commercial advantages of other popular beaches, their unspoiled naivety has its own charm.
---
Looking To Book An International Honeymoon?
Book memorable honeymoon on TravelTriangle with 650+ verified travel agents for 65+ domestic and international destinations.
---