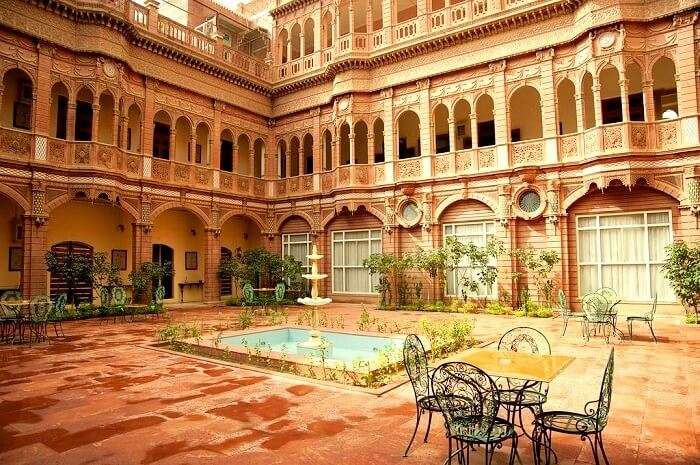 An adventure to the sand dunes of Rajasthan is a once-in-a-lifetime adventure that should be enjoyed with the best hotels in Bikaner to choose from. Make the full use of warm Rajasthani hospitality as you witness a beautiful town surrounded by the sands of time in epic sub-Saharan terrain.
Such is the magic and allure of Rajasthan that an even a city established in the middle of the harsh and arid Thar Desert has an alluring appeal to tourists from all over the world. Often regarded as the less glamorous option of desert adventure in Rajasthan, Bikaner is an unexplored gem off the mainstream track of tourism in Rajasthan.
A comprehensive look back at the best hotels in Bikaner is a testament to the fact of how dynamic, unique, and unforgettable a vacation in this sandy paradise can become if the right kind of accommodations is provided to travelers who are keen on exploring this city.
1. Narendra Bhawan
If we talk about all the hotels in Bikaner city, Narendra Bhawan would clearly shine the brightest amongst all the good hotels in Bikaner. This hotel is an interesting themed hotel that talks about the story of His Highness Narendra Singh Ji, the last reigning ruler of Bikaner.
The whole place is decorated and designed in such a fascinating way, that it reveals each and every small and interesting aspect of the king's life in a dramatic and mysterious way. If all the 5-star hotels in Bikaner were a movie in itself, then Narendra Bhawan would definitely win the Oscar.
Tariff: INR 9,500 per person
2. Hotel Raj Vilas Palace
Out of all the budget hotels in Bikaner, Raj Vilas Palace stands out to be the most popular amongst the lot. The key to this hotel's popularity is how they get the basics right and make sure the primary needs of the guests are always taken care of. Sometimes an accommodation being neat, efficient, and friendly goes a long way in winning over the hearts of travelers on a vacation.
At this hotel, travelers can ask the staff to organize jeep safaris or traditional dance performance by local artists at very reasonable prices.
Tariff: INR 2,300 per room on twin-sharing basis
3. Gajner Palace
Built by His Highness Maharaja Sir Ganga Singh of Bikaner on the banks of a beautiful lake in Bikaner, Gajner Palace is a beautiful heritage hotel that forms a part of the long-treasured history of Bikaner. It is one of the best hotels in Bikaner for travelers who want to explore the hidden gems of the city of a hotel that was erstwhile a palace for kings.
Tariff: INR 4,600 per room on twin-sharing basis
4. Laxmi Niwas Palace
Regarded as one of the most popular 5-star hotels in Bikaner, Laxmi Niwas Palace is a luxury heritage hotel built in the heart of Bikaner. The epitome of luxury, royalty, and grandeur- Laxmi Niwas Palace has a rich history spanning over 100 years of hosting larger than life personalities and influential people around the world throughout the course of history.
As roam the corridors of the palace, feel free to gaze and look in amazement at the rare artifacts, collectible items, or paintings hanging on the walls inside the hotel that are a reminder of the golden era of Bikaner.
Tariff: Starting from INR 6,200 per room on twin-sharing basis
5. Heritage Resort
Covering around 11 acres of space on the outskirts of Bikaner lies this unique and authentic rural experience for travelers to experience. Counted amongst the best hotels in Bikaner for an authentic cultural experience, enjoy the traditional Rajasthani hospitality being surrounded by unspoiled and unfiltered mother nature.
Tariff: INR 3,500 per room on twin-sharing basis
6. Vesta Bikaner Palace
Experience the glory and charm of Bikaner under the moonlight at one of the best hotels in Bikaner. Vesta Bikaner Palace is a perfect accommodation for travelers who are visiting Bikaner on a honeymoon or a romantic trip with your better half. If one had to describe this hotel in a single word then that would definitely be- classy.
Built as a contemporary masterpiece in the desert city of Bikaner, the architecture of this marvelous hotel is built in traditional Rajasthani style and made to resemble a glorious palace. The interiors are superbly done with chandeliers, paintings, and decorative ornaments that highlight the beauty of the surroundings.
Tariff: INR 3,600 per room on twin-sharing basis
7. The Lallgarh Palace
Another heritage hotel in Bikaner that was constructed initially as a palace by a Maharaja Bikaner, The Lallgarh Palace has been passed on from more than a century to eventually transform into this lovely work of art and craftsmanship.
Lallgarh Palace is unique in its construction because of the at the time when it was constructed, it was a rare peaceful collaboration of Indian and British ideas that led to the completion of this palace deep into the Thar Desert. Designed by a British architect with the help of Indian craftsmen, this hotel offers a rare mix of Rajasthani and Victorian architecture in its premises.
Tariff: INR 5,500 per room on twin-sharing basis
8. Hotel Bhairon Vilas
Probably one of the oldest and the best hotels in Bikaner, Bhairon Vilas is a building constructed in the 15th century by Rao Bika Ji. A lot of effort and groundwork has gone into maintaining the old-world charm of the property by filling the property with antique showpiece, decor, and furniture. Another thing that has been kept in mind while maintaining this place is the greenery which adds the feeling of being in an oasis in a desert
A rooftop restaurant, charming coffee bar, and a beautiful garden have been built inside the premises to keep the visitors engaged during their stay in Bikaner.
Tariff: INR 1,600 per room on twin-sharing basis
9. Maharaja Ganga Mahal
What at first seems like yet another heritage hotel in Bikaner, is actually a long-forgotten tale of a Maharaja and the golden era of Bikaner. Built as a palace that was home to many Maharaja's of yesteryear, Maharaja Ganga Mahal got renovated and opened its doors to travelers who would like to experience royalty first-hand in Bikaner.
The divine spread of royalty can be experienced while dining in the splendid Darbar Hall, watching folk dancers perform the traditional Rajasthani dance and live in rooms furnished luxuriously.
Tariff: INR 4,700 per person on twin-sharing basis
10. Hotel Bhanwar Niwas
A famous haveli in Bikaner of the bygone era of the Rampuria family, Bhanwar Niwas is a testament to the quality and skill of the craftsmen in Bikaner. One of the best hotels in Bikaner for travelers who wish to live in a replicated medieval surroundings, this hotel leaves no stones unturned to bring back the golden age of Rajasthani palaces and Havelis.
As the hotel was constructed during the latter half of the British rule over India, it won't be hard for travelers to notice a beautiful amalgamation of European and Indian style in the architecture of this timeless beauty.
Tariff: INR 5,900 per room on twin-sharing basis
The best hotels in Bikaner are awaiting your arrival, it will certainly be hard to resist an action-packed desert adventure to the sand dunes of Bikaner. Book a Rajasthan tour package with TravelTriangle and bask in the royalty of an unforgettable vacation.