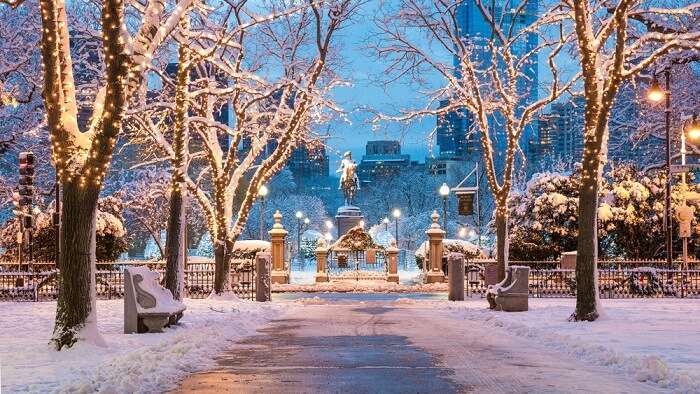 When the mercury plummets, it evokes a feeling of wintry bliss that is all about fun, frolic, and fervour. The excitement of the Christmas celebration accompanied by New Year's Eve adds immense charm to winters. From snow-capped mountains to invigorating snow activities, winter brings us to a new world altogether. Doesn't it sound like a perfect recipe for a rejuvenating winter vacation?
There are hoards of best places to visit in winter in USA to elevate your travel game in this beautiful destination. While the petite mountain town, Whitefish welcomes you to a snowy wonderland, the ultra-urbane New York City allows you to embrace the holiday vibrancy. Winters make an ideal time for a USA trip. To kick start your new year by satiating the hunger for wanderlust, you can spend your winter vacations in USA while indulging in cherishable experiences. Upon visiting these handpicked abodes, we bet you'll come back with more blood running into your veins.
8 Best Places to Visit in Winter in USA
There's no denying the fact that winter is the most tempting season when the urge for travel rises like a phoenix. We have rounded up 8 beautiful places to visit in winter in USA that will surely lend your mind, body, and soul an awe-worthy treat.
1. North Pole, Alaska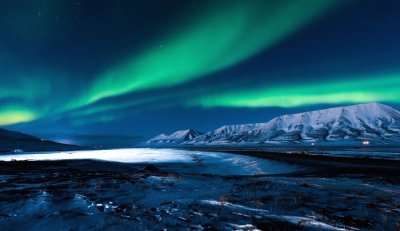 If your heart pumps for snow, frozen lakes, and paradisiacal settings, the North Pole is your ultimate haven. Here, you can witness the entire city immersed in Christmas elation that also makes it one of the best places to visit in December in USA. To add to your delightful experience are the northern lights that impart you with a once-in-a-lifetime experience. With a population of only 2,740, Alaska is one of the happiest places in the USA.
This quaint town is fully lit during Christmas when the annual 'North Pole Christmas In Ice Contest' and The 'Winter Festival' take place. While the contest welcomes ice sculptors to flaunt their craftsmanship, the festival gathers people for exciting activities and events. Besides this, Santa Claus House is another element that draws the attention of travellers. This huge store is crammed with aisles showcasing Christmas decorations and also a real Santa who calmly listens to everybody's Christmas wishes.
Famous for: Northern lights, frozen lakes, Christmas festival
Things to do: Partake in Winterfest, buy Christmas ornaments from Santa Claus House, witness northern lights
Places to visit: Santa Claus House, Sean Kurdziolek Portraits and Gallery, Chena Lake Recreation Area
16 Food Festivals In USA Every Food Lover Should Attend In 2022
2. Whitefish, Montana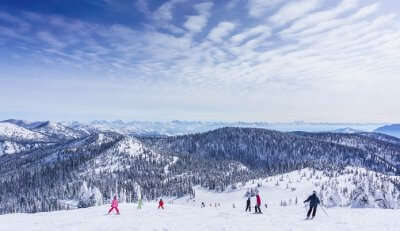 Underlined for its natural beauty, Whitefish is a small mountain town where oodles of tranquillity prevails. The place is always dipped in a complete zest to treat visitors with nature's delight. So, if your soul desires to loosen up in the lap of nature, spare some of your vacation days for this destination. Whitefish enjoys the vicinity of the emerald peaks of Glacier National Park as well as hanging valleys. Besides this, the lush alpine meadows, majestic mountains, soulful lakes, and glistening rivers exude utmost charm to set your mood.
While being among the most beautiful places to visit in winter in USA, Whitefish has got numerous enjoyment opportunities for one and all. This quaint town features "Whitefish Mountain Resort" where a myriad of winter activities like snowboarding and skiing are offered. If thrill is not what you fancy and you're more inclined towards art, then head to Whitefish Theatre Company where remarkable theatre performances can be enjoyed. Moreover, this is the perfect place offering the best of food, art, and culture.
Famous for: River, mountain views, hanging valleys, culture, Christmas celebration
Things to do: Skiing, snowboarding, hiking, fishing, sightseeing
Places to visit: Whitefish Lake State Park, Whitefish Mountain Resort, City Beach, Flathead National Forest
12 Incredible Places To Visit In USA In Summer 2022 For A Magical Journey
3. Boulder, Colorado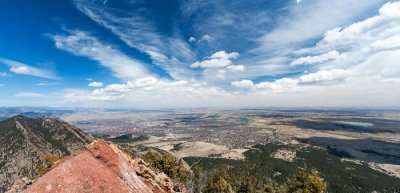 Widely renowned as "the city nestled between the mountains and reality," Boulder lets you enjoy the best of both worlds. With striking vistas of rocky mountains, contemporary lifestyle, and tremendous opportunities for winter activities, the enjoyment options in Colorado are multifold. While Flatirons enthrals you with its mystical slabs of sandstone, the Museum of Boulder allows you to peek into the history and present of the city. And, for all food connoisseurs, Boulder Farmers' Market can be indeed touted as a second home where a wide range of locally produced cheese, eggs, meats, herbs, wines, etc. are offered.
Another marvel in the city is the Boulder Dushanbe Teahouse where the dexterity of craftsmen from Dushanbe can be witnessed in every corner. The awe-inspiring paintings and carvings are something you would love more than your tea and snacks here. All this and so much more make Boulder one of the best places to visit in winter in USA where families, as well as couples, can get a dose of entertainment.
Famous for: Majestic views, adventurous activities, Winter Craft Beer Festival
Things to do: Biking, beer tasting, winter hiking, snowshoeing
Places to visit: Pearl Street, Boulder Dushanbe Teahouse, The Flatirons, Museum of Boulder
10 Hot Springs In USA Which Will Give You Relaxing Spa Like Experience Amidst The Nature!
4. Vail, Colorado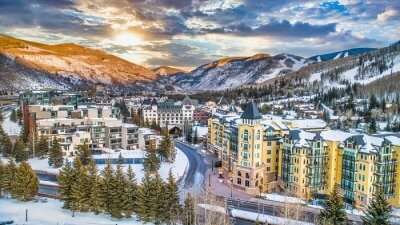 Do you always go gaga when there's mention of winter sports? If yes is what your soul is screaming, make plans for this winter paradise right away. Enhancing the beauty of Colorado, Veil also imparts its visitors with a quintessential snow experience. From trying hands at skiing on the 5,289 acres of iconic terrain to relishing upon exotic delicacies at Gourmet Eats and other eateries, Vail is equipped with fun and mind-relaxing opportunities.
Without a shred of doubt, you can expect the best winter vacations with snow in USA while visiting this renowned ski resort. When it comes to snow activities, the destination is not only confined to skiing or snowboarding. Other snow adventures like sleigh rides, snowshoeing, snowmobiling, and snow tubing equally spoil you. Skier or non-skier, you are bound to revel in the ecstasy of Veil.
Famous for: Ski resort, snow activities, exquisite hotels, dining experiences
Things to do: Skiing, ski-biking, attend winter festivals, snowboarding
Places to visit: Vail Mountain, Vail Valley, Betty Ford Alpine Gardens
Hang Gliding In USA: Swoosh Through The Air & Feel The Adrenaline Rush In 2022!
5. Death Valley, California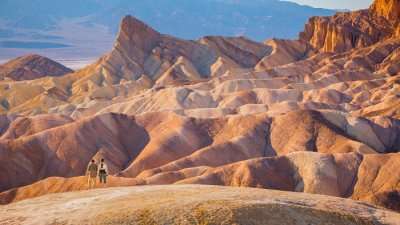 Conjuring up the thoughts of fascination and mystery, Death Valley is a picturesque destination where nature meets adventure. Bragging magnificent mountains, barren salt flats, mystifying sailing stones, rainbow-coloured mountains, and more such wonders, this place draws the attention of travellers from all over the globe. Although the temperatures are always soaring high here, winter makes the best season to witness the unusual elegance of this place. While being a top-notch national park in USA, Death valley covers 3,000 square miles and takes pride in being the driest, hottest, and lowest point in North America.
Don't underestimate it as a desolate wasteland as once you explore this place, you will enter a whole new world of adventure and nature's beauty. Doing justice to its name is Artist's Palette, an area that puzzles visitors with its colourful hills. Another marvel is The Racetrack where you can gaze at stones sailing amid the dried mud bed. There's nothing about Death Valley that leaves you unamazed. So, if you are done exploring the winter wonderlands, and seeking a warm place to visit in winter in USA, you know where to sail the boat.
Famous for: Majestic views, hiking trails, hot & dry weather conditions
Things to do: Hiking, nature photography, go on a long drive
Places to visit: Mesquite Flat Sand Dunes, Badwater Basin, The Racetrack, Zabriskie Point
Mountaineering In USA: A Detailed Guide To Have An Exhilarating Experience
6. New York City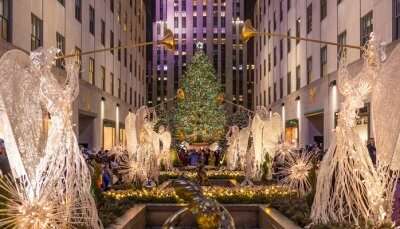 A picture postcard of a flashy lifestyle and ultra-modern attitude, New York is always on travellers' bucket list. When planning a trip to this city, ensure to make it during winters which is just after thanksgiving. During this time, New York City seems to come alive straight from a Christmas movie. Glistening lights, sparkles, decorations, and a blanket of snow all over the city, New York is festooned with utmost Christmas celebrations. From enjoying ice skating in central park to witnessing the 75 ft tall Christmas tree at Rockefeller Center and from satiating the shopaholic in you at the Fifth avenue to dining at the top-notch restaurants, New York in winter proffers you unparalleled perks.
The newly-built attraction, Radio City Music Hall that is embellished with Art Deco interiors is another treat for travellers. If planning to visit here, don't dare to miss the "Christmas Spectacular Show " that features Radio City Rockettes dance troupe throwing marvel synced performances. These and many more enchanting elements like these make New York be among the best places to visit in winter in USA.
Famous for: Christmas celebration, winter activities, Shopping hubs, culinary experiences
Things to do: Shopping, ice skating, pub crawling, sightseeing, snow adventures
Places to visit: Pop-Up Christmas Market, Central Park, Bryant Park
Canyoning In USA For All Those Who Want To Travel Around Wilderness In 2022
7. Key West, Florida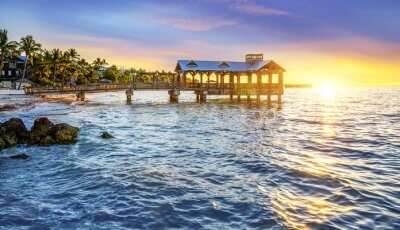 Seeking an international destination that doesn't fall heavy on your pocket? Well, Key West in Florida is your answer. Marinated in laid back vibes, Key West is the destination where you can find yourself far away from all woes and throes. Vacationers coming from all walks of life can enjoy the nightlife, watersports, shopping, and other rejuvenating experiences at this serene southernmost point in USA. For water babies, Marathon is a true haven offering numerous water activities.
Additionally, a sunset champagne snorkelling cruise is the best to indulge in snorkelling. Besides this, the upscale restaurant and cosy cafes like Prime Steakhouse, Cafe Marquesa, and Latitude's Restaurant pamper your taste buds with relishing seafood and various cuisines. The replenishing ocean breezes coupled with bright sunny days let you enjoy ultimate warm winter vacations USA. So, if you want to ditch the snowflakes and chilly vibes of winter destinations, this is your ultimate refuge.
Famous for: Water sports, dining experiences, natural beauty
Things to do: Cruising, snorkelling, dolphin watching, scuba diving, bus tours
Places to visit: Dry Tortuga National Park, Mallory Square, Dry Tortugas National Park, Key West Aquarium
12 Insightful Walking Tours In USA To Experience Its True Heritage In 2022
8. Bend, Oregon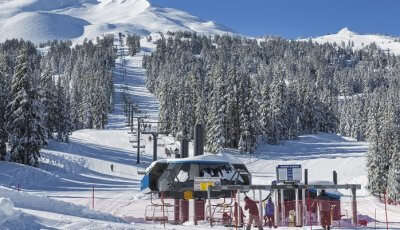 Yet another mountain town which can be called one of the best places to visit in winter in USA, Bend in Oregon is an adventurer's paradise. If you are visiting Bend in the winter months, gear up to get hypnotized by the wintry warmth of the place. The destination houses 22 breweries and an enormous area to indulge in water sports. Have an unbridled urge for snow sports? Begin your jovial holiday while visiting Mt. Bachelor and Hoodoo Ski Area that offer unparalleled skiing and snowboarding experiences. Don't fret if you are a beginner as the trainer will ward off all your worries.
Another exceptional experience is visiting top breweries in Bend and sampling a variety of locally produced beers. Devote a day to visit some of the best breweries like Boneyard Beer, Crux Fermentation Project, Sunriver Brewing Co., and Deschutes Brewery. If you wish to see the best of Bend, make sure to plan a 4-5 day trip.
Famous for: Snowsports, culinary experiences, photography spots, shopping hubs
Things to do: Skiing, hiking, biking, snowboarding, mountain biking
Places to visit: Tumalo Falls, High Desert Museum, Smith Rock State Park, Drake Park
10 Things To Do In USA That Will Keep You Enthralled Throughout The Trip!
Consider above places only a glimpse of the best places to visit in winter in USA as there are a plethora of other destinations that carry their own unique charm. Leavenworth, Midway, Anchorage, and several other winter destinations await to cast a spell on you. So, plan a US vacation this winter and enjoy a cherishable Christmas extravaganza.
For our editorial codes of conduct and copyright disclaimer, please click here. 
Frequently Asked Questions About Best Places to Visit in Winter USA
Can I visit the USA given the current situation of Covid-19?
No, as per the latest guidelines issued by the USA govt., the travel restrictions for Indians continue to remain the same. However, make sure to keep yourself updated with all the latest travel news and other happenings.
Which are some of the ideal places to visit in USA during winters?
There are a plethora of winter destinations in USA where you can indulge in a wide range of activities and memorable experiences. Some of the best places to visit in winter in USA to complete a chilly vacay include Yellowstone National Park (Wyoming), Key West (Florida) Minneapolis, Pasadena (California), New Orleans, Breckenridge (Colorado), Hanover (New Hampshire), and more.
Are there any warm places to visit in USA in the winter?
Yes, there are a few warm destinations in winters where the weather is immensely pleasant despite the warmth. Among many, some of the top-rated include Phoenix in Arizona, Los Angeles in California, Orlando, Tampa, and Miami in Florida.
Where can I spend my Christmas in USA?
There is no dearth of Christmas destinations in USA where you'll just find happiness and celebration. The top-rate places lending you the best Christmas experience include:
1. New Orleans, Louisiana
2. Charleston, South Carolina
3. Taos, New Mexico
4. Chicago, Illinois
5. Hershey, Pennsylvania
6. Aspen, Colorado
7. Jackson, New Hampshire
8. Andalusia, Alabama
Which are the best shopping spots in New York City?
Here are a few places where you can satisfy the shopaholic in you:
1. China Town
2. Fifth Avenue
3. SoHo
4. Nolita
5. Canal Street
6. West Village
7. East Village
8. Williamsburg
Is Boulder in Colorado worth visiting?
Yes, Boulder is one of the best destinations to add to your USA trip plan. From an amazing trail system to numerous adventure opportunities, this destination is a haven for thrill-seekers. Besides this, you will also find some of the top-notch breweries, cafes, coffeehouses, and restaurants where your taste buds are immensely pampered. Natural beauty is also in its full glory in Boulder and places like Flatirons, Colorado Chautauqua, Eldorado Canyon, Boulder Falls testify that.
What is the best month to see the northern lights in Alaska?
The northern lights can be witnessed any time of the year providing the conditions are appropriate. However, the dark and clear nights of the winter months which are during September to April are likely to show you the phenomenal views of aurora borealis.
People Also Read:
Places To Visit In Switzerland In Winter Places To Visit In Canada In Winter Places To Visit In Winter In Korea
Comments
comments