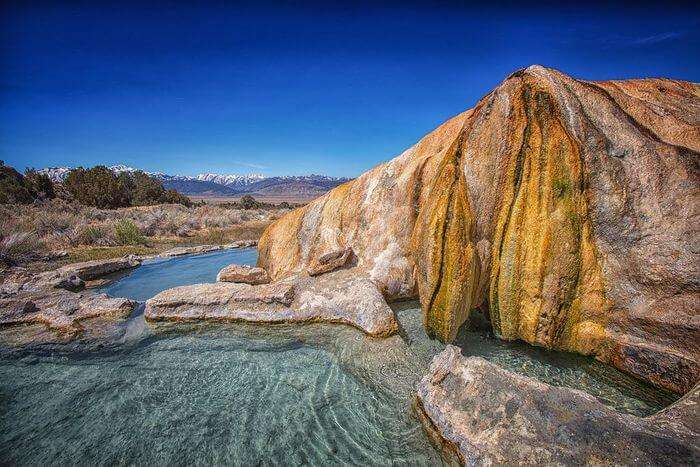 Mother Nature has blessed the United States with numerous natural wonders such as mountains, lakes, rivers, forests, waterfalls and hot springs. A hidden jewel amongst these nature's bounty is the beautiful hot springs in USA. Besides its calming effect on people, the hot springs in USA are also frequented by many for its therapeutic uses. There are many famous hot springs in USA, as a result of which, there is a steady rise in the number of resorts and spas around them.
10 Natural Hot Springs In USA
We realize you are heading out to a hot spring to be relaxed and leave behind the worries of city-life. Which is why we have curated a list of hot springs in USA. These hot springs have not yet been fully commercialized and offer the very best that Nature has to provide.
1. Baranof Warm Springs, Alaska
Image Source
Cut off from mainland America is the gorgeous state of Alaska, home to some of the most pristine hot springs known to mankind. Half a mile from the Baranof Lake, this hot spring is accessible only via floatplanes at Sitka. Visitors can enjoy this thirty-minutes flight as it offers spectacular views of the Alaskan wilderness. Walk along the trail to reach any one of the nine natural hot spring pools found here. As one enjoys his time in the pool, they can also hear the thunderous roars of the nearby waterfalls in Warm Springs Bay. This place has been hardly touched by humans and thus offers the perfect escape for tired souls.
Must Read: 10 Best American Road Trips For An Unforgettable Journey In The Land Of Enchanting Sceneries!
2. Circle Hot Springs, Alaska
Image Source
There is something about Alaska that one finds a number of hot springs sprinkled all around this great state. The Circle Hot Springs have long been used by the indigenous people of this region before being found by prospectors in 1887. Located at about a hundred miles of Fairbanks, this natural hot springs in the USA can be accessed by road as well as air. This area was once home to the now-defunct Arctic Circle Hot Springs resort and visitors can easily get permission to wander about its properties. This hot springs in the USA, best known for its mining history is actively visited by people in a quest for the undiscovered gold. There are tales that claim these hot springs are haunted by ghosts, making it extremely attractive for thrill-seekers.
3. Hot Springs, Arkansas
Image Source
The city of Hots Springs in Arkansas is famous for two things. One, being their naturally formed hot springs and the second, it was the boyhood home of former US president Bill Clinton. The Hot Springs National Park is entirely dedicated to the hot springs found here and it prides itself for being the first ever federal reserve in the United States. Visitors have literally spoilt for choices thanks to the forty-seven naturally flowing thermal springs found here. The entry to the park is free. Apart from soaking yourself in the natural springs, there are a number of other activities offered by this area such as hiking along the Sunset Trail, treating yourselves to facials or visiting the Ozark Bathhouse, which now operates an art gallery.
Suggested Read: Restaurants In Gainesville: 12 Best Restaurants For The Real Meal Affair In America
4. Warm Mineral Springs, Florida
Image Source
Being the only warm-water mineral spring in the entire state of Florida, this natural wonder at North Port attracts visitors from near and far. This water-filled sinkhole is estimated to contain about fifty-one different minerals and is one of the major reasons why people believe it has healing powers. The springs also have an interesting history, the locals believe that this was the "Fountain of Youth" that was sought by many over the years. All around the year, the temperature remains at 85º degrees Fahrenheit in these hot springs. USA East Coast is truly blessed to have these natural hot springs which also houses important archaeological sites.
5. Deep Creek Hot Springs, California
Image Source
One cannot talk about hot springs in the USA and miss out the Californian hot springs. The state is famous for its hot springs, offering respite for city-dwellers. Managed by the San Bernardino National Forest Park, these hot springs are located on the Deep Creek Fork of the mighty Mojave River. The surrounding areas of these natural springs are full of diverse wildlife and natural vegetation. Located at ninety miles from Los Angeles, these natural springs is the best escape from the hustle and bustle of city life.
Suggested Read: Have you Taken These 12 Best Fall Foliage Train Rides In The United States Yet?
---
Planning your holiday but confused about where to go? These travel stories help you find your best trip ever!
Real travel stories. Real stays. Handy tips to help you make the right choice.
---
6. Conundrum Hot Springs, Colorado
Image Source
These natural hot springs not only offers a chance for rejuvenating our bodies but also a healthy adventure to reach it. Visitors have to trek along the 8.5-mile trail to reach the Conundrum Hot Springs. In total, it offers the perfect backpacking trip for fitness-freaks and adventure-seekers. Overnight camping is allowed subject to obtaining permits from authorities and is the best way to make the most out of these natural springs. An advantage of staying overnight is that you can visit any one of the numerous nearby peaks at sunrise. The hike upwards to the springs is difficult, meaning fewer people visit it, thus making it the ideal place to enjoy nature peacefully.
7. Baker Hot Springs, Washington
Image Source
Enjoy solitude, escape to the backcountry, awe-inspiring tree canopy are the reasons why Baker Hot Springs is frequented by people. The two natural geothermal pools on Mount Baker is accessible through a quarter-mile walking path. Temperatures are around 100°-102° F throughout the year, making it a popular spring in the Northern Cascades. The pools are surrounded by natural rock formations, which also doubles up as sitting areas. These also serve as perfect spots for meditation and to absorb Nature's bounty.
Suggested Read: 15 Festivals In America That You Need To Attend In 2022 To Relish The Culture & Heritage
8. Hot Springs, Wyoming
Image Source
The Hot Springs of Wyoming is located at Thermopolis and is the second-most-famous natural wonder after the Yellowstone National Park in Wyoming. The state park houses public bathhouses, where the temperature of the hot springs is moderated to suit human needs. Visitors to these springs can also head out to other attractions such as walks on the Suspension bridge over Bighorn River, watch herds of bison being reared as well as the Legend Rock petroglyph site. The spring waters, rich in minerals has been known to attract numerous visitors over the years, from dinosaurs to present-day humans.
9. Fifth Water Hot Springs in Diamond Fork Canyon, Utah
Image Source
These picturesque hot springs are the pride of Utah as well as its best-kept secret. The pools found here vary in temperature and visitors are pleasantly surprised by the beautiful waterfall nearby. If you are a sucker for a good hot springs soak, you should not look further than these hot springs in Utah. You can reach the springs by hiking along the riverside and soak yourself in these enticing blue waters. The area around the springs is extremely photogenic, especially the multi-tiered waterfall. Head out to these springs on a weekday to avoid being crowded out by fellow hot springs enthusiasts.
Suggested Read: 14 Awesome New Year Parties In USA That You Must Be A Part Of
10. Travertine Hot Springs, California
Image Source
California again finds a mention in our list of Hot springs in the USA. The Travertine Hot Springs is the perfect place to soak yourselves into the beauty of the Sierras. Located just south of Bridgeport, these natural springs have not been touched upon by human commercialization and offers breathtaking views of the Sierra mountains. The pools are lined with grey mud, believed to have healing properties and is most crowded during the cooler months. These springs are easily accessible from Highway 395, thereby making it one of the most famous hot springs in the USA.
Further Read: 16 Food Festivals In USA Every Food Lover Should Attend In 2022
If you're craving for a relaxing getaway away from the chaotic citylife, then these hot springs are your final resort. Plan a customized USA holiday with us and create memories with your friends and family amidst the best sights of nature!
---