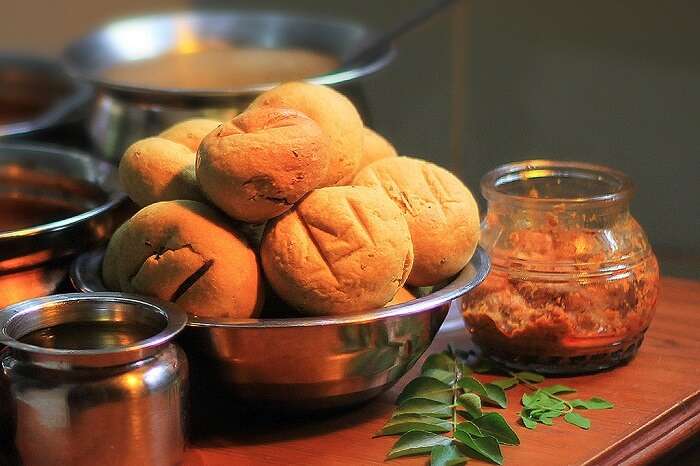 Every Indian has a weak spot for that savory street food served at the many alleys and lanes of small and big cities across the country. Udaipur is one such city that is known for its delightful varieties of street delicacies, but with a twist of the mind-blowing spices of Rajasthan that together make up the best street food in Udaipur. From Daal Baati, Mirchi Badas, to common items like Kachoris and Dabelis, there is nothing you won't find in the glittering streets of this Golden City. Don't forget to try each of these on your next trip, and we bet they won't disappoint you!
Delicious Options For The Best Street Food In Udaipur
With so much to treat your tummy with, a trip to Udaipur is imperative for all the foodies of the country who won't spend more than fifty bucks for a plate full of happiness!
Boiled Egg Bhurji
Mini Mirchi Bada
Kachoris
Bread Pakora
Daal Baati Choorma
Dabeli
Paani Puri
Pav Bhaji
Sandwiches And Maggi
Kulhad Coffee & Hari Mirch Chai Shot
10. Boiled Egg Bhurji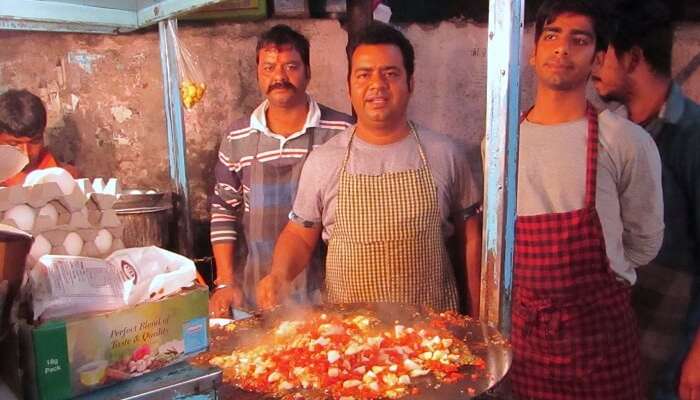 Image Source
The Egg Curry Stand in front of the Chetak Cinema serves some of the best street food in Udaipur. Their delicious plate of Egg Bhurji comes highly recommended for food lovers living in or visiting the city. We bet you'll keep coming back for more of that marvelous combination of scrambled eggs, sautéed vegetables, and a variety of spices. Make sure you don't leave the city without trying this Udaipur food speciality invented by the 'Egg King of Udaipur'.
Where: Opposite Chetak Cinema Place, Chetak Circle
9. Mini Mirchi Bada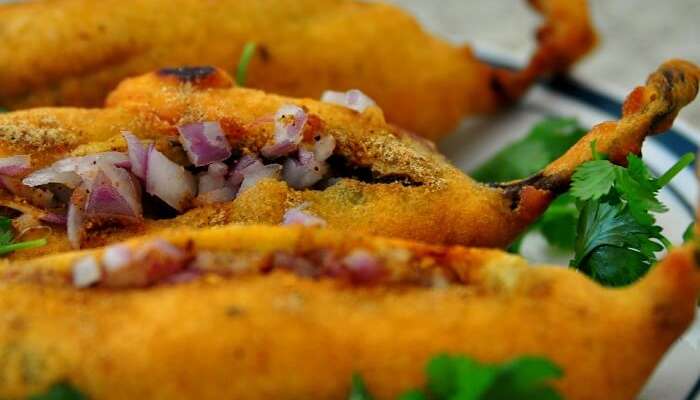 Image Source
Among the most famous street food in Udaipur is the Mini Mirchi Bada of Manak Balaji who has been making this savoury and spicy delight since 1967. Don't be surprised to find a mile-long queue of both foreigners and Udaipur's residents outside his tiny shop between 6:30 PM to 10 PM. Manak Balaji has got his own unique way of preparing these addictive Mirchi Badas and no one can copy his style! Do try these deep fried small chilies filled with potatoes, spices, and lemon juice.
Where: Bhuwana-Sukher main road, opposite Jyoti School
Must Read: Savor The Local Food Of Rajasthan With These 15 Iconic Dishes
8. Kachoris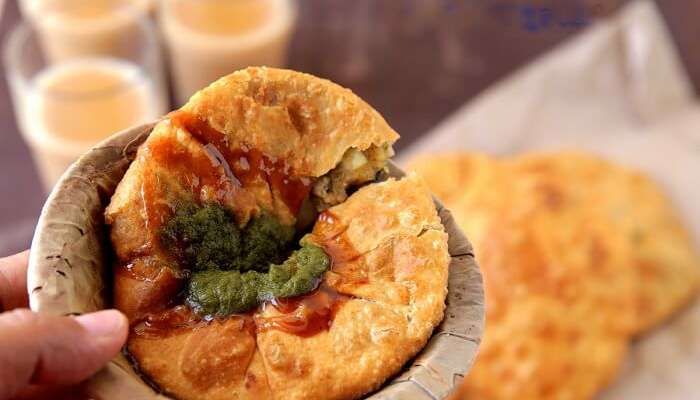 Image Source
Kachoris are not just the most famous food in Udaipur, but all over Rajasthan. These deep fried, spicy, crispy snacks come in varieties of stuffings – pulses (Dal Kachori), Onions (Pyaaz Kachori), Curd (Dahi Kachori), and more. Served steaming hot with chutney, this tempting street food is available all over the city, but for the best ones, foodies like to head to either Pratapgarh Chaat Wala outside Central Jail or Shri Lala Mishtan.
Where: Pratapgarh Chaat Wala, Outside Central Jail, Police Line Road, Udaipur
7. Bread Pakora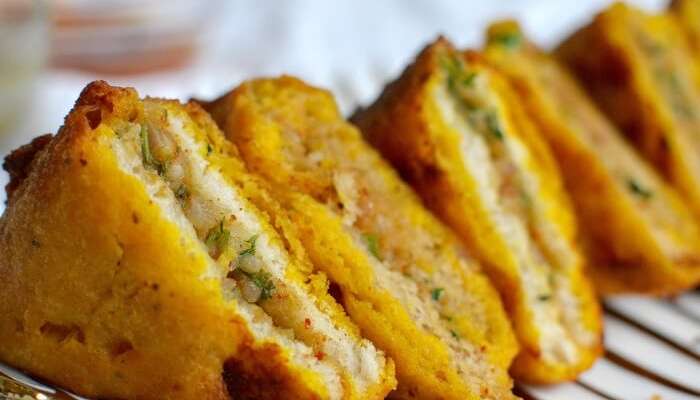 Image Source
The joy of spending an evening at Fatehsagar turns manifold the moment you smell bread pakoras in the air. Fresh, hot, and dripping with oil, the bread pakoras prepared here by Ajay Bhai are among the best street food in Udaipur. Stuffed with fried mashed potato masala, dipped in 'besan' mixture, deep fried, and served with fried salted chilies, these triangular bread slices are nothing but pure joy priced at a mere INR 10/-.
Where: Bombay Market, Fatehsagar
Suggested Read: Holi In Udaipur: All You Need To Know About This Royal Affair
6. Daal Baati Choorma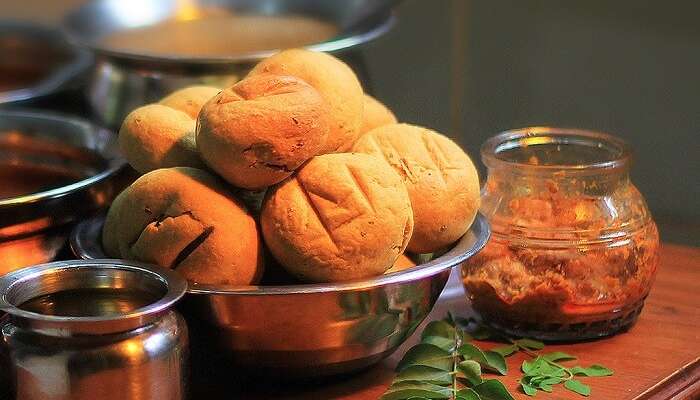 Image Source
How can one talk about the best street food in Udaipur and miss out on Daal Baati Choorma? And we're not just talking about any Daal Baati, but the popular one served at Manoj Prakash Center. An authentic Rajasthani dish, Daal Baati and Daal Poodi is available at many Udaipur food stalls, but it is here that its taste will satisfy your taste buds, and your soul! Savour a sumptuous bowl of daal served here with 6 to 7 poodis or baatis along with free onions and lemons all at just INR 30/-.
Where: Manoj Prakash Center, on the way to Lake Palace Road, near Gulab Bagh
5. Dabeli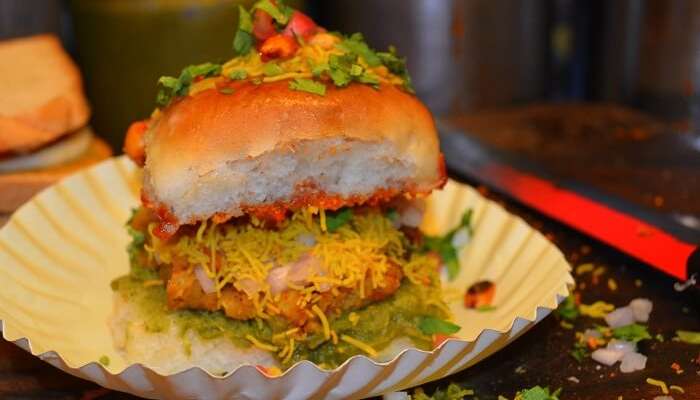 Image Source
Other than Rajasthani food joints in Udaipur, one will also find a variety of Mumbai's street food in the same lanes wafting of delicious delicacies. From Vada Pav's to Dabeli, you can get a taste of almost every dish of Mumbai at Shanker Ji's stall in Panchwati, one of the best places to eat street food in Udaipur. They serve these steaming Pavs fresh with fried veggies, spices, 'sev', and loads of love, all at a price of INR 20/-.
Where: Shankar's, Hitawala Complex – IInd, 1/A, Saheli Marg, Opposite Soni Hospital, Panchwati
Tip: Also try their Aloo Vada
Suggested Read: 10 Exhilarating Things To Do In Udaipur For Tourists Of All Ages
4. Paani Puri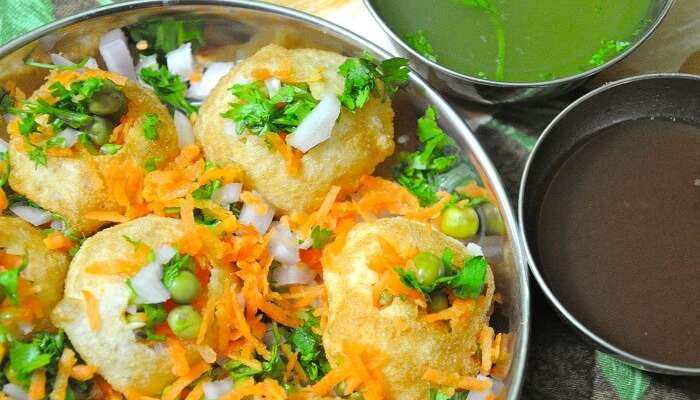 No list of the best street food in Udaipur is complete without mentioning Paani Puri, almost every Indian's favourite street food. Stuffed with mashed potato, 'chholey masala', chili flakes, tamarind juice, and served in crunchy puff pastry balls, every plate of Paani Puri (or Gol Gappas) served at Saanwariya is an ecstasy! In fact, this place is known to serve the most famous street food in Udaipur that tantalise the taste buds of visitors, leaving them asking for more!
Where: Saanwariya, Ashok Nagar Main Road, Near TRI office
Tip: Also try their crunchy and piping hot Aloo Tikki
3. Pav Bhaji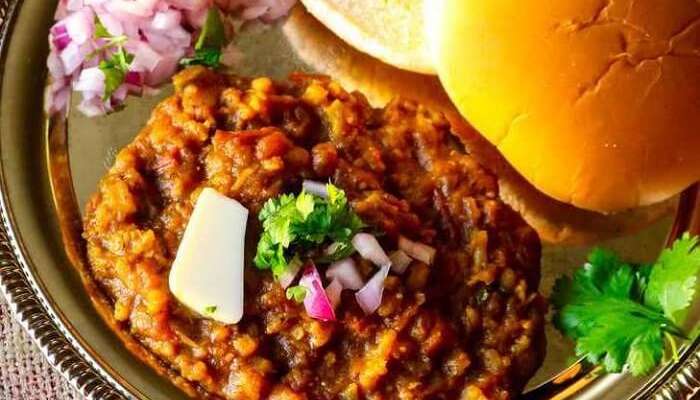 Image Source
Among the best Udaipur food, Pav Bhaji is yet another delight from the streets of Mumbai that has found its way to the alleys of Rajasthan. Pandit Pav Bhaji is perhaps the best kiosks to enjoy a plate full of spicy bhaji with buttered pavs for breakfast, lunch, or dinner. They serve the most lip-smacking Pav Bhaji in town at nominal rates. Other than Pav Bhaji, this place also offers other famous food in Udaipur like Desi Sandwich and Chowmein, but the enormous crowd before the stall is usually only for Pav Bhaji.
Where: Pandit Pav Bhaji, Opposite Town Hall main gate
Suggested Read: 11 Alluring Places To Visit In Udaipur
2. Sandwiches And Maggi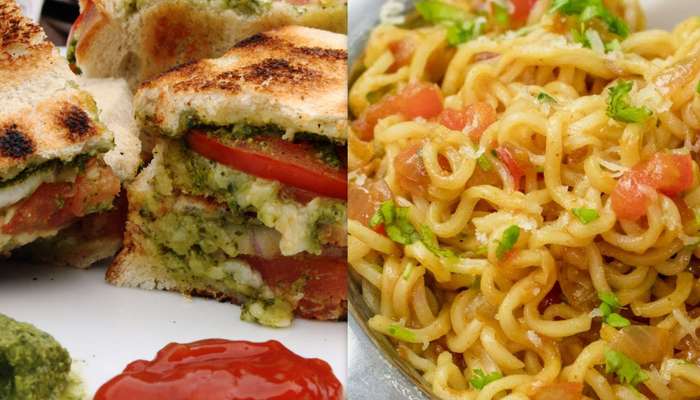 Though as simple as they may sound, the sandwiches and spicy Maggi of Bajrang Bali Sandwich in Udaipur will change your concepts of street food forever. Apart from being a famous place for hanging with your buddies, this area is also known to serve some of the best street food in Udaipur that won't let you down! When looking for some good Udaipur food to appease your hunger pangs, you can always try these extremely delicious Matar-Masala Cheese Sandwiches (INR 60/-) and steaming Maggi topped with vegetables, spices, and lots of cheese (INR 70/-)!
Where: Bajrang Bali Sandwich, Panchwati Main Road, near RK Mall diversion
Suggested Read: 13 Popular Food Festivals Around The World For Your Unconditional Love For Food
1. Kulhad Coffee & Hari Mirch Chai Shot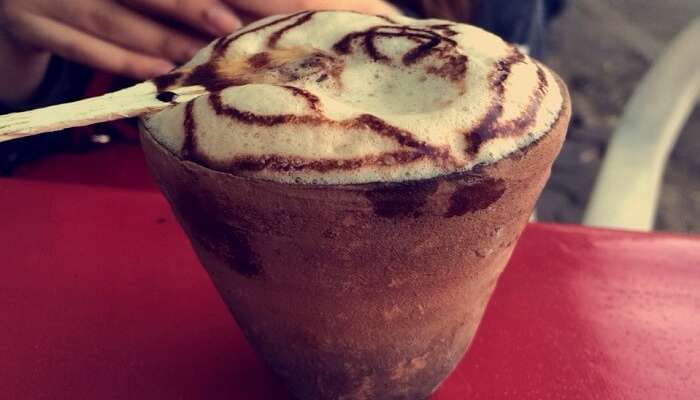 Image Source
Had enough of Udaipur food? Want to try its delicious beverages next? Try the frothy Kulhad coffee served at Vinod Fast Food or Krishna Ice Cream Parlor that will blow your senses for sure! Whipped up with chocolate sauce and chocolate powder, and overflowing out of the mud kulhad, this coffee is among the most famous street food in Udaipur, especially amongst youngsters.
If you're more of a 'chai' person, then head to Chaifeteria, a modern tea stall in Udaipur that serves 16 amazing varieties of Chai along with noodles, sandwiches, buns, and free Wifi! People swarm to this place in large numbers to try their Hari Mirch Chai Shot, Butter Cheese Maggi, and Chocolate Nutella Bun that is among the best of Udaipur food.
Where: Kulhad Coffee – Vinod Fast Food, Fatehsagar Lake | Hari Mirch Chai Shot – Chaifeteria, Hitawala Complex – IInd, 1/A, Saheli Marg, Opposite Soni Hospital, Panchwati
Further Read: 15 Indian Cities And Their Famous Dishes: A Guide For The Foodie Traveling Across India
We're sure we've given you foodies a pretty good reason to head to Udaipur. You'll be delighted to find the variety of flavours served on the nook and corners of Udaipur. So, what are you waiting for? Book your trip to Udaipur right away and savour the best street food in Udaipur on your visit. Know of any more famous Udaipur street food? Pop it in the comments below.
Frequently Asked Questions About Best Street Food In Udaipur
Q. Which are the best restaurants in Udaipur?

A. Tribute, Ambrai at Amet Haveli, Kabab Mistri, Steam Restaurant, 1559 AD, Upré by 1559 AD, and Jaiwana Haveli Rooftop Restaurant are some of the best restaurants in Udaipur.
Q. How much does Udaipur street food cost on an average?

A. The best street food in Udaipur like Kachoris, Bread Pakora, Mirchi Bada, Maggi, Samosas, Poha, and Pakode cost only around INR 50/- on an average for one person.
Comments
comments