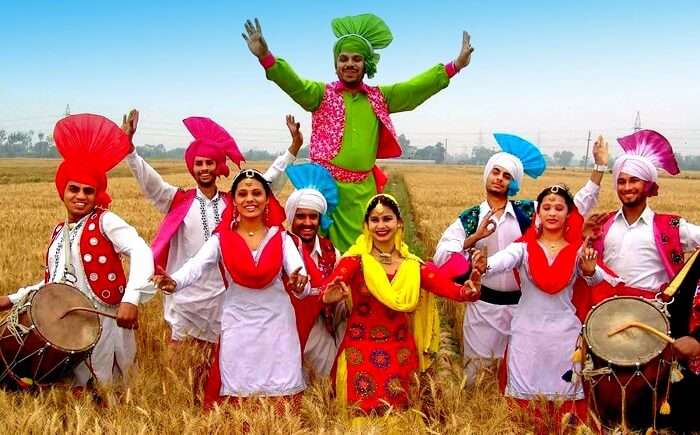 Ours is a country that celebrates every little moment with full zeal. If anyone wishes to witness the rich diversity or the brimming enthusiasm, the festivals in January in India offer the perfect show. Bringing the folk music, dance, and traditions in the spotlight, these create an alluring opportunity for witnessing the vibrant beauty of the country at its best.
So, if you wish to kick-start your year on a celebratory note, make sure you attend all of these 14 festivals at least once in your life!
Festivals In January In India(2019): Timings and Speciality
Top 14 Festivals In January In India
Here is the list of best festivals in January in India 2020 that you must attend in the month of January in India. Scroll down to know what all to expect this month in the country that has it all!
1. Lohri
Known by different names, this is one the most celebrated festivals in January in India. It signifies the end of the cold winter and arrival of warmer days along with the onset of harvest season. Bonfires, music, and good food are the major highlights of this festivity. So, while you're planning your next visit to India, make sure you get to try all the good food in this festival!
When: 13th January, 2020
Where: All of North India
What's Special: People wear new clothes, and welcome the warmer days by lighting up the bonfire and taking rounds around it. Popcorn, gajak, and revdi are savoured with the loved ones over the Dhol beats.
Suggested Read: 15 Popular Winter Festivals In India To Celebrate The Regional & Cultural Diversity
---
Looking To Book A Holiday Package?
Book memorable holidays on TravelTriangle with 650+ verified travel agents for 65+ domestic and international destinations.
---
2. Republic Day
Image Source
One of the major national festivals of India, Republic Day is celebrated every year to acknowledge the Constitution of India, which was founded in 1950. The spectacular Republic Day parade that marches down to the central Rajpath avenue, and features the three divisions of the armed forces (Army, Navy and Air Force) is a sight worth witnessing.
When: 26th January every year
Where: New Delhi
What's Special: The Republic Day parade, traditional dance troupes, and helicopters flying in the sky are the main attractions of the festival.
Suggested Read: Top 10 Summer Festivals In India You Shouldn't Miss Out On!
3. Vasant Panchami
Image Source
Among the list of festivals in January 2020 is Basant Panchami. This festival is one of the best ways of welcoming the spring season in North India. From worshipping Goddess Saraswati to wearing colorful clothes like a shade of bright yellow, everything about Vasant Panchami is worth witnessing. When a joyous dancing vibe fills the air in the northern region, why would you want to miss out on all the fun that follows here?
When: 29th January, 2020
Where: Punjab
What's Special: On the fifth day of spring, everyone in Punjab celebrates the day as the festival of kites, wears yellow, and cooks delicious meethe chawal and boondi laddoo at home.
4. Pongal
Image Source
Celebrated down south, Pongal is one of the major festivals of January in India, which is equivalent to Thanksgiving. Making rangolis (kolam), cooking the Pongal dish, which is made out of boiled milk and rice, family get together, and dance are some of the reasons why you must become a part of this festive occasion. So, even though you might not belong to this part of India, the locals will make you feel home all the more!
When: 15th to 18th January, 2020
Where: Tamil Nadu
What's Special: From decorating houses and making colorful kolams in the streets to bull and bird fighting like Jallikattu in Madurai, everything about Pongal is unique and special.
Suggested Read: 13 Most Spectacular Festivals In March In India
5. Rann Utsav
If there is one thing that multiplies the beauty of Rann of Kutch, it is this desert festival. It reflects the culture and heritage of the region at its best through folk dances, music, adventure sports, handicrafts, and food stalls, which makes it worth experiencing at first hand. While you're here, you can enjoy both luxury and comfort by staying in the tents set up on the fringe for tourists.
When: 28th October 2019 – 23rd February 2020
Where: Great Rann of Kutch salt desert, Dhordo, Gujarat
What's Special: During the celebration, one gets to witness the beauty of the white Rann at its best and also savour the delectable local cuisines.
6. Jaipur Literature Festival
If you're a lover of literature, this popular annual festival is meant just for you. It not only celebrates the work of great writers, but also them. Also called as JLF or Jaipur Lit Fest, it is one of the top festivals in January in India, which also happens to be an important literature event in Asia. So, get ready to witness some of the most interesting pieces ever written or illustrated by the authors. Lit crazy much?
When: 24th to 28th January, 2020
Where: Diggi Palace, Jaipur, Rajasthan
What's Special: It offers the perfect opportunity to meet the renowned national and international authors, and listen to them, and all for free.
Suggested Read: 10 Must-Attend Music Festivals In Hill Stations Of India
7. Jaisalmer Desert Festival
Image Source
This is another exquisite desert festival in Rajasthan that fills the city with magic. While the fancily dressed locals come forward and take part in the turban tying competition and the moustache competition, there are camel races, polo matches, acrobats, puppeteers, and jugglers all around that keep the tourists amused. It surely has something in store for everyone around. So hop in for a wild celebration like never before!
When: February 17-19, 2020
Where: Jaisalmer, Rajasthan
What's Special: With a mesmerizing camel parade and fun competitions, this festival will let you experience the golden city at its best.
Suggested Read: 15 Best Honeymoon Places In World In January 2020 To Embark On A Romantic Sojourn
---
Planning your holiday but confused about where to go? These travel stories help you find your best trip ever!
Real travel stories. Real stays. Handy tips to help you make the right choice.
---
8. International Kite Festival
Image Source
For marking the celebration of Makar Sankranti, this festival in January welcomes innumerable people from different states and countries. A million brightly colored kites can be seen all over the sky from the moment the sun rises and till it sets. Even if you do not wish to take part in the fun competitions, make sure you still attend one of the most happening January festivals 2020 as it is a joy in itself.
When: 14th to 15th January, 2020
Where: Sabarmati River Front, Ashram Road, Ahmedabad, Gujarat, and in Jaipur, Rajasthan on 14th January
What's Special: Kite flying, aerial acrobats, kite painting and making competitions that multiple the zeal and fun aura of the occasion.
Suggested Read: 10 Uncommon & Unusual Festivals In India
9. Bikaner Camel Festival
Image Source
One of the most famous festivals in January in India, this fair celebrates and salutes the animal without whom the desert wouldn't have been what it is today. From decorating innumerable camels in their finest attire to fun activities like camel beauty pageants, camel races, and camel dancing, there's a lot to keep you entertained here.
When: 11th to 12th January, 2020
Where: Bikaner, Rajasthan
What's Special: Of all the amazing competitions and performances, the camel dance is the major highlight of this festival.
10. Chennai Music Festival
Image Source
The Chennai Music Festival is a popular and a month long festival, which is also described as the world's largest cultural event since it stages and highlights the traditional South Indian Carnatic music, dance, and other arts. During the whole month, more than 1,000 performances take place along with music related seminars, discussions, and demonstrations.
When: Mid December to mid January every year
Where: Music halls all over Chennai, Tamil Nadu
What's Special: This festival offers a stage to innumerable artists and appreciate the traditional music and dance at its best.
11. The Nagaur Fair
Located some 150 kilometers from Jodhpur, the rural town of Nagaur in Rajasthan comes to life with this festival. Being India's second largest cattle fair, it is the trading ground of around 70,000 bullocks, camels, and horses, and offers great entertainment through folk dances, tug of war competitions, camel races, and more. Are you ready to find out what this fest has in store for you?
When: 30th January to 2nd February 2020
Where: Nagaur, Rajasthan
What's Special: Apart from the animal trading and competitions, you can shop your heart out at the traditional handicrafts stalls.
Suggested Read: 15 Popular Harvest Festivals Of India
12. Modhera Dance Festival
Image Source
An annual classical dance festival, Modhera is a must-attend for everyone. The ancient 11th century Sun Temple, which is dedicated to the Sun God acts as a breathtaking backdrop for the occasion. Innumerable artists come forward from various states in the country, and make it a memorable evening for everyone. To witness immense talent that the country has in store, this is surely the place to be!
When: 19th to 21st January, 2020
Where: Modhera, Gujarat
What's Special: The whole temple is illuminated and acts a gorgeous backdrop for the performances that take place throughout the evening.
13. Kenduli Mela
Image Source
Situated around 30 kilometers from Shantiniketan in West Bengal, this fair is amongst the many January festivals in India that one must attend once is his or her life. It offers a captivating dose of Bengal's folk music where the wandering Baul musicians gather to perform. So, a peek into the rich Bengali culture is surely possible at this festival and we bet you don't want to miss this one!
When: 14th to 16th January, 2020
Where: Kenduli village, West Bengal
What's Special: Dressed in saffron robes, the Baul musicians playing the distinctive instrument – Ektara, and singing about life's philosophy is very heartwarming.
14. Bhogali Bihu
Also known as Magh Bihu, this is one of the second major Bihu festivals celebrated in Assam. The celebrations start a day before the last day of the month of 'Puh' when all the cultivation work has been completed and the locals have enough time to treat themselves with delicious food and fun sports. A variety of snacks and sweets are prepared at home and an endless number of games involving pets and eggs are organized. If you wish to see a lesser-known side of the northeast, this is one Indian festival you shouldn't miss at all.
When: 16th January, 2020
Where: Assam
What's Special: On this eve, the locals build Meji, a structure made of wood and leaves that is guarded for a night and then lit up by the fire with a belief that it'll burn the winter out.
Further Read: 13 Must-Attend Events And Festivals In December In India: Block Your Dates & Head Out
There is no doubt that all of these top festivals put a celebratory start to the year, and even bring the diverse cultures together. So, what are you waiting for? Start packing and plan your trip to India for a charming experience!
Frequently Asked Questions About Festivals In January In India
Comments
comments