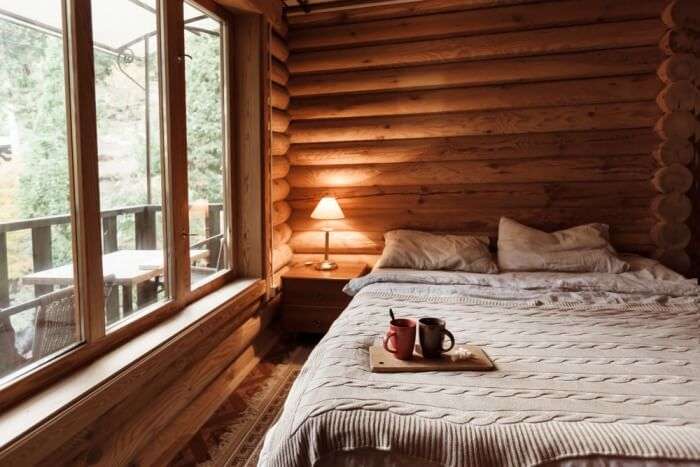 Lying in the northern hemisphere, the continent of Europe is a destination that always finds a place in people's bucket lists. The continent is enveloped within the three oceans, namely the Arctic Ocean, Atlantic Ocean, and the Mediterranean Sea. It is the only continent with significantly larger number of coastlines than the landmasses. Since the European continent is a part of the temperate climate zones, it is subjected to the anti-trades.
Climate in Europe is considered to be more pleasant, as it is influenced by the Gulf Stream. Even though the winters don't seem to be the best time to explore a place but in Europe it is a different story altogether. Winter season in Europe means less crowds, Northern Lights, Christmassy vibes, and low fares everywhere. Many tourists go for some of the best winter Airbnbs in Europe that are unprecedentedly cosy.
Ofcourse, it isn't necessary that you'll admire this season in every country of Europe but the southern region of the continent is definitely worth a visit during this time of the year.
7 Best Winter Airbnbs In Europe
There are various places to stay in Europe that are ideal for all sorts of travelers. Some of the best winter Airbnbs in Europe are suitable for families, some are perfect for a group of friends while others are great for solo travelers too.
Listed below are a number of amazing Airbnbs that you must plan your stay in when visiting Europe during winters!
1. Manoir Equivocal Mid Age Dovecote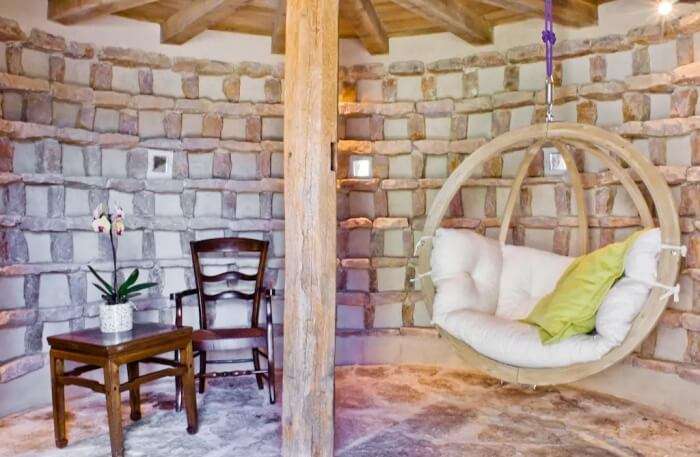 Located in France, this accommodation place is essentially a castle that has the charm of the Middle Age period. The dovecote has a bedroom with 2 beds and one bathroom and can easily accommodate 3 people. The space is quite snug and therefore an ideal choice for winters. The architecture of this place is pleasing to the eyes. The building is cylindrical and has a cone-shaped roof – a typical example of European castles of old times.
There some little, shallow openings on the walls through which you can behold the surrounding areas. Moreover, these openings also let the sunlight in, making the interiors of the place look even more beautiful. Its location is one of the reasons why tourists love planning a stay here owing to the peaceful neighborhood.
Address: 18 Rue du Manoir, 21700 Corgoloin, France
Fare: Starting from INR 11,687.85 per night
Review: The hospitality of the host Irene takes the guests by surprise and is one of the reasons why people want to spend maximum time at this place…Read more
Must Read: 13 Frolicsome Beaches In Europe For All The Excited Beach Bums Across The Globe
2. The Fisherman's Cave House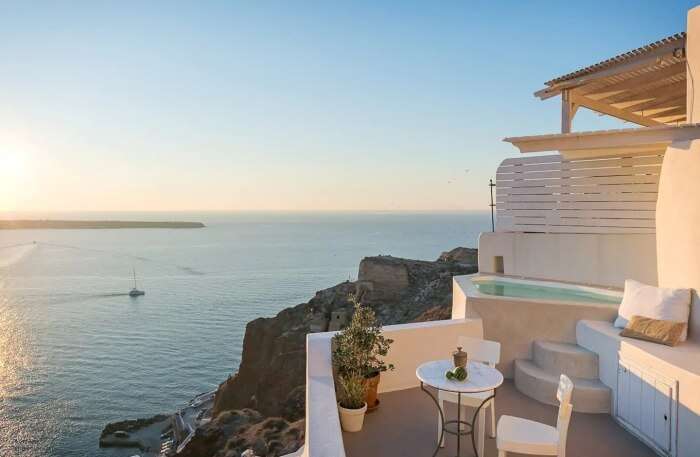 Established in Oia, a village that lies at the northwestern point of Greece, this Airbnb has been set amidst the picturesque surroundings. From the balcony, the guests can enjoy a beautiful view of the vast landscapes and sea. Watching the sun setting from here is a pleasurable experience on its own that one must undergo.
To make your winter vacation in Europe an extremely wonderful experience, you can even spend quality time at the outdoor hot tub. From the Oia's old centre, it will only take a 10-minute walk to reach the property. This restored cave can accommodate 5 guests at a time without any hassle. It has 2 bedrooms, a bathroom, and 2 beds. This is one of the best family airbnb in Europe.
Address: Oia, Santorini 84700, Greece
Fare: Starting from INR 16,278.12 per night
Review: Extremely clean property that feels like a home away from home…Read more
Suggested Read: 35 Best Places To Spend Christmas In Europe In 2022
3. Stockholm Writers Cabin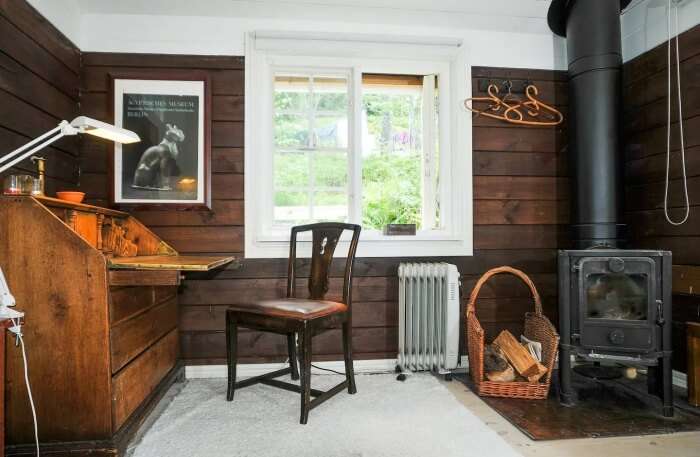 This dainty house is considered to be one of the best retreats in Lidingö, Sweden out of the bustling urban life. This property features a little garden where you can have an evening walk in tranquility. It lies in the region where the guests can enjoy wintersport. The whole guesthouse is perfect for 2 guests and has a bathroom, bedroom, and single bed.
From this cottage, it'll take about 15 minutes to reach the city via car. You can enjoy various sports like tennis, football, ice-skating, and more in the neighborhood. The cabin is well equipped with internet, TV, minibar, fireplace, and more. There's even a small-sized kitchen here.
Address: Lidingö, Stockholm, Sweden
Fare: Starting from INR 6,540 per night
Review: The cottage gives its guests access to hiking trails as well as ferries. One of the ideal places in the municipality for a weekend getaway…Read more
4. Filmsalon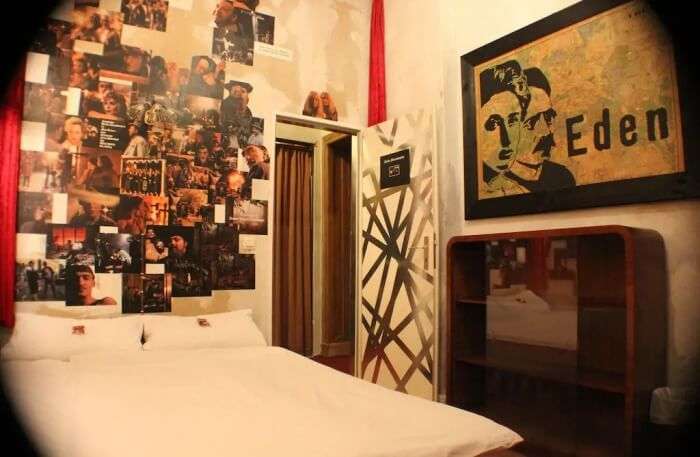 Established in Berlin, behind Berlin Kinomuseum, this guestroom is ideal for two guests. The location is one of the biggest reasons why people love planning their stay at this place. The interior decor of the rooms is based on Hollywood theme – this is where the rooms get their uniqueness from.
There's a single as well as double room at Filmsalon. Moreover, the host of the property, Frank welcomes his guests with utmost warmth. You can even be a part of the recreational sessions that keep taking place here. The essential toiletries are available here as well as the guests have free access to the WiFi.
Address: At the back of Berlin Kinomuseum, Berlin, Germany
Fare: Starting from INR 3,115 per night
Review: The place is essentially loved for its unique setup and the happening neighborhood…Read more
Suggested Read: 17 Spots For Snorkeling In Europe Every Underwater Enthusiast Must Visit In 2022
5. Chalet De Charme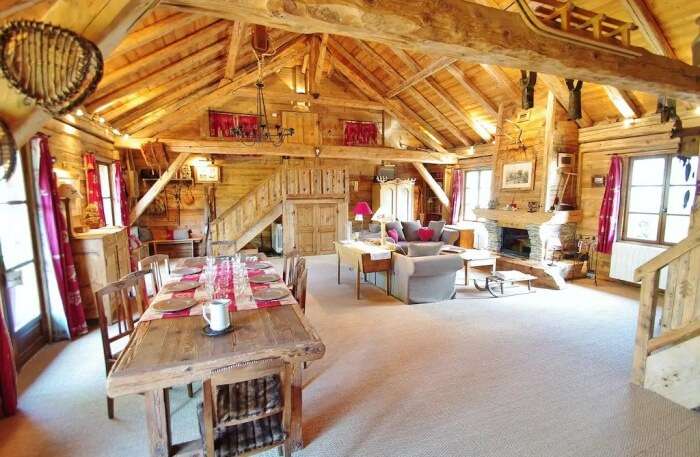 This chalet is the ideal place of stay for those visiting Europe during the winters. Moreover, it is the best Airbnb for large groups in Europe, as it can accommodate 10 guests at max. The wooden architecture ensures that the indoors stay warm. This luxurious place of stay was established in the year 1948 and has now been renovated using old wood.
Chalet de Charme provides its guests with a spacious room where they can unwind themselves after a long day. The facilities provided at this property include hot water, iron, hot water, and more. The chalet has 3 rooms and a large balcony from where you can enjoy the beautiful view of the Alps.
Address: Montaimont, Rhone-Alpes, France
Fare: Starting from INR 11,135.70 per night
Review: The location of this property will take you by surprise. This is the best place to plan your stay if you're coming in a large group of friends…Read more
Suggested Read: Guess Which European City Gets The Title Of World's Most Liveable City This Year!
6. Amboise Troglodyte
The property depicts the classical period that is visible through the furniture and other elements of decor. The room is spacious enough and has an open bathroom and cable TV. guests have access to free parking as well as WiFi. There are a number of castles located around the property where you can go for wine tasting.
You can even try the scrumptious local food in this area, including charcuterie and goat cheese. The hosts, Alexis and Lotte blend quite well and you can join them in various recreational activities. Expect extremely well-maintained and clean room on your stay. Hot water and heating facilities are also provided to the guests..
Address: Nazelles-Négron, Centre, France
Fare: Starting from INR 15,338.88 per night
Review: The privacy is taken care of. The hosts are experienced and quite friendly. It feels like home staying at this place…Read more
Suggested Read: 9 European Villages That One Must Explore To Escape From Reality
7. Gianluca's Apartment In Lecce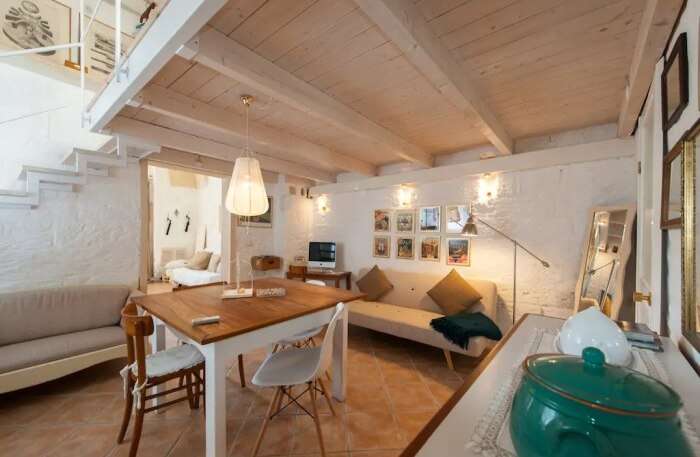 This house accommodates 4 guests and has one bedroom with 3 beds and a bathroom. This apartment is located in tranquility amidst the historical centre, away from the bustling city life. This place is quite accessible for those who are driving from Brindisi. The shuttle buses are parked at a 10-minute walking distance through which you can reach the airport.
The apartment depicts the architecture of older times with vaulted ceilings. The property has been renovated and no toxic materials have been used – only natural substances were utilised. Needless to say, the apartment provides extreme comfort to its guests.
Address: Lecce, Apúlia, Italy
Fare: Starting from INR 6,229.36 per night
Review: The use of natural elements in the apartment is what makes this place a haven…Read more
Further Read: 31 Festivals In Europe That Will Up The Fun Factor Of Your Euro Tour In 2022
Europe is at its best during winter and it's all about walking the streets adorned with christmas lights and having hot cocoa while sitting in front of the fireplace. Imagine experiencing all this on your Europe trip! Some of the best winter Airbnbs in Europe listed above will provide you that snug corner where you can enjoy some quality time.
Comments
comments