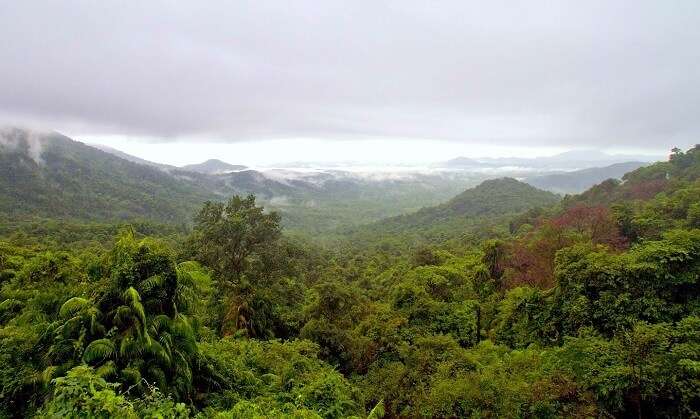 India's demography is prospered with an all-inclusive range of biological diversity that deliberately determines the factors of human survival and population growth of the land. The biological hotspots in India have numerous endemic species including 350 mammals, 1224 birds, 197 amphibians, 408 reptiles, 2546 fishes and 15000 flowering plants. Plenty of world tourists get attracted to the ecologically rich land of India, not only to explore the numerous exotic wild species but to merge into exciting ventures as well. The total number of biodiversity hotspots in India is four- the Western Ghats, the Himalayas, Andaman& Nicobar Islands (part of The Sundalands), and the Indo-Burma region. Apart from its abundant collection of endemic species, these hotspots offer diverse opportunities for adventure enthusiasts. 
4 Biodiversity Hotspots In India
Here is a comprehensive list of biodiversity hotspots in India that are famous for outdoor recreational activities.
1. The Western Ghats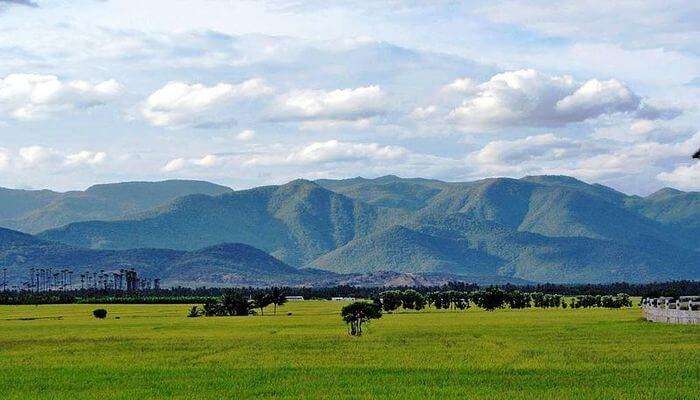 As the name suggests, Western Ghat Mountain Range stretches along the west coast of the Indian peninsula. UNESCO recognized one of the global biodiversity hotspots in India, Western Ghats are completely covered by dense Rain forests. These ghats are the homelands to around 77% of the amphibians and 62% of the reptiles. There are 6000 vascular plants- 50% of them are endemic and the other 50% belong to more than 2500 genus. More than 450 species of birds, 140 mammals, 260 reptiles and 175 amphibians are to be found in the Agasthyamalai Hills that is situated in the extreme South of the ghats. Once the vegetation in this area was scattered over 190,000 square kilometers and 1.5% of the forest is prevailing in Sri Lanka.
Best time to visit: Avoiding the monsoon, the ideal time to visit the Western Ghats is after October when Winter begins.
Ideal trip duration: 2 weeks
Things to do:
Jungle Safari to explore Bengal tigers, sloth bears, Nilgiri ibexes, lion-tailed macaques.
Bird Watching at Periyar National Park, Thattekad Bird Sanctuary, Papathy Shola, etc.
Ditch motors ride through the rainforests and national parks.
Spotting King Cobra at Agumbe Reptile Research Station.
Cycling through winding roads of Kodaikanal & Munnar
Sighting Elephants, chital, and crocodiles in Wayanad Wildlife Sanctuary
Hiking through colorful caves and a quaint little temple to reach the summit of Mullayanagiri peak in Chikmagalur.
Trekking through a walking trail that passes tiny steams and coffee plantations to reach the highest peak of Tadiandamol in Coorg.
Trek to Dudhsagar Falls and the temple of Bhagamandala.
Going on excursions to Mainapi and Savari Waterfalls, organized by Netravali Wildlife Sanctuary.
Must-visit places: Kurinji Andavar Temple, Bear Shola Falls, St Thomas' Church, Green Valley View, Moir's Point, Kodanad Viewpoint, Catherine Falls, Mudumalai Tiger Reserve, Tribal Research Centre Museum, Sullivan Memorial, Botanical Gardens, Berijam Lake, Coaker's Walk, Pillar Rocks, Elephant Camp, Sacred Heart Natural Science Museum, Doddabetta etc.
How to reach:
By Bus: Ernakulam KSRTC Bus Stand is the nearest major bus station, with buses to other cities.
By Train: Palakkad Junction Railway Station (PGT) is the nearest major railway station and Theni Railway Station (TENI) is a local train station nearby.
By Air: Cochin International Airport (COK) is the nearest major international airport.
Suggested Read:Top 12 Summer Festivals In India You Shouldn't Miss
2. The Himalayas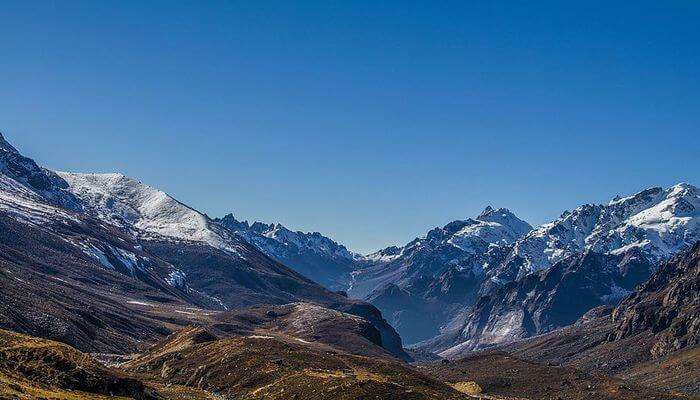 One of the prime biological hotspots in India, The Himalayan mountain range presents the largest mountain pitch in the world, from 60m the Gangetic plains (Terai in south Nepal) to the Himalayan peaks above 8000 m. The Himalayan mountain range is the abode to some of the exotic endangered species like one-horned rhinoceros and wild Asian water buffalo. 163 Endangered species including 45 mammals, 12 amphibians, 50 birds, 3 invertebrate, 17 reptiles, and 36 plant species, have been preserved in this region. After Japan, the species of the relict dragonfly is only to be found in this region. There are more than 10,000 plant species in the Himalayas and a third of them are endemic. Other threatened species are to be found in this region are- Western Tragopan, Cheer pheasant, Himalayan vulture, Himalayan quail, blue sheep, Asiatic wild dogs, White-bellied heron, snow leopard, sloth bears, black bear, wild water buffalo and Namdapha flying squirrel.
Best time to visit: The ideal time to visit the Himalayas is from Late October To Early May, but if you want to include Ladakh in your itinerary, the ideal time is from May to September.
Ideal trip duration: 15-20 days
Things to do:
Trekking through the trails of Indrahar Pass, Chopta Chandrashila and Har Ki Doon
Camping at Rishikesh, Mussoorie, Lahaul, Sangla, Kinnaur, Spiti and Kaudiyala.
Safari through Trans Himalaya, from Delhi – Manali – Leh, Manali to Leh, Ladakh – Monasteries, Shimla – Spiti – Manali, Delhi – Dharamsala – Mcleod Ganj – Amritsar – Delhi, and Shimla – Spiti – Leh.
Mountain Biking from Delhi – Shimla – Spiti – Manali – Leh. Garhwal Himalaya motorbiking and Sikkim Motorbiking are famous as well.
River Rafting on Ganges in Garhwal, Zanskar in Ladakh, Alaknanda in Garhwal and Kali in Kumaon.
Must-visit places: Leh and Ladakh, Jammu Kashmir, Malana, Andretta, Kasol, Tirthan Valley, Spiti Valley, Borong, Lachung and Lachen, Mayodia, Ziro, Tawang, Chopta Valley, Kalpeshwar, Rishikesh, Ramgarh and Mukteshwar, Munsiyari, Mandal, Tapovan near Gaumukh, Madhyamaheshwar, Tibet, Nepal, Bhutan etc.
How to reach:
The best possible way to explore the Himalayas is either by road or go trekking to the remote places only if you have endurance. You can take a train or flight to the last rail head or airport.
3. The Indo-Burma Region

This is the third most biological hotspots in India which is located in the Indo-Burma Region that spread over 2 million square kilometers. The region includes North-Eastern India, Myanmar, and China's Yunnan province, Lao People's Democratic Republic, Vietnam, Cambodia, and Thailand. There are 1300 species of birds, including some of the endangered species like the white-eared night-heron, Gray-crowned crocias, and orange necked Partridge. More than 13,500 plant species are to be found in this region and 50% of them are endemic. There are also six species of mammals that include large-antlered muntjac, Annamite Muntjac, gray-shanked douc, leaf deer, saola, and Annamite striped rabbit. Other endemic species like Freshwater turtle and local species like monkeys, langurs, and gibbons are also to be discovered in this region.
Best time to visit: During winter (November-February)
Things to do:
Jungle Safari in Kaziranga National Park in Assam
Trekking Through Cherrapunji Living Root Bridge in Meghalaya.
Enjoying Hornbill Festival in Nagaland.
Jeep Safari In Arunachal Pradesh
Hiking on the Blue Mountains in Mizoram
Rock climbing at Unakoti in Agartala
Water journey in World's largest river island, Majuli
Kayaking through Sela Lake and Pass in Arunachal Pradesh
Trekking and skiing at Nathula Pass.
Boating on Gurudongmar Lake in Sikkim
Ideal trip duration: 1-2 weeks.
Must-visit places: Tawang Monastery, Siang River, Nathu La Pass,Dampa Tiger Reserve, Kaziranga National Park,, Gorichen Peak,Shilloi Lake, Nuranang Falls, Manipur, Madhuri Lake, Sandakphu Peak,Shillong, Phodong Monastery, Ravangla,Dzongri, Assam,Shri Govindajee Temple, Majuli Islands, Dawki, Nohkalikai Falls,Cherrapunji, Jaintia HillsUmiam Lake,Meghalaya,etc.
How to reach:
By Road: A typical road trip from Delhi could be around 48 hours long. National Highways 31, 37, 38 or 40 are the routes that lead the tourists to the North-East states.
By Air: Manipur, Nagaland, Tripura, and Assam – all have direct flights from various cities such as Kolkata and Delhi.
By Train: Several Indian cities are connected to states in the North-East such as Arunachal Pradesh and Assam by train. The important railway station is Naharlagun that connects Guwahati to Delhi.
Suggested Read:30 Places To Visit In India In April: Beat The Heat This Summer Like A Pro
---
Planning your holiday but confused about where to go? These travel stories help you find your best trip ever!
---
4. Sundaland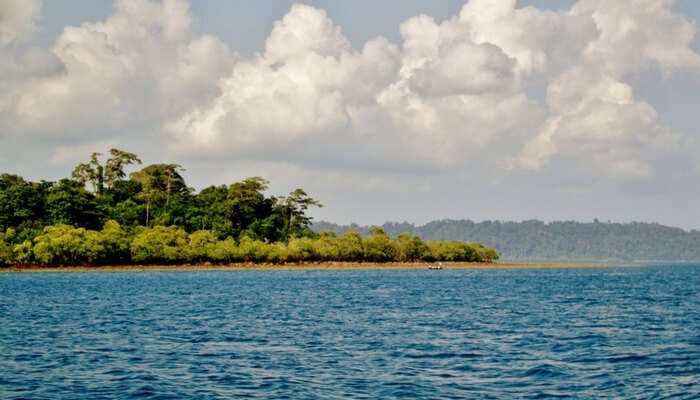 The fourth number of biodiversity hotspots in India is the Nicobar Islands that are a part of the Sundaland global biodiversity hotspot. The Sundaland Region lies in South-East Asia and further includes Thailand, Singapore, Indonesia, Brunei, and Malaysia. The Nicobar Islands are mostly comprised of Mangrove forests and these islands had been declared as the world biosphere reserve in 2013 by the United Nations. 3500 plant species are found in the Andaman and Nicobar group of islands. Out of them, 422 are of floral genera and 648 species are endemic to the Nicobar Island. There are 120 pteridophyte species are to be found in the Andaman and Nicobar Islands. A total of 110 wild orchids are listed from these islands while 19 genera and 25 species of them are endemic. 15 reptile species are reported to be endemic to the Nicobars and other important species are- Malayan box turtle, the Sunbeam snake, the Saltwater crocodile, and the Reticulated python.
Four species of marine turtles, the Leatherback turtle, Hawksbill turtle, Green sea turtle, and the Olive ridley turtle are to be found here.
Best time to visit: From the beginning of November to the end of April.
Ideal trip duration: 1-2 weeks
Things to do:
Scuba Diving
Snorkeling
Sea Walking
Attending Cellular Jail Light and Sound Show
Glass Bottom Boating
Seaplane Ride
Visit Limestone Caves at Baratang Island
Banana Boat Rides
Parasailing
Undersea Walking
Jet Skiing
Speed Boating
Sport Fishing Or Angling
Mangrove Kayaking
Cruise rides and Cruise parties.
Must-visit places: Havelock Beach, Radhanagar Beach, Cellular Jail, Neil Island, Ross Island, Baratang Island, Rajiv Gandhi Water Sports Complex, Barren Island, Wandoor Beach, Indira Point, Kampbell Bay, Katchal Island, Great Nicobar Biosphere Reserve, Teresa Island, etc.
How to reach:
By Air: Direct Flights are available from major cities like Kolkata, Bangalore, and Chennai to the commercial flights land Veer Savarkar Airport, in Port Blair.
By Sea: You can avail ships operated by the Government of India from Chennai, Kolkata, and Vizag. The ships take at least 3 days to reach Port Blair.
These biodiversity hotspots in India are not just rich in their biological diversity but also the ultimate destination for spending holidays with family, friends or partners. Here you can explore the wilderness of nature and dive into exciting adventures simultaneously. This time, make your expedition a bit unique by planning a vacation in India to any of these biodiversity hotspots and attest outstanding experiences for a lifelong reminiscence.
For our editorial codes of conduct and copyright disclaimer, please click here.
Frequently Asked Questions About Biodiversity Hotspots In India
Can you tour hotspots in India during Covid?

It depends on the latest travel advisory of the destination, so have a look at that before you plan a visit to any of the hotspots in India. In addition to that, keep refreshing yourself with the latest updates for Covid and the situation around.

Which is the highest hill station in the Western Ghats?

Mahabaleshwar is the largest and most popular hill station in Western India. At 1,372 meters (4,501 ft) above sea level. Not only this, the hill station features the most striking views.

Where are the Western Ghats Mountains?

The Western Ghats are also known as Sahyadri meaning Benevolent Mountains. This mountain range covers an area of 140,000 square kilometres in a stretch of 1,600 kilometres parallel to the western coast of the Indian peninsula.

Why are the Himalayas famous?

Himalaya is the abode to the Highest peak of the world, Mount Everest (29,029 ft or 8,848 m) and other famous peaks include Karakoram (K2), Kailash, Kanchenjunga, Nanga Parbat, Annapurna, and Manaslu.

How much part of the Himalayas is in India?

The portion of the Himalayas which is in India covers an area of about 5 Lakh 2 km and forms the northern boundary of the country. While touring the biodiversity hotspots in India, don't miss out on the famous Himalayas if around them.

Is Shillong beautiful?

Popularly known as the 'Scotland of the East, Shillong is charmingly pleasant and a soothing place. It is home to several waterfalls, parks, rolling hills, and quaint landforms. Do explore these when here with your dear ones.

Is there a need for a Passport to visit Andaman and Nicobar?

Considering Andaman and Nicobar are a part of India, no the citizens of India are not required to carry their passports to these Islands. But if you are not a citizen of the said country, you definitely need to carry your passport.
---
Looking To Book An International Holiday?
---
People Also Read:
Kaziranga National Park Manas National Park Orang National Park