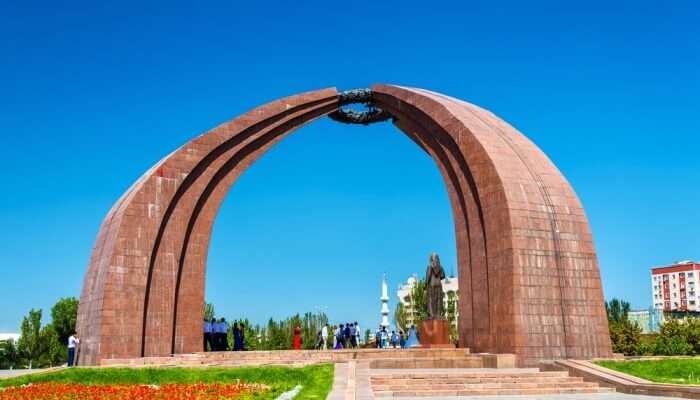 Bishkek is a scenic place surrounded by mountains, gardens, and lakes. This historical city is the capital of Kyrgyzstan which houses grand monuments and several museums. The place welcomes a large number of tourists every year, who are amazed by its scenic nature and inimitable architect. The place is perfect for family vacations and adrenaline junkie will be impressed by the winter sports that they can easily participate in. One can also go for hiking, horseback riding, and biking at this stunning place. There are many commendable things to do here and this Bishkek travel guide will help you to smoothly navigate through the city while experiencing its fantastic culture and Art.
Best Time To Visit Bishkek

Bishkek is the place that promises a fine travel experience at any time of the year. But if one is looking for trekking than April to September is the best time to visit this place. Also, one will get to experience a pleasant temperature during Spring and Autumn when the temperature is neither too high or low.
Ideal Trip Duration
To get a comfortable holiday experience, the schedule should not be very hectic as one gets tired after a trekking session. Give this place at least 3 to 4 days so that enough time is provided to the body for relaxation and rejuvenation.
Places To Visit In Bishkek
1. Osh Bazar: Most Vibrant Market In Asia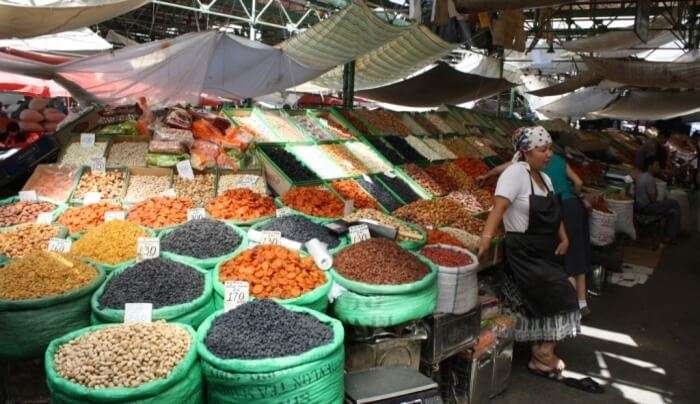 The Osh bazaar is the place which can be found in every Travellers' Guide To Bishkek as one can taste the local snacks and explore the colorful local attire here. The bustling market is widely spread and appropriately reflect the local culture. It is one of the biggest markets in central Asia where one can spend several hours admiring the diversity of this place.
Must Read: 9 Things To Do In Bishkek That Will Make You Fall In Love With The City
2. Ala Archa National Park: Get Close To Nature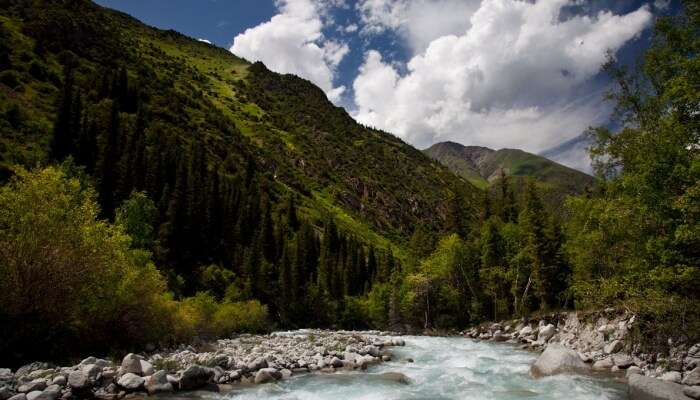 Located in the beautiful mountains, the Ala Archa National Park is 40 km away from the city. This picturesque place is serene and travelers often come here for hiking. It has several glaciers, snow-clad mountain peaks, and splendid flora. The visit to this national park could create memories for a lifetime and is definitely included in every Kyrgyzstan Bishkek travel guide.
Suggested Read: 10 Places To Visit In Bishkek: A Detailed Guide For Your Next Trip!
3. Ala-Too Square: Perfect For Leisure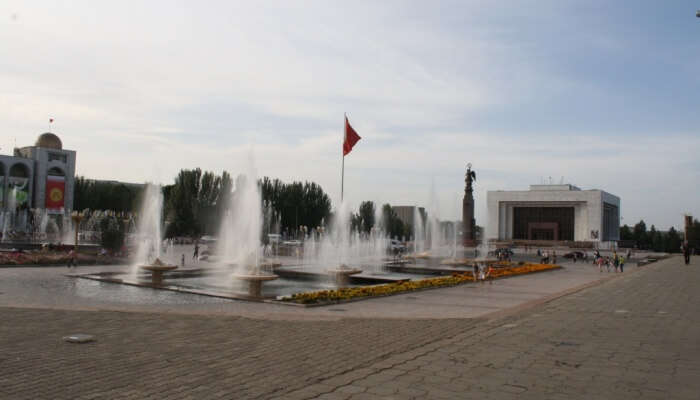 It is a major landmark in the city where one can spend leisure time sitting on the benches and enjoying the splendid water fountains. There is Manas Statue at the square which looks magnificent and commemorates the 20th anniversary of Kyrgyzstan's independence.
Suggested Read: 6 Places To Visit In Asia In November: An Escape From The Snow Into The Tropics
Things To Do In Bishkek
1. Hiking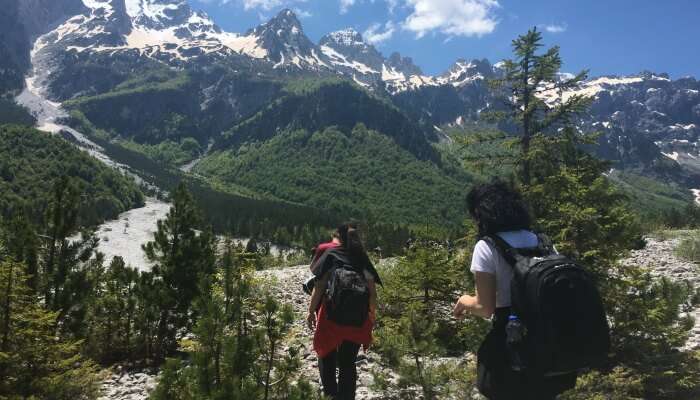 Hiking can be done every weekend with the group of hikers at many beautiful trails which are at some distance from the city. One can witness the mesmerizing mountains and lush green nature during hiking. Hikers should pack enough snacks and water to comfortably complete the trek. It is an essential part of Bishkek tourist guide as the holidays at this place are incomplete sans hiking.
Suggested Read: Here's Why The Cleanest Village In Asia, Mawlynnong Deserves More Tourists In 2022
2. Bishkek Cafes

Bishkek has extensive cafes which offer fine food and snacks. These trendy cafes are clean, embellished with traditional decors and serves inexpensive drinks. These cafes are known to provide delicious food, drinks, and fresh atmosphere.
Suggested Read: 36 Best Places To Visit In Southeast Asia In 2022 That Won't Let You Put Your Camera Down!
3. Monuments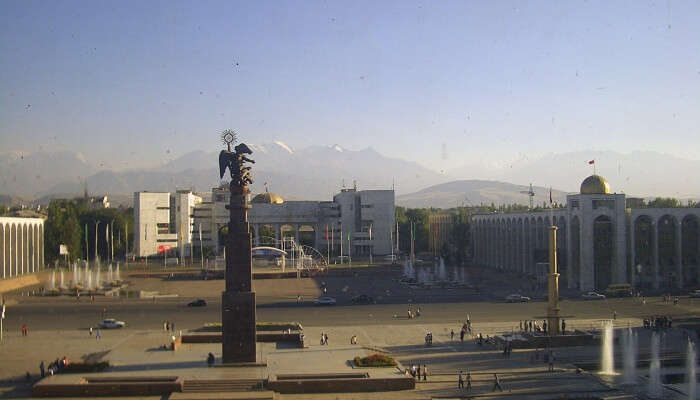 There are many intriguing monuments that can be seen in the city that displays remarkable architecture and speaks about the rich history of the place. There are many monuments that could be included in Bishkek travel guide. Among them the Victory monument is one of the most popular.
Suggested Read: 3 Places To Visit Near Asian Civilisations Museum That Are Perfect For The Explorers!
Getting Around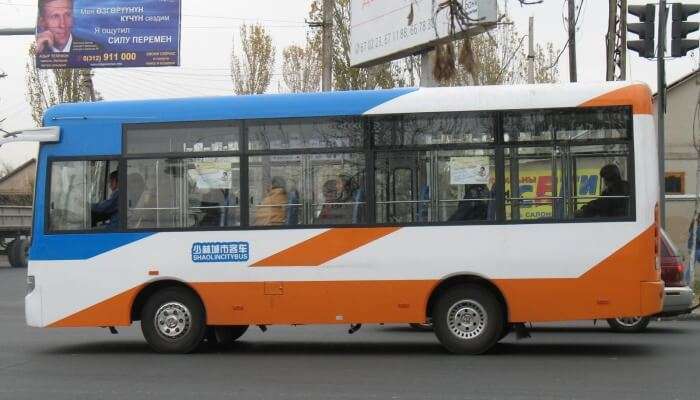 Getting around is not much difficult in Bishkek but it is advisable to do a little research ahead of time. Public transportation mainly includes bus services and cabs. Often, the destinations have slightly similar names so it will be beneficial to know the full and correct name of the place that one wants to visit.
Tips For Visiting Bishkek
1. English is not spoken or understood by most people, therefore, it is best to have a translator along.
2. Always carry the local currency as many places don't accept any cards or other modes of payments.
3. The weather is very unpredictable. It can be hot and cold on the same day. So pack accordingly.
4. It is courteous to remove shoes when entering any house or guesthouse.
Further Read: 10 Cheapest Cities In Asia For The Shoestring Budget Travelers
Go hiking, horse riding, and trekking at the beautiful mountains of the place that attracts travelers from all over the world. Explore the remarkable monuments and visit the best places in the city with the help of this comprehensive Bishkek travel guide. Take part in winter sports or shop at exceptional markets when you book Kyrgyzstan tour with TravelTriangle!
People Also Read
Kanchanaburi Travel Guide Manila Travel Guide Dehradun Travel Guide