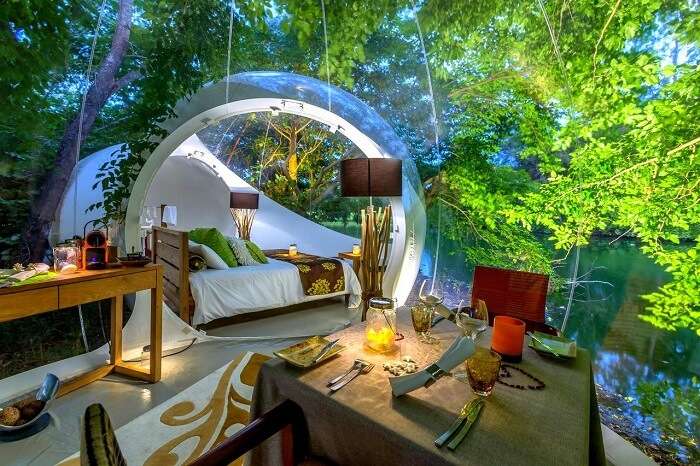 Mauritius is known for its white sandy beaches, secluded shores, dreamy waterfalls, multi-coloured coral reefs, luxurious overwater bungalows, and the most gorgeous views of the Indian Ocean. But that's not all it has now! As if it didn't want to settle for anything less than perfect, this indisputable paradise will now also offer an epic stargazing from air-conditioned and luxuriously equipped bubbles.

Where Are These Bubbles Located?
Set right in the middle of a tea plantation overlooking thick jungles, a sparkling lake, and lush mountains, are three luxurious, eco-friendly, and completely transparent (obviously!), bubble rooms designed to give you the best stargazing experience you could ever ask for!
The secluded, pollution-free location of Vue Bubble Lodge is perfect to watch the incredible light show overhead. Add to it this picturesque backdrop, and you'll never want to leave! Stargazing in style? We got it right here.

Suggested Read: Summer In Mauritius: Know All About The Weather, Experiences & Tips For Your Trip In 2022
The bubble rooms of Vue Bubble Lodge have been created by the celebrated French designer Pierre Stephane Dumas and are every bit luxurious yet eco-friendly. Your "dreaming bubble" will feature every amenity you could possibly want, including a queen-sized bed, en-suite bathroom, an outdoor shower, a coffee maker, and much more.
Who Will Guide Me On My Celestial Quest?

Image Source
We understand you're not pro astronomers. So, an astronomer will be there to guide you and help you identify the various stars and constellations like the Pegasus, Southern Cross, and the Milky Way. For a private stargazing experience, you can seek assistance from the stargazing app Skyview. All in all, you can say goodbye to those rough, mosquito-infested stargazing experiences out in the open!

Further Read: 14 Best Restaurants In Mauritius That Have Taken Fusion Cuisine To A Whole New Level!
While there's plenty to do in Mauritius in the daytime in terms of sightseeing and adventure, your nights won't be any less fun! Planning to visit Mauritius? We suggest you book your trip to Mauritius any time between June and October when the weather is cool and pleasant and the Milky Way is frequently visible. Start packing!