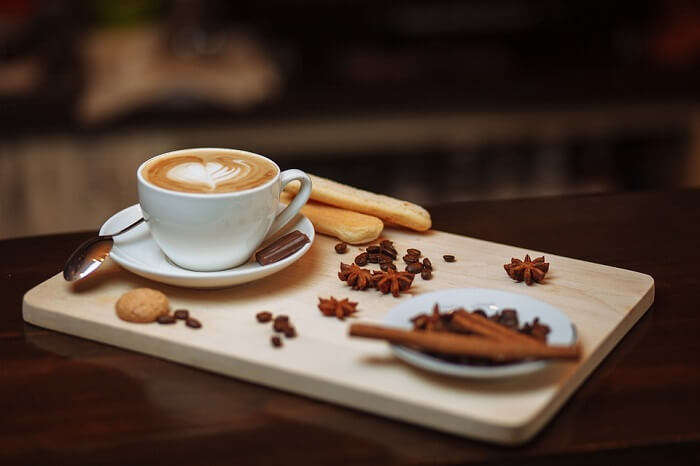 Though the Pasir Panjang region is a recent addition to the already lovable landscapes of this island nation, it has much more to offer than you can imagine! Even though this place is relatively new, it has everything you require to make your holiday in Singapore a memorable one. There is an endless number of fabulous hotels and resorts, picnic spots, shopping arcades, lounges and bars, restaurants and cafés in Pasir Panjang. While there are various other beautiful attractions to explore and activities to indulge in during the day, Pasir Panjang turns all the more lively for foodies and coffee lovers once you set foot into any of these charming cafes. The restaurants, cafes, and lounges of this area and around it are fast catching pace with the developed and popular parts of Singapore. Looking for a perfect place to hang out with your friends, have a date with your partner, or just chill by yourself with a book in hand? These cafes are your best bet.

Though Pasir Panjang is more or less of a residential town, it welcomes tourists looking for some fun nightlife and delicious food with open arms. Other than a great many places to hang out with your friends and family, it also offers a variety of activities, some of which include pony rides, watersports, cycling, inline skating, barbeque rental, and much more. It's a must for people visiting Pasir Panjang in Singapore to check out these chic cafes and restaurants after they are done exploring its lush green parks, retail outlets, and stunning beaches.
6 Most Relaxing Cafes In Pasir Panjang
Have a look at some of the best cafes in Pasir Panjang with the best services, beautiful decor and ambience, and world-class food. These cafes are where you can run off to after you're tired of wandering in its gardens and lazying on its beaches. These are the best places to spend quality time with your loved ones and recount old tales over some snacks and a cup of piping hot mocha!
1. The Bark Cafe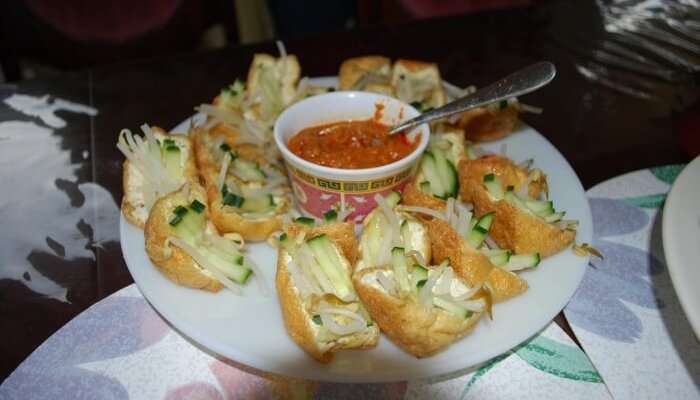 If you are looking for an outdoor dining experience in any of the Changi cafes, look no further than the Bark cafe. Known for its impeccable service and great fusion food, the cafe is located right next to Changi Museum. People generally come here after the museum tour to chill, relax and enjoy delicious gourmet dishes. If you do not with to dine here, you can simply grab a book, find a corner, and read away while sipping on some of the most tempting varieties of coffee this place has to offer.
Location: 1000 Upper Changi Rd N, Singapore 507707
Must try: Tauhu and cheese escargot
Opening hours: 11 am – 1 am
Website
Reviews
12 Best Work-Friendly Cafes In Changi That Are Worthy Of Your Time And Money
2. Cedele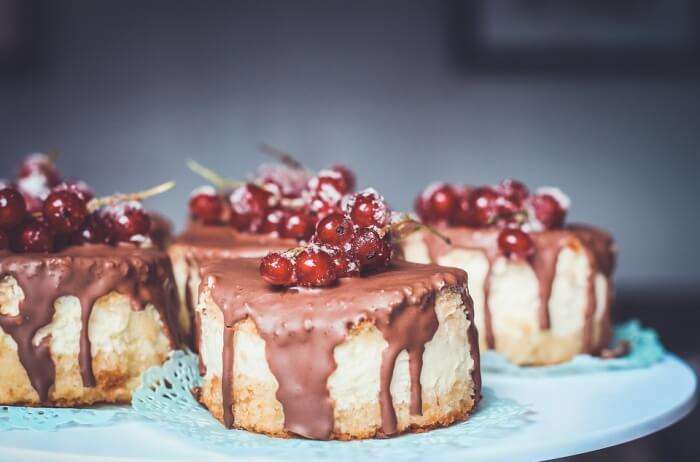 Ever since Cedele was established in 1997 in Singapore, it monopolizes in the country with the opening of many outlets throughout the country. Today, it is a big name in desserts and bakes. The founder of this café, Ms Yeap Cheng Guat considered food a passion and love thus ensured offering ultimate food varieties from its outlet chain throughout Singapore. This café has emerged beyond a café today and is a full-fledged restaurant where recipes are prepared from local and freshest of ingredients. Through using natural ingredients, especially organic items, it has gained popularity amongst the foodies in Singapore.
Must Try: Soups, Handmade Artisan baked Desserts
Location: #1 Pasir Ris Central Street 3, #01-39 White Sands Shopping Centre 518457
Cuisine: Café, Bakery, Western, American
Cost for Two: ₹ 1542/- – ₹ 2570/-
Zomato Rating: 2.6/5
10 Cafes In Pasir Ris You Must Visit To Have A Taste Of Local Flavors
3. Ya Kun Kaya Toast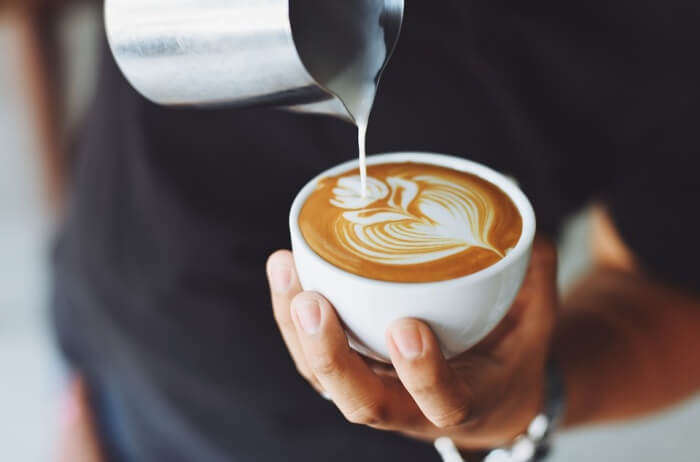 With a long history of existence since several decades now, Ya Kun Kaya Toast founder Loi Ah Koon had initially established it as a simple Chinese junk food outlet in the late 1930s upon his arrival to Singapore. Since working as an assistant in Hainanese Coffee stall, Koon attained recognition through opening this café. It was a joint effort and he had two more fellow Chinese immigrant partners at Telok Ayer Basin to start it. They though left him and determined Koon ran it alone to let it flourish over a period of time. Today, Ya Kun Kaya Toast café is a popular name for finest coffee and tea varieties besides egg and toast based breakfasts and recipes including traditional beverages favorites such as Value Set Meal Ice Blended Frostyz and variety of Asian styled sandwiches. Choose from their wide variety of coffee and tea beverages to get you started!
Must Try: Piping Hot Coffee, Munching Charcoal-grilled Toast, Egg Recipes, Cheese Balls, Kaya Balls, Kaya Butter Crackers, Soft Boiled Eggs
Location: # 1 Pasir Ris Central Street 3, #B1-22/23 Singapore
Cuisine: Café, Asian
Cost for Two: ₹ 435/- – ₹ 880/-
Zomato Rating: 3.0/5
4. Craftsmen Specialty Coffee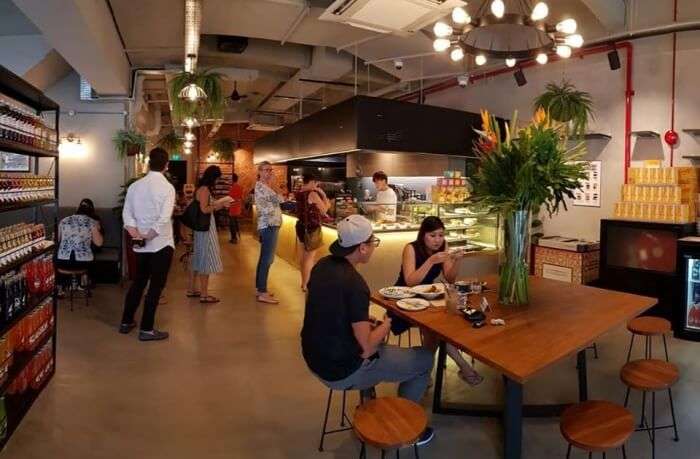 This place is an amazing place for coffee lovers and someone who prefers quiet. You have the option of taking away here and this place is children friendly too! You also get some good beer and wine here and the best part is free Wi-Fi! The sad part is this café doesn't do any delivery but you can choose to take away. This place is not highly priced and also, you get some really good coffee. Here is some additional information which might be of some help to you:
Rating: 3.75/5
Location: 173 Thomson Road, Singapore 307623
Average price for two: $16-20
Timings: 8.30 AM-9 PM
10 Exotic Cafes In Novena Every Foodie Must Tick Off While In Singapore!
5. Chiak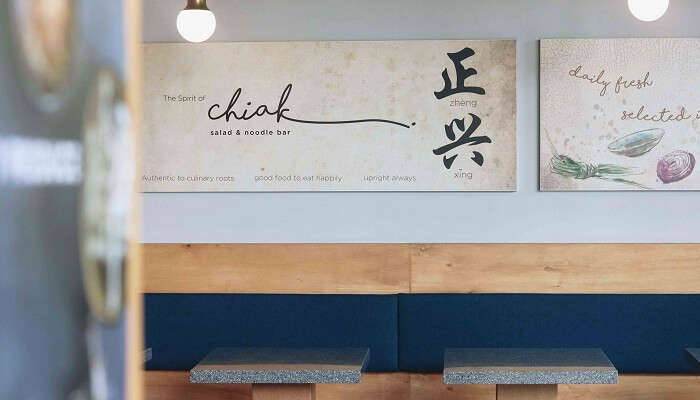 Chiak is a salad and a noodle bar situated at the Mapletree Business City, a place which is perfect for the people having a health-conscious diet. And they have a whole menu filled with DIY grown bowl places and many other unconventional choices. The diet conscious people can go for varieties between quinoa and rice or else bee hoon, Kway teow or Soba.
Location: 40 Pasir Panjang Road, Mapletree Business City, Singapore 117383
Timings: Mon-Fri 8am to 8pm
6. Uncle Ho Tuckshop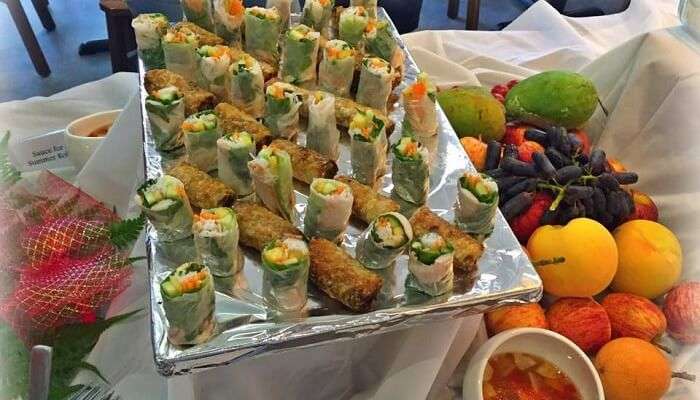 Go and satiate your craving for the Vietnamese food at Uncle Ho Tuckshop which is one of the best dine-in places around. The customer favorite and their special serves include Fried spring rolls and Banana flower chicken salad. Alongside this there are many other signature dishes on their menu which will definitely satisfy your craving of eating something different. And the main highlight of the place is the Vietnamese coffee which will definitely not disappoint you.
Location: 100 Pasir Panjang Road, #01-04, Singapore 118518
Timings: Mon-Fri 11am to 9pm, Sat 11am to 3pm
Tired from going around all day visiting one attraction after another? Well, these are some of the best places to take a respite from the otherwise hot and humid weather of Singapore and connect with the people close to you over some refreshing snacks and a cup of steaming coffee. Make sure you stop by at least one of these during your fun holiday in Singapore. So, which of these awesome coffee houses and cafes in Pasir Panjang are you going to check out first with your friends, family, or even solo? Take your pick!
---
Looking To Book An International Holiday?
Book memorable holidays on TravelTriangle with 650+ verified travel agents for 65+ domestic and international destinations.
---
div.nav-links {
display: block;
float: left;
width: 100%;
padding: 0 20px 10px;
}
div.nav-links a {
display: inline -block;
float: left;
margin-right: 4px;
font-size: 13px;
webkit-box-sizing: content-box;
-moz-box-sizing: content-box;
box-sizing: content-box;
-o-text-overflow: clip;
text-overflow: clip;
text-decoration: none !important;
margin-top: 5px;
border: 1px solid #c8c8c8;
font-style: normal;
border-radius: .25em;
padding: .2em .6em .3em;
line-height: 23px;
}
div.nav-links a:hover {
background-color: #009688;
color: white;
}
Comments
comments