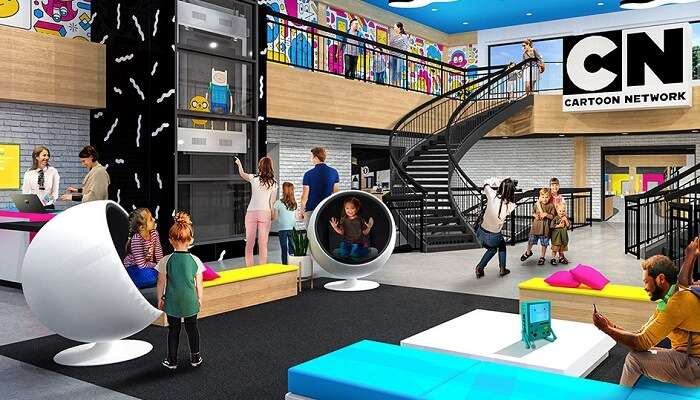 We bet you also used to switch the TV channel to Cartoon Network after reaching home from school or tuition. We used to do it too to watch Powerpuff Girls saving the Townsville, Dee Dee pestering Dexter in his laboratory, and Ben 10 turning into ten different aliens. Woah! Those days were amazing, no doubt! Pennsylvania understands your love for these shows which is why it is planning to give a surprise to all the cartoon network lovers. Want to know what? This might make you jump with excitement! Are you ready? Well, Pennsylvania will be featuring a Cartoon Network Hotel soon ! We bet you are looking up about this place on the internet. But hang on! You will get all the information here, so keep scrolling!
Who is your favorite cartoon character? Ben? Bubbles? Johnny Bravo? Samurai Jack? Rick & Morty? Or Scooby-Doo? What if you get to stay at a hotel that has a theme of your favorite character? You can dine, stay, and spend an amazing time in Cartoon Network Hotel that is being constructed in Lancaster while you are reading this. The property is sprawled in an area of nine acres with 165 rooms/suites, an outdoor waterpark, an indoor pool, cafe, game room, kid's play area, and a Cartoon Network souvenir store. Isn't it like a dream come true news?
Must Read: 9 Charming Places To Visit In Pennsylvania That Will Make Your Vacation Perfect!


The CEO of Palace Entertainment, Rolf Paegert, ensures that this Cartoon Network Hotel will stand out from its contemporaries. So, you can expect a magical experience with every step you take in the property. Moreover, the hotel will be collaborating with the Dutch Wonderland so that the guests will get special discounts to the park. The date of the inauguration is not confirmed yet, however, you will be able to book rooms from June onward. The tariff for the Dream Suite starts from $ 489 (INR 35,088) per night and for standard rooms, the tariff begins from $ 289 (INR 20,737).
Further Read: 10 Things To Do In Pennsylvania For Those Who Wish To Experience A Memorable Vacay!
So, if you want to have a happy-go-lucky experience , then head to Pennsylvania and gear up to book a room in the brand new Cartoon Network Hotel. Stay in cartoon character-themed guest rooms and roam around in the amazing lobby. It is time to relive those childhood days again and have a memorable stay with your fam or travel gang!
People Also Read:
Resorts World Sentosa Ushaka Marine World Dubai Parks & Resorts Theme Park