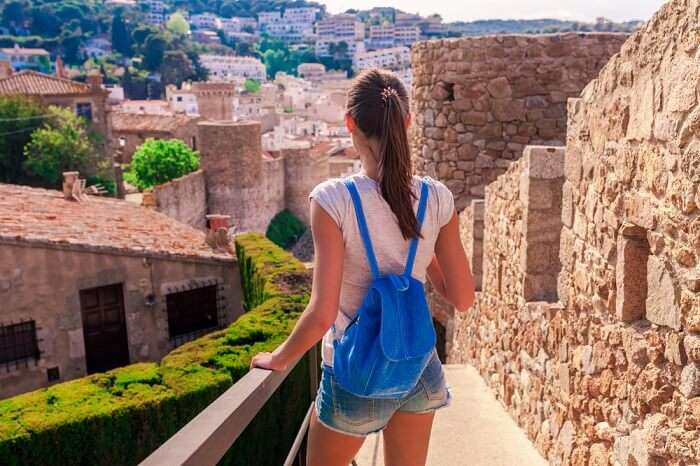 Standing proudly as the cosmopolitan capital of Catalonia, Barcelona is home to several marvels in various fields and is also the home of FC Barcelona. The city is one of the world's leading tourist, economic and trade centres. However, one area which still lies relatively undiscovered by the world is the castles in Barcelona. So, head to the stunning city and explore the magnificent castles which will make you fall in love with the beautiful Catalan capital.
10 Best Castles In Barcelona
Here is a list of some of the castles around the region of Barcelona. A tour to any one of these is guaranteed to lift the experience of the tourists in the Catalan capital.
1. Castell De Montjuïc
If taking aesthetic pictures and exploring museums in Barcelona is your preferred leisure activity while on a long tour, then this iconic castle is the right place to be. This site serves as a good place to learn some Spanish history while enjoying some beautiful scenes in the vicinity. Also, since it is located uphill, tourists can choose to go to the castle proper using the cable car, which offers a bird's eye view of the location. You can even try local street food at different food trucks here.
Location: Carretera de Montjuïc, 66 08038 Barcelona
Must Read: 10 Hostels In Barcelona That Are Perfect For A Budget Stay
2. Castillo De Torre Baró
Regarded by tourists world over as a hidden gem in the Catalan territory, this one is definitely worth going some extra miles. Originally envisaged as a hotel, it later got used as a mansion before getting partially destroyed in the War of Spanish Succession. Today, this historical site is a centre for information and environmental education. Also, it offers a guided tour of the surroundings to the tourists. As of now, it has been developed as a scenic viewpoint by the local city council, hence giving an additional incentive to visit this castle.
Location: Carretera Alta de les Roquetes, 328 08033 Barcelona
3. Can Potosí
This is more of a tower than a full-fledged castle located in the Collserola of the municipality of Sant Cugat del Vallès. However, the natural scenic beauty around this site is not to be missed at any cost. The view from the top is certainly beautiful, and the quaint little town market also offers tourists a chance to sample some of the local ingredients.
Location: Cami Sense Nom 700147, 71I, 08017 Barcelona
Suggested Read: Barcelona Honeymoon: A Detailed Guide For A Romantic Sojourn
4. Castillo De San Marcial
Located in the municipality of Cerdanyola del Vallès, this castle is definitely worth visiting, due to its status declared as a Cultural Asset of National Interest. Originally used as a church, today this castle's caretaking is seen by the government despite its ownership in private hands. The castle is built in and inspired by Romanesque and Gothic architecture, however, Catalan influence is seen in small parts as of now. One of the best-known medieval castles in Barcelona, prayer services are still led here in the church housed by the castle, so tourists can join in the service.
Location: BP-1413, 08290 Cerdanyola del Vallès, Barcelona
Suggested Read: 9 Best Beaches In Barcelona For You To Unwind This Summer!
5. Castell De Santa Florentina
This castle might be unknown to the rest of the world, but it was the selected setting site for the sixth season of Game of Thrones. Located in the suburbs of Canet de Mar near Barcelona, this castle was built on the foundations of an ancient Roman villa back in the 11th Century AD. Today, this castle has been listed as the Cultural Heritage Monument. It hosts a museum that can be visited by appointment since the ownership of this castle is in private hands. Additionally, it hosts a yearly festival of classical music.
Location: Avenida Doctor María Serra, S/N, 08360 Canet de Mar, Barcelona
6. Castell De Canals
Located in the municipality of Sant Cugat del Vallès, this castle got its name from the numerous canals that used to pass through it. It is located on a hill, as is the norm for the castles built in that period, as a defence mechanism for invading Arab and Moorish forces. Today, the castle shows the remains of a once-prosperous town and the once-housed diocese of Sant Cugat del Vallès.
Location: Carrer Colom, 5-7, 08197 Sant Cugat del Vallès, Barcelona
Suggested Read: 15 Best Things To Do In Barcelona That Are Enough To Relish The Real Taste Of Spain!
7. Castell De Cardona
Arguably the most important of all medieval castles in Catalonia, this castle is situated on a hill overlooking the river valley of the Cardener. Built in both Romanesque and Gothic styles, this one was a definite stronghold in the Middle Ages, giving its possessor the title of 'Kings Without Crowns'. Today, the main attraction there is the Torre de la minyona also known as the Tower of the Little Girl, from where tourists can overlook the river and town of Barcelona itself.
Location: Lloc Parador Nacional Turisme, 506, 08261 Cardona, Barcelona
8. Palau Ramón Montaner
This is an exception to most of the castles located in Barcelona since it is built in a Modernist style as opposed to the Romanesque and Gothic styles used by the others. Like others though, this was also commissioned as a private mansion. The speciality of this castle is the beautifully decorated exterior which is covered in large mosaics, representing the invention of the printing technology.
Location: Carrer de Mallorca, 278, 08037 Barcelona
Suggested Read: Most Romantic Places In Barcelona: Top 10 Sites Not To Be Missed!
9. Casa Batllo
This castle is located in the centre of Barcelona, therefore tourists who desire a good nightlife along with the pleasures of visiting a historical site can enjoy the best of both worlds. A remodel of the previously designed house, this one is also done tastefully in a modernist style of architecture. This castle is a UNESCO World Heritage Site, hence offering a whole new world of architectural sightseeing and design lessons.
Location: Passeig de Gracia, 43, 08007 Barcelona
10. Font De Sant Just
Built around an old fountain in the midst of Plaça de Sant Just, this castle was built in the classic Gothic style of Architecture. The castle tells the legend of two brothers persecuted on this site in a beat of religious fanaticism. Not much is visible here now, although the architecture itself presents a breath-taking view.
Location: Placa de Sant Just, Barcelona, Spain
Further Read: 10 Top Restaurants In Jimbaran Bay To Indulge In The Finest Cuisines That Indonesia Offers!
Any castle out of these listed ones is a sheer adventure in itself, offering detailed experiences in life, architecture, design and history. Make sure to keep a separate itinerary for visiting the most beautiful castles in Barcelona, Spain. So, what are you waiting for? Book your trip to Barcelona with TravelTriangle and get ready to have an amazing trip.
---
Looking To Book An International Holiday?
Book memorable holidays on TravelTriangle with 650+ verified travel agents for 65+ domestic and international destinations.
---