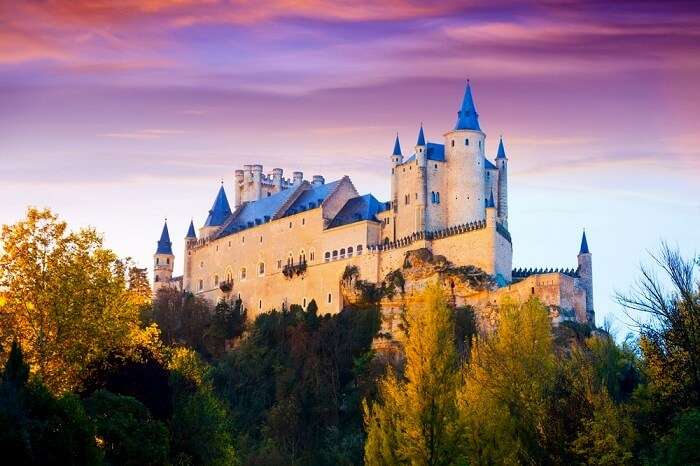 The castles in Spain are a perfect attraction for tourists who want to travel back in time and witness history, legends, and magnificence on a grand scale. It is one of those few attractions that gives you an "era gone by" feel, something which cannot be described in words. So if you're traveling to Spain, we suggest you to pay a visit to these 10 famous Spanish Castles and come back home with a fresh perspective on life for their beauty and charm will surely move you.
10 Top Castles In Spain For Treating The Explorer In You
The castles in Spain do not just look magnificent or spectacular, but everything that can leave you spellbound for hours. Here are some of the best ones in the country that will definitely treat the history buff in you. Take a look!
1. Tossa de Mar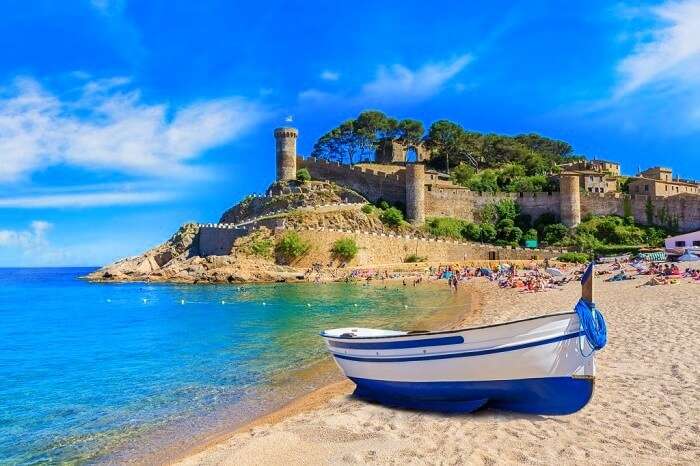 Suggested Read: This Glass Hotel In Spain Has Taken The Concept Of 'A Room With A View' To A Whole New Level!
Tossa de Mar is a town on Costa Brava and is about an hour away from the French border. The most magnificent part about this touristy place is its castle (fortified tower) which overlooks the beach and the crystal blue sea. One can climb up the stairs of this castle and literally travel 50 years back in time. Later back on the ground, tourists can enjoy their time on the beach or indulging in some delicious food for there are a lot of small cafes and eateries surrounding the area. Overall, if you are looking for a soothing vacation in the company of the sea and a sleepy yet touristy town, then this is the place to be.
2. Olite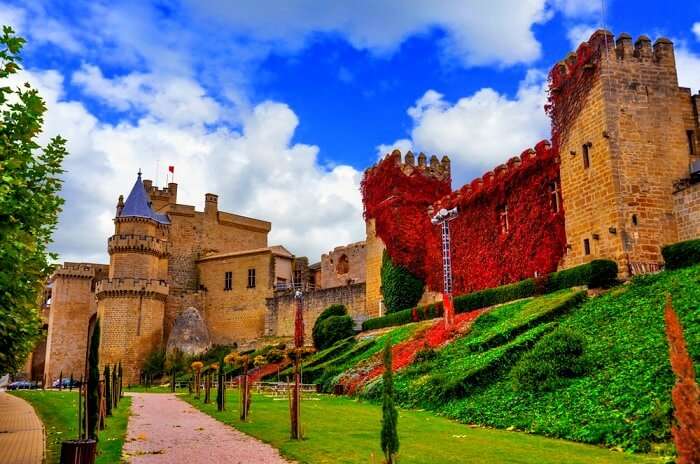 This gorgeous castle is situated in the historic village of Olite and is an absolute treat to the senses. It looks magical at night when it is all lit up and to experience its true aura, we would recommend that you atleast spend one night in the area. Another interesting fact about this lush castle is that it overlooks many vineyards and this enough should be enough motivation for you to stay for the wine here too is pretty good. Enjoy a meal at the cafes, taste the wine, and live you life to the fullest when you visit Olite.
3. Alcázar of Segovia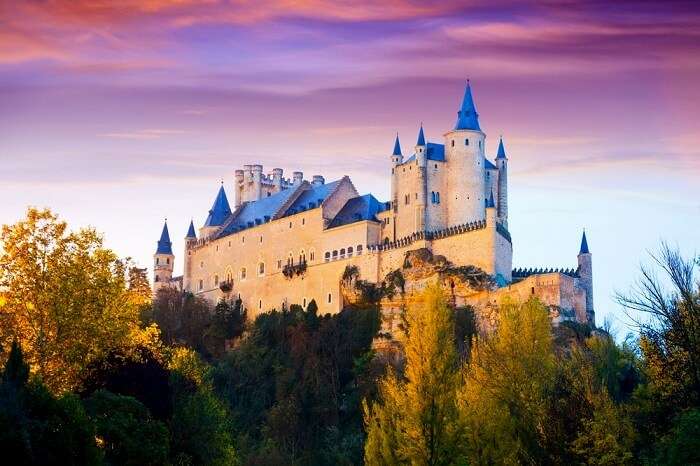 Suggested Read: 15 Best Beaches In Spain To Bask In The Tropical Sun In 2022
One of the best castles in Spain, the Alcázar of Segovia overlooks the countryside of Segovia and has a rich history. It was also the inspiration behind the Disney films logo and host to many famous royals. One can also climb up the stairs and enjoy the mesmerizing views and later come back and enjoy some delicious local wine of Segovia.
Fun Fact: Queen Isabel and King Ferdinand met for the first time here and also King Philip (Felipe), the 2nd married his wife (Anne of Austria).
4. Jarandilla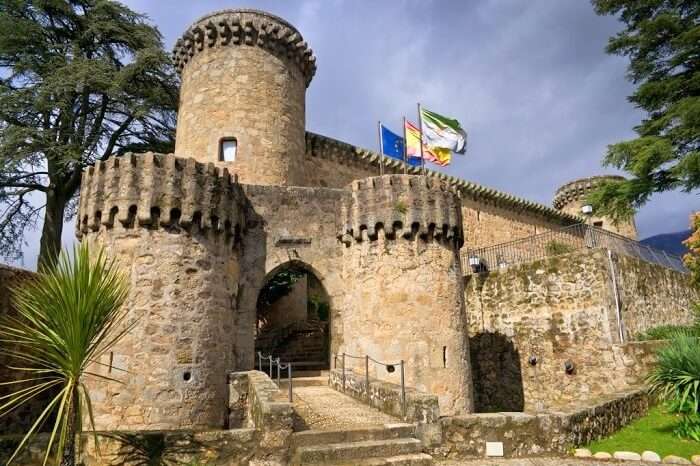 The Jarandilla is one of the finest and well preserved medieval castles in Spain. This 15th century caste is also one of Spain's Parador hotels (a group famous for its hotels in castles and palaces) and offers a true "go back in time" experience to those who visit it and also to its guests. For a true vintage experience, one can enjoy a dinner in the courtyard or visit the local cafes for food and wine.
5. Cardona Castle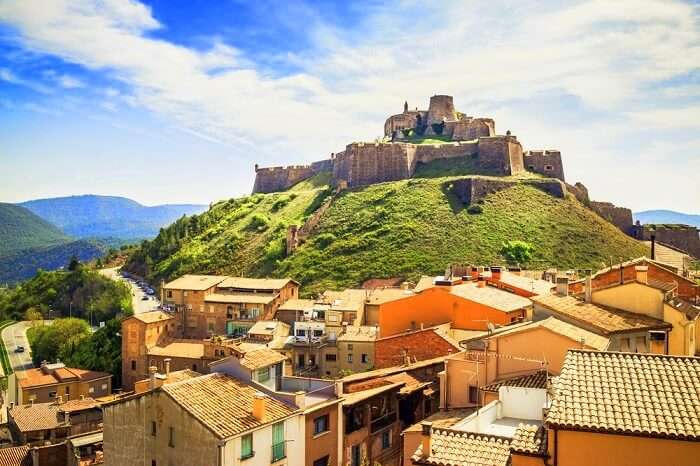 Suggested Read: 15 Top Things To Do In Spain In 2022 That Will Leave Your Soul Craving For More!
The Cardona Castle in Spain is one of the finest medieval castles in the country and offers mesmerizing views. The construction for this castle was started in 886 but it was 15th century that so most development under the Dukes of Cardona. Perched on top of a hill, this is one of the most fascinating castle in Spain that one simply cannot afford to miss.
6. La Alhambra Castle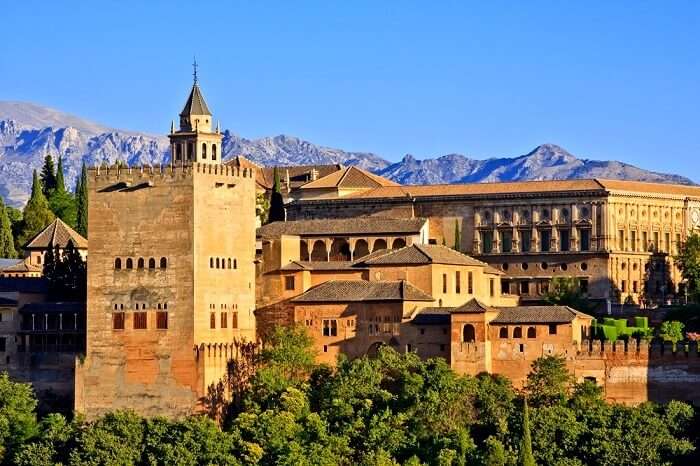 This Andalusian style, La Alhambra castle in Spain is an architectural marvel both from inside and outside and has influenced many literature, art, films, and even video games. Built in 13th century, this "authentic Islamic castle in Spain" has been called "pearl among the gems" with the trees surrounding the castle as gems.
7. Castillo de Colomares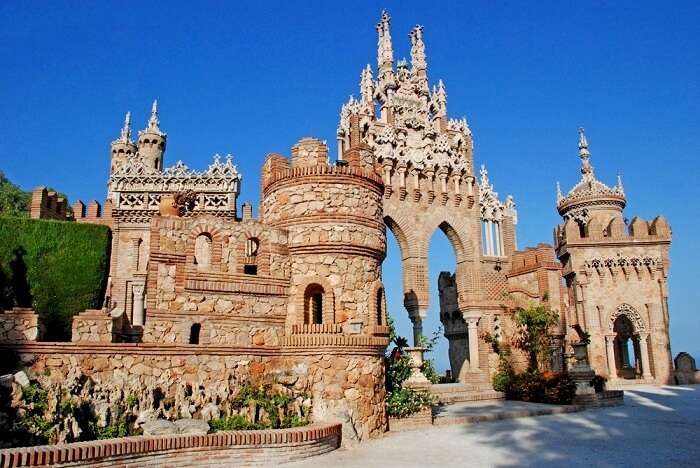 Suggested Read: 101 Places To Visit In India Before You Turn 30 in 2022
Built in the memory of the man who discovered America, the Castillo de Colomares is one of the most famous castles in Spain and is known for its gorgeous exteriors and interiors. The church inside this castle holds the Guiness World Record for being the smallest church in the world. Design wise, the castle is built in all the Spanish styles: Byzantine, Romanesque,Mudéjar, and Gothic.
8. Castillo de Peñafiel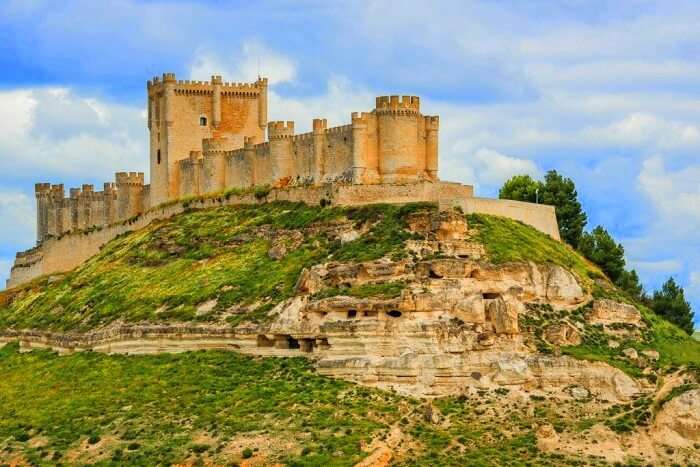 Castillo de Peñafiel is located in Ribera del Duero wine country and true to its location houses a wine museum inside. The castle is shaped like a battleship and perches on top of a hill offering spectacular village and countryside views.
9. Alarcon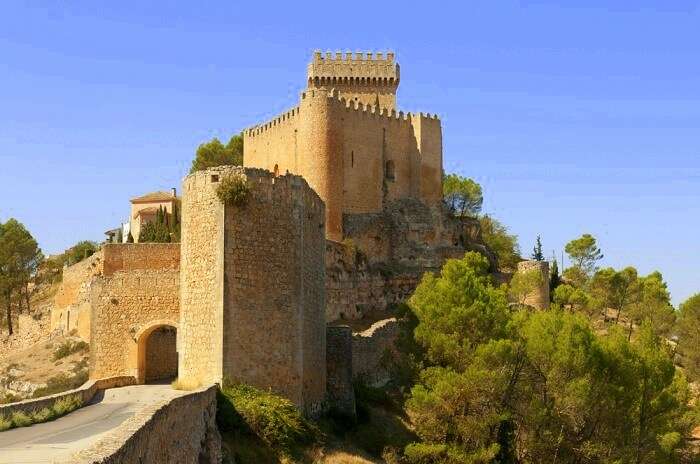 Suggested Read: These Best Villas In Spain Are Better Than A 5 Star And More Exclusive Than A Suite
One of the oldest and most famous Spanish castles, the Alarcon dates back to the 8th century and is now a Parador hotel too (only a few rooms though). More than the fantastic castle, it is the vibe of this place that adds to the who ambience. The land of Don Quixote, visit the wine estate and see the hanging houses here.
10. Mota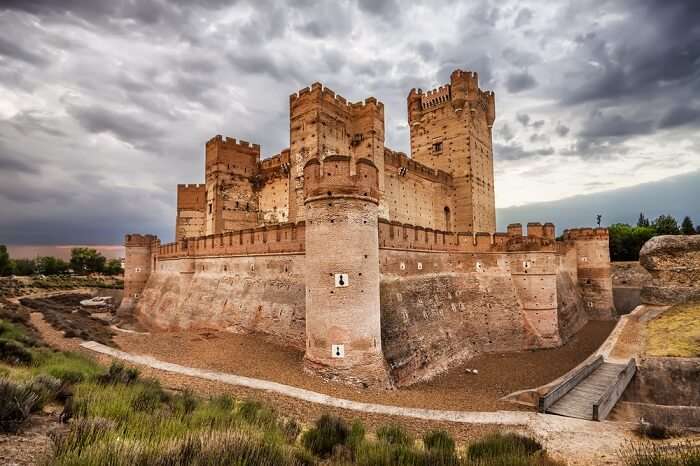 A gothic castle in Spain, this is the place where Juana la Loca (or Jane the Mad) lived and true to its legend, it has every bit of an eerie charm to it. Over the years however, this castle has played several roles ranging from a royal residence to a prison to now a special place for art exhibitions and events.
Now that you know all about the dreamy castles in Spain, we know you would soon want to take a trip to Europe. And if you are planning one, then we recommend you choose a Europe Tour Package and get it personalized with all the things you want.
---
Looking To Book An International Holiday?
Book memorable holidays on TravelTriangle with 650+ verified travel agents for 65+ domestic and international destinations.
---