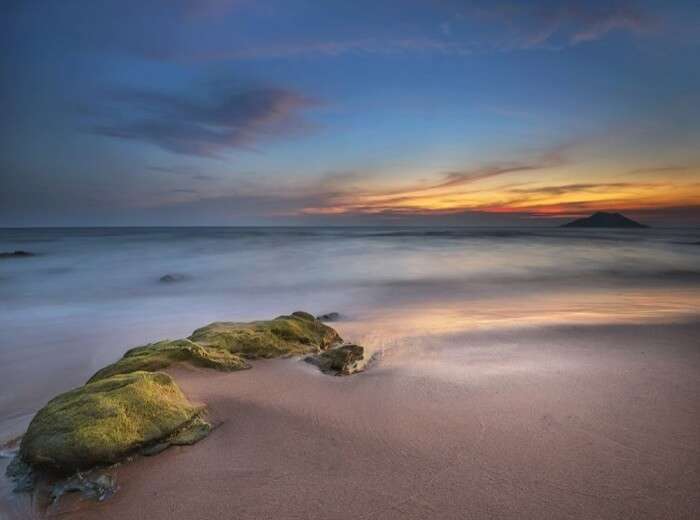 Beaches are usually a place of calm and solitude and also a place of total chaos. You can have moments of peace, but if you want to party, again there is no place like beaches . And when you think of Thailand, you might think of Phi-Phi islands, as that is where all the action is. But, located along the coast of Gulf of Thailand, is yet another town, which is brimming with beaches and is still, in more than one sense, a well-kept secret. Chanthaburi beaches are just as fascinating and stunning as any other beach. The beaches in Chanthaburi is what pulls the crowd to his coastal town.
5 Best Beaches In Chanthaburi
The coastline of this little town offers the best of beaches and travellers are yet to discover this gem in the Eastern part of Thailand, in all its entirety. Here is just a sneak peek into some of the best Chanthaburi beaches.
Chao Lao Beach
Kung Wiman Beach
Laem Sadet Beach
Ao Krating
Rayong Beach
1. Chao Lao Beach

One of the most popular in this side of the province, Chao Lao Beach is a picture of serenity and peace. Though it is popular, you will find very few tourists at a time on this beach, which has some crystal clear water and a peaceful ambience to go with it. The lined-up coconut trees provide shade to those who want to just sit back, relax and take in all the scenery. For those, who are a little adventurous, you could take a banana boat ride and dive in to see some gorgeous coral reefs, and for those who do not know how to dive or do not want to, there are glass-bottom boats, through which you can admire the lovely sea life of this splendid beach. Also, as the waters in this beach is quite shallow, you could even enjoy a good swim. Another activity that not many are aware is of a squid fishing trip in the night. If you do catch some, you are allowed to grill and eat it fresh on the boat itself, but this is conducted only during the months of October through May, so if you are there around that time, you should definitely experience this. You could also shack up in one of the many restaurants on the beach; you get the choicest of foods, especially sea food for the best prices and tasty as ever. There are a lot of options even if you wish to stay there overnight as there are a plenty of resorts, which offer the best of services.
Must Read: 8 Incredible Udon Thani Restaurants That Are Winning Hearts All Over Thailand
2. Kung Wiman Beach

This beach, in the shape of a crescent, is one of those beaches, where you can just laze around the whole day, under the shade of the many trees and just gaze at the sea. It is stunning and peaceful at the same time. Though, it might get a little crowded during the weekends, the weekdays are the best time to visit this small and clean beach. As the breeze of the sea caresses your face, it is one of those picture-perfect scenery that you will be witness to here. The golden colour sand and the clear waters makes for a pretty sight and that is what attracts people to this small beach in Chanthaburi. If you get too bored, that we highly doubt you will, you can try some angling; there are quite a variety of fish that you will find here. What makes the beach more amusing are those swings clinging from the trees, on which you can sit and swing away. There is no dearth of restaurants here too; there are a few who also get the food to where you are sitting, while you take in the views. There are quite a few resorts if you decide to stay overnight, which probably you should, because it is not every day that you wake up to such beautiful views. Do not expect any other kind of activities on this beach, as there are none. This is a place just to relax and enjoy the ambience.
Suggested Read: An Insider's Guide To Khao Sam Roi Yot National Park In Thailand
3. Laem Sadet Beach

This is yet another beach in Chanthaburi, where the sand is golden and the water, so clear that you can see your reflection in it. Plus, this beach too has plenty of trees for shade. Sounds wonderful, isn't it! This beach is a sheltered cove, and is good for activities like angling. There is so much scenery to take in here that you will not get bored at all, but if you do, there are other places of interest here. First of all, the aquarium is just a few steps away, where you can all the sea creatures. Then, there is the Mangrove Forest, which is great for a stroll. Laem Sadet Arboretum, a mini botanical garden, is also within the beach premises and is one not to be missed. There are all kinds of ornamental trees, which you will find here and is a great place to learn a little about these plants. These extend even to the beach, where you can see plenty of beach plants and also ironwood trees. You might find a few resorts here, but the best way to take in all the views here is through pitching a tent and camping overnight, under the stars, with a stunning moonlight view of the ocean. You will find people renting out tents here too, in case you don't have one.
Suggested Read: 7 Best Trips From Koh Samui To Explore Everything That Lies Beyond Thailand!
4. Ao Krating

This is one of those beaches in Chanthaburi in Thailand, where you can have the entire stretch for yourself. Not many people are found on this beach, since there are no adventure sports or any such things to do here. But, this beach is for those who just want to relax and take in the views. Pine trees dot the beach and from some, swings are attached, on which you can swing while the soft breeze of the ocean touches your face; what could be more relaxing than that! Located in a cove, you can see plenty of islands on the horizon, and there also seems to be a forest nearby which you can probably take a stroll in. The beach has picnic tables and chairs in various places on the stretch, so you could probably pack a picnic basket and head out to the beach, under the shades of the pine trees. There are also many oyster farms located next to the beach, if you are interested. You would also witness, many fishermen and ladies, scouting the beach for shellfish and that would make for some amazing pictures too.
Suggested Read: A Complete Guide To Khao Phenom Bencha National Park In Thailand
5. Rayong Beach

Just a couple of hours' drive from Chanthaburi, you will arrive in the province of Rayong. This is yet another province where you will find plenty of beaches among shades of trees. It is one of the most popular beaches among the urban crowd of Thailand and not as much as a tourist destination. But, this province has some amazing family-friendly beaches, where the waters are good enough for a swim and even some exciting water sports. There are a lot many other things too, that you can do here apart from the beaches, but while you are on the beach, enjoy some seafood from very many restaurants that line the beach. If you are expecting it to be peaceful, you might as well forget it. This beach is for those who want to explore the vibrancy of a crowded beach and yet enjoy the madness and chaos.
Further Read: 10 Best Places To Visit In Chonburi To Explore The Lesser Known Coast Of Thailand!
As far as Chanthaburi beaches go, there are not that many that stand out as the ones that we have just given you a glimpse of. But, a drive down the coastline, will make up for all that. The picturesque views, the natural forests and everything else along the way, just adds to the beauty of this little-known province. So, what are you waiting for? Plan a trip to Thailand for a reviving holiday experience with your friends and family.
---
Looking To Book An International Holiday?
Book memorable holidays on TravelTriangle with 650+ verified travel agents for 65+ domestic and international destinations.
---