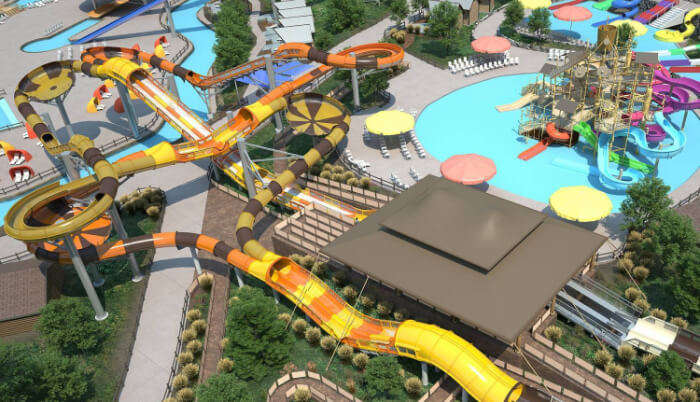 There might be a long list of launched roller coasters which you have heard about, which blasts of in a fraction of seconds like the Maxx Force. But what if we say that the 'launch' concept will work for a water coaster? Yes, you heard that right.
Just before 2020 ends, the Holiday World and Splashin' Safari theme and water park in Indiana Plans is going to make a debut with their incredible Cheetah Chase. And we bet that this crazy roller coaster ride will be the exact antidote for that adrenaline rush. Adding to this, the park also boasts that this will be the "world's first launched water coaster". Isn't that intriguing enough?
But What Makes This A Potential Rider In The Roller Coaster World?

– This ride will not have any stairs or slow conveyor belt, instead the riders will depart from the station and reach down a short hill.
– From there with the power of water, the riders will be launched along a flat track which will help in accelerating rapidly uphill. And in just a few seconds later, the ride will start its downhill portion of the ride.
Suggested Read: 10 Best USA Hotels For A Relaxing American Vacation
Interesting Facts About The Cheetah Chase
The Cheetah Chase is designed by ProSlide Technology, which is a Canada-based company having hands-on specialization in water rides and parks.
This design is special because of its side-by-side tracks to make two groups race with each other on their rafts.
Riding the Cheetah Chase will let you experience a real race right from the starting point.
The ride can reach upto 30 feet after shooting across the surface.
Suggested Read: 10 Destinations In U.S.A For That Perfect American Honeymoon!
Now Let's Talk About The Stats Of Cheetah Chase
The left track of the ride will be around 851 feet and the right track will be 1 foot longer at 852 feet.
The top speed will be close to 30 feet a second (which is 20 mph)
The highest uphill blase will be around 27 feet.
The boat will have a capacity of around three people designed in a Toboggan-style crafts along with seat backs.
Further Read: Top 10 Cafes In Arizona You Should Visit For A Foodilicious Vacay In USA
The Cheetah Chase will be an amazing turn out for the people who have a daring heart and want to try their hands on the best of adventure. So, Indiana will not be just a place to go now after this amazing ride comes up and gives a thrilling experience to all the adventure junkies out there. Now when you plan a vacation to the USA, make sure to not miss out taking a ride at this roller coaster which is soon getting ready to be launched in 2021!