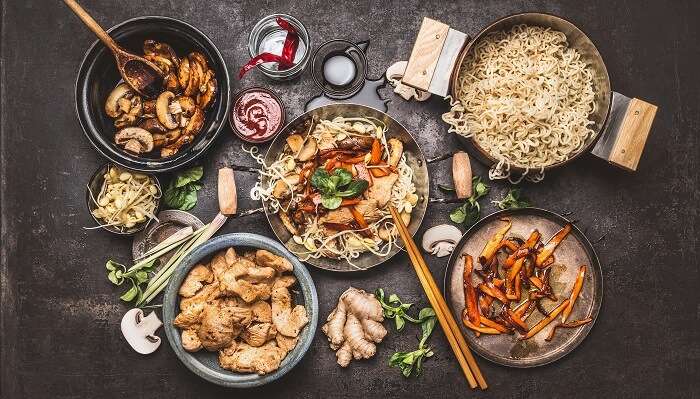 "To the ruler, the people are heaven; to the people, food is heaven." This ancient proverb still holds true in every sense. Food is something that not only brings people together but also makes them bond like nothing else. When a couple of old friends are planning to meet after long, what is that first stop that comes into their minds? Exactly. A restaurant or cafe for a brunch! And that too a restaurant that not only serves some of the lip-smacking delicacies but also allows one to enjoy the ambiance to the fullest. A few of such spots are hidden in the arms of Toronto that serve some of the finest flavors of China. These Chinese restaurants in Toronto make it possible to spend some dollars without any hint of guilt somewhere inside. Check out this list of top restaurants that one should visit on their escape to Toronto. Oh boy, you gotta resist drooling big time!
Top 10 Chinese Restaurants In Toronto
From dim sum and stir fry to noodles and seafood, the Chinese Restaurants in Toronto have anything and everything to offer. Take a look at this list of some of the best restaurants that one can visit when traveling to Toronto.
1. Hong Shing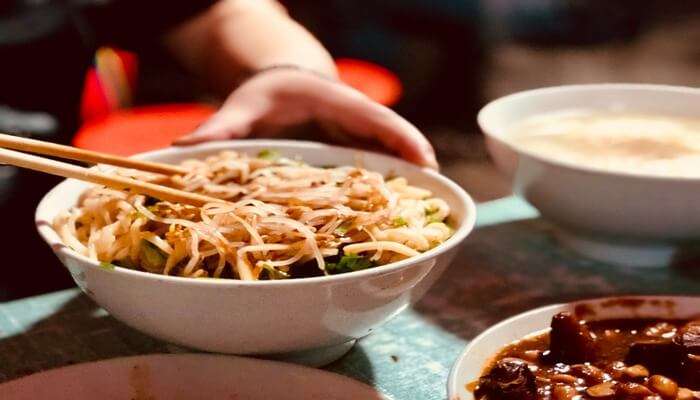 Offering some mouthwatering Chinese cuisine in Toronto, Hong Shin is a restaurant that embraces an old-school atmosphere. Giving travelers and locals an opportunity to indulge in a menu curated from the family recipes that date back to ancient times, Hong Shin is one of the must-visit Chinese food restaurants in Toronto. Plating the flavors that serve to all kinds of palates ranging from savory and sweet to tangy and spicy, this restaurant offers tastes that are unmatchable.
Location: 195 Dundas St West, Toronto, Ontario M5G 1C7 Canada
Timings: 11 am to 1 am (Mon to Tue) | 11 am to 12 am (Wed) | 11 am to 4 am (Thur to Fri) | 11 am to 12 am (Sat) | 12 pm to 1 am (Sun)
Must-Try: Chilli chicken, wontons, crispy noodles, BBQ pork on rice, pork wing ton soup
Cost For Two: INR 2800 for dinner menu | INR 1400 for lunch menu
Rating: 3.5/5
Website | Reviews
Must Read: 6 Best Cafes In Toronto To Savour Fresh Brew With Your Pals!
2. Asian Legend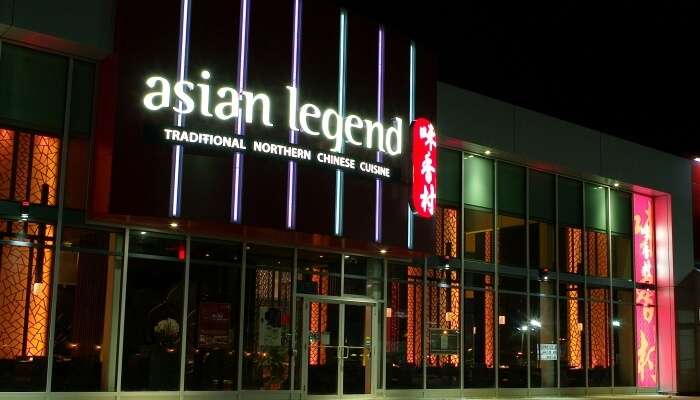 Sitting in Chinatown, Asian Legend is one Chinese restaurant in Toronto, Canada, that is surely capable of teleporting one to the Republic of China just by the flavors and tastes that they offer. From chicken and duck to greens and an extensive variety of noodles, the Asian Legend has plenty to offer. Apart from plated dishes, Asian Legend also gives travelers and locals an opportunity to fill up their bags with microwave-ready meals, making sure that one doesn't miss out on something extremely delectable by virtue of time crunch. When in Asian Legend, surely relish some amazing desserts to satiate that sweet tooth!
Location: 418 Dundas Street West, Toronto, ON M5T1G7
Timings: 11 am to 11 pm (Open on all days)
Must-Try: Dim sums, General Tao chicken, congee and a bun, green onion pancakes
Cost For Two: INR 2800
Rating: 4.3/5
Website | Reviews
Suggested Read: 10 Best Restaurants In Toronto To Explore The Gourmet Scene Of Canada
3. DaiLo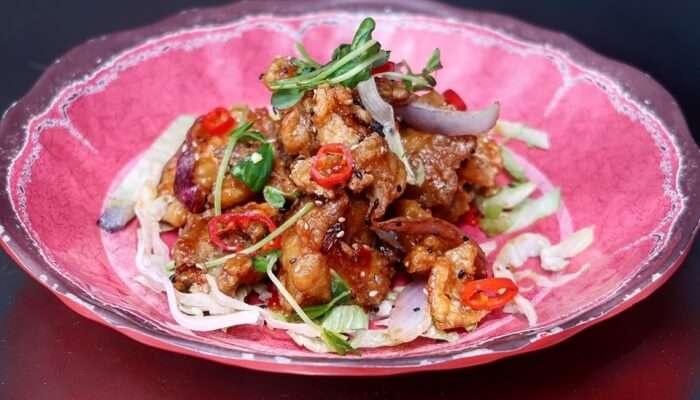 Running on the philosophy that eating well is a significant aspect of living well, DaiLo is a New Asian Cuisine restaurant in Little Italy of Toronto. Ensuring that the diners get to taste their genuine and true culture and traditions, DaiLo has plenty to offer in terms of authenticity. Apart from following their ancient heritage, the restaurant also hides some French twist in their methodologies and flavors that the ancestors of Chef Nick Liu have been indulging in for hundreds of years. Tweaking the flavors and palates only to update it in a manner that suits the western tongues has been the idea behind all the flavors that are served in this restaurant.
Location: 503 College Street, Toronto, ON M6G 1A5
Timings: 5:30 pm to 11 pm
Must-Try: Cocktails, beef carpaccio, fish dishes, salads, fried rice, braised pork
Cost For Two: INR 6000
Rating: 4.6/5
Website | Reviews
Suggested Read: Toronto In October: A Personal Guide For An Extraordinary Holiday Experience
4. Dumpling King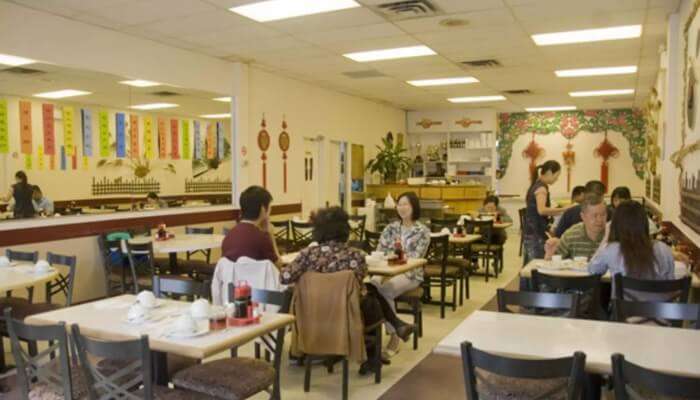 Another one of the amazing Chinese restaurants in Toronto sitting in Chinatown, the Dumpling King does justice to the traditional Chinese New Years' food i.e. the dumplings. Offering both the options of Chinese dine-in and the takeout food, the Dumpling King has gained love and popularity throughout Toronto and its surrounding regions. From steamed and cooked to fried, this restaurant offers an extensive variety of dumplings, spoiling the diners with never-ending options. Catering to the taste buds of every traveler and local, this Chinese restaurant in Toronto is a must-visit.
Location: Scarborough Village Mall, 3290 Midland Avenue, Scarborough, ON M1V 3Z9
Timings: 11 am to 11 pm
Must-Try: Fried rice, Xiao long bao, noodle soup, potstickers, veggie dumplings, pan fried dumplings
Cost For Two: INR 2100
Rating: 3.9/5
Website | Reviews
Suggested Read: 9 Best Beaches Near Toronto For A Unique Beach Experience In Canada
5. Lai Wah Heen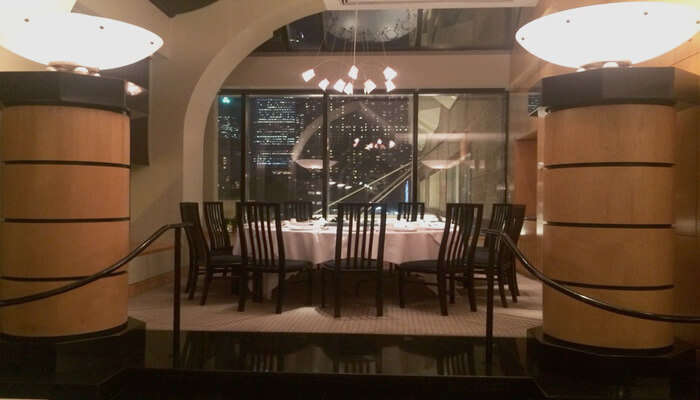 Not only locally but also internationally renowned, Lai Wah Heen is the best Chinese restaurant in Toronto. Launched in the year of 1995, Lai Wah Heen is that restaurant that has been the talk of the town ever since for serving some of the most scrumptious and drool-worthy cuisines. Reeking of luxury, this Chinese restaurant is all about quality, quantity, and flavors, that is exactly what one expects from 'feel-good' food. Along with an extensive and yummy menu that this restaurant serves, the restaurant is also known for its amalgamated color scheme of beige and black in the interiors.
Location: DoubleTree by Hilton Hotel Toronto Downtown, 108 Chestnut Street, Toronto, ON M5G 1R3
Timings: 11:30 am to 3 pm | 6 pm to 10 pm
Must-Try: Lobster dumplings, foie gras tarts, Berkshire pork dumplings, peking duck
Cost For Two: INR 7000
Rating: 4.2/5
Website | Reviews
6. Pearl Court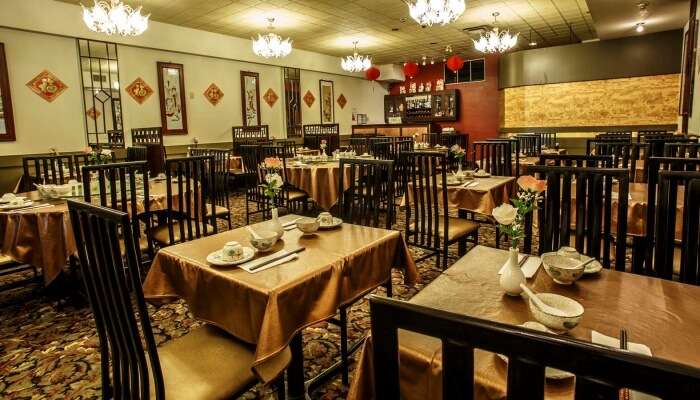 For those who are looking for a relaxed and laid-back atmosphere to relish some delectable dishes, Pearl Court happens to be one of the most amazing Chinese restaurants in Toronto. Earning its place in the hearts of locals in Toronto, Pearl Court serves an impeccable menu consisting of fresh seafood and traditional food. Giving diners an opportunity to experience the true Chinese vibes, Pearl Court is that restaurant that is not only recommended by brand-loyal but also many famous bloggers and magazines such as Chinese Restaurant News, The Oriental Gourmet, Ming Pao Newspaper, and many more.
Location: 633 Gerrard Street East, Toronto, ON M4M 1Y2
Timings: 8 am to midnight
Must-Try: Dim sums, cuttlefish curry, fried squid fingers, pork and chive fried dumplings, coconut pudding
Cost For Two: INR 2400
Rating: 4.1/5
Website | Reviews
Suggested Read: Toronto Nightlife: 10 Hotspots For An Electrifying Night
7. Taste Of China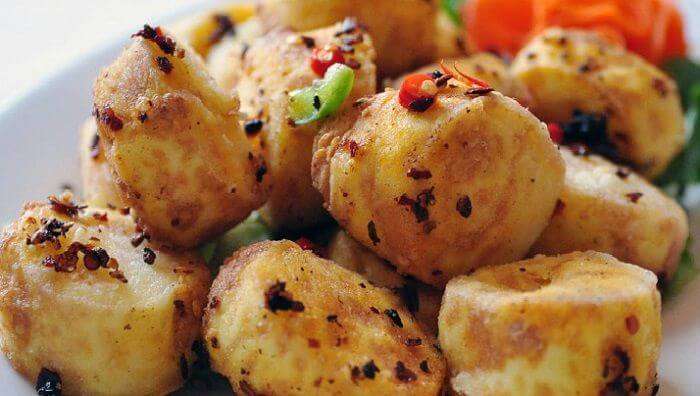 Image Courtesy: tasteofchinarestaurant
If one is seeking for best Chinese food in Toronto, head to The Taste of China. Offering some of the most delicious and scrumptious dishes, this restaurant is a great spot for those who are seeking to indulge in the best seafood in town. Serving a massive menu of some delectable dishes, if one wants to witness the after-midnight spots and life amidst the Canadians, head to this restaurant. This is one of those Chinese restaurants in Toronto that believes in serving more authentic Cantonese dishes than the stereotypical Chinese food like chop suey. So if you are up for some culinary adventure, you should not miss out on this!
Location: 338 Spadina Avenue, Toronto M5T2G2
Timings: 11:30 am to 4 am (Sun to Thurs) | 11:30 am to 5 am (Fri to Sat)
Must-Try: King oyster mushrooms with snow pea leaves, crab meat with broccoli, hot 'n' sour soup, yeung-chow fried rice
Cost For Two: INR 3100
Rating: 3.9/5
Website | Reviews
Suggested Read: 10 Things To Do In Toronto Making For A Super-Awesome Canada Trip
8. Dayali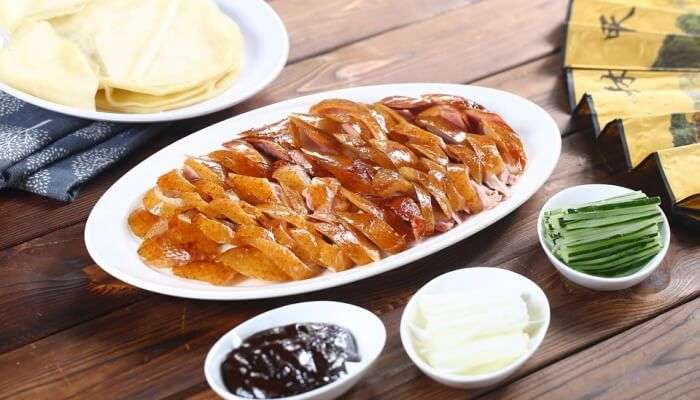 Serving the perfect replicas of authentic dishes of China, Dayali in Toronto is one of those Chinese restaurants in Toronto that is capable of teleporting a diner to the golden days of Beijing. With food so flavorful and so drool-worthy, Dayali is definitely a must-visit when in town. To add to an already delicious experience, the atmosphere of this restaurant is nothing less than elegant and sophisticated. The massive chandeliers, snow-white walls, gigantic vases with fragrant flowers make this beautiful restaurant perfect for a date night with respective partners.
Location: 20 Gibson Drive, ON L3R 8B5
Timings: 11:30 am to 2:30 pm | 4:30 pm to 10 pm
Must-Try: Peking duck, minced pork and scallion stuffed pancakes, deep fried pumpkin with salted egg yolk, gold roast duck
Cost For Two: INR 2800
Rating: 3.3/5
Website | Reviews
9. Swatow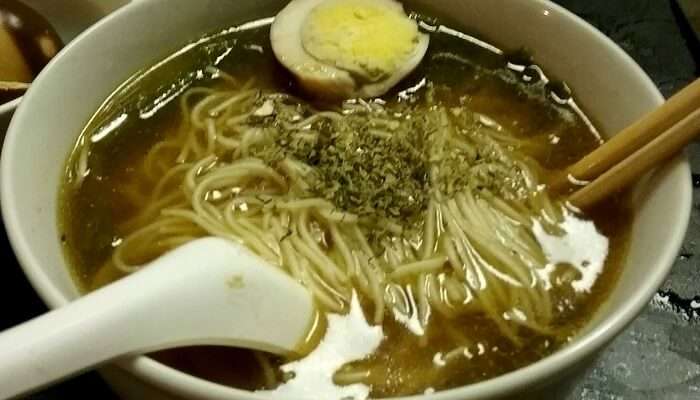 A great spot for fulfilling those late-night Chinese cravings, Swatow is one of those Chinese restaurants in Toronto that is a popular choice amidst the night owls in Toronto. Offering an extensive menu of traditional and genuine delicacies, this restaurant has plenty to offer that caters to the munchies and post-party hunger. Be it sitting with a couple of friends in the restaurant or going for the option of taking out to enjoy the meal in pajamas within the comfort of home, Swatow spoils the diners with great choices of dishes.
Location: 309 Spadina Avenue, Toronto, ON M5T1H1
Timings: 11 am to 2 am
Must-Try: Noodles, beef brisket, sea food
Cost For Two: INR 1800
Rating: 4.3/5
Website | Reviews
Suggested Read: Toronto Food: 9 Iconic Dishes You Cannot Leave Canada Without Tasting
10. Buddha's Vegetarian Foods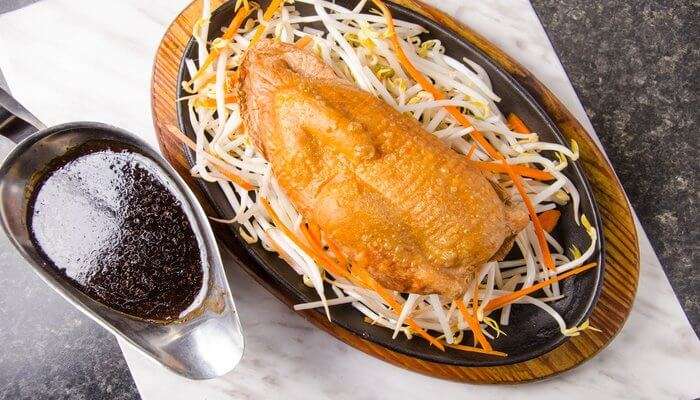 Image Courtesy: buddharestaurant
One of the favorites amongst locals in Toronto, Buddha's Vegetarian Foods is one of the best Chinese vegetarian restaurants in Toronto. Serving some of the amazing mock meats, this jewel of a restaurant is a crowd-pleaser in every sense possible. Sitting in the Kensington Market, this restaurant never fails to impress even the meat lovers with their crispy ginger veggie beef, veggies on crispy noodles, mock duck, soya steak, and more. Built-in 1991, this restaurant has always earned recognition and affection amidst Chinese food lovers.
Location: 666 Dundas Street West, Old Toronto Toronto, Ontario, M5T 1H9, Canada
Timings: 11 am to 9 pm
Must-Try: Mock duck, soya steak, ginger beef
Cost For Two: INR 1800
Rating: 4.2/5
Website | Reviews
Further Read: Vancouver Churches That Should Be In Everyone's Must-Visit List When Visiting The City
With plenty of amazing Chinese restaurants in Toronto, this destination in Canada never fails to fulfill the cravings of heartwarming delicacies that make the tongue tingles. Taking diners on a culinary roller coaster, these restaurants usually witness the same faces of customers who come back to relish the feel-good food yet again! So, when planning your holiday to Canada, do not forget to add these amazing places on your must-visit list!
People Also Read:
Places Near Indore Tourist Places Near Hyderabad Places Near Thekkady