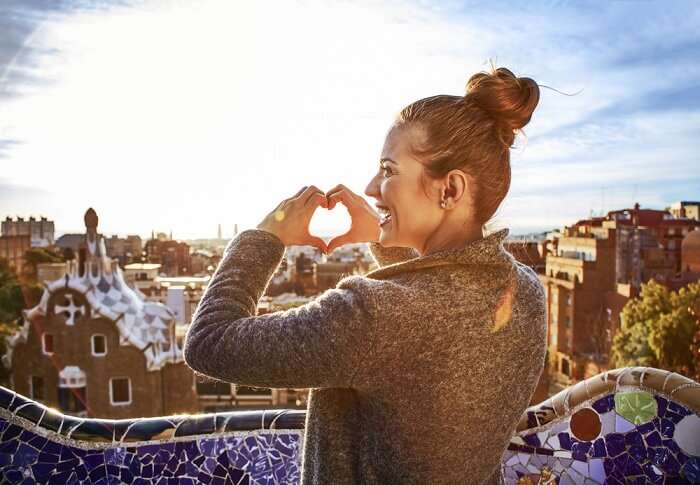 The first few things that come to one's mind after hearing about 'Spain' are its gorgeous beaches, crazy festivals, gothic structures, and the lively people. And why wouldn't they, the country has got an everlasting charm that can leave you awestruck forever. But what you might not have heard about is the beauty and charisma during winter in Spain that gets magnified. The skies are clear and the crowd out there is less.
From Barcelona to Madrid, every place is sunk in the colors of festivity and merriment. So, if you ever thought summer was the only time to be in the country, you're wrong. Spain in winter is even more magical and mesmerizing. Still don't believe us? Scroll down and take a look at the soul-stirring experiences that await you in the Spanish land!
Top Reasons For Visiting Spain In 2020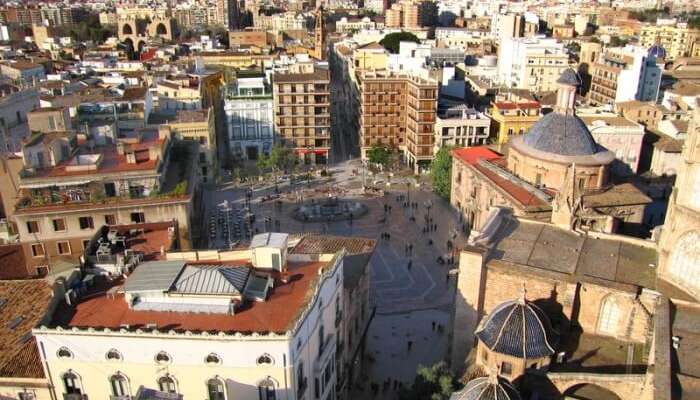 1. Unlike any other time of the year, the winter months experience lesser crowd, which makes it the best time to visit Spain.
2. During winter, temperatures in Spain vary between 5 degrees Celsius to 14 degrees Celsius and the weather is absolutely perfect for sightseeing.
3. Winter is also the hosting season for holding the best festivals in the country.
4. Since there are fewer tourists, accommodation is also cheap, so you can have the best value for money experience.
5. Winter makes everything clear and the country looks even more magical.
---
Europe Holiday Packages On TravelTriangle
Explore the most beautiful places to visit in Europe, from Paris to the Venice canals and from the Greek islands to the Swiss alps. Book customized packages by expert agents on TravelTriangle. Inclusive of airport transfers, cab, resort, sightseeing and meals. Best holiday experience Guaranteed. Book Now
---
5 Best Places To Visit During Winter In Spain
The season of winter casts a spell on the country of Spain and you can surely feel the magic if you are here during this time. The weather, the light, the festive vibe and everything that the season brings along offers you the best Spanish experience. Here are some of the best places to visit in Spain in winter!
1. Seville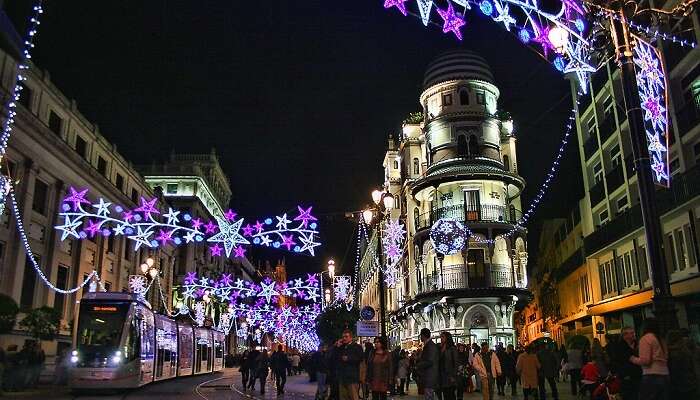 From the historic streets to ancient palaces, Seville will amuse you with its heritage that it has preserved for years. It showcases its culture through museums, theatres, and more. If you are a history buff, then you must visit Seville during your winter holidays in Spain to feel the old-world charm amidst the perfect weather.
Things To Do: Some of the best things to do in Seville are savoring delicious tapas, indulging in kayaking on the river, and more.
Best Hotels To Stay: Hotel Casa 1800 Sevilla and Hotel Alcantara
Must Read: Charming Snow Castles In The World That Are Redefining Winter Tourism!
2. Barcelona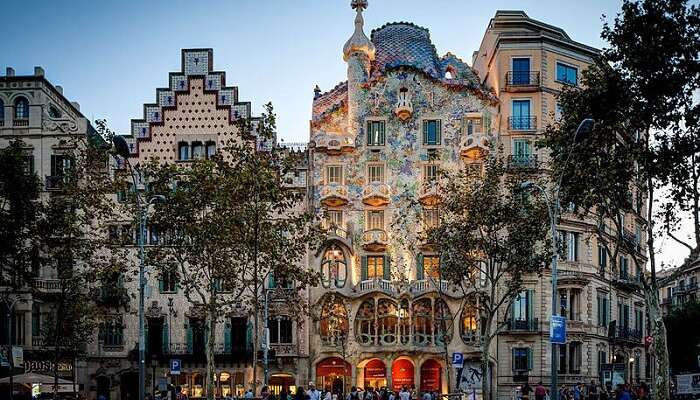 If you're planning for a winter break in Spain, Barcelona is one place that will never bore you as it is always up on something. You can go to a live concert at night or treat the culture vulture in you at exhibitions. Apart from this, the city also holds special festivals in winter where you can witness its beauty in all the vibrant colors.
Things To Do: Some of the best things to do in Barcelona are visiting Sagrada Familia, shopping in La Rambla, exploring Camp Nou, and more.
Best Hotels To Stay: Hotel The Serras and Granvia
Suggested Read: 10 National Parks Of Spain That Will Take Travellers To Another World
3. Granada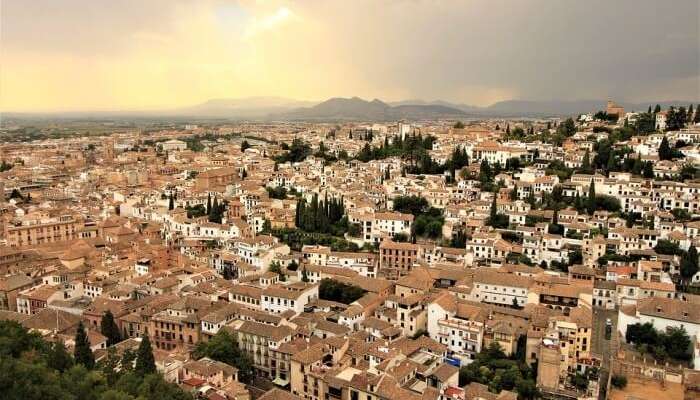 Located at the foot of the snow-capped mountains of the Sierra Nevada, Granada offers stunning views of nature. It is popular amongst the tourists for its Moorish sights and the free Tapas culture. Perfect for an idyllic holiday, Granada is one of the best Spain winter destinations that you must cover.
Things To Do: Some of the best things to do in Granada are visiting Alhambra and hiking on the hills.
Best Hotels To Stay: Palacio de Santa Inés and Palacio de Santa Inés
Suggested Read: 15 Places To Visit In Sweden That Take You On A Journey Through The Winter Wonderland
4. Madrid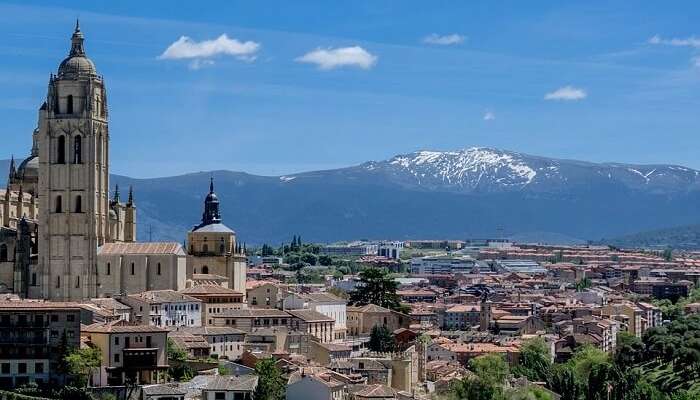 If you are spending your December in Spain, Madrid is the city which is among the best places to visit in Spain in winter and which will bring you closer to the culture of Spain. The city is lit up in a festive mood and holds famous festivals like Three Kings Day Parade and more. During winter, you can soak in the culture and cozy up in one of the famous cafes of Madrid for a perfect holiday experience.
Things To Do: Some of the best things to do in Madrid are visiting Prado museum and Buen Retiro Park.
Best Hotels To Stay: Hotel Unico Madrid and Hotel Orfila
Suggested Read: Italy In December: Top 5 Places That Take Your Through The Best Of This Winter Paradise!
5. Canary Islands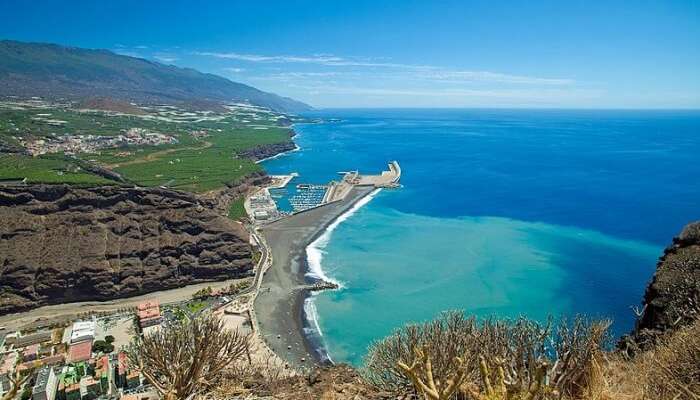 Imagine yourself walking on the sandy shores of white beaches under a clear sky where a cool breeze is soothing your mind and chilly water is touching your feet. Seems like a dream, right? Well, Canary Islands is the place where you can live this dream during winter. So, don't forget to add it to your Spain winter itinerary!
Things To Do: Some of the best things to do in Canary islands are visiting Timanfaya National Park and witnessing Teide Volcano.
Best Hotels To Stay: Barcelo Teguise Beach and Iberostar Sabila
Suggested Read: 10 Places To Visit In Korea During Winter That Would Hook You With Their Charm
Events In Spain During Winter 2020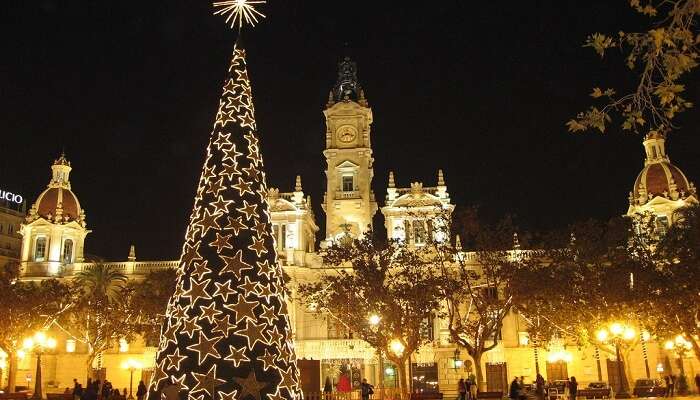 Image Source
If you're visiting Spain during winter, you're surely in for a treat. That is also just an understatement. A celebration of Christmas and that of the New Year's can be witnessed the best in Spain. With traditional sweets like turron, it keeps getting better from the month of October onwards. When it comes to decorating their streets and houses, Spanish folk are more than happy to lend a hand. But the month of February in Spain brings a whole new package than what you'd hoped for.
If you haven't witness the renowned Sitges carnival in the country, then we say it's definitely time to visit Spain. Along with colorful costumes, you can also enjoy the happy drinking vibe all through the streets of Spain. But more so, Festival de Jerez is worth visiting this country for. At the end of February, this glorious flamenco festival is hosted by Jerez. Just make sure you're in time to not miss any of them and surely a stay in Cadiz, which is in southern Spain, in January will be perfect for attending the much awaited carnival later.
Further Read: Trekking In Spain: 10 Best Places For Indulging In An Ultimate Adventure Like Never Before!
What To Pack For Spain Winter Holidays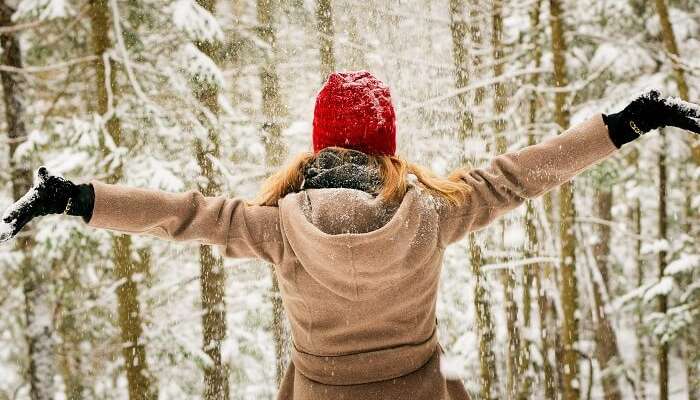 1. Don't forget to carry your passport, ID and driving license on your Spain trip.
2. Make sure that you carry a portable charger so that your phone or camera doesn't die when you're in the middle
of clicking a great picture.
3. Carry slightly warmer clothes to help you bear the cool winds at night on your holiday.
4. Keep a lip balm and a lotion as winters can dry up your skin.
5. Try to wear comfortable shoes during your trip to have a convenient holiday experience.
6. Make sure that you keep all your medicines.
7. Don't forget to keep your camera or smartphone with you for capturing the best moments.
Winter Travel Tips
Make sure you pack extra layers to protect yourself from the bitter cold if you are planning a vacation to Spain in the winter season.
You will find many deals during this winter in Spain. So keep your eyes out for low airfare and good discounts on hotels.
If you want to stay at some of the top hotels or lodges then book your tickets and rooms well in advance.
Ready to feel the chill right in Spain? Well, don't think too much, plan your winter holiday in Europe with Traveltriangle and get ready to head to Spain for your next new year party!
Frequently Asked Questions Asked About Winter In Spain
Q. What is the minimum temperature in Spain in winters?
A. The minimum temperature in winter in Spain is 10°C which is observed in the central part of the country.
Q. Where does it snow in Spain?
A. You can observe snow in the Pyrenees and Sierra Nevada region as they are the highest peaks in Spain.
Q. Which is the warmest place in Spain in winter?
A. Andalusia is the warmest place in Spain.
Q. Which is the coldest month in Spain?
A. January is the coldest month in Spain.
Q. Which are the winter months in Spain?
A. December to March marks the winter season in Spain when the temperature drops down to even 0 degrees Celsius.
Q. Is Spain worth visiting in winter?
A. If you are snow lover as well as party animal then winter is one of the best times to explore Spain. Winter months host many music festivals and snow is the cherry on the top for this experience. 
Q. Which is the coldest month in Spain?
A. January has been marked as the coldest month in Spain when you can witness snowfall also.
Q. What should I pack for Spain in winter?
A. In winters, it is necessary to pack layers of clothes to protect yourself from cold winds. Muffler, wind-cheater, warm jackets, trousers, caps, and boots are a must.
Q. Is Spain cold in January?
A. Yes, January witnesses the lowest temperature in Spain, thus you might experience cold extremities. 
People Also Read
Winter Destinations In Europe Winter In Germany Winter In Bratislava
Comments
comments