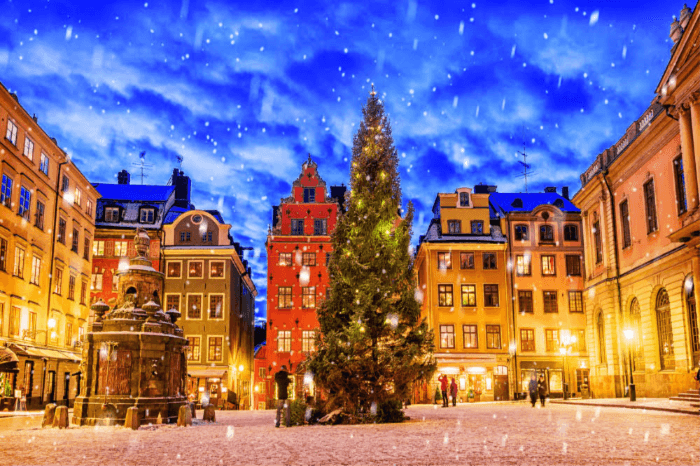 Every country has its own set of historic glory that defines each of their festivals in ways that are true to country-specific traditions. Although Christmas is considered a popular festival, its roots lay deep in the foundation of a country's history and culture. If you are in Sweden during the holidays, you are in for a surprise. Not only is it celebrated as a profound cultural extravaganza, but the strands of Biblical significance make it even richer.
Christmas in Sweden is bestowed upon on 13th December or famously known as St Lucia's Day as an ode to the upcoming celebrations of the festival. There are stories that go back into heartfelt fables of life and human existence. To this day, the traditions are followed which eventually gives way to the week of Christmas gala in Sweden.
Christmas in Sweden is a mix of cultural propagation and celebration of life. From activities to the fascinating Swedish Christmas decorations, shopping to tourism, Sweden decks up in a glorious attire during this time of the year. If you are planning to drop in a visit to Sweden, Christmas is the best and for reasons more than one.
Facts about Christmas in Sweden
No festival is complete without a grand platter of scrumptious food. The biggest and most celebrated feast is usually held on Christmas Eve. Although traditionally it is a family affair, nowadays these feasts have grown bigger and taken the shape of open food markets and stalls for everyone to feel an equal part of the festivities. Talk of Christmas food in Sweden and they consist of cold fish, gravlax, smoked salmon and many more. The Swedish know their food too well and categorize savory and sweet as per their palettes. Christmas Eve comes with its own charm where loved ones break bread together and cheer for the good times. Christmas Eve also comes with another fascinating nation-wide obsession of watching Donald Duck on TV! In fact, this has been telecasted every year since 1959 with a majority of the population stopping and watching their yearly guilty pleasure.
As night descends and dawn breaks, the country welcomes the best day of the year with open arms. Exchanging gifts are a significant part of a traditional Christmas day. A typical Swedish house will have straw goats outside their homes during this time as a gesture to respect the pure, unadulterated resources during Jesus's birth. Christmas tree in Sweden is sometimes made out of straw as well as a tribute to Jesus's righteousness. Once you are Sweden, you will be lost in the prolonged festive month that only makes the history of the country more resourceful. From small nothing to huge traditional set-ups, Christmas in Sweden in its entirety is something that will astonish you over and over again.
Suggested Read: Sweden In Winter: 8 Reasons To Spend A Cool Vacation At This Winterland!
---
Europe Holiday Packages On TravelTriangle
Explore the most beautiful places to visit in Europe, from Paris to the Venice canals and from the Greek islands to the Swiss alps. Book customized packages by expert agents on TravelTriangle. Inclusive of airport transfers, cab, resort, sightseeing and meals. Best holiday experience Guaranteed. Book Now
---
8 reasons to visit Sweden during Christmas
As said earlier, the reasons to visit Sweden during Christmas are more than one.
• Sweden has one of the most profound and long celebrations dedicated to Christmas. 13th January marks the end of Christmas holidays in Sweden after 20 days of gala events and merry-making. With weather that is best suited for travel and Christmas as a bonus, Sweden might just rank as one of the most popular places to visit during this time of the year.
• The food. The buffet during the Christmas Eve feast or 'julbord' is a food lover's ultimate table. From sweet to savory, the spread is an unending explosion of flavors. From varieties of cheese to cold cuts, fresh bread and spreads, sausages, ribs, all are cooked traditionally into delectable delicacies, especially for that evening.
• Homemade mulled wine is another attraction in Sweden as its rustic spice entices your senses better than anything else.
• It is the spirit of Christmas that makes the time so much more precious. From beautiful decorations to people having the happiest time of the year, the overall experience will make you a better person altogether.
• The culture and history that comes with Christmas traditions in Sweden are sure to click the explorer in you. The stories dating back to your of makes us wonder in astonishment as to how far we have come as a global race.
• The Swedish Christmas desserts are sorted out quite well. The simple and articulate recipe of 'risgrynsgrot' might sound easy, but one needs years of practice to pro this art. Rice porridge served with a generous helping of fresh raspberry jam, often sprinkled with fine cinnamon powder gives a rush that takes us back to our grandmother's courtyards.
• Every country looks the most beautiful when its people are happy and content. With Christmas being the most joyous time of the year will only come with more laughter, good experiences, and beautiful memories.
Suggested Read: 10 Sweden Travel Tips For Having A Hassle-Free Holiday In The Scandinavian Nation!
Places to spend Christmas in Sweden
1. Gothenburg
This city popularly known as the Christmas city of Sweden is a bustling center of fun activities, markets, food, and merry lights. From art galleries to its city center, all of it decks up in beautiful and breathtaking decorations just before Christmas.
Must Experiences
The city center – Avenyn, looks particularly beautiful during this time of the year. You can also visit the main art gallery and go to the Christmas market located in Liseberg.
Temperature in December
The average is 4°C.
How to Reach
By Air
Landvetter Airport is an international airport that is only 16 miles from the main city. It is connected to most regions of Europe.
By Road
Gothenburg is connected to Stockholm via the E4 highway and to Malmö and Helsingborg via the E6 highway.
By Rail
You can take hourly trains from any major cities of Sweden. The central station is at Drottningtorget.
Must Read: 10 Best Hostels In Sweden To Enjoy A Blissful Sweden Vacay Like Never Before!
2. Gallivare
This small locality is not your regular hip and happening center of culture, but its yearly Santa Winter Games tells it apart from its contemporary areas. From parades to Santa himself, contests and food, the festivities gather up into a celebration for everyone present there.
Must Experiences
The Winter Games parade is a must-see, along with the international competitor to find the best Santa. People from all across the world participate and in recent years, even people from Hong Kong have made it to the leaderboards.
Temperature in December
The average is -7°C.
How to Reach
By Air
Gällivare Airport is just a few minutes ride from the main city. You can also fly to other near By Airports, such as the Kiruna Airport or Pajala Airport.
By Road
The E4 highway connects Gällivare to Stockholm.
By Rail
You can directly take trains to Gällivare train station
Suggested Read: 10 Beaches In Sweden That Are Worth Going On A Vacation To Europe
3. Stockholm
Stockholm during Christmas in Sweden is a paradise because of its quaint and cozy feel. Christmas might be significant in Stockholm, but the real essence of this city lies in its quintessential calmness that makes you explore yourself into the depths of conscience.
Must Experiences
The Christmas opening ceremony in Stockholm is particularly beautiful. You can join the Stockholm Santa Run where people dressed as Santa go on a fun and non-competitive run. You can also enjoy dinner in one of the vintage boats, called Strömmas.
Temperature in December
The average is 2°C.
How to Reach
By Air
Stockholm is quite easy to reach By Air, thanks to the Arlanda International Airport. It has four terminals and located about 40 kilometers away from the city.
By Road
Stockholm is flanked on the north and east by the E4 and the E3 expressway. Almost all buses go to Stockholm.
By Rail
You can take any train operated by the StatensJärnvägar – the state railway company to get there.
Suggested Read: Shopping In Sweden: 10 Best Places For Pampering The Shopaholic In You!
4. Swedish Lapland
Heading far north will allow you to experience the most magical parts of the country. You have small villages surrounded by snowy mountains. You can see herds of reindeers and photograph the northern lights. Moreover, you can also go skiing or ride a snowmobile across a frozen lake.
Must Experiences
Abisko is the place to be if you want to experience the northern lights. It is one of the best places on Earth for seeing the auroras. Moreover, you will also get some decent places to stay over there. Jukkasjärvi is a little village that celebrates Christmas in its own way. It has the famous Icehotel that is worth the visit even if you do not stay there overnight.
Temperature in December
The average is -6°C.
Suggested Read: Sweden Honeymoon: Top 10 Soul-Stirring Destinations For A Romantic Escape!
How to Reach
By Air
There are numerous domestic airports. Depending on where you want to go, you can pick any one of the airports from Kiruna Airport, Pajala Airport, Luleå airport, Gällivare Airport, Arvidsjaur Airport or Skellefteå Airport.
By Road
The entire Lapland region is well connected via the E4 and the E10 expressways with multiple buses operating between each town.
By Rail
There is an extensive railway network connecting Björkliden, Abisko, Kiruna, Gällivare, Murjek, Boden and Luleå.
Frequently Asked Questions About Best Places to Spend Christmas In Sweden
Q: Are there Christmas markets in Sweden?
A. A: Most major cities and city centers open up markets from a month before the Christmas holidays. You can buy everything from handcrafted products to Swedish Christmas decorations and even food and drinks.
Q: Which is the best Christmas market in Sweden?
A. A: Gothenburg and Stockholm usually have the best places. The open-air market in Gothenburg provides a unique experience.
Q: Where is the best place in Sweden to spend Christmas?
A. A: The best hotels are located in Stockholm and Gothenburg.
Further Read: Sweden Nightlife: 12 Pubs & Clubs That Make It Irresistible
Sweden has been in the spotlight as a country who celebrated Christmas oh so fondly and dearly. Sweden does not believe in overdone extravaganza but makes the festival more like a family gathering. Make your holidays in Europe even more memorable with a visit to a county that ushers in Christmas more cordially than anywhere else in the world!
---
Looking To Book An International Holiday?
Book memorable holidays on TravelTriangle with 650+ verified travel agents for 65+ domestic and international destinations.
---
Comments
comments